FREE Sonniss GameSFX SPECIAL 30GB…Un año más, con motivo del Game Conference de Los Angeles, desde Sonnis no regalan un increíble pack de efectos de sonidos, en esta ocasión se trata de una recopilación de más de 30Gb de efectos válidos para ambientar juegos, proyectos multimedia o musicales…La feria Game Developers Conference (GDC) es la reunión anual más grande de desarrolladores profesionales de videojuegos del mundo. El objetivo de este encuentro es el de aprender, inspirar y formar conexiones dentro de la industria.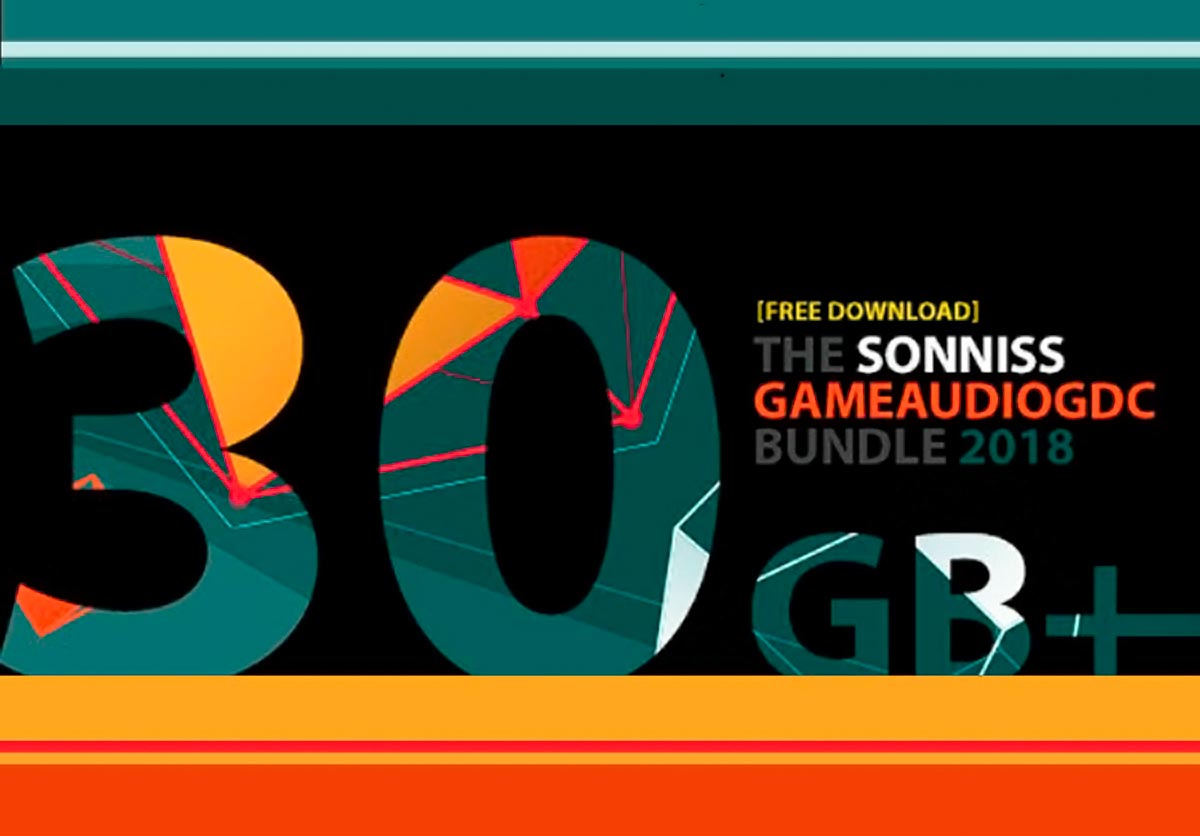 Para celebrar el GDC 2018, obsequiamos 30GB + de efectos de sonido de alta calidad de nuestro catálogo. Todo es libre de derechos y comercialmente utilizable. No se requiere atribución y puede usarlos en un número ilimitado de proyectos por el resto de su vida. Todos los archivos que enviamos son solo una pequeña muestra de la colección completa de nuestros proveedores…tenemos 3 servidores desde los que descargar directamente, así que si disponemos de una buena conexión, en apenas unas horas podremos descargar todo el contenido.
FREE Sonniss GameSFX SPECIAL 30GB
30+ GB de contenido
Sonidos ambientales y SXF
WAV-24bit-44kHz
100% Libres de derechos
English
In celebration of GDC 2018 we are giving away 30GB+ of high-quality sound effects from our catalog. Everything is royalty-free and commercially usable. No attribution is required and you can use them on an unlimited number of projects for the rest of your lifetime.
All of the files we send out are just a small sample of our suppliers complete collection. We usually pick a couple of sounds from each library added to Sonniss over the year. None of the files we are giving away have been modified in any way, they are exactly the same files we sell. If you would like more options and design choices to work with, please consider purchasing the corresponding collection.
FREE Sonniss GameSFX SPECIAL 30GB
30+ GB Content
Ambient Sounds, SXF
WAV-24bit-44kHz
100% Royalty Free
3maze, Airborne Sound, Alessio Mellina, Alexander Fokshtein, Alexander Kopeikin, allmedia sound, Ancora Audio, Andrew McKee, Antisample, Articulated Sounds, Audio Shade, Ben&MacWP, benlustedaudio, Bert Foley, Bluezone Corporation, Borg Sound, Borys Peter, c2caudio, CB_Sounddesign, CFry, Charlie Atanasyan, Christophe Davaille, creativeaudiopool, Daumantas Ercmonas, Discover Oregon, Double Trouble Audio, DsoundE, Effectsworks, Eiravaein Works, Erik Gendron, Filmnoise Inc, FLYSOUND, Fox Audio Post Production, G4F SFX, GainWalkers, Gamemaster Audio, George Karagioules, Gibson and Ansell, Gladestock Studios, Glitchedtones, Gregor Quendel, Hear and Now Sound, Hzandbits, Ivo Vicic, Jack Menhorn, Jeffrey Mengyan, Joshua Reinhardt, L.A. Sounds, Lukas Tvrdon, MatiasMacSD, Matt Lightbound, Navi Retlav Studio, Olivier Girardot, Omar Alvarado, Phil Michalski, Pole Position, RZ Post, Sir Bedlam Productions, soniKSound, Sound Ex Machina, Sound Spark LLC, SoundBits, SoundHolder, SoundMorph, Soundrangers, Soundreorganized, Sounds Visual, The Chris Alan, The Sound Keeper, The Sound Pack Tree, TheWorkRoom Audio Post, Tone Manufacture, toneglowlibraries, Tonschliff, Total Khéops, UberDuo, VSCRL FX, Wakerone, Watson Wu & West Wolf.
FREE Sonniss GameSFX GDC SPECIAL 30GB
Descarga Directa – Direct Download
Para ddescarga de esta página se necesita un cliente Torrent, hay muchos disponibles, tanto para Windows como para MacOSX, aquí les dejo algunos de los mejores clientes…una vez instalado alguno de los programas, los enlaces Torrent se abren de forma automática.