BFA Vintage Strings KONTAKT…Vintage Strings es un instrumento virtual para Kontakt 5 diseñado para emular los clásicos sonidos de la sección de cuerdas de violín de los discos de R&B, Soul y Funk de los años 60 y 70. Ya sea que seas un arreglista experimentado o un productor casual, Vintage Strings fue diseñado para que te sea fácil y rápido crear pistas de cuerdas con un sonido excelente para tus producciones.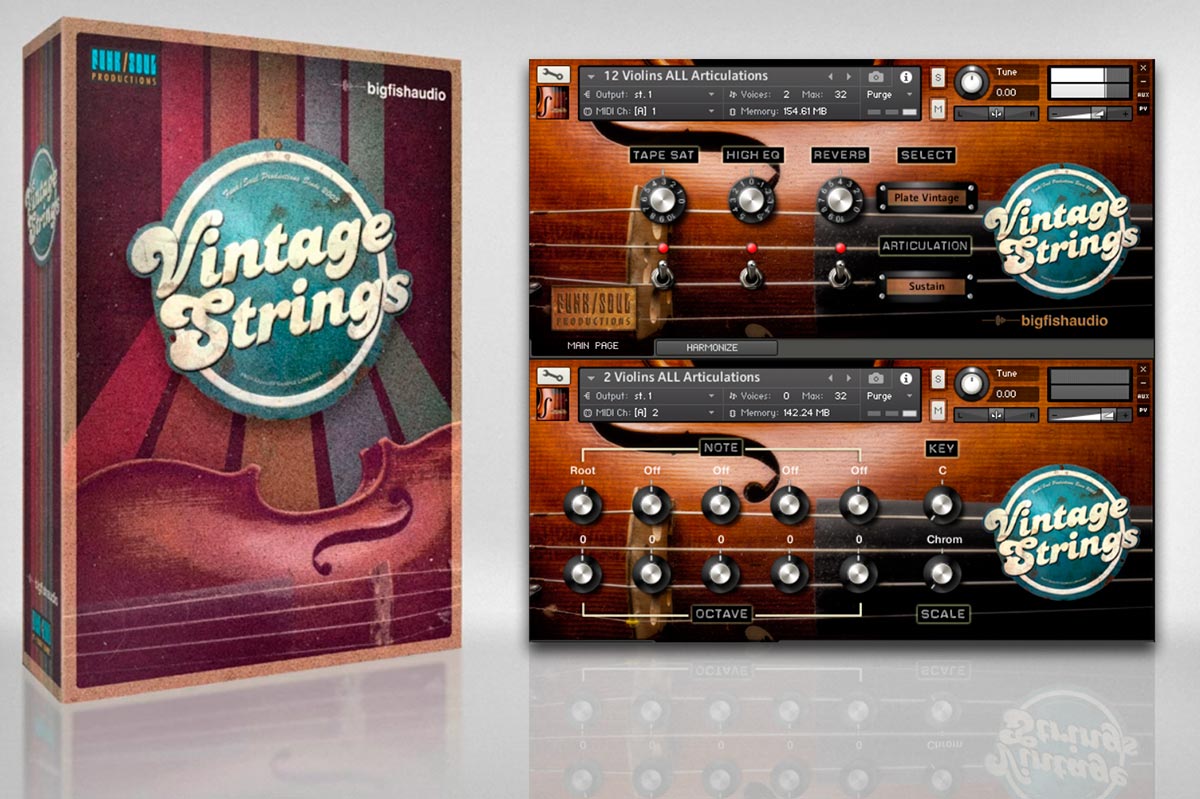 BFA Vintage Strings KONTAKT
Al igual que su producto hermano, Vintage Horns, Vintage Strings no fue diseñado para ser un instrumento virtual con un sonido brillante y perfecto. En su lugar, intentamos captar la forma en que las secciones de cuerdas sonaban en los años 60 y 70; Incluyendo el estilo de juego clásico y las imperfecciones menores que agregaron carácter a esas secciones y las hicieron sonar tan bien.
Para Vintage Strings, grabamos una sección de violín de 6 piezas con micrófonos Neuman U-87 antiguos y micrófonos Royer a través de una gran tarjeta de sonido SSL. Para capturar un verdadero sonido de cuerdas vintage, usamos micrófonos cercanos, micrófonos de sala y posicionamiento de la sección de cuerdas basados ​​en notas de sesiones reales de las sesiones de grabación de Motown y Philly Soul. En lugar de grabar los violines en una magnífica sala de conciertos o en algún otro espacio de grabación grande y resonante, grabamos a nuestros jugadores en un antiguo estudio funky con una sala más pequeña y menos reverberante que tenía características similares a las salas utilizadas para grabar Soul clásico y R&B archivos.
BFA Vintage Strings KONTAKT
Secciones de cuerdas de estilo años 60 y 70
Micrófonos Neuman U-87 antiguos y micrófonos Royer
3 tamaños de grupo: 2, 6 y 12 violines
Grabado con el más antiguo equipo externo de calidad.
11 articulaciones
Función de armonización automática
Opciones de IR seleccionadas a mano
5.1GB (sin comprimir)
Kontakt Player 5 incluido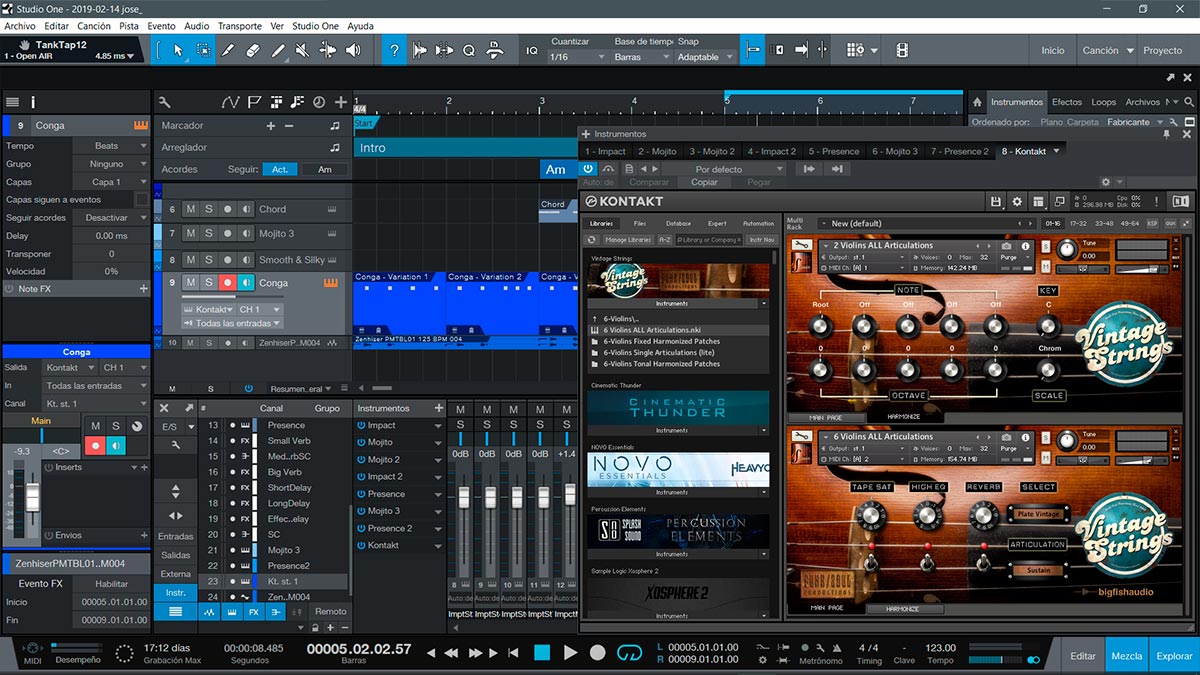 English
BFA Vintage Strings KONTAKT…Vintage Strings is a virtual instrument for Kontakt 5 designed to emulate the classic violin string section sounds of R&B, Soul, and Funk records from the 1960's and 1970's. Whether you're an experienced arranger or casual producer, Vintage Strings was designed to make it quick and easy for you to create great sounding string tracks for your productions. Like its sister product, Vintage Horns, Vintage Strings was not designed to be a shiny, perfect sounding virtual instrument. Instead, we tried to capture the way string sections sounded back in the '60s and '70s; including the decidedly not classical playing style and minor imperfections that added character to those sections and made them sound so good.
For Vintage Strings we recorded a 6 piece violin section using vintage Neuman U-87 mics and Royer ribbon mics run through a great sounding SSL board. To capture a true vintage string sound, we used close mics, room mics, and string section positioning based on actual session notes from old Motown and Philly Soul recording sessions. Rather than record the violins in a magnificent concert hall or some other large and resonant recording space, we recorded our players in a funky old studio with a smaller, less-reverberant room that had characteristics similar to the rooms used to record classic Soul and R&B records.
BFA Vintage Strings KONTAKT
3 group sizes: 2, 6, and 12 players
Recorded with the highest quality vintage outboard gear
Neuman U-87 mics and Royer ribbon mics
11 articulations
Auto harmonization feature for impressively quick arranging
Hand selected IR options available for the convolution reverb
5.1GB (uncompressed)
Kontakt Player 5 included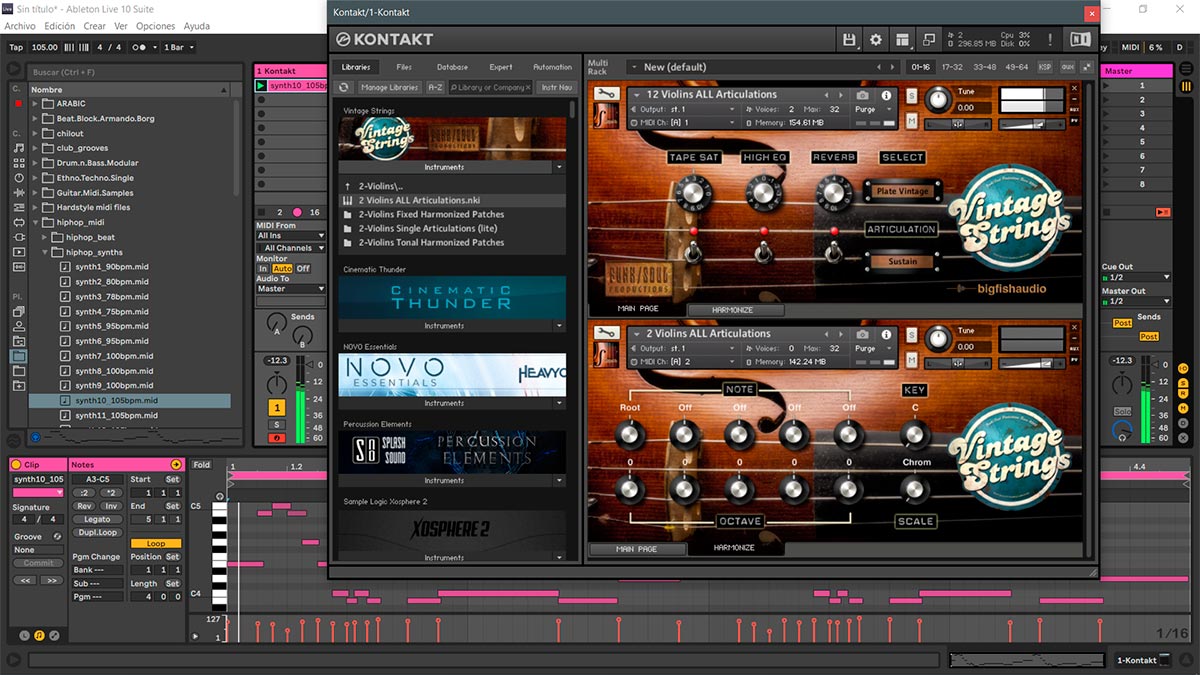 BFA Vintage Strings KONTAKT
Descarga Directa – Direct Download
Vintage Strings KONTAKT (4.75Gb)
Para descarga de esta página se necesita un cliente Torrent, hay muchos disponibles, tanto para Windows como para MacOSX, aquí les dejo algunos de los mejores clientes…una vez instalado alguno de los programas, los enlaces Torrent se abren de forma automática.