VS SYSTEM-100 1-0-8 VST WIN x64…¡El System 100 es un gran sintetizador analógico clásico! Es un hermoso sintetizador monofónico semi-modular que consta de 5 componentes de módulo: el Synthesizer 101 , el Expander 102, el Mixer 103, el Sequencer 104 y el Monitor Speakers 109. La sección Synthesizer 101 es el corazón del sistema, desde el cual se puede agregar cualquiera de los otros módulos de su elección. Se pueden usar diferentes combinaciones de estos componentes para crear sistemas de potencial variable.
VS SYSTEM-100 1-0-8 VST WIN x64
La sección Synthesizer 101 es un mono sintetizador analógico completamente autónomo. Cuenta con un teclado de 37 notas (sin controles de rendimiento, velocidad o aftertouch) y muchos controles deslizantes para ajustar. Su diseño es similar a los sintetizadores analógicos de la serie SH. Los controles para los filtros VCO, LFO, VCF de paso bajo / paso alto, VCA con ADSR, ruido y efectos Portamento / Glide están al alcance de la mano. También hay un práctico oscilador de afinación A-440Hz, como en el Minimoog.
VS SYSTEM-100 1-0-8 VST WIN x64
Rréplica perfecta del sonido y comportamiento SYSTEM-100
ACB proporciona un tono expansivo y líquido del original
Model 101 Synthesizer y Model 102 Expander en un solo instrumento
Arquitectura sofisticada con doble VCO, LFO dual, S & H, Ring Mod, Noise y más
Versátiles capacidades de parcheo semi-modular
Phaser integrado con entradas de modulación, Reverb y Delay
Arpegiador avanzado con capacidades Scatter
Compatible con VST-VST3 para Windows 64bit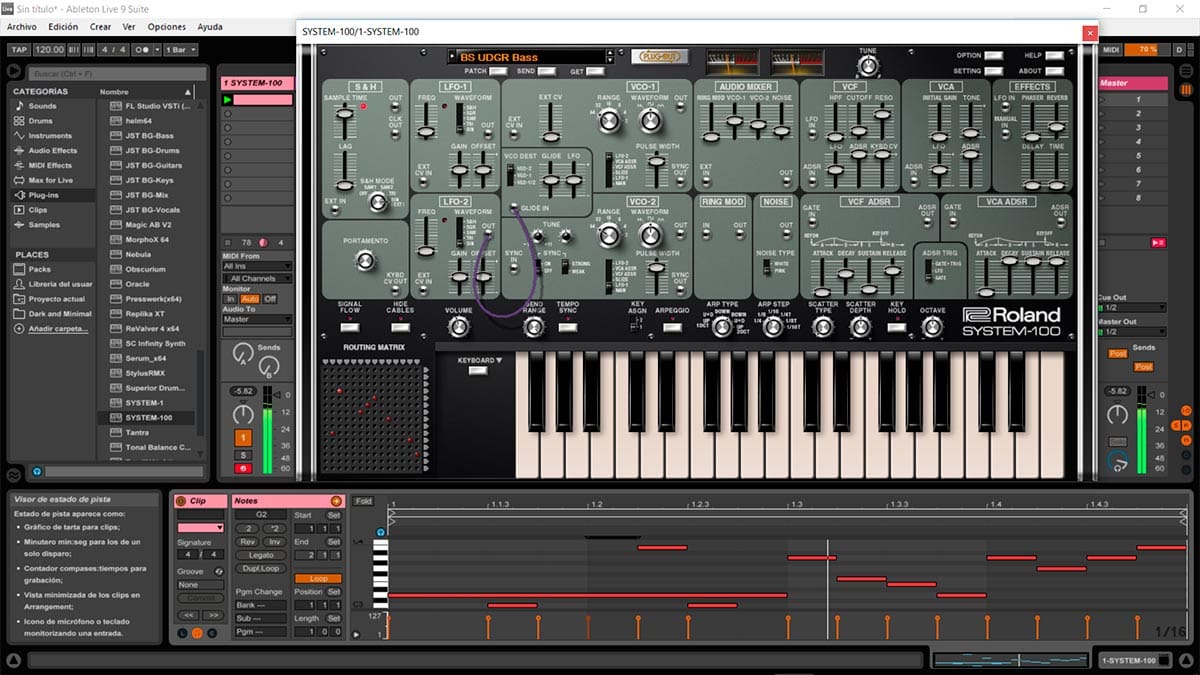 English
The SYSTEM-100 PLUG-OUT Software Synthesizer is a modern reproduction of the now-legendary semi-modular monosynth from 1975. It integrates the features of the original Model 101 Synthesizer and Model 102 Expander units, resulting in an incredibly fat and uniquely versatile two oscillator monosynth with modular routing capabilities. Designed for SYSTEM-1 and 1m as well as Mac and PC hosts, the new SYSTEM-100 uses Analog Circuit Behavior to faithfully recreate every detail of the warm, expansive sound of the original, with a level of authenticity that can only come from Roland.
VS SYSTEM-100 1-0-8 VST WIN x64
Perfect replica of SYSTEM-100 sound and behavior
ACB provides expansive, liquid tone of the original
Model 101 Synthesizer and Model 102 Expander in a single instrument
Sophisticated architecture with dual VCO, dual LFO, S&H, Ring Mod, Noise and more
Versatile semi-modular patching capabilities
Integrated Phaser with modulation inputs, Reverb and Delay
Advanced arpeggiator with Scatter capabilities
VST-VST3 Windows 64bit compatible
VS SYSTEM-100 1-0-8 VST WIN x64
INSTALACIÓN:
Puede que tengamos que «

desactivar smartscreen

» de Windows
Ejecutamos «R2R_IS_AGAINST_BUSINESS_WAREZ_170811.cmd» como administrador
Instalamos el plugin, seleccionando versión (VST o VST3) y carpeta de destino
De la carpeta «R2R» ejecutamos «Setup Roland Cloud Emulator v1.1.0.exe»
Iniciamos nuestro DAW y el plugin, puede que tengamos que reiniciar el DAW
Listos, plugin comprobado en Ableton Live VST 64bit
Descarga Directa – Direct Download
Roland System-100 v1.0.8 VST-VST3 WiN 64bit
Para descarga de esta página se necesita un cliente Torrent, hay muchos disponibles, tanto para Windows como para MacOSX, aquí les dejo algunos de los mejores clientes…una vez instalado alguno de los programas, los enlaces Torrent se abren de forma automática.