PSP Twin-L 1-0-1 VST-AAX WiN x86 x64…PSP lanza Twin-L, una interesante aplicación de un método de limitador que combina dos tipos: VCA y opto, ambos ed modelado analógico, pero el primero basado en equipo moderno, el segundo en uno más retro.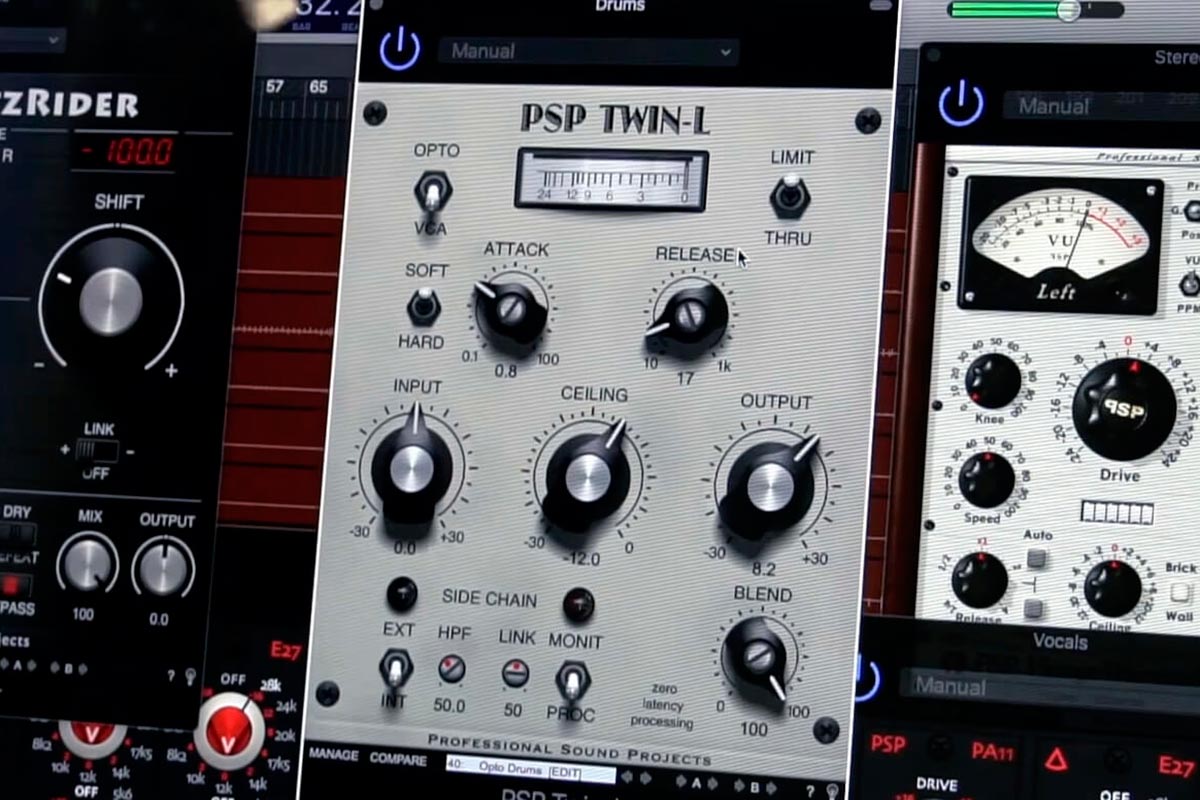 PSP Twin-L 1-0-1 VST-AAX WiN x86 x64
Este algoritmo dual permite a PSP Twin-L no propiamente emular un hardware en particular, sino valerse de sus diseños para fusionar estrategias de compresión nuevos que no busquen el sonido de un tipo de hardware específico para que ganen algo de cada mundo. Cuenta con control de ataque, relajación, tope, entrada y salida. Integra dos interruptores para modo agresivo y suave, y selección de opto o VCA. Ofrece entrada de sidechain con filtro, control dedicado de monitoreo y mezcla, además de un medidor de estilo clásico.
PSP Twin-L 1-0-1 VST-AAX WiN x86 x64
Interruptor Opto / VCA: cambia entre el modo Opto antiguo y el modo VCA moderno.
Medidor de reducción de ganancia escalada en dB: muestra la reducción de ganancia en dB.
Interruptor Limit / Thru: activa (Limit) o ​​desactiva (Thru) el procesamiento de complementos.
Perilla de ataque: controla el tiempo de ataque del limitador en ms.
Botón de liberación: controla el tiempo de liberación del limitador en ms.
Interruptor suave / duro: activa el modo de limitación de rodilla suave.
Perilla de entrada: ajusta la ganancia de limitación previa dentro del rango de -30dB a + 30dB.
Perilla de techo: nivel límite de techo por encima del cual la relación de compresión es oo:1.
Perilla de salida: ajusta la ganancia posterior a la limitación dentro del rango de -30 a + 30dB.
Interruptor Ext / Int: cambia entre las señales externa (si corresponde) y la interna.
Perilla de ajuste HPF: controla la frecuencia del filtro de paso alto de la cadena lateral.
Mando de ajuste de enlace: controla la cantidad de enlace de los canales izquierdo y derecho.
Monit / Procswitch: cambia entre el procesamiento normal y el monitoreo.
Mezcla: controla la mezcla entre la señal de entrada y la señal procesada.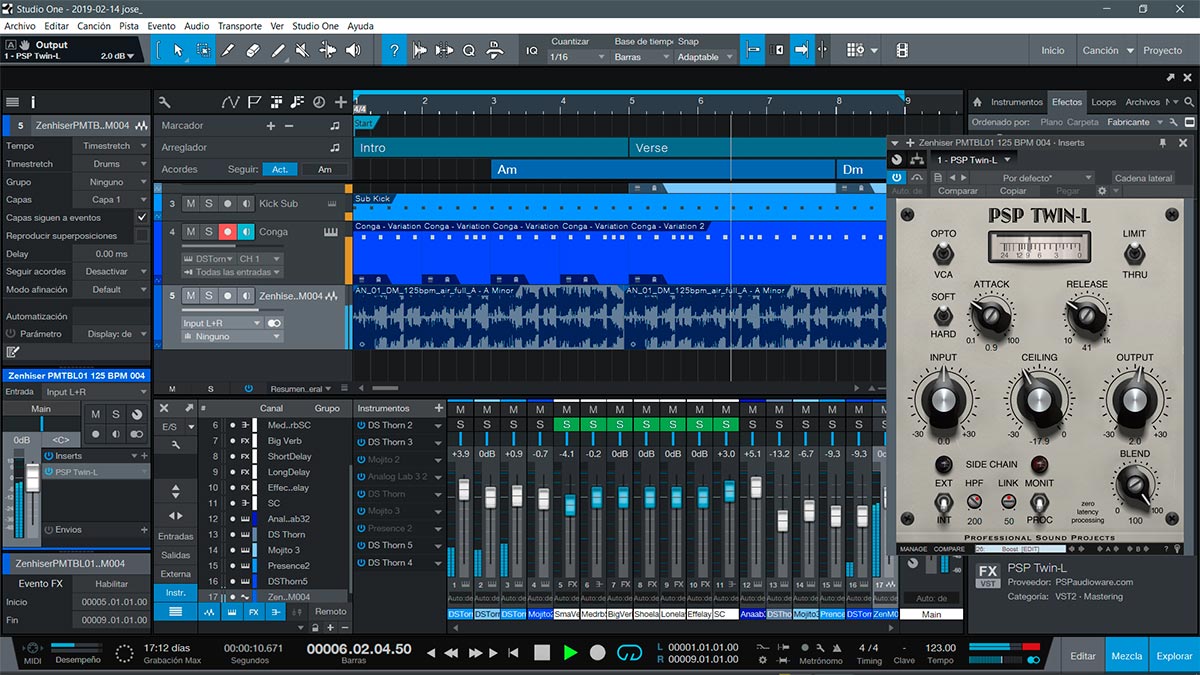 English
PSP has released a new dynamic processor plug-in: PSP Twin-L, a dual algorithm classic limiter. The aim of this plug-in is to provide a wide variety of shaping options. The plug-in is able to emulate the main features of two types of limiter: VCA-limiters, which is a modern type of analog limiter, and Opto-limiters which are vintage optical limiters. The new fully featured 30 day demo version is available on the download page. To see the PSP Twin-L in action you can visit our booth 19203 at the Winter NAMM show, which begins tomorrow.
PSP Twin-L 1-0-1 VST-AAX WiN x86 x64
Opto /VCA switch – Switches between the vintage Opto and modern VCA mode.
dB scaled gain reduction meter – Displays the gain reduction in dB.
Limit / Thru switch – Engages (Limit) or disengages (Thru) plug-in's processing.
Attack knob – Controls the attack time of the limiter in ms.
Release knob– Controls the release time of the limiter in ms.
Soft / Hard switch – Enables soft-knee limiting mode.
Input knob – Adjusts the pre-limiting gain within the range of -30dB to +30dB.
Ceiling knob – Sets the limiting ceiling level above which the compression ratio is oo:1.
Output Knob – Adjusts the post-limiting gain within the range of -30 to +30dB.
Ext /Int switch – Switches between external (if applicable) and internal side chain signals.
HPF trim knob– Controls the frequency of the side chain high pass filter.
Link trim knob – Controls the amount of left and right channel linking.
Monit /Procswitch – Switches between normal processing and monitoring.
Blend – Controls the mix between the input signal and the processed signal.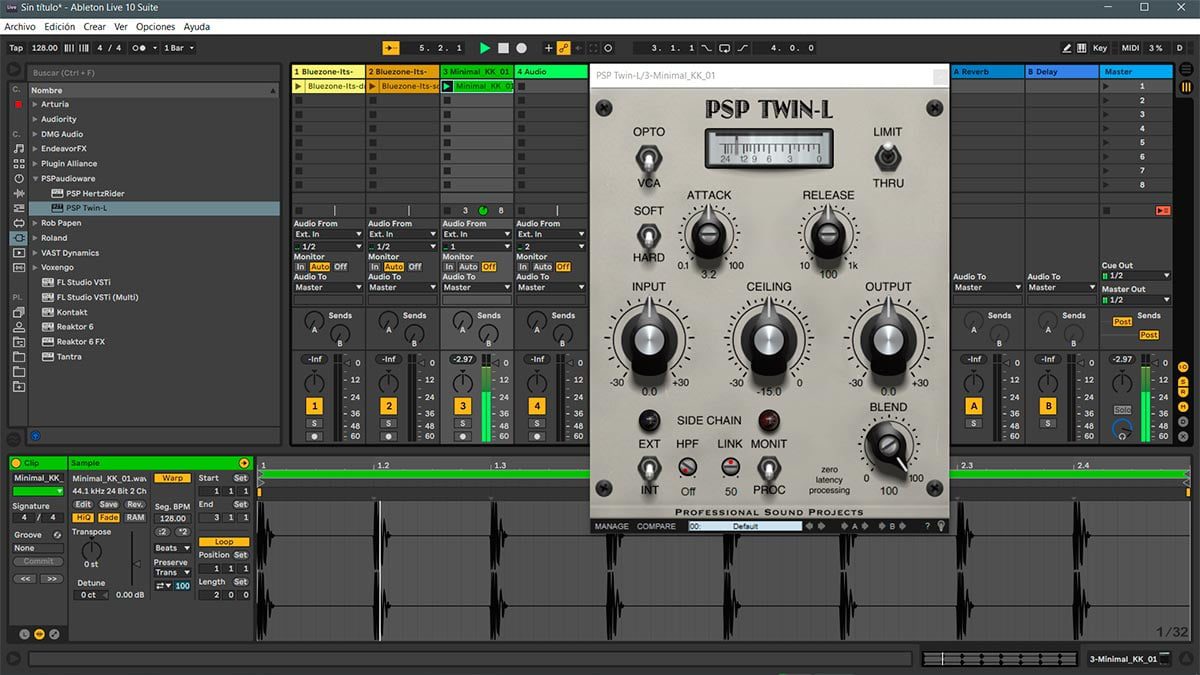 PSP Twin-L 1-0-1 VST-AAX WiN x86 x64
INSTALACÓN:
Tendremos que desactivar «

SmartScreen

« de Windows para poder instalar
Ejecutamos el instalador, seleccionamos versión y carpeta de destino
Listos, plugin comprobado en Ableton Live y Studio One 4 (VST 64bit)

Descarga Directa – Direct Download
Twin-L v1.0.1 VST-VST3-RTAS-AAX

WIN

x86 x64
Para descarga de esta página se necesita un cliente Torrent, hay muchos disponibles, tanto para Windows como para MacOSX, aquí les dejo algunos de los mejores clientes…una vez instalado alguno de los programas, los enlaces Torrent se abren de forma automática.