Sponge Bass KONTAKT…En el pasado, el bajo original de Fender Precision venía con una placa sobre el puente con un amortiguador incorporado. Leo Fender patentó el silencio del puente en 1966 con la idea de imitar el ruido sordo de un contrabajo. Pero esos niños locos del rock n roll no estaban tan interesados ​​y tendían a quitar la cubierta para tener más sostenido.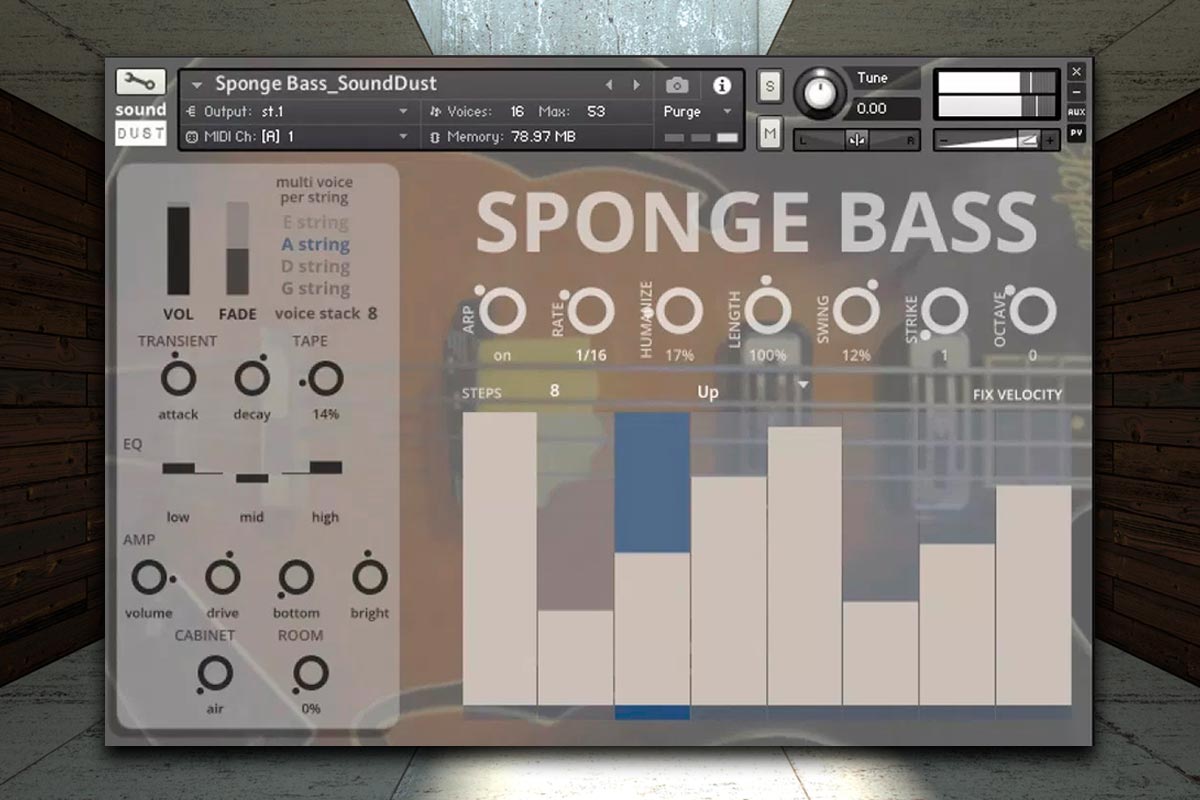 Sponge Bass KONTAKT
Se tomó una muestra de Sponge Bass de un Hofner President Bass que se modificó para producir ese encantador sonido de madera. Paul McCartney en los primeros días y el más famoso Carol Kaye, el bajista en todas las grandes grabaciones de Beach Boys usaron el bajo amortiguado en las pistas. SPONGE BASS remodela en una forma particular de polvo de sonido las cuerdas de bajos amortiguadas clásicamente redondeadas. Esta biblioteca es excelente para producir el bajo agudo y bajo que muchos músicos adoptan.
Sponge Bass KONTAKT
8 Round Robin aleatorios por nota.
Descarga de 567MB (1.4GB sin comprimir).
Articulaciones pulgares (velocidad 0-119) y Picked (velocidad 120-127).
Gama completa de las 4 cadenas muestreadas.
Secuenciador ARP / humanizado.
Control de desvanecimiento (longitud de la nota) previamente mapeado a Modwheel.
El modo mono / poli opera por cadena, por lo que dos notas pueden tocarse en la misma cadena.
Modo de pila de voz para hasta ocho notas a la vez.
Modelado transitorio, cinta, amplificador y gabinete.
Ecualizador de 3 bandas. Un toque de reverberación de sala.
Todo es automatizable.
Requiere Kontakt COMPLETO 5.8.1.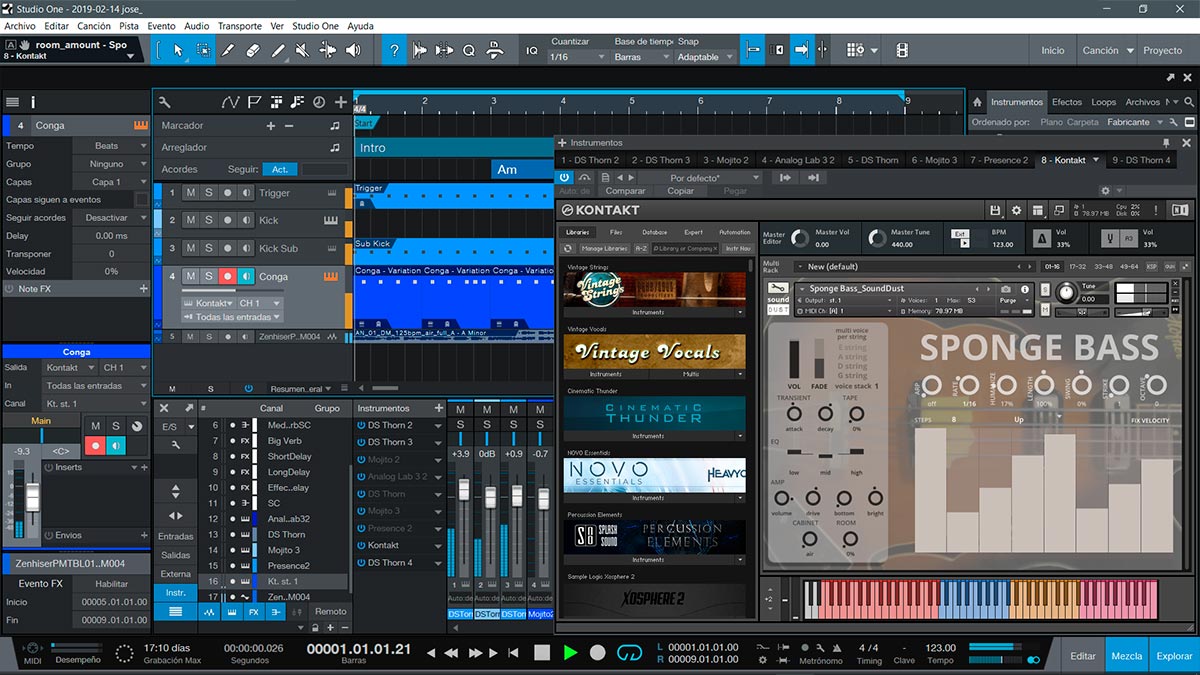 English
Back in the day the original Fender Precision bass came with a plate over the bridge with a dampener built in. Leo Fender patented the bridge mute in 1966 with the idea of mimicking the deadened thud of a double bass. But those crazy rock n roll kids weren't so keen and tended to remove the cover for more sustain.
But the lovely, woofy, woolly thud of dampened bass strings was embraced by many of the Motown players, Paul McCartney in the early days and most famously Carol Kaye, bass player on all the great Beach Boys recordings. Sponge Bass re-creates that classic rounded thud with 1,296 glorious recordings of lovingly played individual notes.
Sponge Bass KONTAKT
8 randomised round robins per note.
567MB download (1.4GB uncompressed).
Thumbed (velocity 0-119) and Picked (velocity 120-127) articulations.
Full range of all 4 strings sampled.
Humanized ARP/sequencer.
Fade (note length) control pre-mapped to Modwheel (changable by right clicking).
Mono/poly mode operates per string, so two notes can't/can be played on same string.
Voice stack mode for up to eight notes at once.
Transient, Tape, Amp and Cabinet modelling.
3 band EQ. A hint of Room reverb.
Everything is automatable.
Requires FULL Kontakt 5.8.1.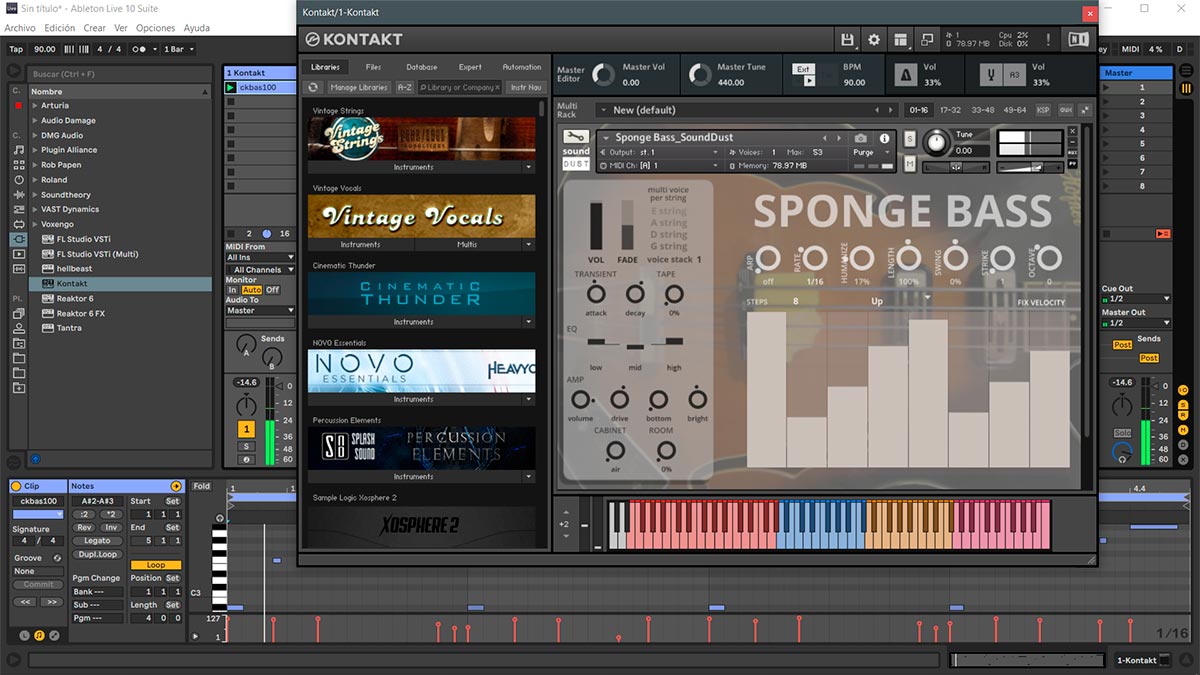 Sponge Bass KONTAKT
Descarga Directa – Direct Download
Sponge Bass KONTAKT (483Mb)
Para descarga de esta página se necesita un cliente Torrent, hay muchos disponibles, tanto para Windows como para MacOSX, aquí les dejo algunos de los mejores clientes…una vez instalado alguno de los programas, los enlaces Torrent se abren de forma automática.