NI Session Horns KONTAKT…SESSION HORNS es la sección de trompas versátil y reproducible que animará instantáneamente tus producciones. El trombón, el saxo tenor y las dos trompetas se han sampleado hasta la perfección y ofrecen un sonido rico y auténtico, reproducible por cualquiera.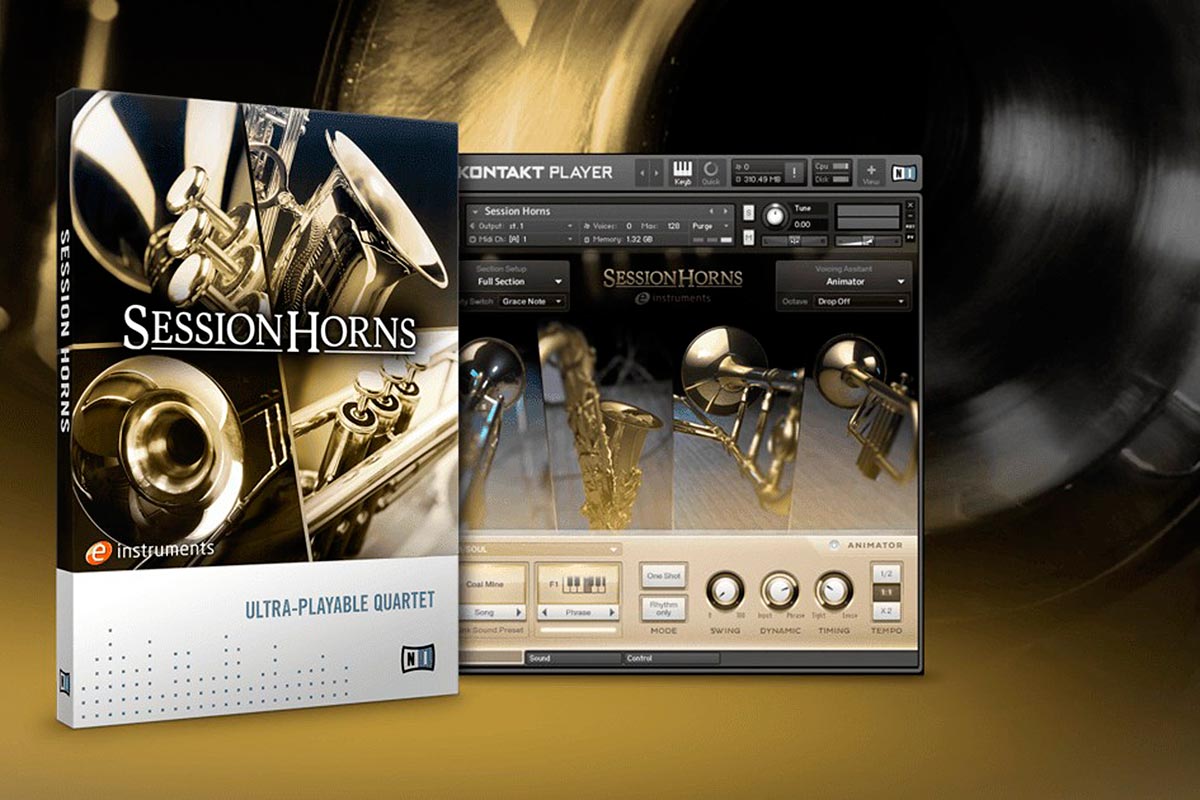 NI Session Horns KONTAKT
SESSION HORNS, el sonido de una sección firme de trompas modernas, está pensado para una variedad de géneros contemporáneos. Formado por un trombón, un saxo de tenor y dos trompetas, el conjunto se multi-sampleó con la calidad más alta posible utilizando famosos músicos de sesión. Toca la sección de cuatro piezas completa o divídela en subsecciones clásicas, tocando solo dos trompetas o solo el saxo y el trombón, por ejemplo.
SESSION HORNS es una vía rápida a las trompas auténticas para los productores con cualquier nivel de habilidad. Smart Voice Split distribuye automáticamente cada nota de un acorde al instrumento de viento correspondiente, como haría un arreglista. Pulsa dos teclas y los instrumentos se dividen en bajos y altos: las trompetas arriba y el saxo y el trombón abajo. Toca tres teclas y el trombón se asigna automáticamente a la nota más baja. Añade una cuarta nota por debajo y el trombón toma la nueva nota baja, mientras que los tonos más altos se distribuyen entre el resto del conjunto.
NI Session Horns KONTAKT
Saxo, Trombón y Trompetas
Calidad y realismo excelentes de los samples
Voice Split crea arreglos auténticos automáticamente
2 NKI (interpretación, articulación única)
174 frases totales (29 canciones de Animator, 6 frases cada una)
Toca libremente o improvisa con más de 170 frases flexibles
KONTAKT 5.5 o superior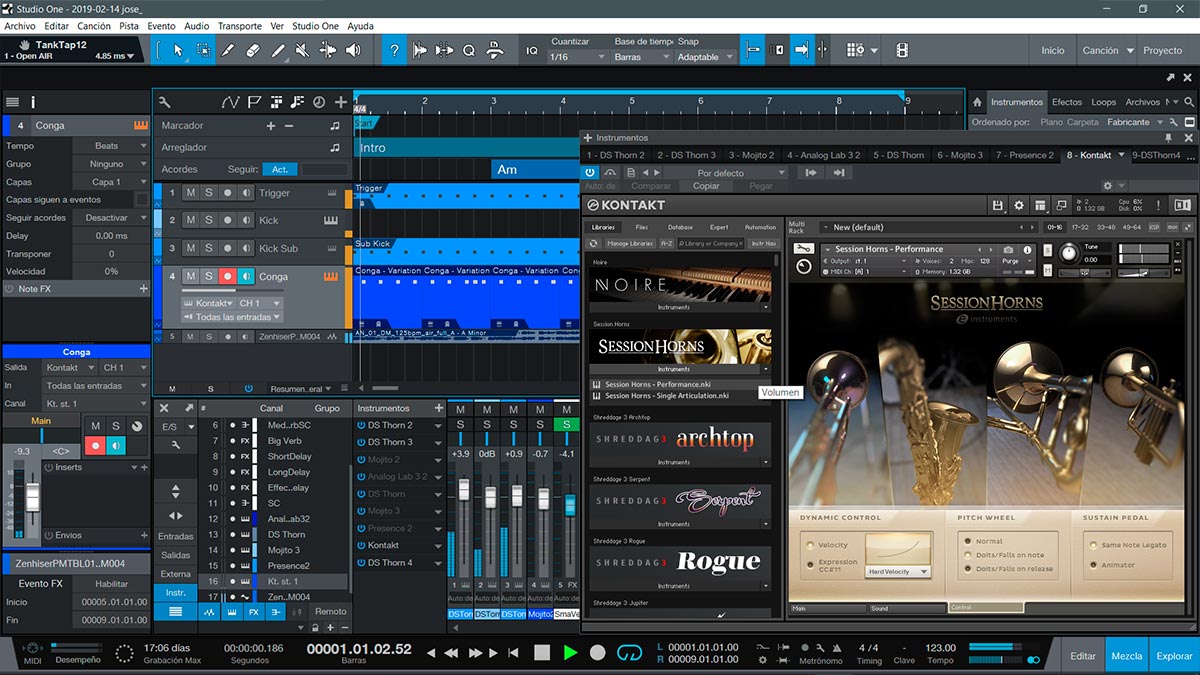 English
SESSION HORNS is the versatile and playable horn section that will instantly perk up your productions. The trombone, tenor sax and two trumpets have been sampled to perfection and deliver a rich, authentic sound, playable by anyone. Produced in collaboration with e-instruments, this KONTAKT Instrument features the unique Smart Voice Split function for creating authentic horn arrangements with your keyboard on the fly, no experience needed.
The sound of a tight, modern horn section, SESSION HORNS is aimed at a variety of contemporary genres. Made up of a trombone, a tenor sax and two trumpets, the ensemble was multi-sampled in the highest possible quality using renowned session musicians. Play the whole four-piece section or divide into classic subsections, playing only two trumpets, or just sax and trombone, for example.
NI Session Horns KONTAKT
Outstanding sample quality and realism
Voice Split creates authentic arrangements automatically
2 NKIs (Performance, Single Articulation)
174 total phrases (29 Animator Songs, 6 Phrases each)
Play free or jam with over 170 flexible phrases
KONTAKT 5+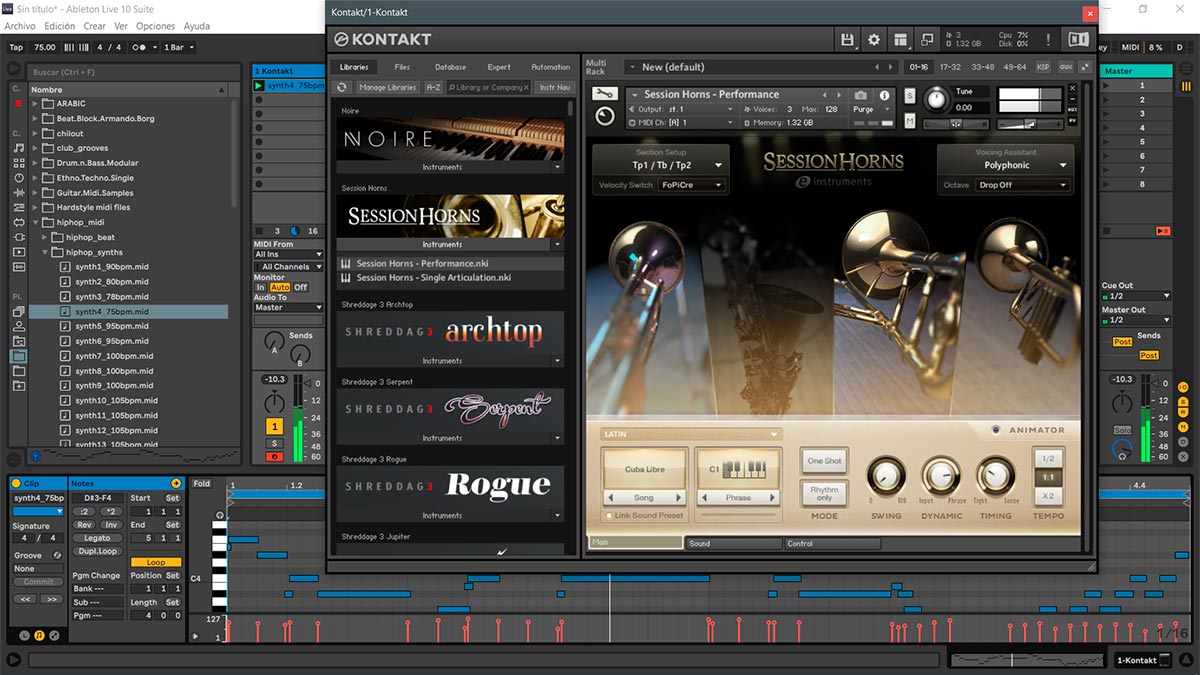 NI Session Horns KONTAKT
Descarga Directa – Direct Download
Session Horns KONTAKT (3.5Gb)
Para descarga de esta página se necesita un cliente Torrent, hay muchos disponibles, tanto para Windows como para MacOSX, aquí les dejo algunos de los mejores clientes…una vez instalado alguno de los programas, los enlaces Torrent se abren de forma automática.