Sonica Instruments SHO 1-0-1 KONTAKT…Sho, la cuarta versión de la serie Virtuoso Japanese, ahora está disponible como un instrumento de software en formato Kontakt. El sho es un instrumento musical de lengüeta libre y uno de los tres instrumentos principales de viento de madera utilizados en la música de la orquesta de la corte de gagaku. Compuesto por 17 tubos de bambú delgados, a veces se dice que se parece a un fénix en reposo debido a su forma. En la antigüedad, el carácter tonal fluido del sho se asociaba con la luz que brillaba desde los cielos.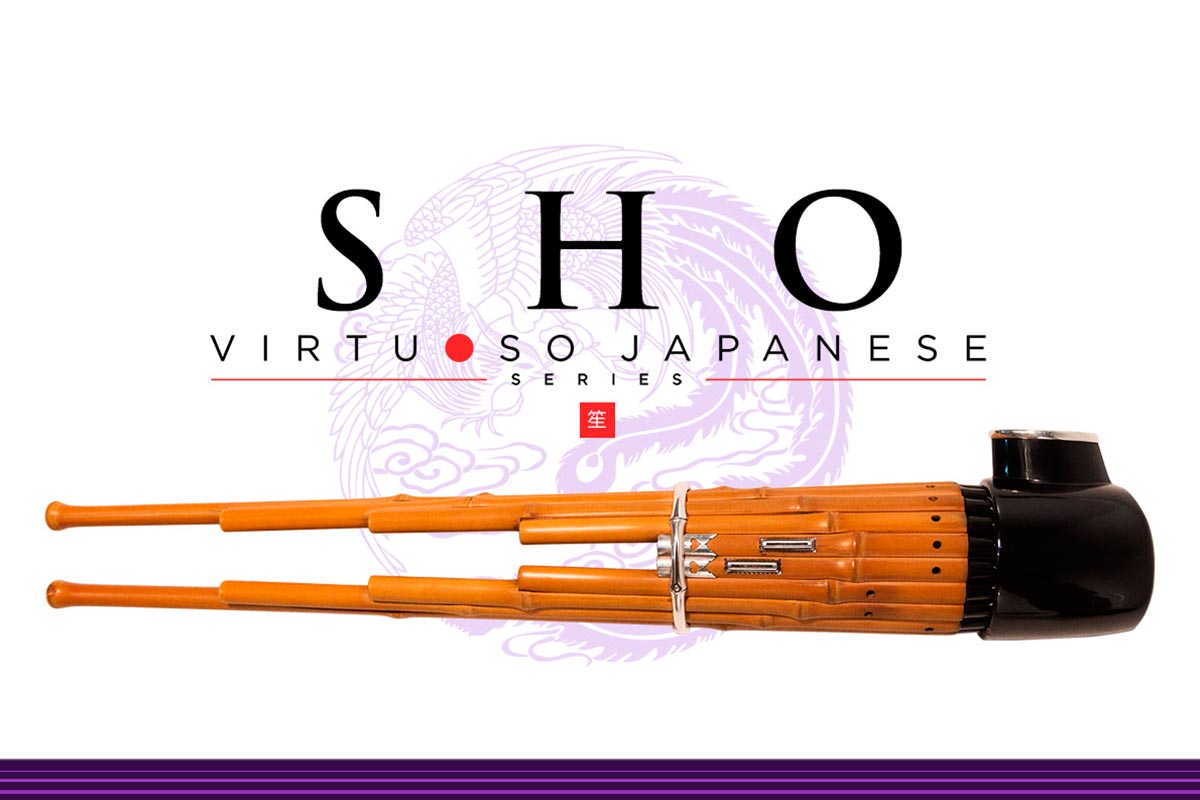 Sonica Instruments SHO 1-0-1 KONTAKT
Grabaciones sin igual del sonido impecable y la técnica del famoso intérprete de sho Ko Ishikawa. Tonos únicos de los 15 acordes * y 11 acordes muestreados por separado en cada articulación, lo que hace que la biblioteca sea aplicable a todos los estilos musicales, desde el gagaku hasta la música contemporánea. Un análisis detallado de las técnicas de ejecución de sho condujo a un modelo de instrumento que permite tocar cualquier combinación de grupos de tonos distintivos (acordes) de sho y tonos simples. Dos modos clave, incluido un modo de digitación tradicional que replica la digitación sho real con una clave por tubería.
El indicador de tubería le permite al intérprete ver la disposición de las tuberías del sho y monitorear las tuberías que se están reproduciendo actualmente. SHO Viene con la afinación tradicional de Pythagorean, afinación de temperamento igual y afinaciones completamente personalizables, para una cobertura perfecta de los tonos de escala clásicos y contemporáneos. La exclusiva función de conexión de activación de clave permite al artista moverse a través de una colorida variedad de articulaciones sin interrumpir el sonido.
Sonica Instruments SHO 1-0-1 KONTAKT
El control de expresión ajusta el color del tono de forma natural y continua sin gradaciones
El selector de conjuntos simula las actuaciones de conjuntos de gagaku con hasta tres artistas
Sonidos vívidos pero sutiles de la biblioteca con una fidelidad total de 24 bits a 96 kHz
Cree sus propias mezclas con las muestras de múltiples micrófonos y un mezclador dedicado
Controles individuales para Direct, Overhead, Room y Stereo Mix
Aunque el sho tiene 17 tubos, solo 15 tubos producen sonido
KONTAKT Full 5.4 o Superior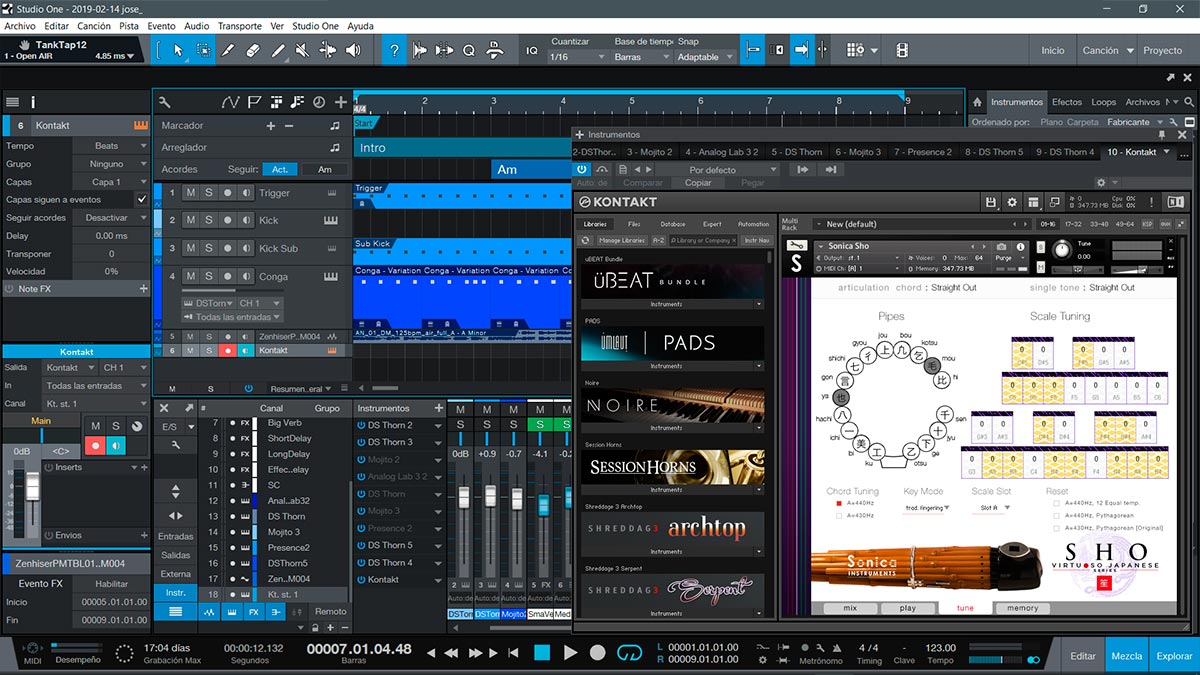 English
Sho, the fourth release in the Virtuoso Japanese Series, is now available as a software instrument in Kontakt format. The sho is free reed musical instrument and one of the three primary woodwind instruments used in gagaku court orchestra music. Consisting of 17 slender bamboo pipes, it is sometimes said to resemble a resting phoenix because of its shape. In antiquity, the sho's fluid tonal character was associated with light shining down from the heavens.
Samples were recorded in three stereo microphone positions – Direct, Overhead, and Room – plus a Stereo Mix. Full mixing control is available, with individual Volume, Stereo Width, Pan, Reverb Send, and EQ adjustments for each channel. Sho also comes with a quality convolution reverb for excellent in-instrument sound creation. The parallel output bus sends the microphone channels to individual DAW tracks for finer mixing sessions.
Sonica Instruments SHO 1-0-1 KONTAKT
Expression control adjusts tone color naturally and continuously without gradations
Ensemble selector simulates gagaku ensemble performances with up to three performers
The library's lively yet subtle sounds sampled in full 24 bit 96 kHz fidelity
Create your own mixes with the multi-microphone samples and a dedicated mixer
Individual controls for Direct, Overhead, Room, and Stereo Mix
Although the sho has 17 pipes, only 15 pipes actually produce sound
KONTAKT Full 5.4+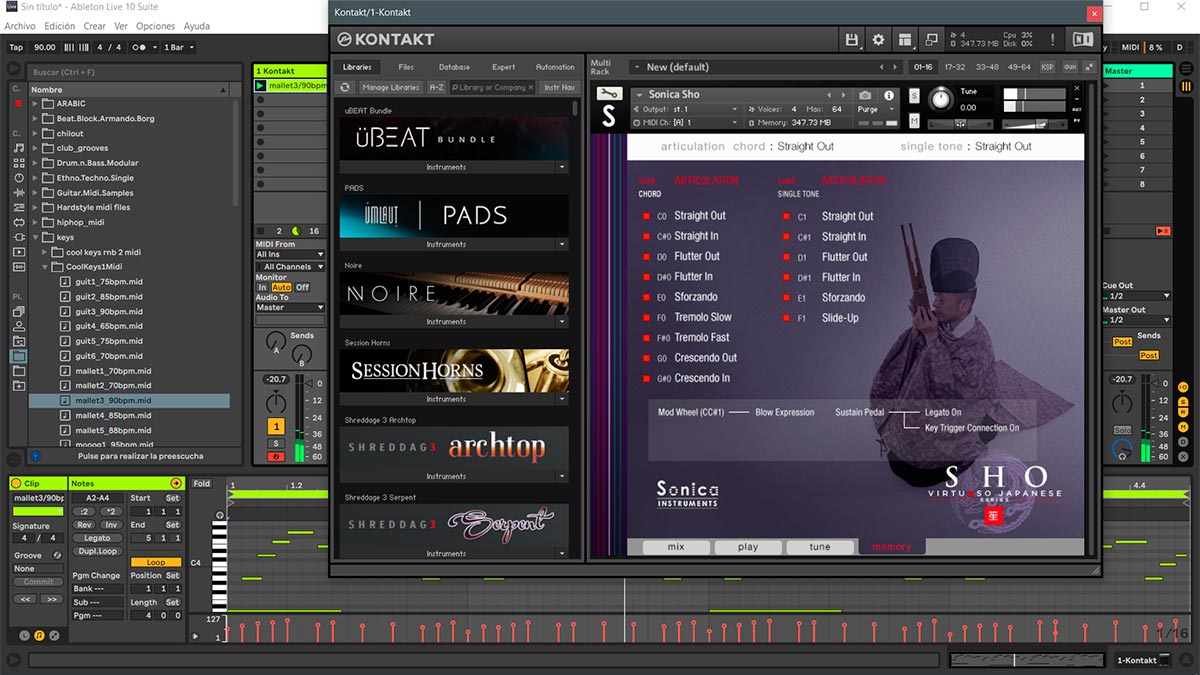 Sonica Instruments SHO 1-0-1 KONTAKT
Descarga Directa – Direct Download
SHO KONTAKT (2.2Gb)
Para descarga de esta página se necesita un cliente Torrent, hay muchos disponibles, tanto para Windows como para MacOSX, aquí les dejo algunos de los mejores clientes…una vez instalado alguno de los programas, los enlaces Torrent se abren de forma automática.