DeBleeder v1-2 VST-AAX-AU WiN-MAC…Cuando se trata de grabar y mezclar baterías acústicas en el contexto de una producción de discos moderna e impactante, una dificultad clave es el aislamiento suficiente de las baterías individuales para procesarlas y reforzarlas.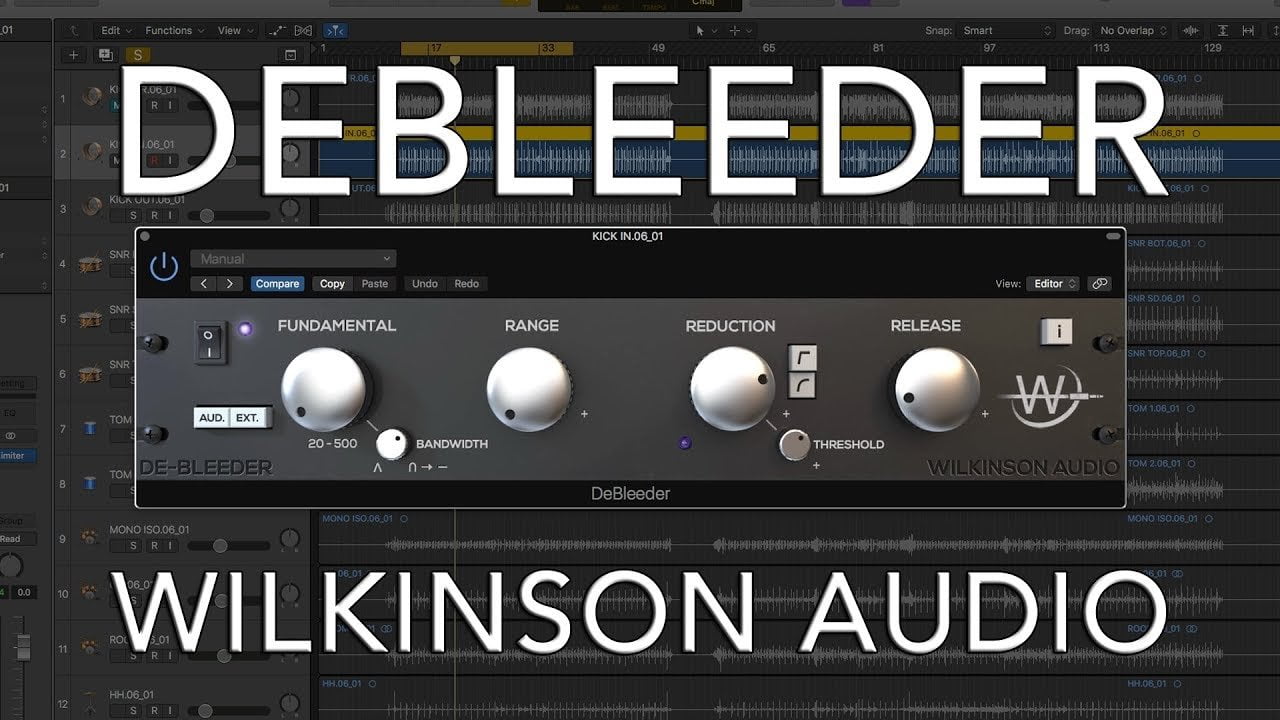 DeBleeder v1-2 VST-AAX-AU WiN-MAC
Sangrado (o «derrame») es la tendencia natural de un micrófono colocado al lado, por ejemplo, un tambor de caja, para captar sonidos de instrumentos adyacentes como el bombo y el sombrero. La gran cantidad de sangrado dificulta la adaptación del tono y el nivel de los tambores individuales, y puede producirse un sonido áspero y áspero del kit si aplica incluso cantidades moderadas de EQ. Agregar algo de compresión en la mezcla solo empeora esta situación.
El sangrado se puede mitigar usando micrófonos direccionales y colocando cada micrófono para que rechace el derrame. El problema es que los kits de batería están muy apretados en una pequeña huella, por lo que la colocación del micrófono nunca será una solución completa. Debido a esto, las compuertas de ruido han sido durante mucho tiempo un elemento básico para los mezcladores que buscan un tono de batería moderno, procesado e impactante. El Wilkinson DeBleeder es esencialmente una compuerta de ruido con características mejoradas, diseñada para un solo propósito: eliminar el sangrado de las pistas de percusión.
DeBleeder v1-2 VST-AAX-AU WiN-MAC
Reducción dinámica del sangrado del tambor y fugas

Compuerta de ruido con características mejoradas

Mono, mono + side-chain (estéreo), estéreo, estéreo + side-chain (4in-2out)
VST-VST3-AAX-AU
32bit y 64bit para sistemas WiNDOWS y MAC OSX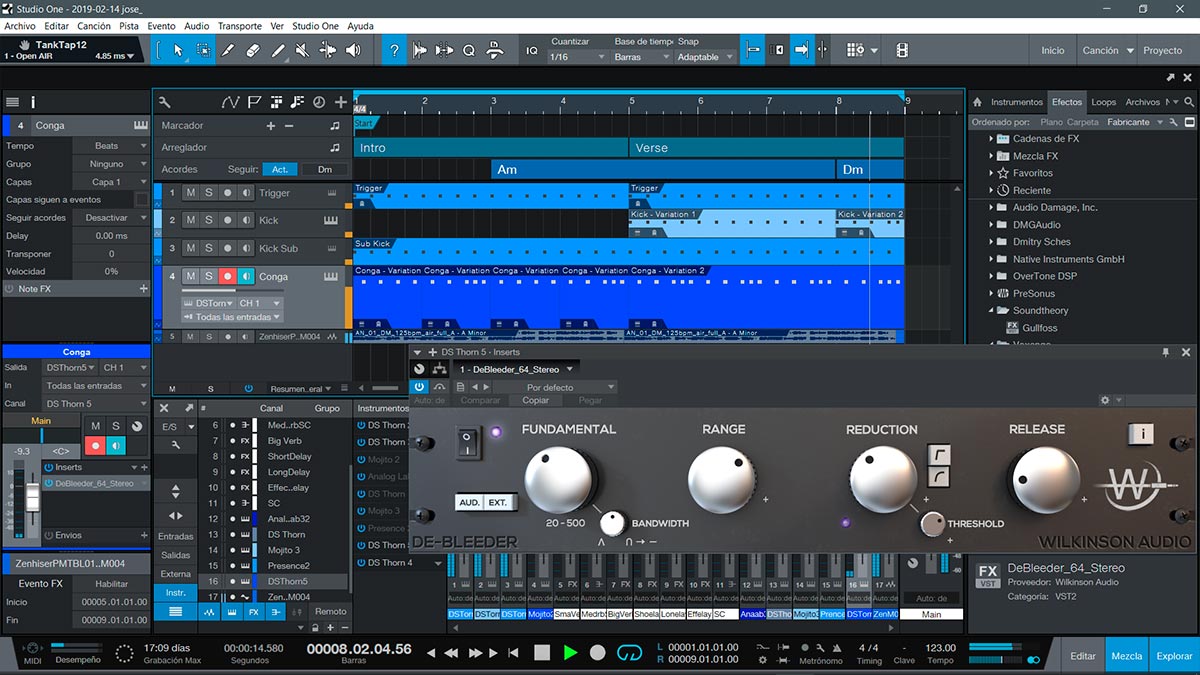 English
When it comes to recording and mixing acoustic drums in the context of modern, punchy record production, a key difficulty is sufficiently isolating individual drums for processing and beefing up. Bleed (or "spill") is that natural tendency of a microphone placed next to say, a snare drum, to pick up adjacent instrument sounds such as kick drum and hi hat. Lots of bleed makes it difficult to tailor the tone and level of individual drums, and a crashy, harsh kit sound can result if you apply even moderate amounts of EQ. Adding some compression into the mix only makes this this situation worse.
Bleed can be mitigated by using directional microphones and placing each mic so you reject the spill. The problem is that drum kits are tightly packed into a small footprint, so mic placement will never be a complete solution. Because of this, noise gates have long been a staple for mixers in pursuit of a modern, processed and impactful drum tone. The Wilkinson DeBleeder is essentially an enhanced-feature noise gate, designed for a single purpose: Removing bleed from percussion tracks.
DeBleeder v1-2 VST-AAX-AU WiN-MAC
Dynamic reduction of drum bleed and leakage
Enhanced-feature noise gate
Mono, Mono+Side chain (stereo), Stereo, Stereo+Side chian (4in-2out)
VST-VST3-AAX-AU
32bit & 64bit for WiNDOWS & MAC OSX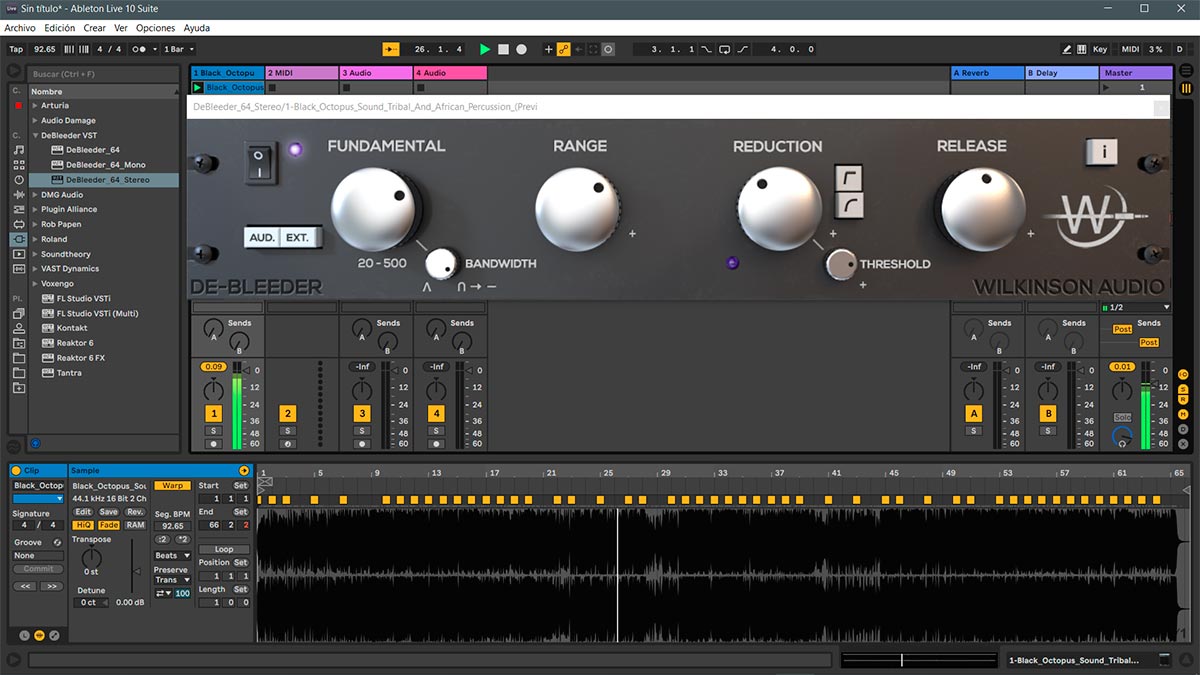 DeBleeder v1-2 VST-AAX-AU WiN-MAC
INSTALACIÓN:
Copiar y listos, el plugin viene preactivado
Tenemos que copiar los plugins que vayamos a usar a nuestra carpeta de plugins
Descarga Directa – Direct Download
DeBleeder v1.2 VST-VST3-AAX-AU

WiN-MAC

x86 x64
Para descarga de esta página se necesita un cliente Torrent, hay muchos disponibles, tanto para Windows como para MacOSX, aquí les dejo algunos de los mejores clientes…una vez instalado alguno de los programas, los enlaces Torrent se abren de forma automática.