TBProAudio Impress 1-9-15 VST-AAX WIN…Impress es un compresor estéreo de banda ancha que incluye cadena lateral (side-chain), varias opciones de prefiltro y muestreo de última generación.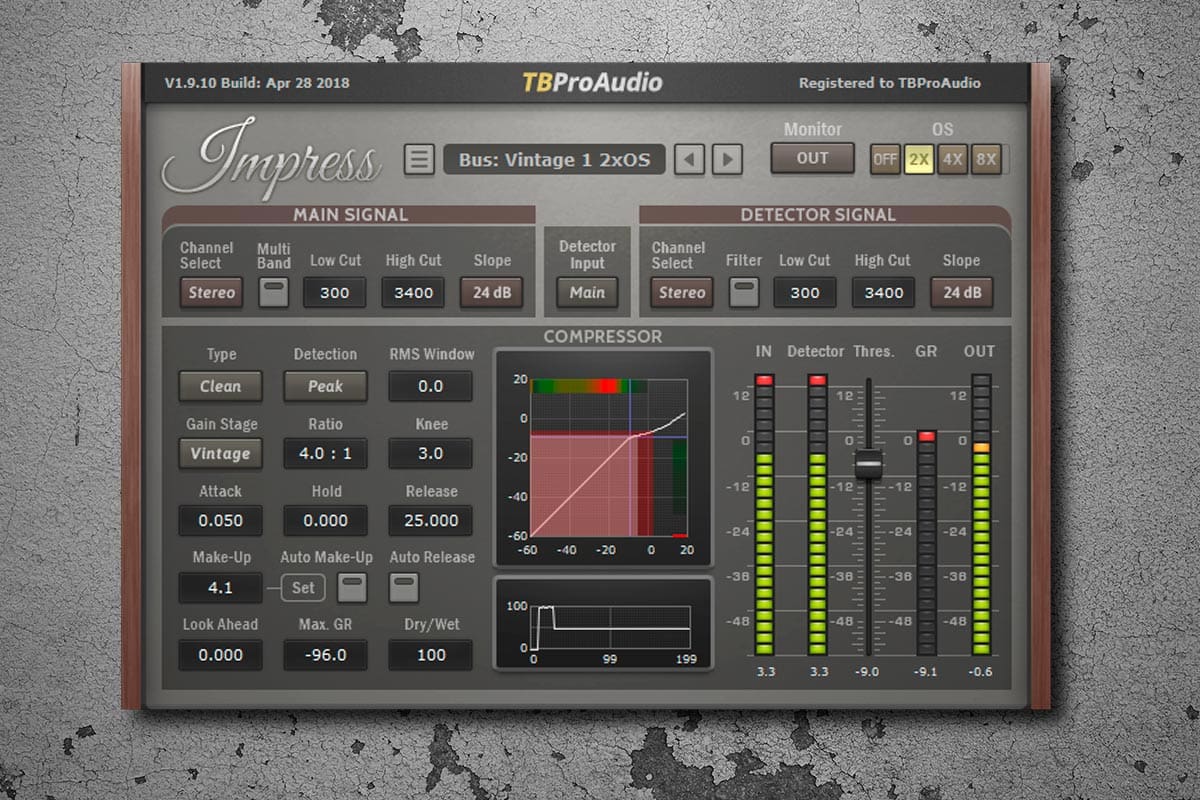 TBProAudio Impress 1-9-15 VST-AAX WIN
El objetivo del diseño era cubrir una amplia gama de aplicaciones de compresión en las situaciones actuales de mezcla y masterización con un fuerte enfoque en aliasing bajo . Por lo tanto, Impress podría usarse para dar forma a un sonido de caja, pegar pistas diferentes en el bus de instrumento e incluso realizar tareas complejas como deessing o voice over. Impress incluye un compresor mejorado, filtro multibanda para señal principal, filtro para señal del detector y monitoreo de señal flexible.
TBProAudio Impress 1-9-15 VST-AAX WIN
Procesamiento interno sin clic de 64 bits sin latencia
Diseño de compresor de aliasing bajo
Sobremuestreo «real», hasta 8x
Procesamiento estéreo / izquierda / derecha / medio / lateral
Cadena lateral externa
Filtro multibanda de señal principal, hasta 192 dB / Oct (diseño Linkwitz-Riley)
Prefiltro de señal del detector, hasta 192 dB / Oct
2 modos de compresor: clásico y limpio (aliasing bajo)
3 modos de etapa de ganancia: limpieza moderna, vintage y clásica (incluida la emulación de ruido térmico)
Modos de detección de 3 niveles: pico, RMS y RMS incl. Filtro BS1770
Ataque corto / largo / tiempos de liberación
Reducción de ganancia límite
Monitoreo de señal flexible
VST-VST3-RTAS-AAX de 32bit y 64bit para WINDOWS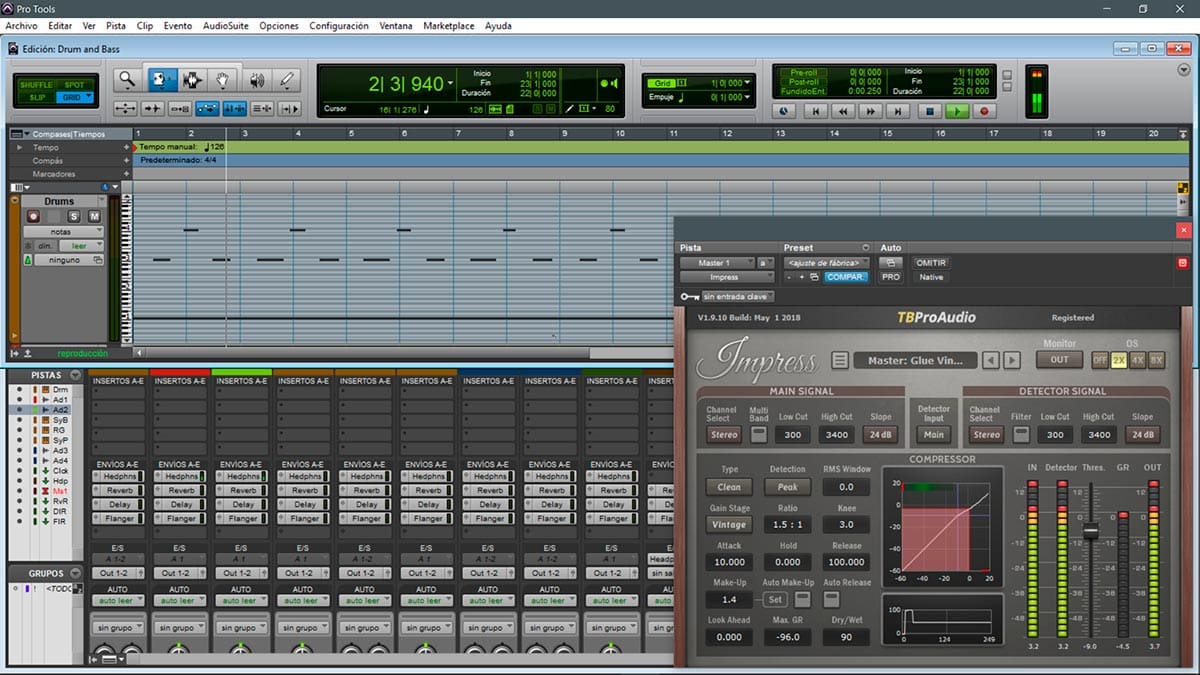 English
Impress is a wideband stereo compressor including side-chaining, various prefilter options and state-of-the-art over sampling. The goal of the design was to cover a broad range of compression applications in today's mixing and mastering situations with strong focus on low aliasing. So, Impress could be used to shape subtle a snare sound, glue different tracks on instrument bus and even do complex tasks like deessing or voice over's.
TBProAudio Impress 1-9-15 VST-AAX WIN
Zero latency click-free 64-bit internal processing
Low aliasing compressor design
«real» oversampling, up to 8x
Stereo/left/right/mid/side processing
External side-chain
Main signal multiband filter, up to 192 dB/Oct (Linkwitz-Riley design)
Detector signal prefilter, up to 192 dB/Oct
2 compressor modes: classic and clean (low aliasing)
3 gain stage modes: modern, vintage and vintage clean (including thermal noise emulation)
3 level detection modes: peak, RMS and RMS incl. BS1770 filter
Short/long attack/release times
Limit gain reduction
Flexible signal monitoring
VST-VST3-RTAS-AAX 32bit & 64bit for WINDOWS
TBProAudio Impress 1-9-15 VST-AAX WIN
INSTALACIÓN:
Puede que tengamos que «

Desactivar SmartScreen

» de Windows para instalar
Ejecutamos el instalador, seleccionamos versión y carpeta de destino
Listos, plugin comprobado en Ableton Live (VST 64bit) y Pro Tools (AAX 64bit)
Descarga Directa – Direct Download
TBProAudio Impress 1.9.15 VST-VST3-RTAS-AAX x86 x64
Para descarga de esta página se necesita un cliente Torrent, hay muchos disponibles, tanto para Windows como para MacOSX, aquí les dejo algunos de los mejores clientes…una vez instalado alguno de los programas, los enlaces Torrent se abren de forma automática.