Caspian Orchestral Brass KONTAKT…Caspian es el cuarto producto comercial de Performance Samples. Esta biblioteca de metales toma notas de su predecesora, el coro de Oceanía, y presenta sus secciones como parches individuales, que abarcan cuernos franceses, trompetas y trombones bajos. Las avanzadas técnicas de secuencias de comandos y muestreo de Caspian hacen que sea extraordinariamente fácil grabar líneas energéticas que mezclan el juego en staccato y sostenido sin perder tiempo en ajustar los interruptores de tecla, los canales midi y las articulaciones separadas.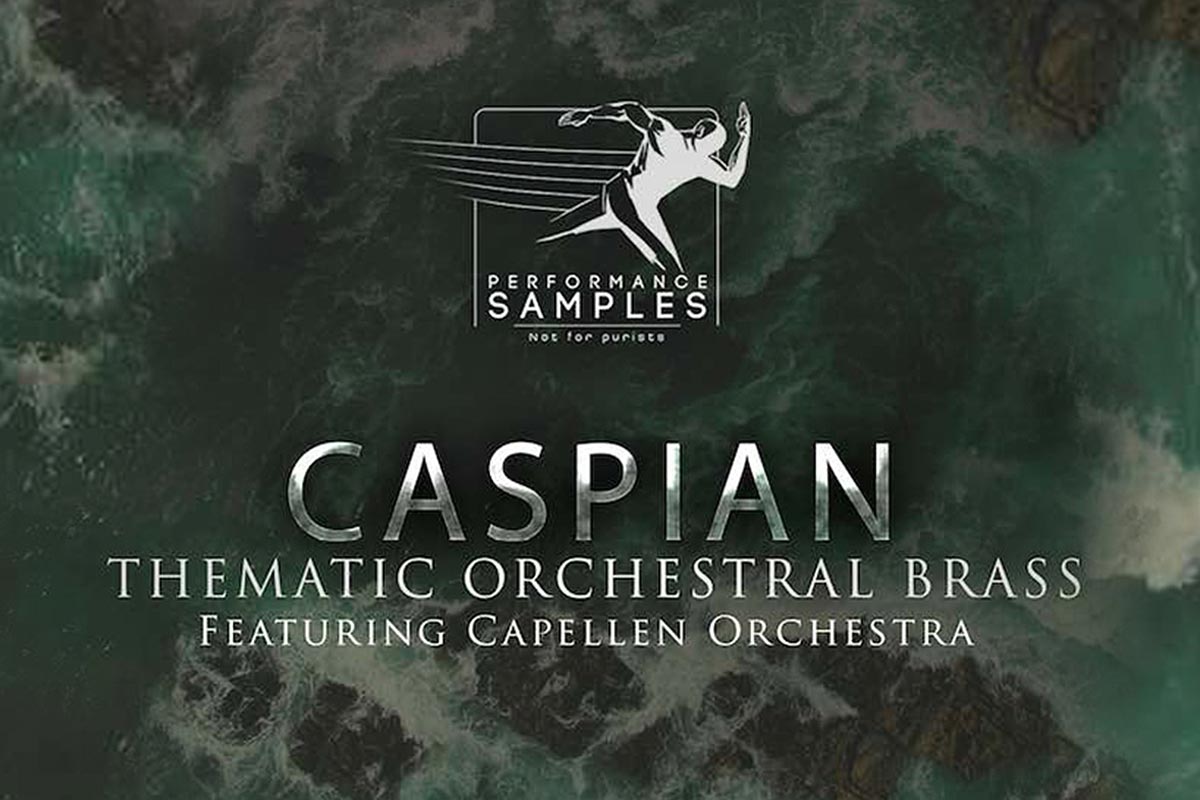 Caspian Orchestral Brass KONTAKT
Las muestras de rendimiento no son conocidas por su diseño de interfaz llamativo, y Caspian no es una excepción a esto. Los tres parches tienen exactamente el mismo aspecto: un mezclador de micrófonos y un campo que le permite cambiar el canal CC de control dinámico. Las opciones de micrófono consisten en Cerrar, Decca y Ancho. Cada posición tiene un botón Silencio y Solo, una perilla de volumen, un deslizador de paneo y un menú desplegable para seleccionar una salida de Kontakt si desea enrutarlos a diferentes canales.
Caspian Orchestral Brass KONTAKT
Tres secciones individuales: 6 trompas, 3 trompetas y 3 trombones bajos
Tres capas dinámicas (dos en corno francés), desde moderadamente suaves hasta FFF
Ataques y lanzamientos derivados de frases de performance.
Muestras de liberación cortas y de lengua rápida que reaccionan a la longitud de la nota.
Hasta 5 lanzamientos de RR en trompetas
Con la orquesta de capellen
Grabado en una sala de ambiente * con posiciones de micrófono cercanas, decca y amplia
48 kHz / 24 bits
Comprimido NCW, ~ 1.16 GB en total
Construido para Kontakt 5.5.1 y superior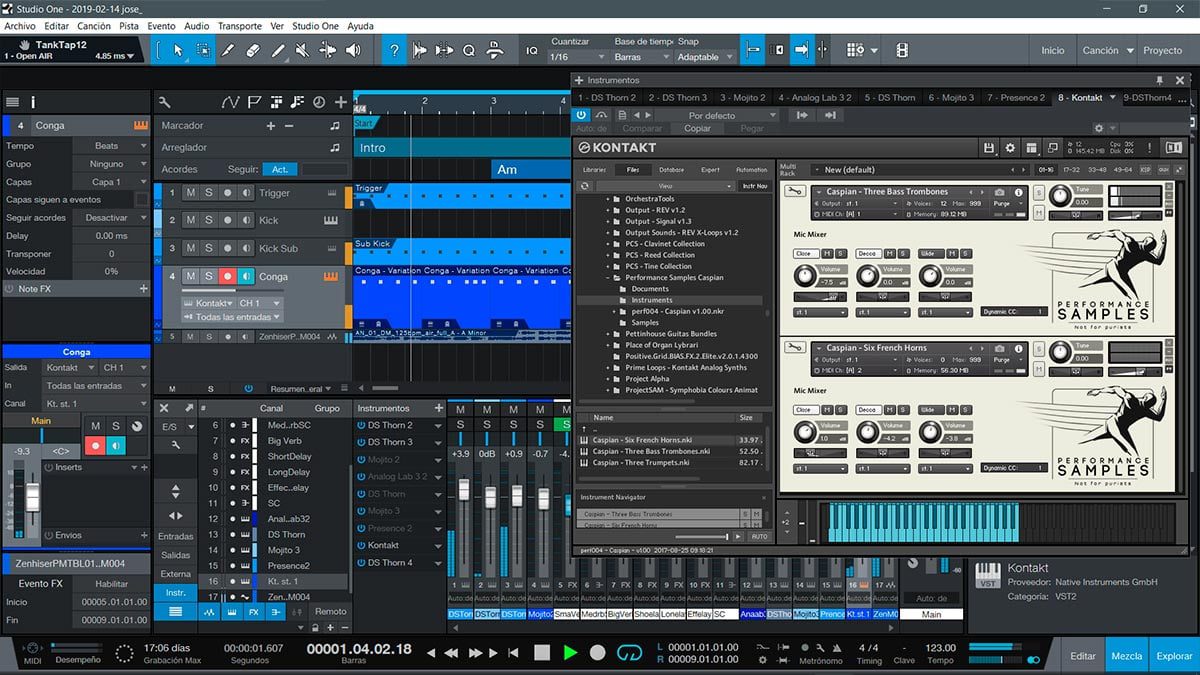 English
Caspian is Performance Samples' fourth commercial product. This brass library takes notes from its predecessor, Oceania choir, and presents its sections as single patches, covering French Horns, Trumpets, and Bass Trombones. Caspian's advanced scripting and sampling techniques make it extraordinarily easy to record energetic lines that mix staccato and sustained playing without spending time tweaking keyswitches, midi channels, and separate articulations.
Performance Samples isn't known for flashy interface design, and Caspian is no exception to this. All three of the patches look exactly the same – a mic mixer, and a field that allows you to change the dynamic control CC channel. The microphone options consist of Close, Decca, and Wide. Each position has a Mute and Solo button, a volume knob, a pan fader, and a dropdown to select a Kontakt Output if you like to route them to different channels.
Caspian Orchestral Brass KONTAKT
Three individual sections: 6 french horns, 3 trumpets, and 3 bass trombones
Three dynamic layers (two on french horns), from moderately soft to FFF
Attacks and releases derived from performance phrases
Short, fast-tongued release samples which react to note length
Up to 5 RR releases on trumpets
Featuring Capellen Orchestra
Recorded in an ambient hall* with close, decca, and wide mic positions
48kHz / 24bit
NCW-compressed, ~1.16 GB total
Built for Kontakt 5.5.1 and above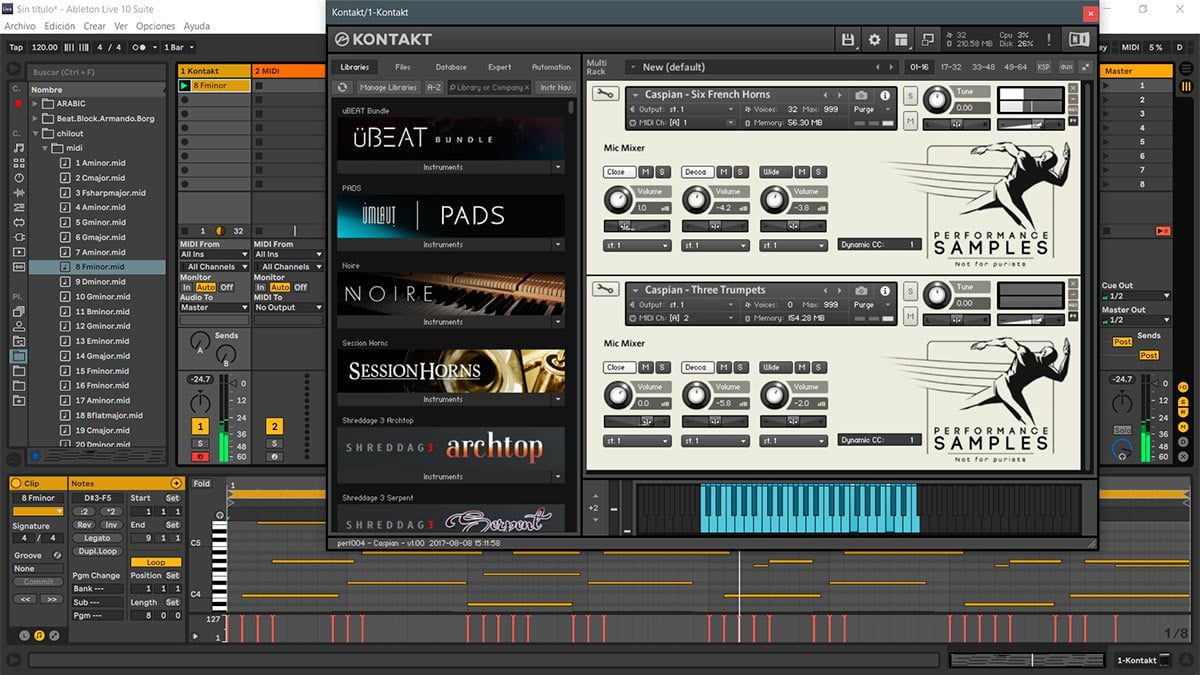 Caspian Orchestral Brass KONTAKT
Descarga Directa – Direct Download
Con Moto Cellos FULL KONTAKT (1.98Gb)
Para descarga de esta página se necesita un cliente Torrent, hay muchos disponibles, tanto para Windows como para MacOSX, aquí les dejo algunos de los mejores clientes…una vez instalado alguno de los programas, los enlaces Torrent se abren de forma automática.