The Legend 1-28 VST WINDOWS x86 x64…Desarrollado en cooperación con el especialista en sintetizadores vintage Bigtone Studios, The Legend está diseñado para emular fielmente uno de los sintetizadores analógicos vintage más famosos. Además, numerosas mejoras innovadoras aumentan enormemente su versatilidad.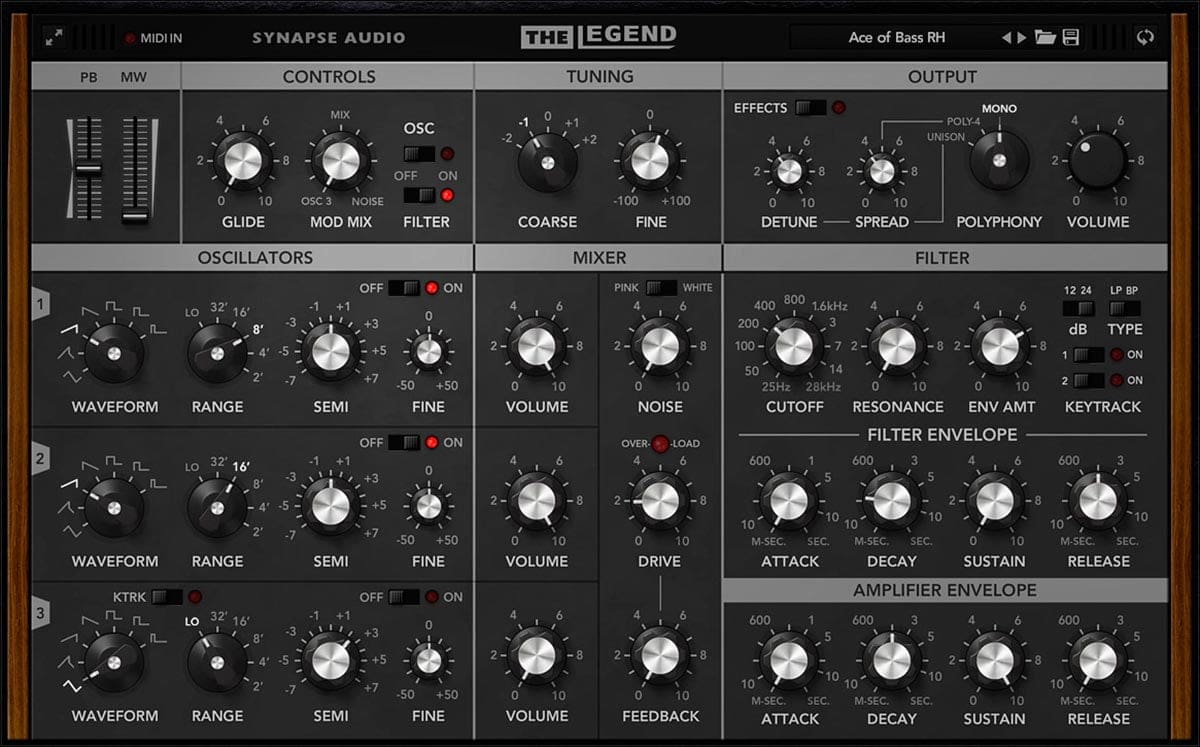 The Legend 1-28 VST WINDOWS x86 x64
Todos los componentes, que van desde los osciladores controlados por voltaje (VCO), el filtro controlado por voltaje (VCF) y el amplificador controlado por voltaje (VCA), se han modelado con una precisión nunca antes vista en el software. El filtro ágil y las envolventes del amplificador se han modelado meticulosamente, así como el extremo inferior masivo, incluso se han tenido en cuenta los efectos más marginales como la deriva de temperatura o los efectos que se originan en la fuente de alimentación.
Las adiciones más significativas son los modos Unison y Polyphonic, lo que permite sonidos estéreo gruesos, además de permitir el juego polifónico. Construido alrededor de un núcleo vectorizado, The Legend es capaz de sintetizar cuatro voces por el costo de poco más que una sola voz, lo que lo convierte en un plug-in de sintetizador de modelado analógico altamente eficiente.
The Legend 1-28 VST WINDOWS x86 x64
Simulación precisa del circuito
Dos revisiones modeladas, temprano y tardío
Motor sobremuestreado 8x
Núcleo vectorizado con modos de polifonía Unison, Mono y cuatro voces 480 parches incluidos
Matriz de rendimiento en el panel posterior para aumentar la expresividad del instrumento
Expresión polifónica multidimensional (MPE) cuando está en modo Poly
VST de 32bit-64bit para WINDOWS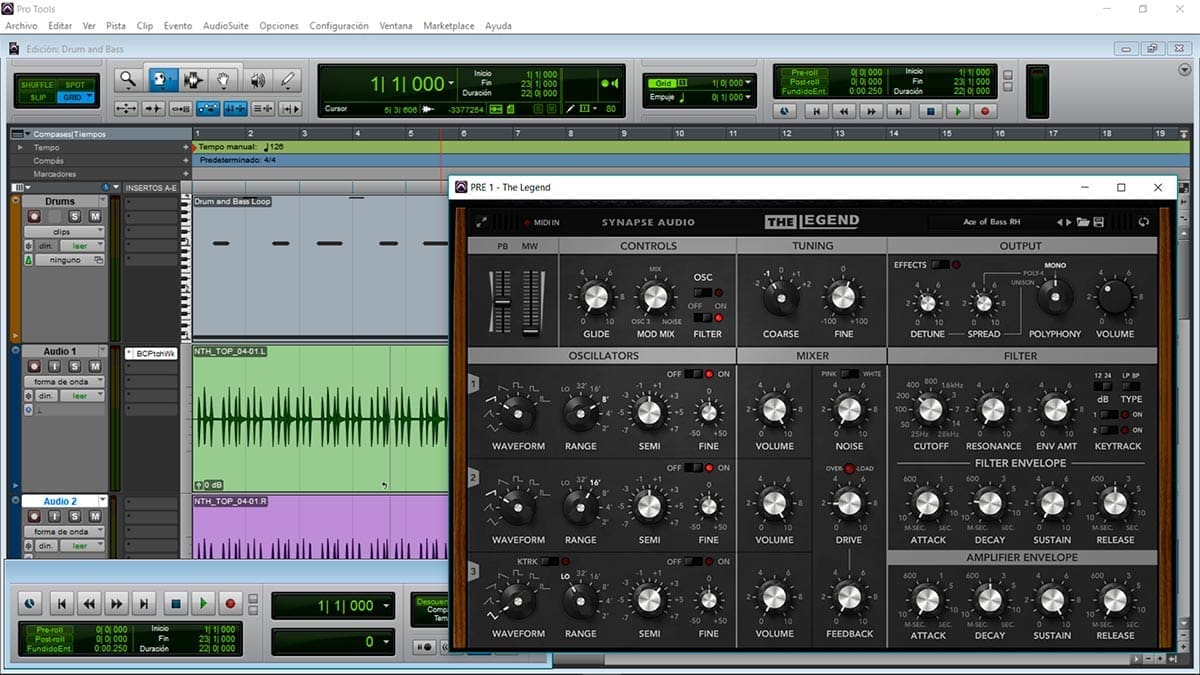 English
Every component, ranging from the voltage-controlled oscillators (VCOs), voltage-controlled filter (VCF) and voltage-controlled amplifier (VCA), have been modeled to an accuracy never seen before in software. The snappy filter and amplifier envelopes have been meticulously modeled, as well as the massive bottom end – even the most marginal effects like temperature drift or effects originating from the power supply have been taken into account.
The most significant additions are the Unison and Polyphonic modes, allowing for thick stereo sounds, as well as enabling polyphonic play. Built around a vectorized core, The Legend is capable of synthesizing four voices for the cost of little more than a single voice, making it a highly efficient analog-modeling synthesizer plug-in.
The Legend 1-28 VST WINDOWS x86 x64
Accurate circuit simulation
Two Revisions modeled, Early and Late
8x Oversampled engine
Vectorized core with Unison, Mono and four-voice Polyphony modes
480 patches included
Performance matrix on the back panel to increase the expressiveness of the instrument
Multidimensional Polyphonic Expression (MPE) when in Poly mode.
VST 32bit & 64bit for WINDOWS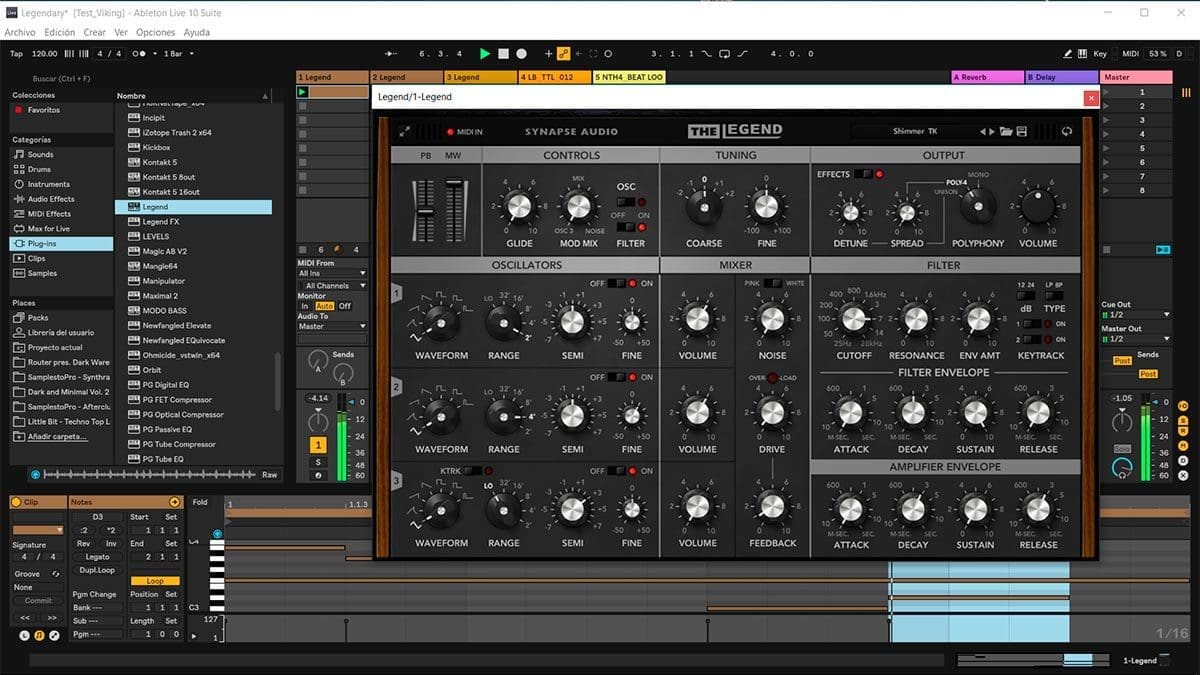 The Legend 1-28 VST WINDOWS x86 x64
Descarga Directa – Direct Download
The Legend v1.28 VSTi WINDOWS 32bit-64bit
Para descarga de esta página se necesita un cliente Torrent, hay muchos disponibles, tanto para Windows como para MacOSX, aquí les dejo algunos de los mejores clientes…una vez instalado alguno de los programas, los enlaces Torrent se abren de forma automática.