Madrona Labs Kaivo 1-8-5 VSTi WiN…Kaivo trae por primera vez algunas de las últimas investigaciones académicas en modelado físico a un paquete parcheable. Hablando matemáticamente, sus modelos de dominio de tiempo de diferencia finita (FDTD) permiten al jugador acceder al interior del instrumento y afectar las vibraciones internas en cualquier punto. Esto permite un grado fino de detalles realistas, como los traqueteos del puente en un modelo de «cuerdas de tripa», por ejemplo. Y si bien Kaivo es capaz de hacer sonidos muy realistas, también está diseñado para aplicar esta sutileza a las creaciones abstractas.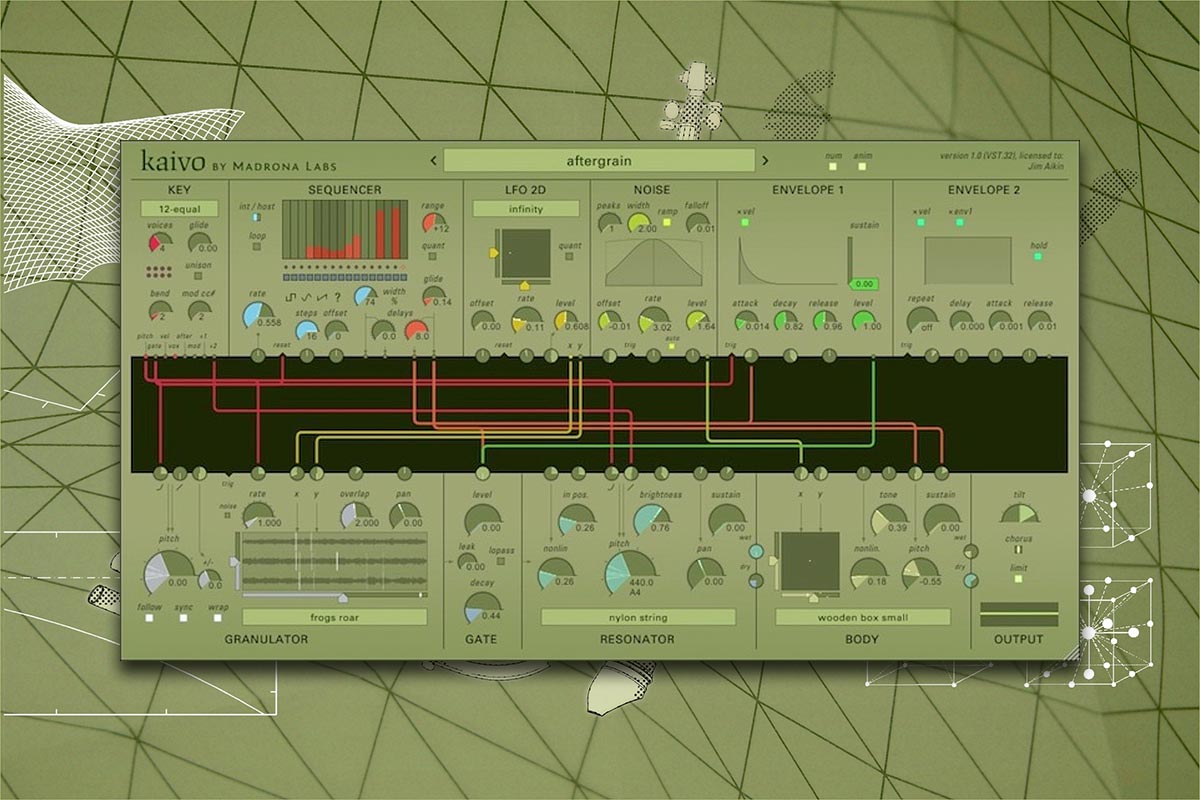 Madrona Labs Kaivo 1-8-5 VSTi WiN
Como una imagen vale a veces 1000 palabras, un modelo físico vale 1000 muestras. Cada vez que se activa un modelo, produce un sonido ligeramente diferente debido a las condiciones iniciales cuando se inicia el sonido. Esta variedad sutil puede dar rápidamente una calidad muy real a los sonidos que sería tedioso recrear con el muestreo. Kaivo tiene ocho tipos diferentes de resonadores sintonizados, que incluyen cuerdas, campanadas y resortes, cada uno con su propia respuesta compleja al sonido. En cuanto a los cuerpos de los instrumentos, hay cuatro, incluidos dos modelos de cuerpos de madera, una placa de metal y un tambor de bastidor, todos verdaderos modelos en 2D.
Madrona Labs Kaivo 1-8-5 VSTi WiN
Se agregó el manejo de los mensajes MIDI «todas las notas desactivadas» y «todos los sonidos apagados»
Se corrigieron errores con el manejo de Scala .scl y .kbm
Se solucionó el problema con el secuenciador por pasos que no se cuantificaba a la escala actual
Se solucionó el problema de que la IU del secuenciador por pasos no llegaba al máximo al arrastrar
Se agregó una velocidad mínima de LFO más lenta y un ajuste más fino (0.0001 Hz)
Respuesta agregada a la consulta MPE «canDo» en el complemento VST
Mayor tiempo de planeo para reducir el ruido de la cremallera para los parámetros del panel
Se corrigieron los clics cuando se cambia la puerta / marcación de fugas
VSTi 32bit y 64bit para WiNDOWS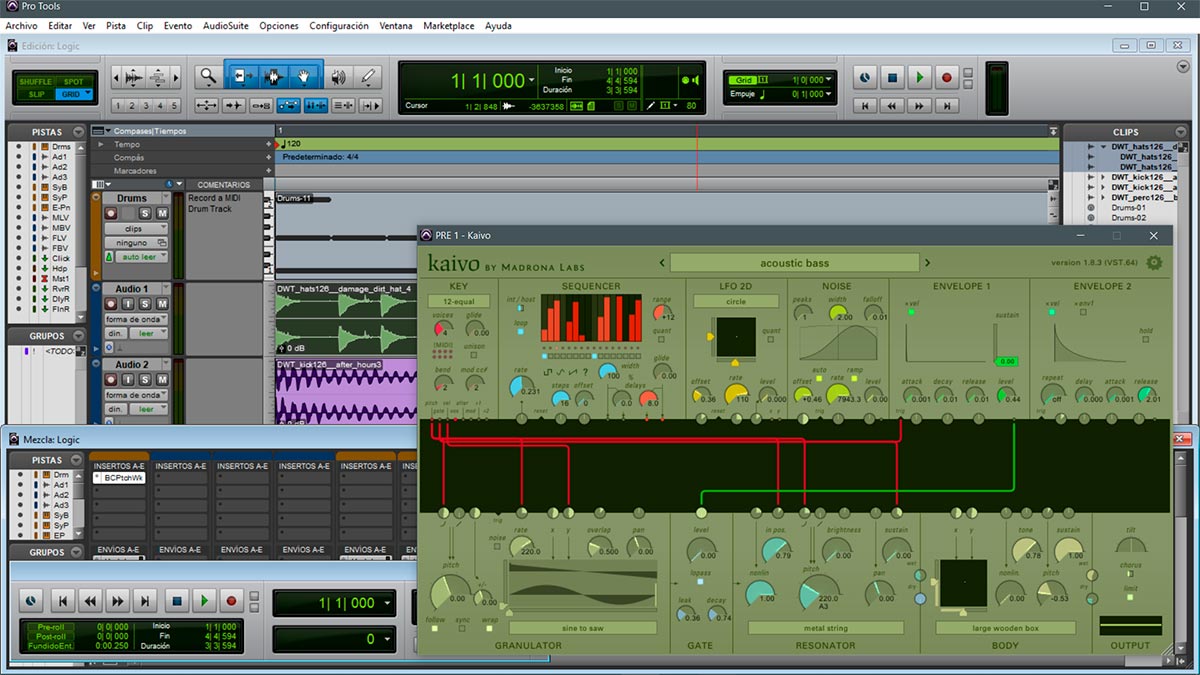 English
Kaivo brings some of the latest academic research in physical modeling to a patchable package for the first time. Mathematically speaking, its finite difference time domain (FDTD) models let the player reach inside the instrument and affect the internal vibrations at any point. This allows for a fine degree of realistic detail, like the bridge rattles on a «gut string» model, for example. And while Kaivo is capable of making very realistic sounds, it is also designed to apply this subtlety to abstract creations.
Like a picture is sometimes worth 1000 words, a physical model is worth 1000 samples. Every time a model is triggered, it makes a slightly different sound due to the initial conditions when the sound starts. This subtle variety can quickly give a very lifelike quality to sounds that would be tedious to recreate with sampling. Kaivo has eight different types of tuned resonators, including strings, chimes and springs, each with its own complex response to sound. As for instrument bodies, there are four, including two wooden body models, a metal plate, and a frame drum—all true 2D models.
Madrona Labs Kaivo 1-8-5 VSTi WiN
Added handling of «all notes off» and «all sound off» MIDI messages
Fixed bugs with Scala .scl and .kbm handling
Fixed issue with step sequencer not quantizing to current scale
Fixed issue with step sequencer UI not reaching maximum when dragging
Added slower LFO minimum speed and finer adjust (0.0001 Hz)
Added response to «canDo» MPE query in VST plugin
Increased glide time to reduce zipper noise for panel parameters
Fixed clicks when gate/leak dial is changed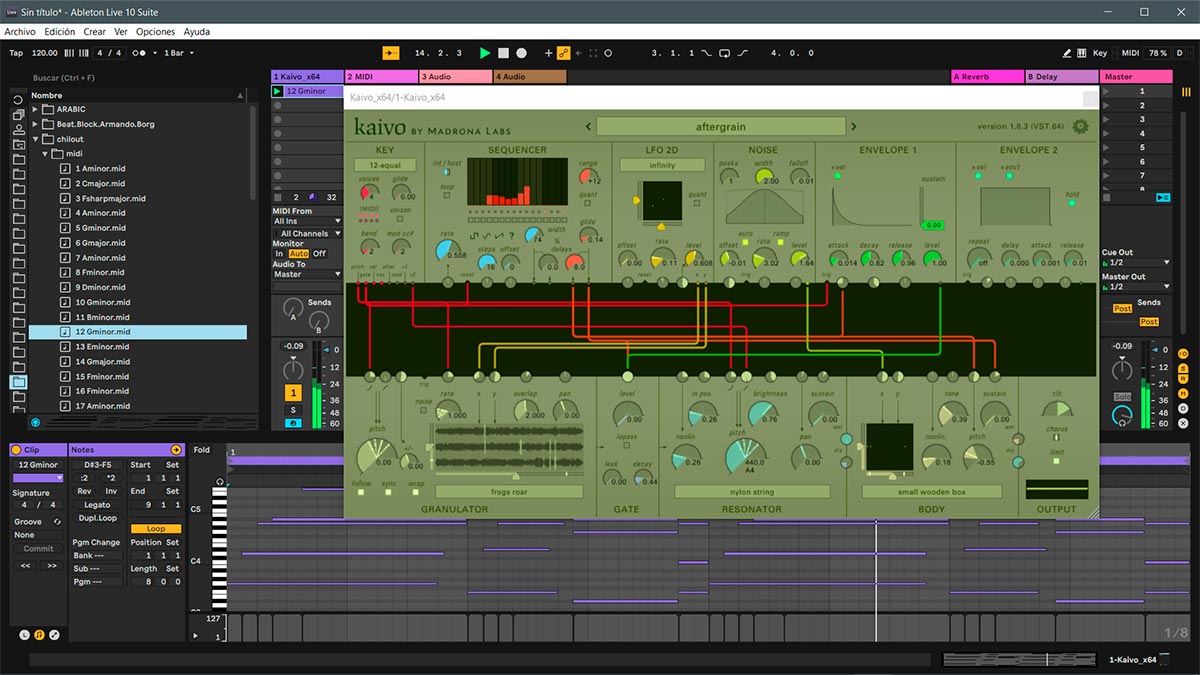 Madrona Labs Kaivo 1-8-5 VSTi WiN
INSTALACIÓN:
Puede que tengamos que «

desactivar smartscreen

» de Windows
Instalamos el plugin y sustituimos la «dll» por la de la carpeta «Patch»

Listos, comprobado en Ableton Live (VST 64bit) y Pro Tools (VST con Patchwork)

Descarga Directa – Direct Download
Kaivo v1.8.5 VSTi WiNDOWS 32bit 64bit
Para descarga de esta página se necesita un cliente Torrent, hay muchos disponibles, tanto para Windows como para MacOSX, aquí les dejo algunos de los mejores clientes…una vez instalado alguno de los programas, los enlaces Torrent se abren de forma automática.