Forte Notation 10-12 WINDOWS…Para el músico profesional, todo lo que NECESITAS. Para el músico aficionado…todo lo que QUIERES. Esta versión completa es la edición de escaparate de la línea de productos FORTE 10 y proporciona funciones y operaciones de alta calidad. ¡El cielo es el límite y las posibilidades son infinitas con FORTE 10 PREMIUM!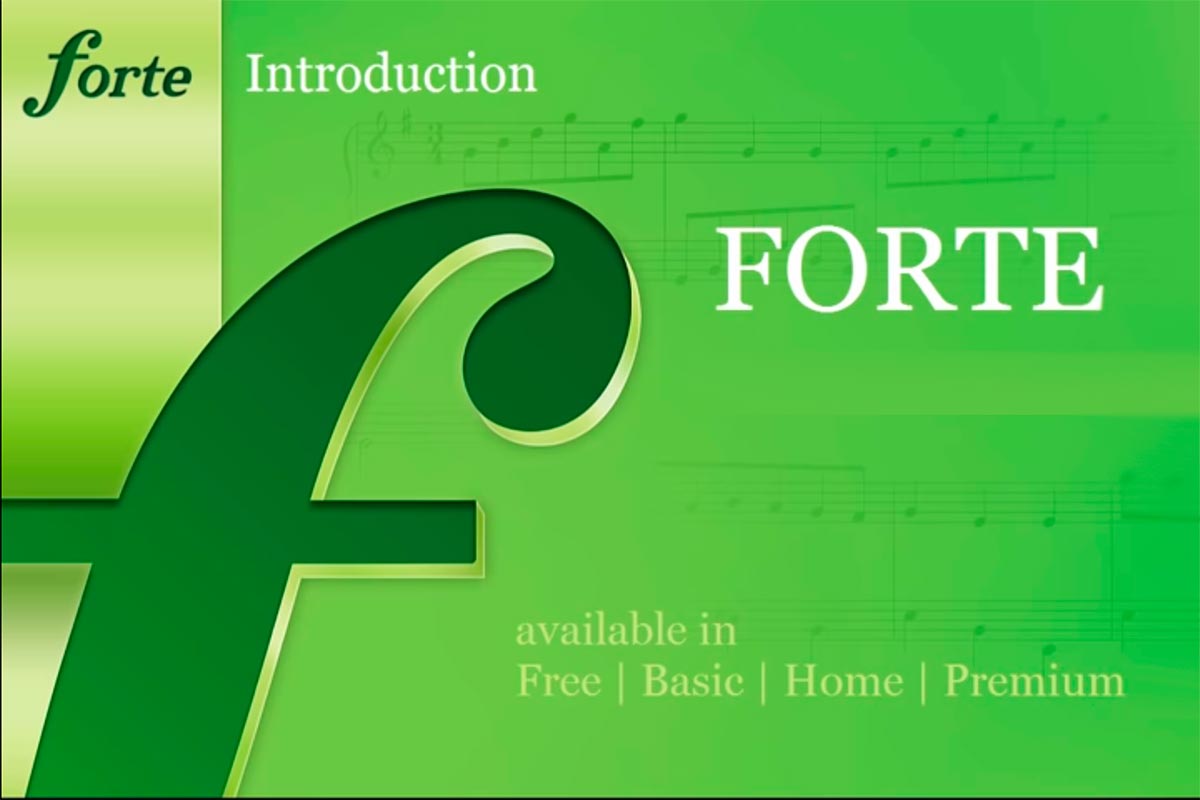 Forte Notation 10-12 WINDOWS
Accesible, asequible y todo incluido: ese es el producto de notación de software musical triple A de FORTE 10 Premium, disponible actualmente en el mercado. Cuando necesite escribir una orquestación completa, quiere hacerlo de manera rápida y fácil. No quiere perder el tiempo dando vueltas en el tutorial después del tutorial; desea una interfaz intuitiva y navegable que le permita pasar más tiempo viendo cómo los sonidos toman forma y menos tiempo jugando con los aspectos técnicos de la tecnología.
Forte Notation 10-12 WINDOWS
Módulo de exploración incorporado
Entrada en tiempo real desde un dispositivo MIDI o teclado
32 pentagramas / pistas máx. 4 voces pro / pista máx.
16 versos de letras prova / pista máx.
Medidor compuesto, Medida de recogida, Extracción de parte
Guardar como MP3 o como WAVE
Importación y exportación de MusicXML
Interfaz VST / efectos VS
Notación de tambor asignable individual, Tablatura completa
25 señales de adorno, 12 cabezas de nota diferentes
Diapasón de guitarra, Funciones avanzadas de acordes
Registro de entrada / salida
Entrada en tiempo real y entrada en modo step desde el teclado MIDI
Importar archivos Finale MUSICXML y Capella CAPX
Transposición por instrumento e identificación de acordes
Plug-in de video, Enlace OLE
Gestión de derechos digitales
English
Accessible, affordable, and all-inclusive — that's FORTE 10 Premium, the triple-A music software notation product available on the market today. When you need to write out full orchestration, you want to do it quickly and easily. You don't want to waste your time tumbling through tutorial after tutorial; you want an intuitive, navigable interface that lets you spend more time seeing the sounds take shape and less time toying with the technicalities of technology.
Forte Notation 10-12 WINDOWS
Built-in scan module
Step-time and real-time entry from MIDI device or keyboard
32 staves/tracks max, 4 voices pro stave/ track max.
16 lyric verses pro stave/ track max
Compound meter, Pickup measure
Save as MP3 or as WAVE
Swing feeling adjustable
Import and export of MusicXML
VST-interface/VST-effects
Individual assignable drum notation, Complete tablature
25 ornament signs, 12 different noteheads
Guitar fretboard, Advanced chord functions
Real-time entry and step-mode entry from MIDI keyboard
Import Finale MUSICXML and Capella CAPX files
Transposition by instrument and chord identification
Video plug-in, OLE linking
Digital Rights Management
Forte Notation 10-12 WINDOWS
Descarga Directa – Direct Download
Forte Notation v10.12 WINDOWS x86
Para descarga de esta página se necesita un cliente Torrent, hay muchos disponibles, tanto para Windows como para MacOSX, aquí les dejo algunos de los mejores clientes…una vez instalado alguno de los programas, los enlaces Torrent se abren de forma automática.