Couture 1-3 VST-AAX-AU WIN-OSX…Couture te da control sobre tu dinámica, y particularmente los ataques. Eficiencia cruda. Aumentar o disminuir la dinámica. Consigue un resultado utilizable, ahora. Totalmente independiente del volumen. Mantenga la libertad de cambiar la ganancia de entrada cuando sea necesario, incluyendo la etapa de saturación. El detector dependiente del programa de 2 bandas, semiespectral, RMS de Couture encuentra todos y cada uno de los transitorios. No hay umbrales internos.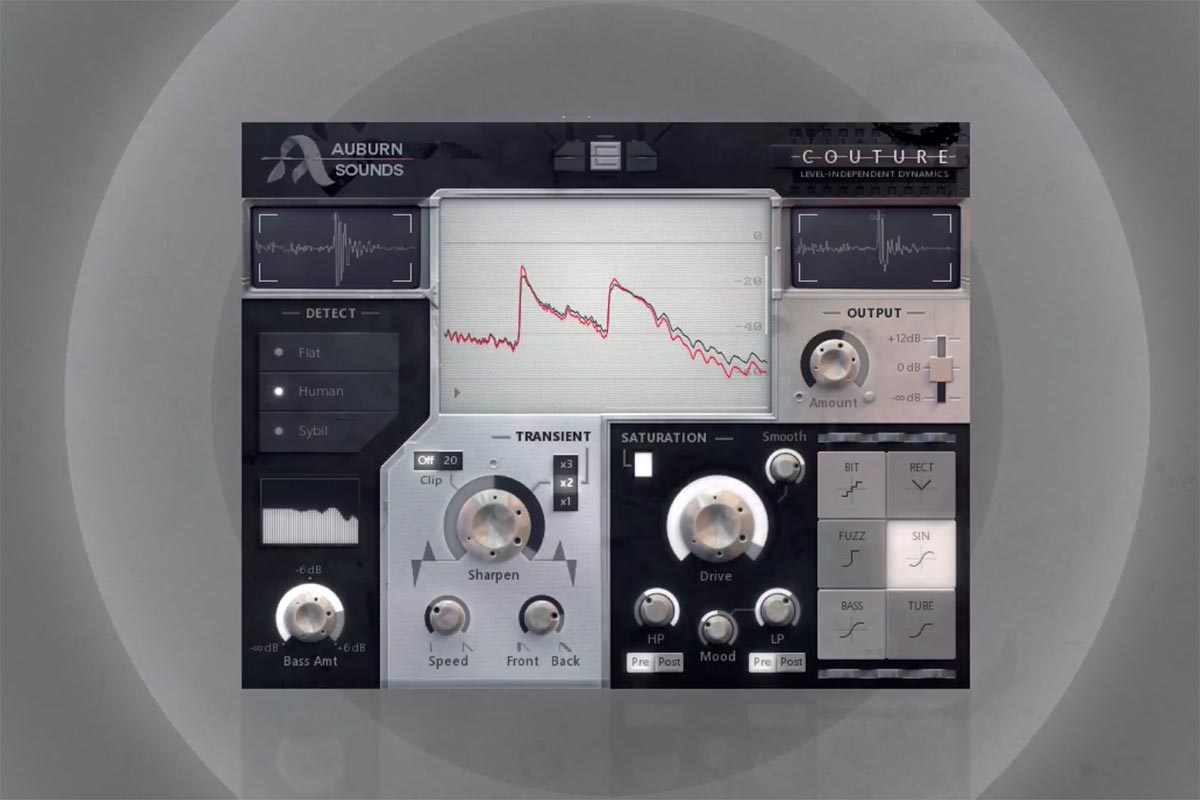 Couture 1-3 VST-AAX-AU WIN-OSX
En la entrada, tres modos de detección cambian entre enfatizar frecuencias sibilantes (ásperas), una respuesta plana y una sonoridad igual, mientras que la perilla de cantidad de graves aumenta o disminuye la sensibilidad del detector a las frecuencias de bajos. La configuración de los transitorios se marca con el botón Afilar: en el sentido de las agujas del reloj para resaltarlos, en el sentido contrario a las agujas del reloj para retrocederlos. En el multiplicador predeterminado de x1, el efecto es relativamente restringido, pero los modos x2 y x3 amplían enormemente el rango y, por consiguiente, la versatilidad.
Couture 1-3 VST-AAX-AU WIN-OSX
Haz las pistas de batería individuales mucho más dinámicas y pegajosas
Eliminar el «clic» de una muestra de bombo.
Haz un bus completo más o menos dinámico en un solo clic
Da pegamento a una mezcla con ligera compresión y saturación.
Usa una saturación sutil que conserve la dinámica.
Deess el comienzo de las notas para las voces.
Dale vida a los sintetizadores inanimados.
VST-VST3-AAX-AU de 32bit y 64bit para WiNDOWS y MAC OSX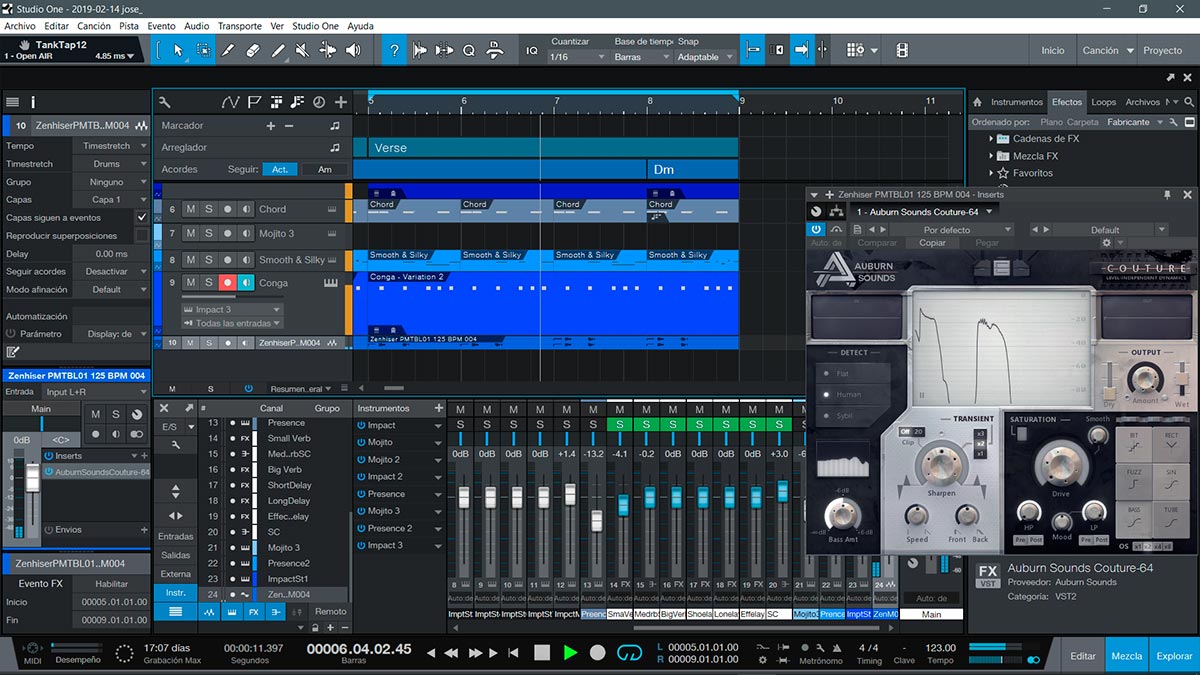 English
Couture gives you control over your dynamics, and particularly attacks. Raw Efficiency. Increase or decrease dynamics. Get a usable result, now. Fully Volume-independent. Keep the freedom to change input gain when needed. Including the Saturation stage. Laser-sharp. Couture's 2-bands, half-spectral, RMS, program-dependent detector finds each and every transient. No internal thresholds.
At the input, three Detect modes switch between emphasising sibilant (harsh) frequencies, a flat response and equal loudness, while the Bass Amount knob increases or decreases the sensitivity of the detector to bass frequencies. Shaping of transients is dialled in with the Sharpen knob: clockwise to emphasise them, anticlockwise to pull them back. At the default x1 multiplier, the effect is comparatively restrained, but the x2 and x3 modes greatly expand the range – and, consequently, versatility.
Couture 1-3 VST-AAX-AU WIN-OSX
Make individual drum tracks a lot more dynamic and punchy
Remove the «click» out of a kick drum sample
Make a whole bus more or less dynamic in a single click
Give glue to a mix with light compression and saturation.
Use a subtle saturation that preserve dynamics.
Deess the very start of notes for vocals.
Give life to inane lead synths.
VST-VST3-AAX-AU 32bit & 64bit for WiNDOWS & MAC OSX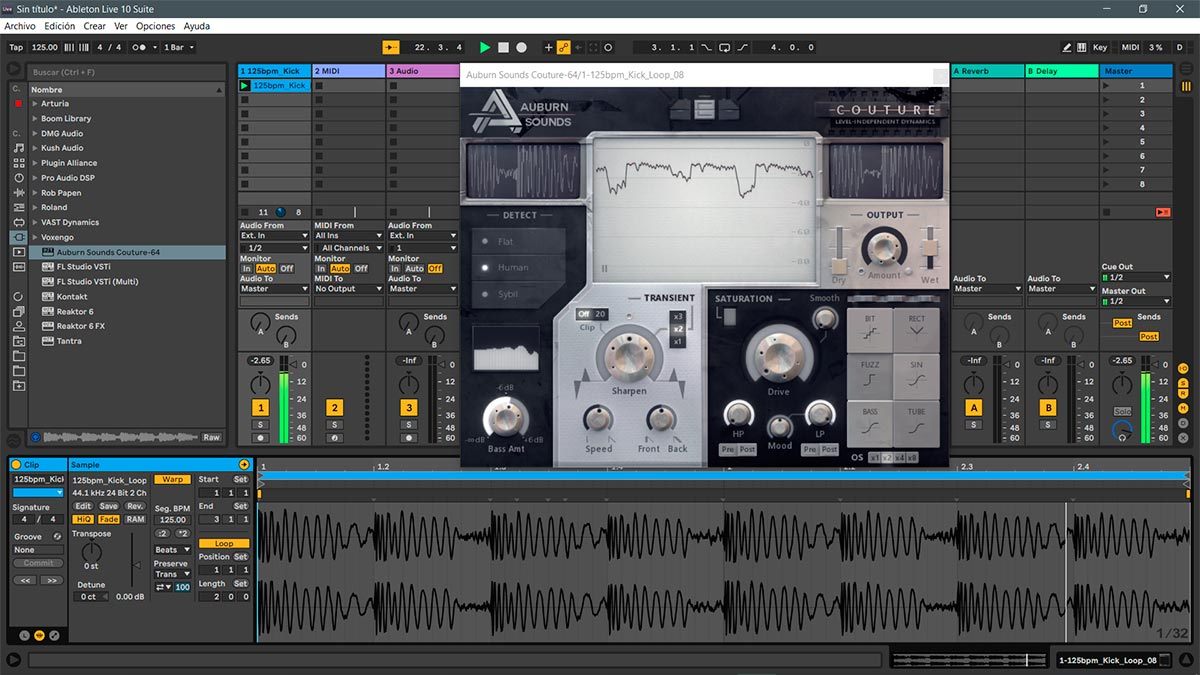 Couture 1-3 VST-AAX-AU WIN-OSX
Descarga Directa – Direct Download
Couture v1-3 VST-VST3-AAX-AU

WIN-MAC

x86 x64
Para descarga de esta página se necesita un cliente Torrent, hay muchos disponibles, tanto para Windows como para MacOSX, aquí les dejo algunos de los mejores clientes…una vez instalado alguno de los programas, los enlaces Torrent se abren de forma automática.