SynthR v1-3 VST-AU WIN-OSX…SynthR es un sintetizador analógico virtual que tiene tres osciladores con formas de onda analógicas libremente ajustables. Cada oscilador puede duplicar hasta diez osciladores para un total de 20 osciladores de súper sierra, cuadrado, seno, triángulo. Tiene un filtro multimodo con dos pasos bajos resonantes y un paso alto. Un osciloscopio incorporado facilita la creación de sonido con comentarios visuales directos mientras se ajustan los parámetros. Degradación ajustable después de envolvente de filtro, efectos dist, reverberación y eco incorporados.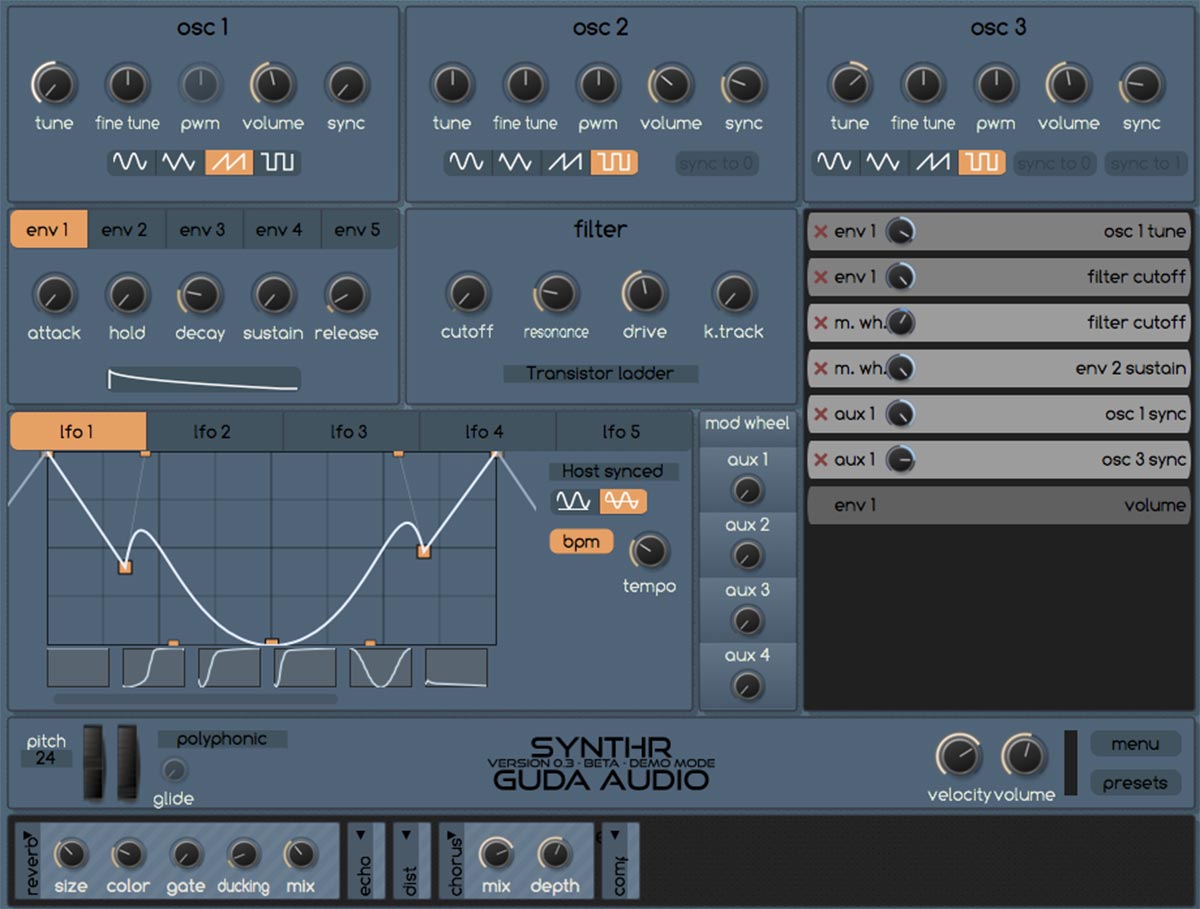 SynthR v1-3 VST-AU WIN-OSX
Guarde y explore presets en línea y fuera de línea. Comparta ajustes preestablecidos con otros usuarios guardándolos públicos. Fácil de cambiar los temas de color y apariencia. Osc 1 y 2 son osciladores flexibles con pwm, morph libre entre formas y super «sierra» para cualquier forma. Osc 3 tiene las formas normales y un botón «oh snap» para generar tablas de ondas. Dibuja tu propia forma con líneas y splines y modula cada punto con LFO individuales con Osc 4.
SynthR v1-3 VST-AU WIN-OSX
Sintetizador flexible con modulaciones de arrastrar y soltar
Osciladores antialias cristalinos
Filtro saturado multimodo
Grandes efectos y formas de LFO flexibles
Hasta 5 voces simultáneas en cada nota
Fácil de cambiar temas de color y aspecto
SynthR tiene dos modos de oscilador:
«clásico» con formas de tipo analógico y
«spline» con forma de onda flexible fácil de usar
Editor de formas de onda y efectos de formas cambiantes
VST-AU de 32 bits y 64 bits para WINDOWS y MAC OSX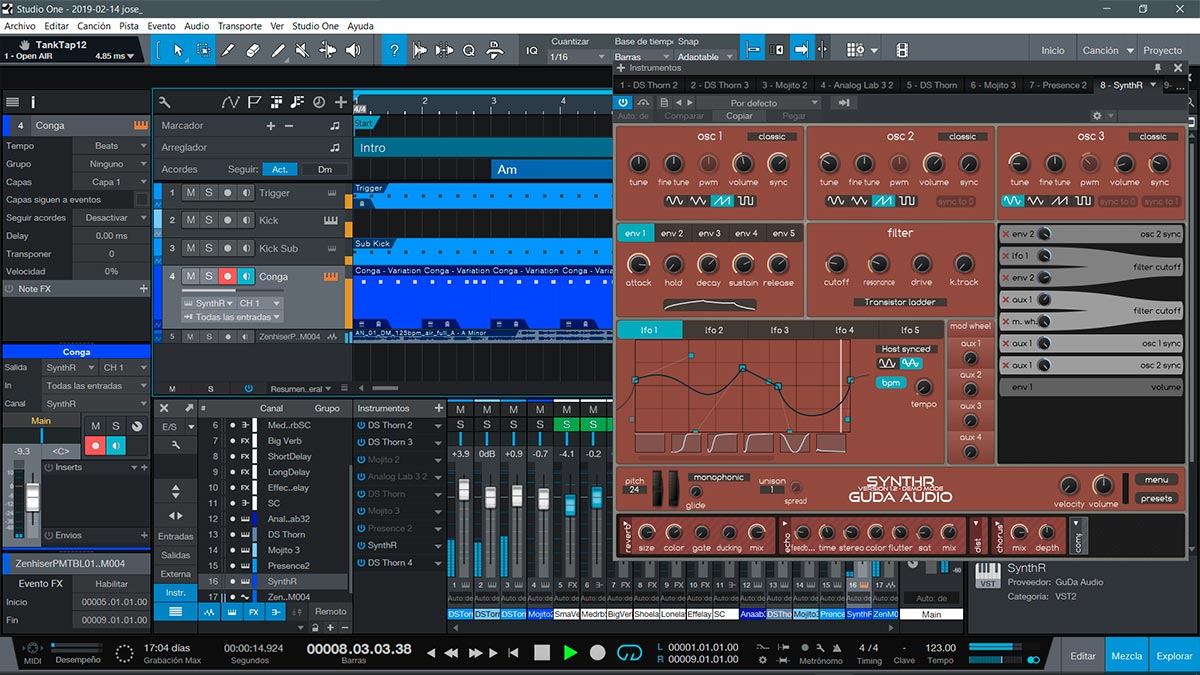 English
SynthR is a Virtual Analog synth having tree oscillators with freely adjustable analog waveforms. Each oscillator can double up to ten oscillators for a total of 20 oscillator super-saw, square, sine, triangle. It has a multimode filter with two resonant lowpass and one highpass. A built-in oscilloscope makes sound crafting easier with direct visual feedback while tweaking parameters. Adjustable decimation following filter envelope, built-in dist, reverb and echo effects.
Save and browse presets online and offline. Share presets with other users by saving them public. Easy to change color themes and looks. Osc 1&2 are flexible oscillators with pwm, free morph between shapes and super»saw» for any shape. Osc 3 have the normal shapes and a «oh snap» button to generate wavetables. Draw your own shape with lines and splines and modulate every point with individual LFOs with Osc 4.
SynthR v1-3 VST-AU WIN-OSX
Flexible synthesizer with drag and drop modulations
Clean anti aliased oscillators
Sweet saturated multi mode filter
Great effects and flexible LFO shapes
Up to 5 voices simultaneous at each note
Easy to change color themes and looks
SynthR has two oscillator modes:
«classic» with analog type shapes and
«spline» with easy to use flexible waveform
Waveform editor and shape morphing effects.
VST-AU 32bit & 64bit for WINDOWS & MAC OSX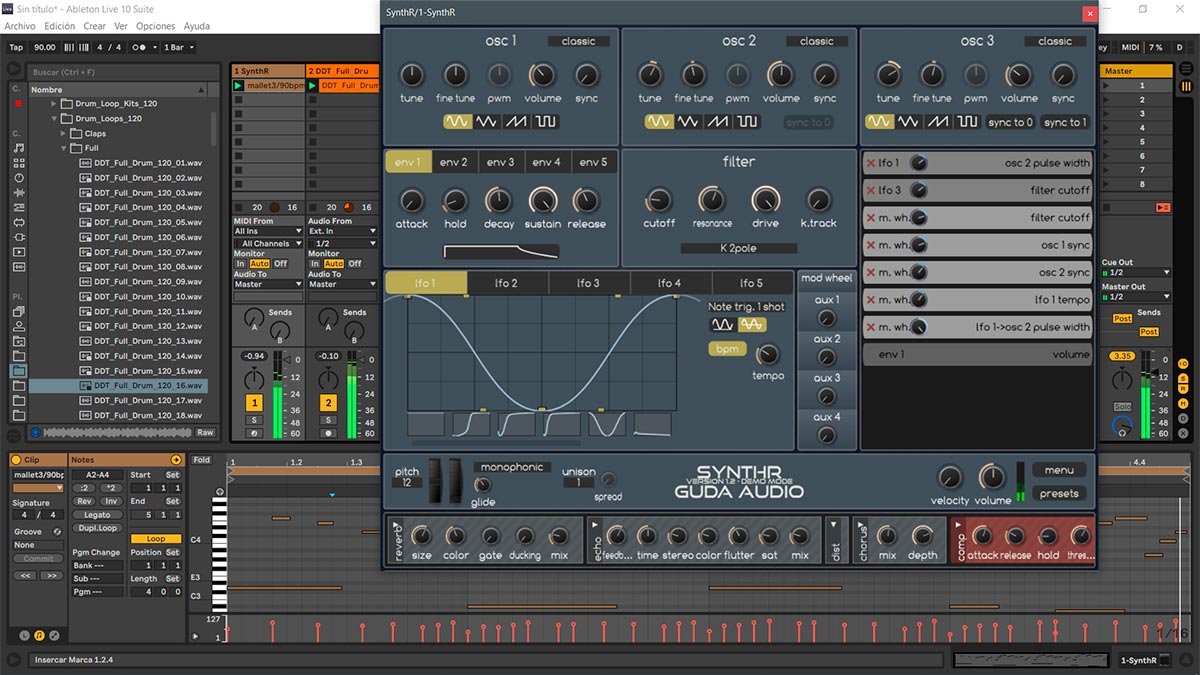 SynthR v1-3 VST-AU WIN-OSX
INSTALACIÓN:
Copiamos según el plugin que usemos a nuestra carpeta de plugins
Iniciamos el plugin y cerramos (esto genera una licencia)
De la carpeta «R2R» ejecutamos «guda_hosts_patch.cmd» como Administrador
Sustituimos la licencia de «Users\Nuestro Usuario\AppData\Roaming\EuterpeXL» por la de la carpeta «R2R»
Listos, plugin comprobado en Ableton Live y FLStudio
Descarga Directa – Direct Download
SynthR v1.3 VSTi-AU

WIN-MAC

x86 x64
Para descarga de esta página se necesita un cliente Torrent, hay muchos disponibles, tanto para Windows como para MacOSX, aquí les dejo algunos de los mejores clientes…una vez instalado alguno de los programas, los enlaces Torrent se abren de forma automática.