Cinematique Instruments Luft KONTAKT…Nunca antes habíamos escuchado y tocado un instrumento así. Suena muy orgánico, muy animado y sobre todo muy único. Suena como flujo de aire, vibración e intimidad.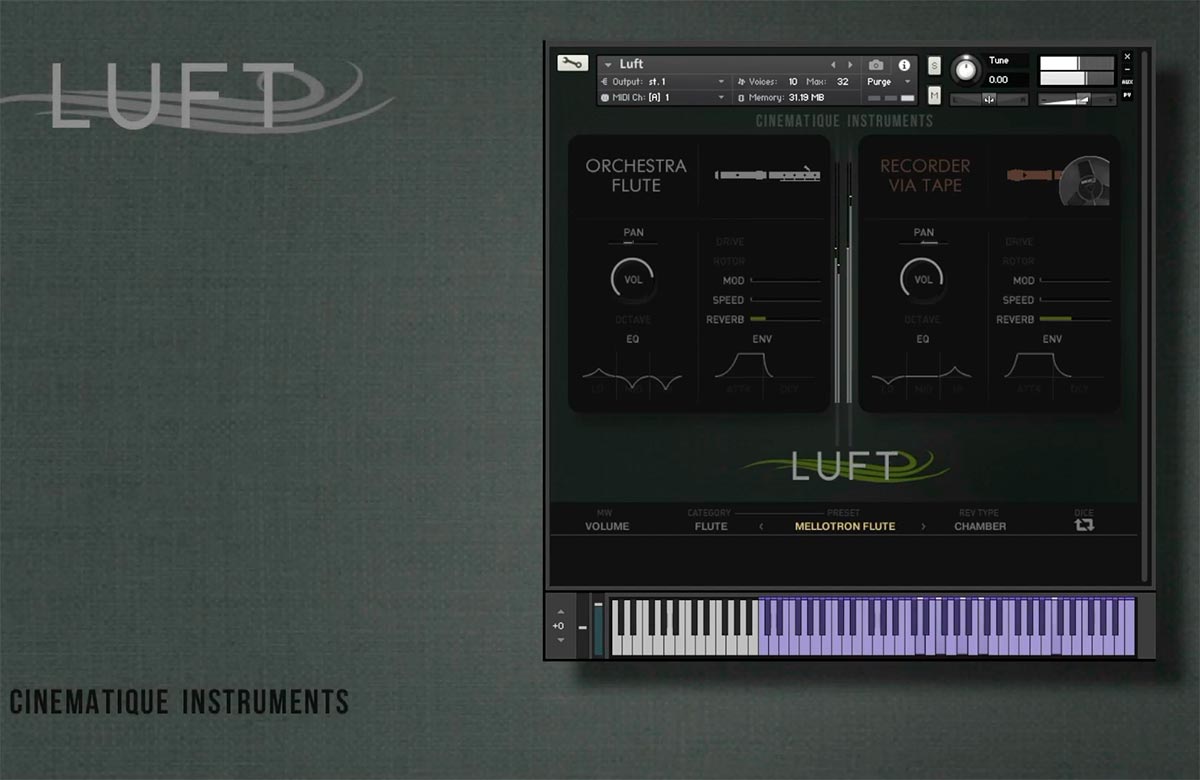 Cinematique Instruments Luft KONTAKT
Pero si observa más de cerca a Luft y ve cuáles son las fuentes de sonido originales, con las cuales Luft ensambla su sonido, ¡no es realmente sorprendente! Luft se basa exclusivamente en instrumentos aerofónicos simples. Todos son instrumentos que producen su sonido a través de una corriente de aire que fluye a través de una caña vibrante o sobre una abertura. Resumiendo: Luft consiste solo en instrumentos de flujo de aire.
Hay un total de 34 instrumentos de flujo de aire individuales, que se pueden dividir en 6 categorías: órganos de ventilador o bomba, teclados soplados como armónicas y melódicas, flautas simples y un órgano de iglesia con varios registros individuales. Pero también hay otros sonidos menos comunes como una botella de agua, una pipa de mano, una pipa, o una flauta nasal o un kazou. Algunos sonidos se volvieron a muestrear en una vieja máquina de cintas que les da el sonido de un Mellotron que complementa con encanto la paleta de sonido general de Luft.
Cinematique Instruments Luft KONTAKT
Órgano de iglesia
Órganos de fuelles
Órganos de bombeo
Órganos soplados: Hohner Melodica y Blues Harp
Flautas: flauta orquestal, flauta dulce, ocarina, panflute, etc.
Herramientas domésticas: silbido roto, botella de agua, silbato, kazou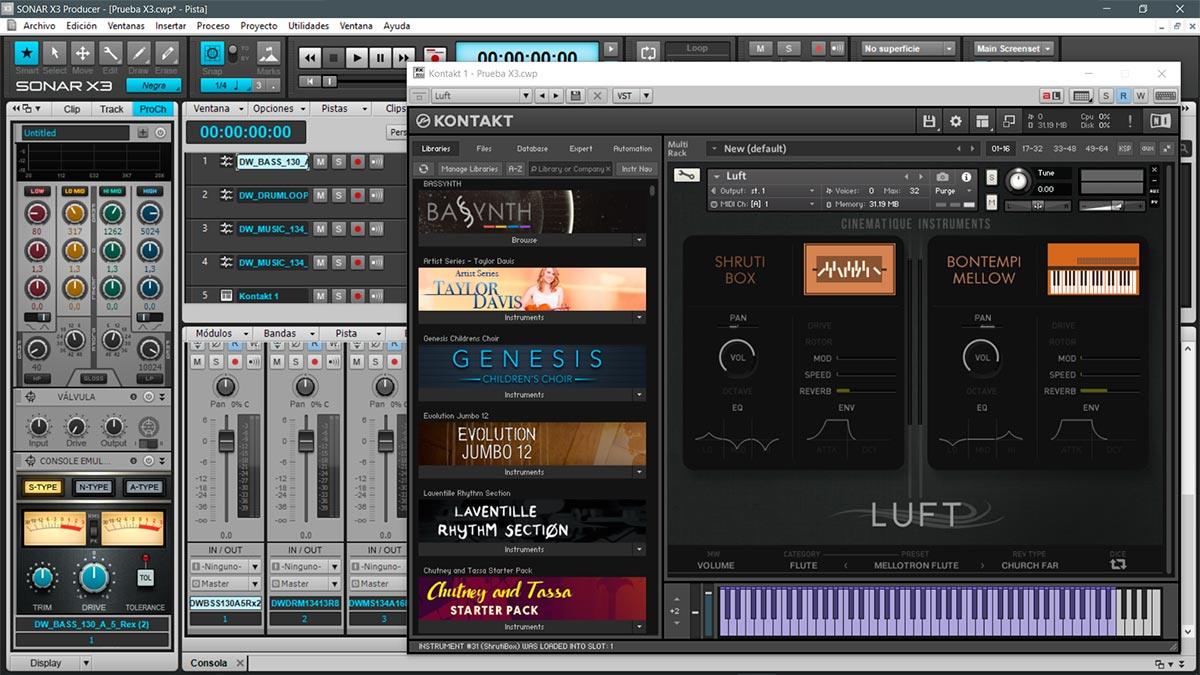 English
If you take a closer look at Luft and see what the original sound sources are, with which Luft assembles its sound, it's not really surprising! Luft is based exclusively on simple aerophonic instruments. They are all instruments that produce their sound through a stream of air that flows through a vibrating reed or over an opening. Summarizing: Luft consists only of airflow instruments.
There are a total of 34 individual airflow instruments, which can be divided into 6 categories: fan or pump organs, blown keyboards like harmonicas and melodicas, simple flutes and a church organ with several individual registers. But there are also other, less common sounds like a water bottle, a hand pipe, a pipe – or a nose flute or a kazou. Some sounds were resampled over an old tape machine which gives them the sound of a Mellotron which charmingly complements the overall sound palette of Luft.
Cinematique Instruments Luft KONTAKT
Church Organ
Fan organs
Pump organs
Blowed organs: 3 different Hohner Melodica, Blues Harp
Flutes: orchestral flute, alto recorder, ocarina, panflute, etc.
Domestic Tools: broken whistling, water bottle, hand whistle, kazou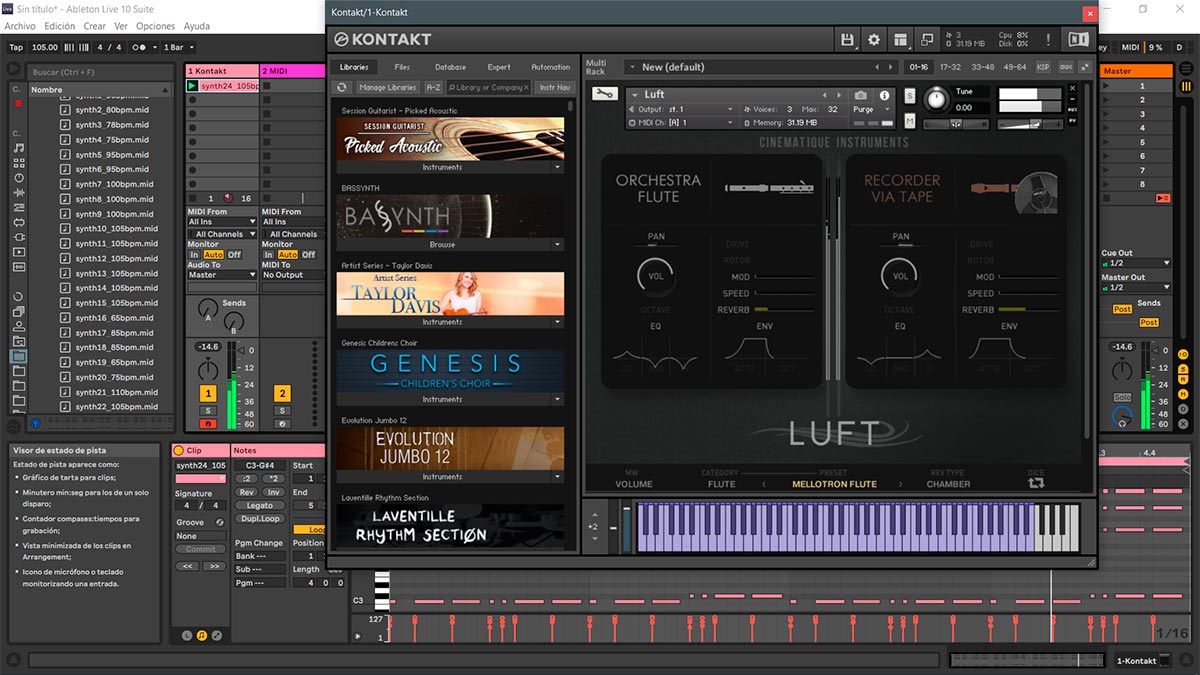 Cinematique Instruments Luft KONTAKT
Descarga Directa – Direct Download
LUFT KONTAKT (345 Mb)
Para descarga de esta página se necesita un cliente Torrent, hay muchos disponibles, tanto para Windows como para MacOSX, aquí les dejo algunos de los mejores clientes…una vez instalado alguno de los programas, los enlaces Torrent se abren de forma automática.