Audiority Echoes T7E 2-0 WiN x86 x64…Echoes T7E es una fiel recreación de un tubo vintage de eco magnético hecho en Italia a principios de los '60. Esta unidad de efecto de eco se basa en un tambor giratorio magnético con cabezas de grabación y reproducción dispuestas alrededor de un cable de grabación enrollado alrededor de la circunferencia del tambor. Esta solución proporciona una mejor estabilidad sobre el transporte habitual de cinta con wow y flutter reducido.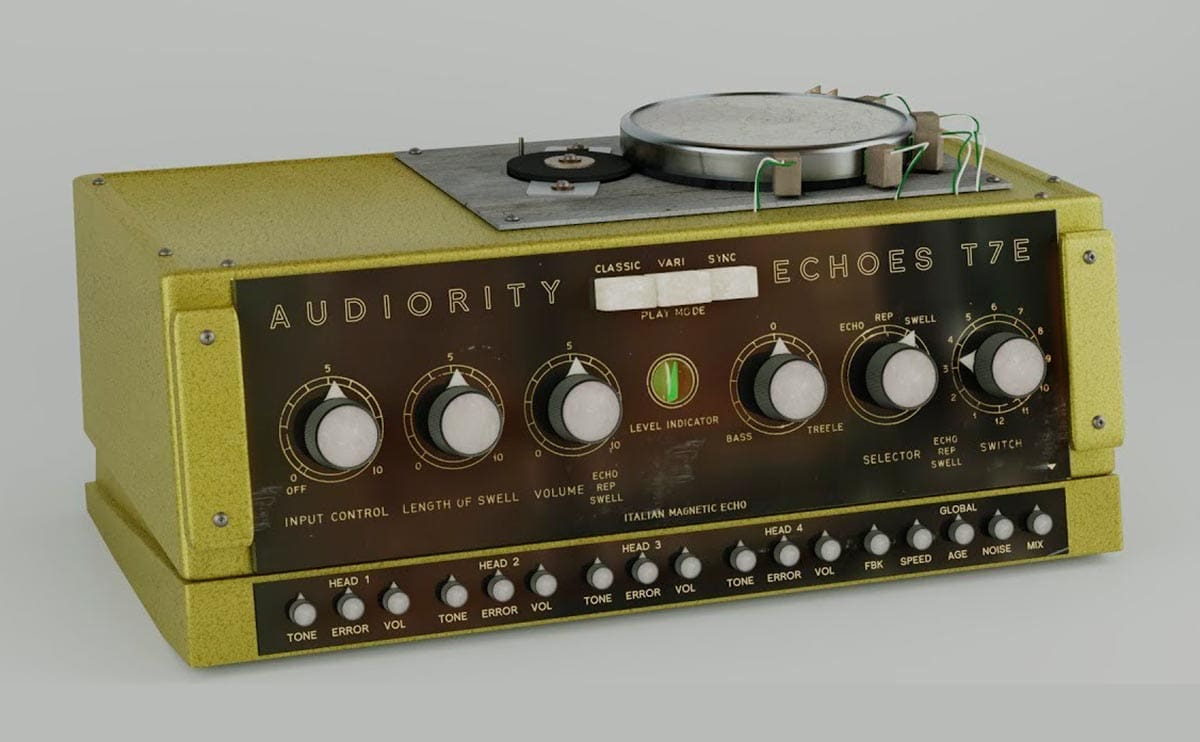 Audiority Echoes T7E 2-0 WiN x86 x64
Dado que el «núcleo» principal de este efecto se basa en el mecanismo anterior, modelamos tanto la mecánica como la electrónica. Echoes T7E también ofrece 3 modos de reproducción diferentes, que le permiten establecer diferentes velocidades de giro o sincronizarlas con el tempo de su anfitrión, extendiendo la longitud de retardo original desde ~ 310 ms hasta ~ 1100 ms….hace un tiempo ya publiqué este plugin en un pack con todos los plugins de esta casa, esta es un varsión actualizada con mejoras y corrección de errores, ademas de incluir versión para MAC OSX.
Audiority Echoes T7E 2-0 WiN x86 x64
Echo analógico modelado de tubo vintage
3 modos de reproducción: Classic, Varispeed y Sync
4 cabezas de reproducción (espaciadas igualmente)
Indicador de nivel de tubo "ojo mágico" EM81
3 modos de eco: eco, repetición y oleaje
Combinaciones de 12 cabezas
Controles de tono, error y volumen para cada cabeza.
Configuración de la edad y velocidad del tambor magnético
Ruido zumbido interno (para mayor realismo y auto oscilación)
v1.2 (October 2018)
REVISIÓN: Fuerza de retroalimentación incorrecta
NUEVO: Heads Pan Law setting
v1.1 tenía una fuerza de retroalimentación incorrecta debido a la pérdida de volumen de la nueva función de panorámica.
Si comenzó un nuevo proyecto con v1.1, abra el panel Configuración adicional, establezca el Panorama como Pan -3dB y vuelve a guardar tu preset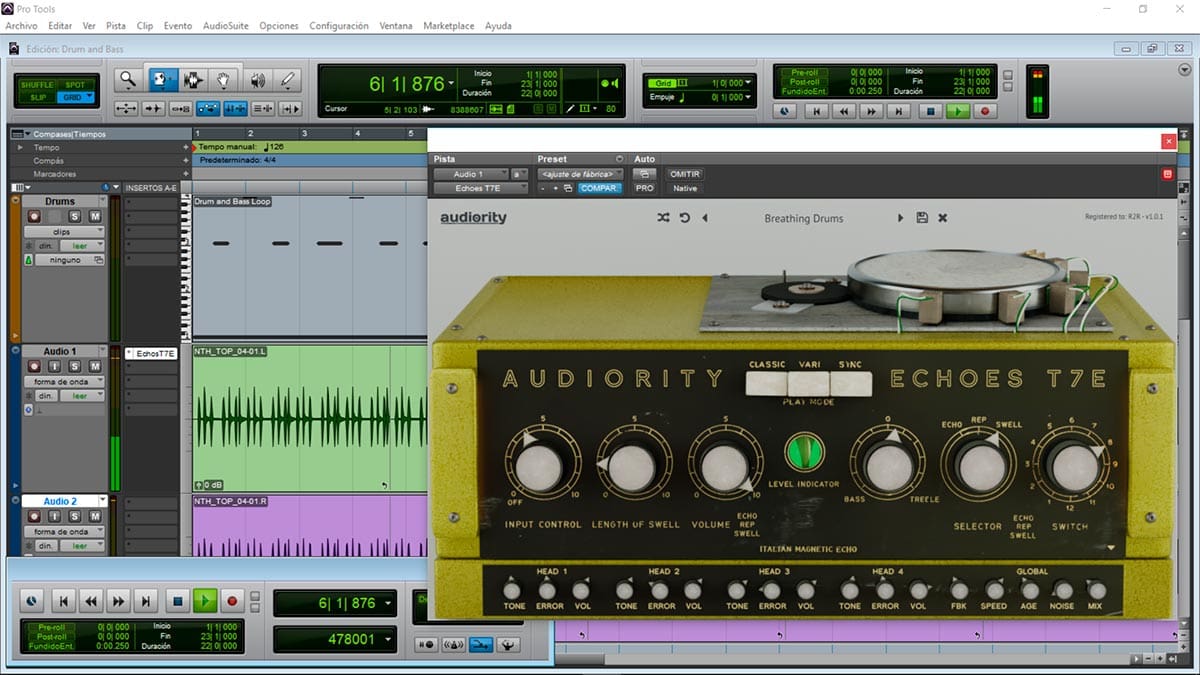 English
Echoes T7E is a faithful recreation of a vintage tube magnetic echo made in Italy in the early '60s. This echo effect unit is based on a magnetic spinning drum with both record and playback heads arranged around a recording wire wound around the drum circumference. This solution provides better stability over the usual tape transport with reduced wow and flutter.
Since the main "core" of this effect is based on the above mechanism, we modelled both the mechanics and the electronics. Echoes T7E also provides 3 different playback modes allowing you to set different spinning speed or ever synchronize it to your host tempo extending the original delay length from ~310ms up to ~1100ms.
Audiority Echoes T7E 2-0 WiN x86 x64
Analog Modeled Vintage Tube Echo
3 Playback Modes: Classic, Varispeed and Sync
4 Playback Heads (equally spaced)
EM81 "Magic Eye" Tube Level Indicator
3 Echo Modes: Echo, Repeat and Swell
12 Heads combinations
Tone, Error and Volume controls for each head
Magnetic Drum Age and Speed settings
Internal hum noise (for increased realism and self oscillation)
v1.2 (October 2018)
– FIX: Wrong feedback strength
– NEW: Heads Pan Law setting
– Breaking Change:
v1.1 had a wrong feedback strength due to the volume loss from the new panning feature.
If you started a new project with v1.1, please open the Extra Settings panel, set the Pan Law as Pan -3dB and re-save your preset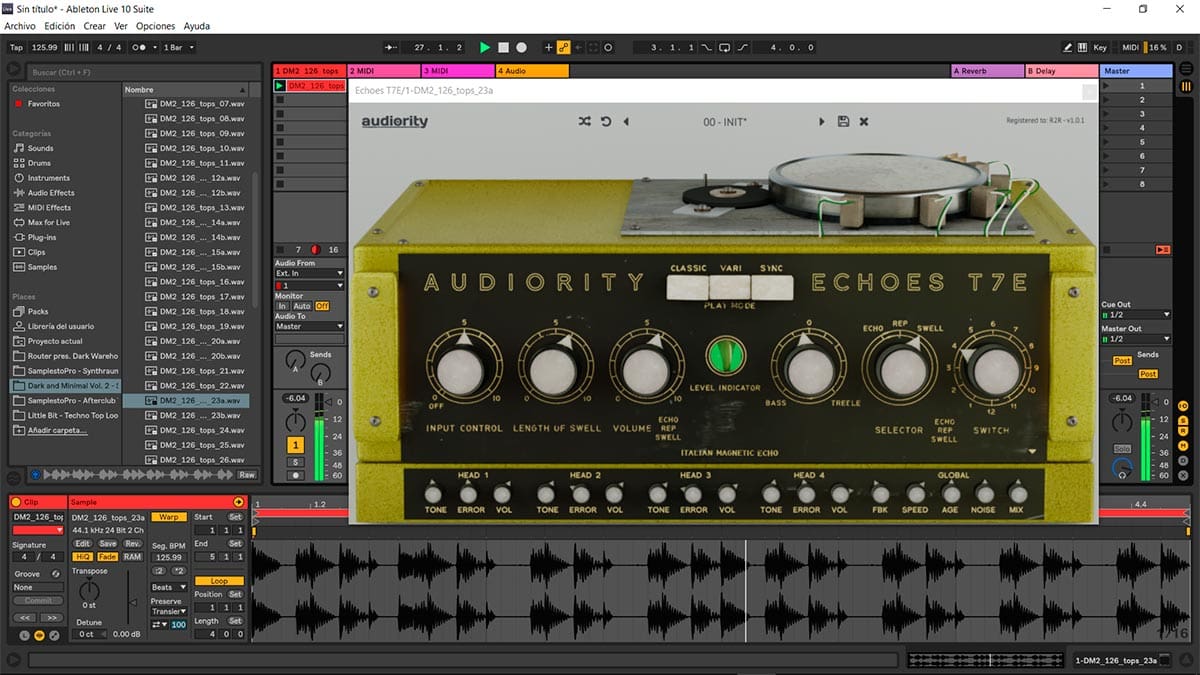 Audiority Echoes T7E 2-0 WiN x86 x64
INSTALACIÓN:
Puede que tengamos que desactivar «

SmartScreen

« de Windows para poder instalar
Usamos el Keygen de la carpeta «R2R» para generar un serial
Listos, plugin comprobado en Ableton Live (VST 64bit) y Pro Tools (AAX 64bit)
Descarga Directa – Direct Download
Echoes T7E v2.0.0 VST-VST3-AAX

WIN
Para descarga de esta página se necesita un cliente Torrent, hay muchos disponibles, tanto para Windows como para MacOSX, aquí les dejo algunos de los mejores clientes…una vez instalado alguno de los programas, los enlaces Torrent se abren de forma automática.