Klanghelm DC8C 3-2-2 VST-AU WIN-OSX…DC8C es uno de los compresores más flexibles que existen. Si bien es posible crear muchos estilos de compresión diferentes, su naturaleza general se puede describir como: clara, uniforme, abierta, distinta.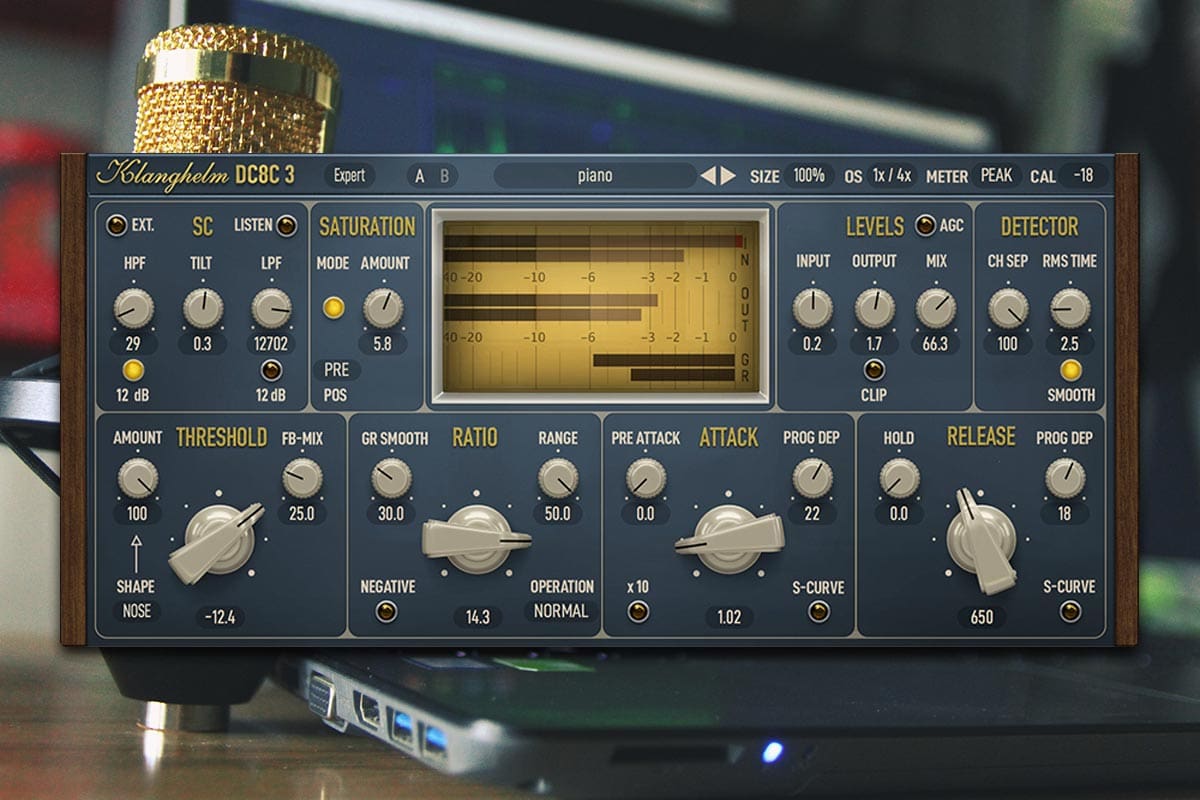 Klanghelm DC8C 3-2-2 VST-AU WIN-OSX
El objetivo principal al diseñar DC8C fue obtener una acción de compresor muy limpia sin artefactos / distorsión no deseados ya menudo casi inevitables. De esta manera puede lograr una compresión casi invisible para sus sesiones de masterización más exigentes, cuando desea evitar la coloración. Si apunta al color, puede elegir entre dos modelos de saturación. Desde opto-estilo, compresión máxima, encadenamiento lateral externo, compresión RMS, realimentación, compresión anticipada (y todo lo intermedio) hasta relaciones negativas, limitación de pared de ladrillos de latencia cero, desde el tratamiento transitorio ágil hasta el redondeo transitorio suave: todo es posible.
Klanghelm DC8C 3-2-2 VST-AU WIN-OSX
Red de detección y reducción de ganancia para un funcionamiento más suave
Elija entre dos ataques diferentes y dos curvas de liberación
Cuatro modos operativos diferentes: NORMAL, LIMPIO (100% de compresión limpia sin intermodulación, sin distorsión, sin aliasing), SMASH (características de compresión ultrarrápidas, territorio casi de clipper), LIMIT (use DC8C como un limitador de latencia cero)
Soft-clipper opcional en la salida
Hasta 8x de sobremuestreo
Filtro de cadena lateral con filtro de paso alto y paso bajo más control de inclinación, que le permite cambiar la respuesta de frecuencia del detector
La etapa de saturación se puede colocar libremente en la cadena de señal: precompresión, post compresión y cadena lateral solamente
Tres curvas de compresión diferentes seleccionables
Personalice la dependencia del programa del compresor por separado para atacar y liberar
Completo navegador de presets con muchos ajustes preestablecidos para que puedas empezar
VST-VST3-AAX-AU de 32bit y 64bit para WINDOWS yMAC OSX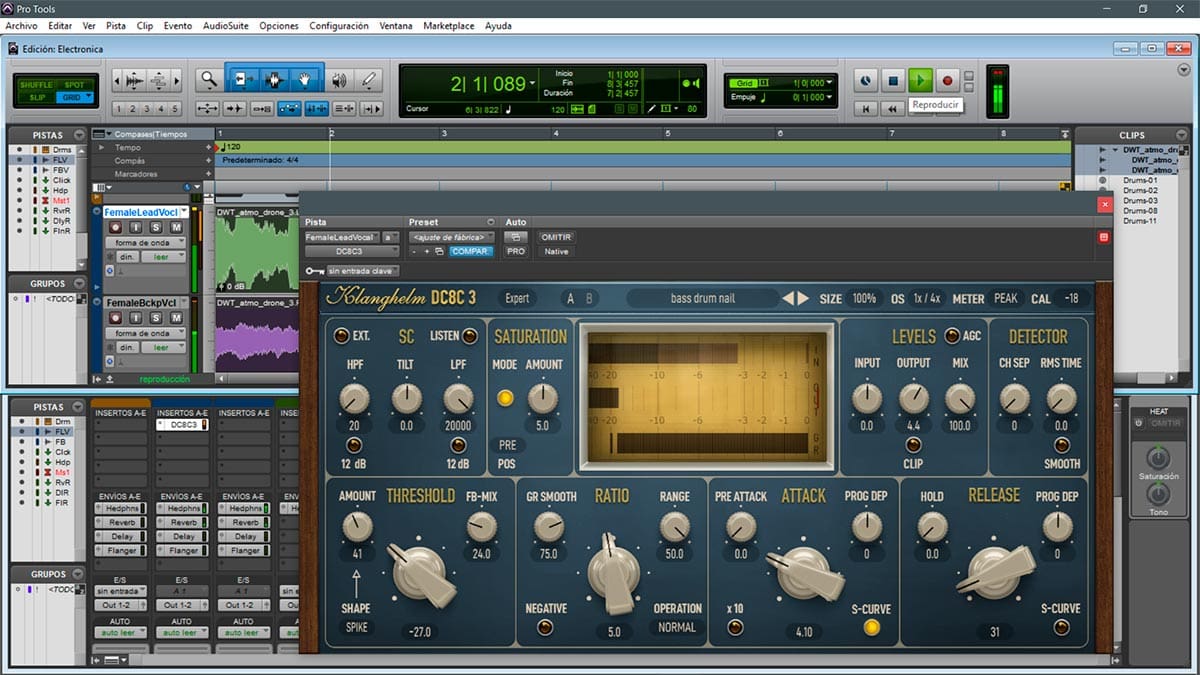 English
DC8C is one of the most flexible compressors around. While making a lot of different compression styles possible, it's general nature may be described as: clear, smooth, open, distinct. The main goal while designing DC8C was to get a very clean compressor action without unwanted and often almost inevitable artifacts/distortion. This way you can achieve almost invisible compression for your most demanding mastering sessions, when you want to avoid coloration.
If you aim for color you can choose between two saturation models. From opto-style, peak compression, external side-chaining, RMS compression, Feedback, Feedforward compression (and everything in-between) to negative ratios, zero latency brick-wall limiting, from snappy transient treatment to smooth transient rounding – everything is possible.
Klanghelm DC8C 3-2-2 VST-AU WIN-OSX
Detector network and gain reduction smoothing for extra smooth operation
Choose between two different attack and two release curves
Four different operational modes: NORMAL, CLEAN (100% clean compression with no intermodulation, no distortion, no aliasing), SMASH (ultrafast
Compression characteristics, almost clipper territory), LIMIT (use DC8C as a zero latency limiter)
Optional soft-clipper at the output
Up to 8x oversampling
Side-chain filter with high pass & low pass filter plus tilt control, which let's you shift the frequency response of the detector
The saturation stage can be put freely into the signal chain: pre compression, post compression and side-chain only
Three different compression curves selectable
Customize the program dependency of the compressor separately for Attack and Release
Comprehensive preset-browser with lots of presets to keep you started
VST-VST3-AAX-AU 32bit & 64bit for WINDOWS & MAC OSX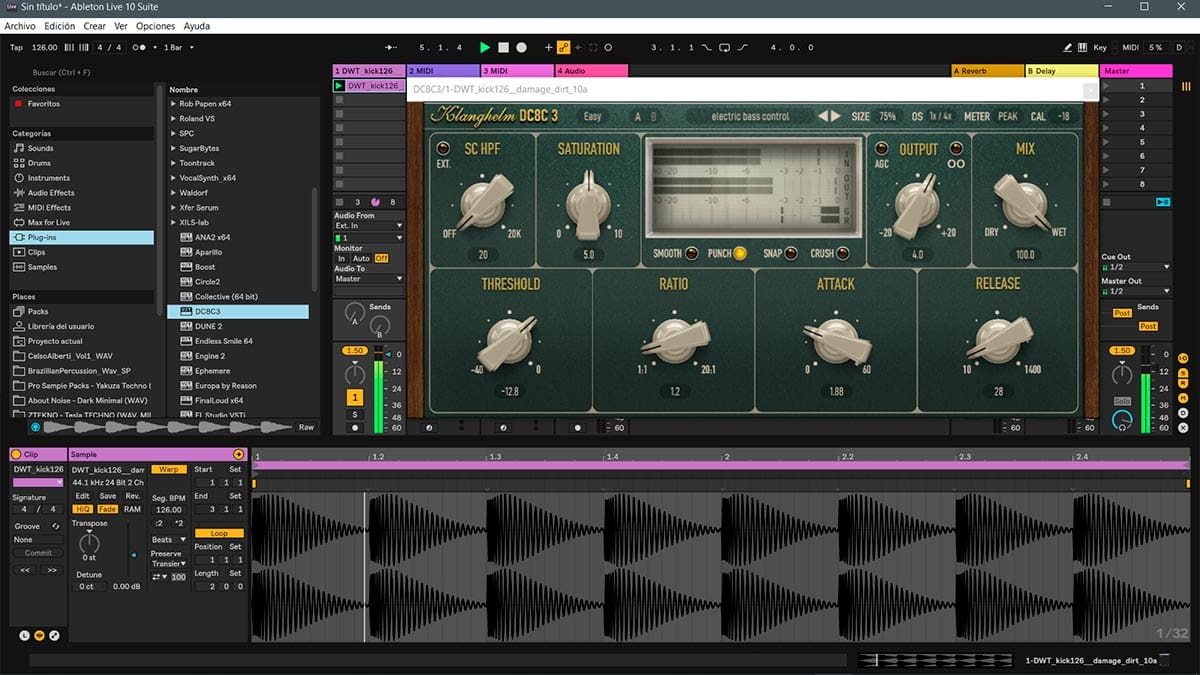 Klanghelm DC8C 3-2-2 VST-AU WIN-OSX
Descarga Directa – Direct Download
DC8C v3.2.2 VST-VST3-AAX-AU WIN-MAC 64bit
Para descarga de esta página se necesita un cliente Torrent, hay muchos disponibles, tanto para Windows como para MacOSX, aquí les dejo algunos de los mejores clientes…una vez instalado alguno de los programas, los enlaces Torrent se abren de forma automática.