XILS-lab Stix 1-6-1 VSTi-AAX WiN…Máquina de batería virtual analógica y multisíntesis con secuenciador XoX de nivel siguiente. StiX ofrece una increíble variedad de sonidos de batería de diferentes épocas: máquinas de batería analógicas clásicas o antiguas digitales. Y muchos sonidos de las siguientes eras. Combinado con el secuenciador XoX más potente y expresivo.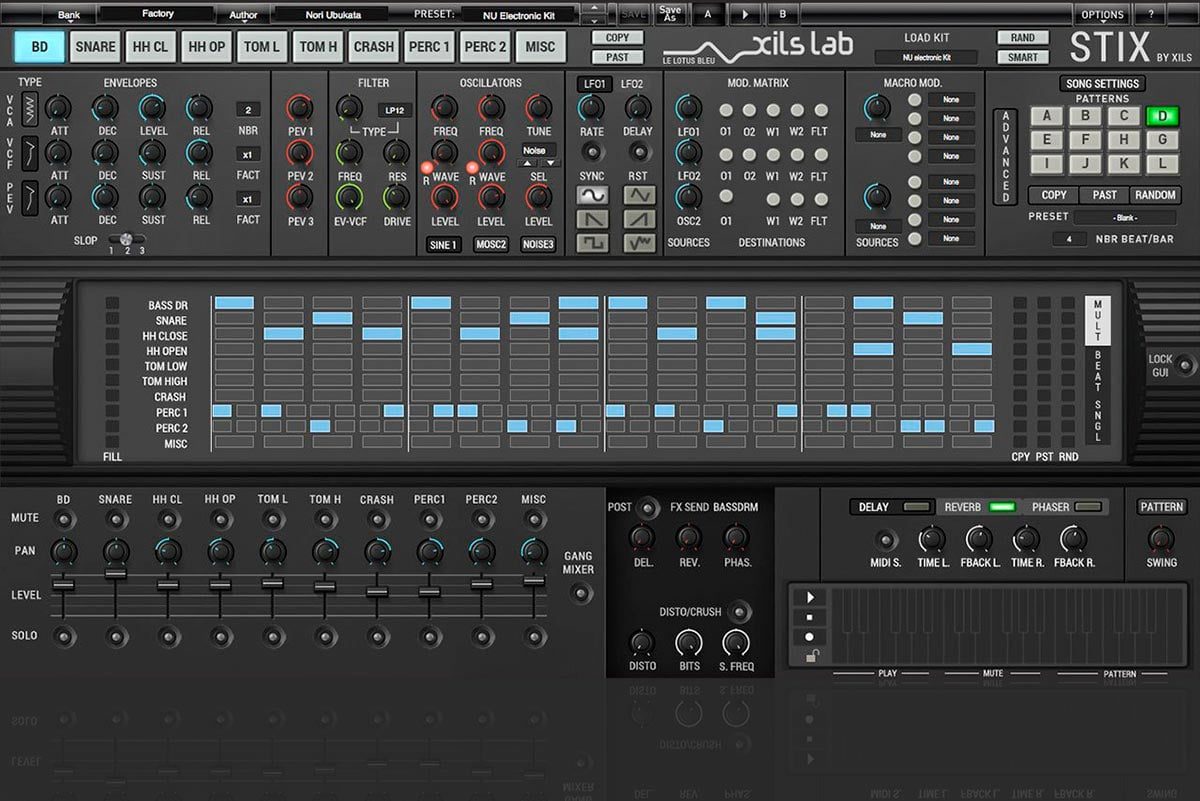 XILS-lab Stix 1-6-1 VSTi-AAX WiN
Síntesis: Osciladores analógicos virtuales, frecuencia de audio FM @, Sine + Waveshaping, muestras, síntesis de CroSS. 4ta generación de filtros 0DF, mandos de macros, moduladores de paso, LFO, R-Clap Evs y ADSR, auto-modulador exclusivo PolyStep: un sintetizador completo para ajustar cada uno de los 10 sonidos de batería. Secuenciación: Número variable de pasos por tiempo. Por paso Divisi, Gate Time, Micro Position, Macro Modulators, Velocity. Modo de canción para organizar patrones. Flujo de trabajo: RÁPIDO, intuitivo. XoX Sequencer Vistas multilínea y de una sola línea, páginas de síntesis Eazy y avanzadas.
XILS-lab Stix 1-6-1 VSTi-AAX WiN
Midi Out: Controla instrumentos virtuales o graba los datos midi en tu Daw
Midi Learn: automatización completa de todos los parámetros de síntesis
15 Wave Alchemy Drumkits
Randomize: Drumkits, secuencias, patrones completos
Control en vivo: Cadenas de patrones, silenciar / activar pistas sobre la marcha
Swing: Sofisticado motor de swing
Versión Multi Output: Con volumen, grupos y conservación de pan
Reverberación natural, retardo analógico y phaser, trituradora por tambor y distorsión
Muestra de sincronización precisa y motor de audio
Envolventes de modulaciones de segmentos, cientos de objetivos de modulación
Modo «Gang» para editar los carriles del secuenciador, mezclador, envíos de efectos
2000 Presets: 120+ Presets globales, 720+ patrones, 700 Drumpads, 60 Drumkits
English
Virtual Analog & MultiSynthesis Drum Machine with next level XoX Sequencer. StiX offers an incredible variety of drums sounds of different eras : Vintage analog drum machines, or early digital ones. And many sound of the next eras. Combined with the most powerful and expressive XoX Sequencer.
Synthesis : Virtual Analog morphing oscillators, FM @ audio rate, Sine + Waveshaping, Samples, CroSS Synthesis. 4th Gen 0DF Filters, Macros Knobs, Step Modulators, LFOs, Unique R-Clap Evs and ADSR, exclusive PolyStep auto-modulator : A whole synthesizer to taylor each of the 10 drum sounds. Sequencing : Variable number of steps per Beat. Per Step Divisi, Gate Time, Micro Position, Macro Modulators, Velocity. Song Mode to organize patterns. Workflow : FAST, intuitive. XoX Sequencer Multiline and SingleLine views, Synthesis Eazy And Advanced pages.
XILS-lab Stix 1-6-1 VSTi-AAX WiN
Midi Output : Control your virtual instruments, or record the midi data in your Daw
Midi Learn : Full automation of all synthesis parameters of all drumpads, mixer etc
Drums of the Past : 15 Wave Alchemy Drumkits
Randomize : Drumkits, sequences, full patterns
Live Control : Chain patterns, mute/unmute tracks on the fly.
Swing : Sophisticated swing engine
Multi Output version : With volume, groups and pan preservation
Natural Reverb, Analog Delay & Phaser, Per drum crusher and distorsion
Sample Accurate synchro and audio engine : The tightest beats for your tracks
Envelope segments modulations, hundreds of modulation targets. Simultaneously.
Gang Mode to edit Sequencer Lanes, mixer, effects sends
2000 presets : 120+ Global Presets, 720+ Patterns, 700 Drumpads, 60 Drumkits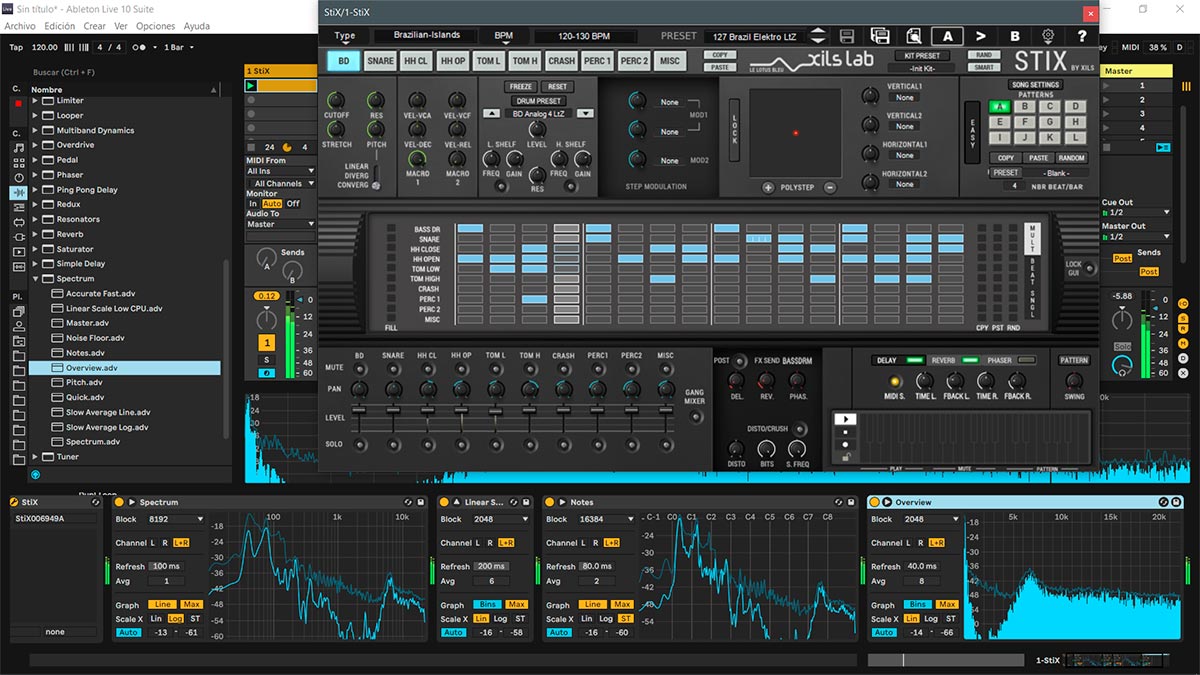 XILS-lab Stix 1-6-1 VSTi-AAX WiN
INSTALACIÓN:
Puede que tengamos que «

Desactivar SmartScreen

» para poder instalar

Instalamos el plugin y listos, este ya está activado
Plugin comprobado en Ableton Live 10 (VST3 64bit) y Pro Tools 12.5 (AAX 64bit)
Descarga Directa – Direct Download
Xils Stix v1.6.1 VST-AAX-RTAS WiN x86 x64
Para descarga de esta página se necesita un cliente Torrent, hay muchos disponibles, tanto para Windows como para MacOSX, aquí les dejo algunos de los mejores clientes…una vez instalado alguno de los programas, los enlaces Torrent se abren de forma automática.