Cinematic Thunder 1-5 KONTAKT…Como sugiere el título, «Cinematic Thunder – Epic Orchestral Toms» es una biblioteca de percusión hiper enfocada dedicada a la reproducción potente de la batería de Tom. En esta, la versión 1.5 de la biblioteca, Vir2 Instruments ha vuelto a los excelentes conjuntos de muestras de sonido y ha reeditado y recientemente eliminado el ruido de la biblioteca, así como desarrollar una nueva interfaz.
Cinematic Thunder 1-5 KONTAKT
El parche Sticks ofrece ataques contundentes en las velocidades más bajas y tonos claros y nítidos en las velocidades más altas, mientras que el parche Mallets ofrece ataques profundos y suaves en las velocidades más bajas e impactos cinemáticos gigantes en las velocidades más altas. Tanto los parches Stick como Mallet ofrecen seis grupos de batería diferentes que incluyen; surdo, Toms de 18 «, Toms de 16», Toms de 14 «, Toms de 12» y Toms de 10 «, así como golpes combinados que son muestras de dos toms golpeados simultáneamente para un impacto aún más robusto.
Cinematic Thunder 1-5 KONTAKT
GUI completamente nueva
Toms que suenan geniales
El sonido es flexible con 3 posiciones de micrófono
El principal «procesado» suena épico según lo prometido
Cada muestra recortada y recién remodelada
Nuevo Surdo, Mezcla procesada y Secuenciador agregado
Toms de 18 ″, 16 ″, 14 ″, 12 ″ y 10 ″
Hasta 14 capas de velocidad y 3 round robins
Integración completa de Komplete Kontrol y Maschine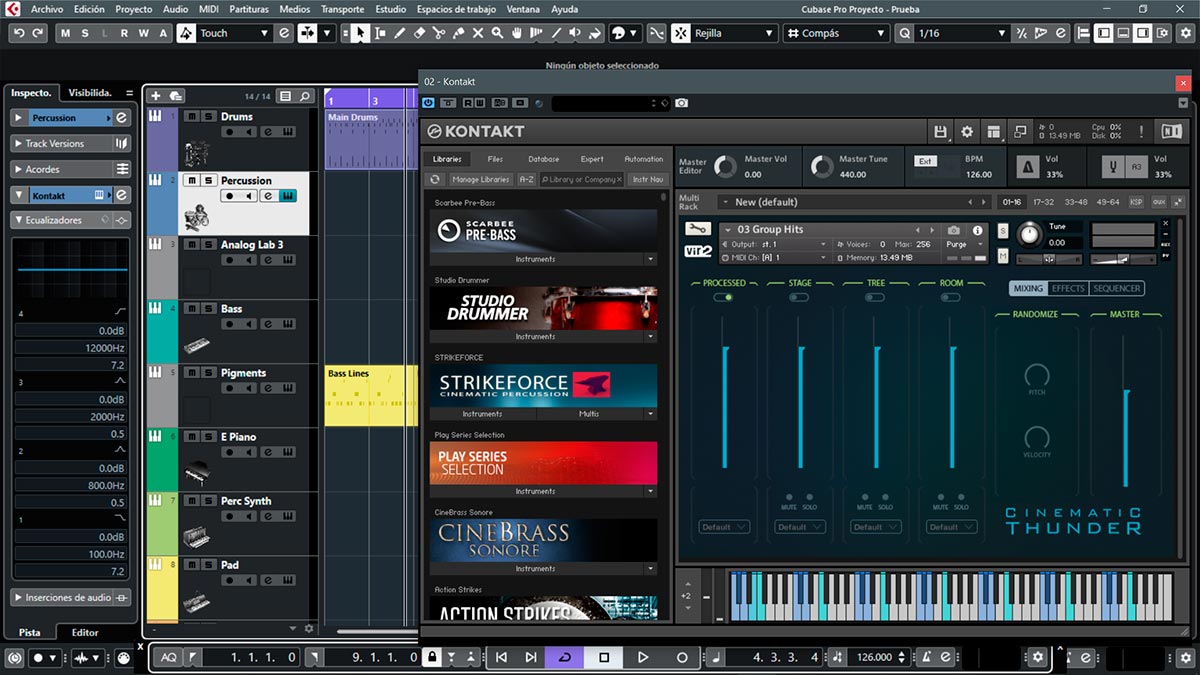 English
We are proud to present Cinematic Thunder: Epic Orchestral Toms. Recorded in a large concert hall in central California from three mic positions for complete flexibility, Cinematic Thunder delivers an epic sound. From soft and warm to big and bombastic, Cinematic Thunder is an absolute and indispensable production tool. Cinematic Thunder contains four master patches: Sticks, Mallets, Group Hits and Group Big Hits. Each patch contains unique and powerful drum sounds within an extremely user-friendly and versatile interface.
The Sticks patch offers punchy attacks in the lower velocities and clear, crisp tones in the higher velocities while the Mallets patch offers deep and soft attacks in the lower velocities and gigantic cinematic impacts in the higher velocities. Both the Stick and Mallet patches offer six different drum groups including; surdo, 18" Toms, 16" Toms, 14" Toms, 12" Toms, and 10" Toms, as well as combo hits which are samples of two toms being struck simultaneously for an even more robust impact.
Cinematic Thunder 1-5 KONTAKT
Brand-new GUI
Great Sounding Toms
Sound is Flexible with 3 Mic Positions
Main "Processed" Out Sound Epic as Promised
Every sample recut & newly denoised
New Surdo, Processed Mix, and Sequencer added
18″, 16″, 14″, 12″, and 10″ Toms
Up to 14 velocity layers, and 3 round robins
Full Komplete Kontrol & Maschine integration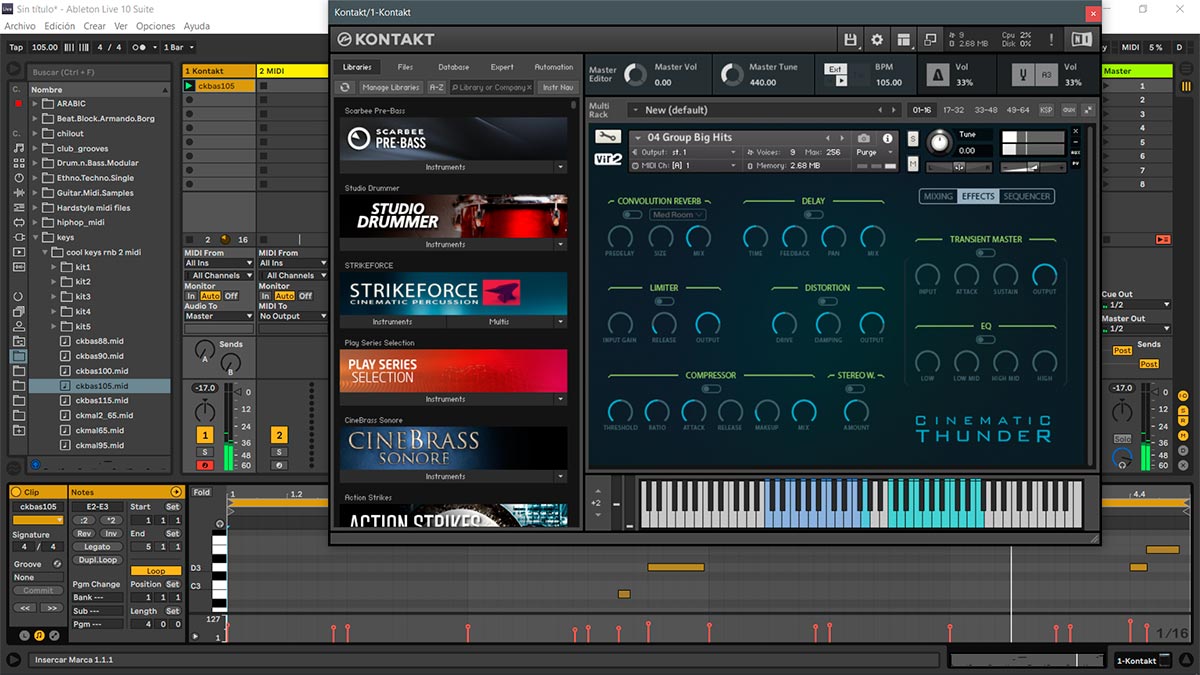 Cinematic Thunder 1-5 KONTAKT
Descarga Directa – Direct Download
Cinetamtic Thunder v1.5

KONTAKT
Para descarga de esta página se necesita un cliente Torrent, hay muchos disponibles, tanto para Windows como para MacOSX, aquí les dejo algunos de los mejores clientes…una vez instalado alguno de los programas, los enlaces Torrent se abren de forma automática.