Shreddage 3 Hydra KONTAKT…Impact Soundworks ha lanzado Shreddage 3 Hydra, en su nueva serie de instrumentos virtuales de guitarra y bajo eléctrico para Kontakt Player. La biblioteca cuenta con el sonido distintivo de un clásico estadounidense con dos pastillas, 16 articulaciones y una nueva interfaz y un motor de rendimiento de 6 años de experiencia y comentarios de los usuarios.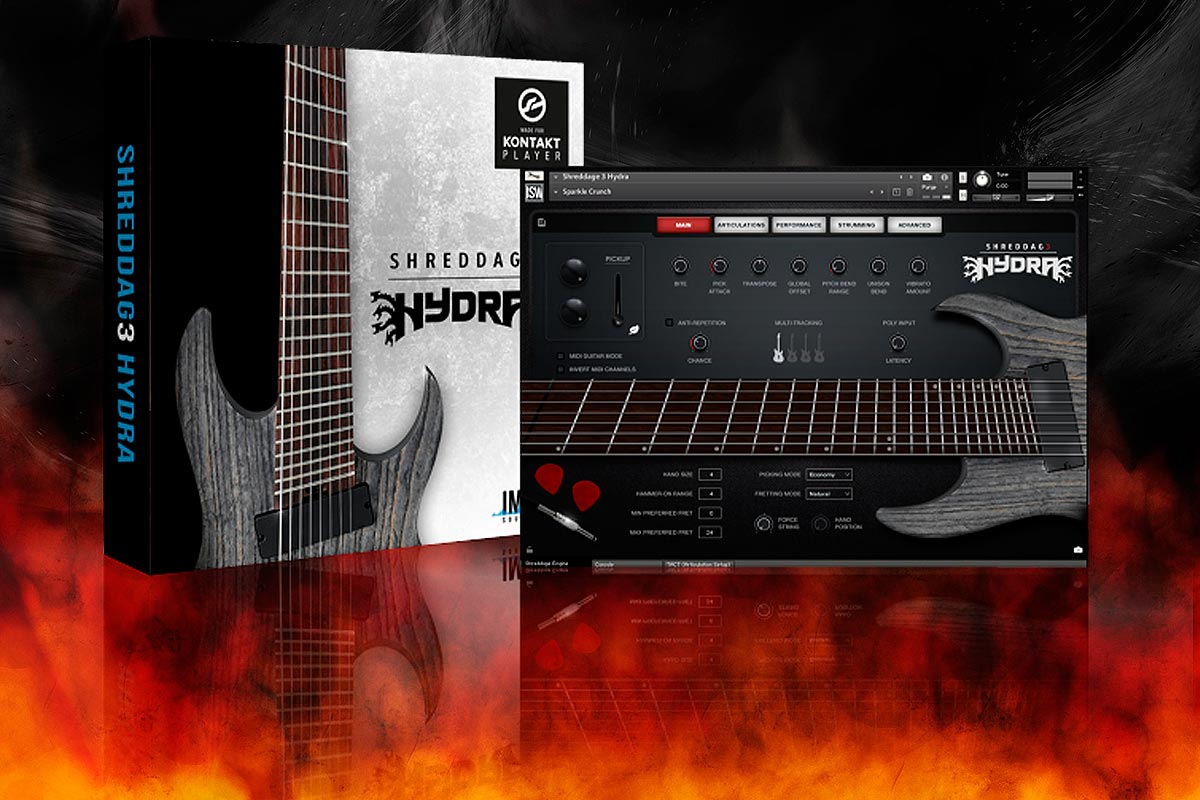 Shreddage 3 Hydra KONTAKT
Shreddage 3 Hydra ya está disponible y solo requiere el Kontakt Player 5.7+ gratuito. El instrumento, que fue grabado 'limpio' (DI), incluye una amplia variedad de efectos, pedales, amplificadores y gabinetes: no se requieren simulaciones de amplificadores externos. A diferencia de los bajos anteriores del desarrollador, que se centraron principalmente en la música heavy rock y metal, Shreddage 3 Hydra está destinado a ofrecer una amplia gama de estilos de reproducción gracias a sus múltiples pastillas y algoritmos de estilo de reproducción ampliados. Ahora es posible una ejecución más realista de pistas y ritmos gracias a un motor de diapasón reescrito y una nueva función de Modo de rasgueo.
Shreddage 3 Hydra KONTAKT
Nueva interfaz de usuario y script reescritos para aprovechar al máximo Kontakt Player 5.7.
Múltiples modos de afeitado para diferentes tipos de juego (plomo, ritmo polifónico, etc.).
Incorporación de multipista y mezcla de pastillas personalizadas.
Modo «Entrada Poly» para una reproducción aún más realista de los acordes de bloque.
TACT 2.0: asigne o active cualquier articulación a través del Keyswitch, velocidad, MIDI CC, etc.
Mezclador de consola: 30 efectos modulares, pedales y amplificadores en 4 canales x 8 inserciones.
Más de 30 IR de gabinetes personalizados incluidos en la Consola, grabados exclusivamente para S3.
Guarde y cargue cadenas FX para canales individuales o la consola completa.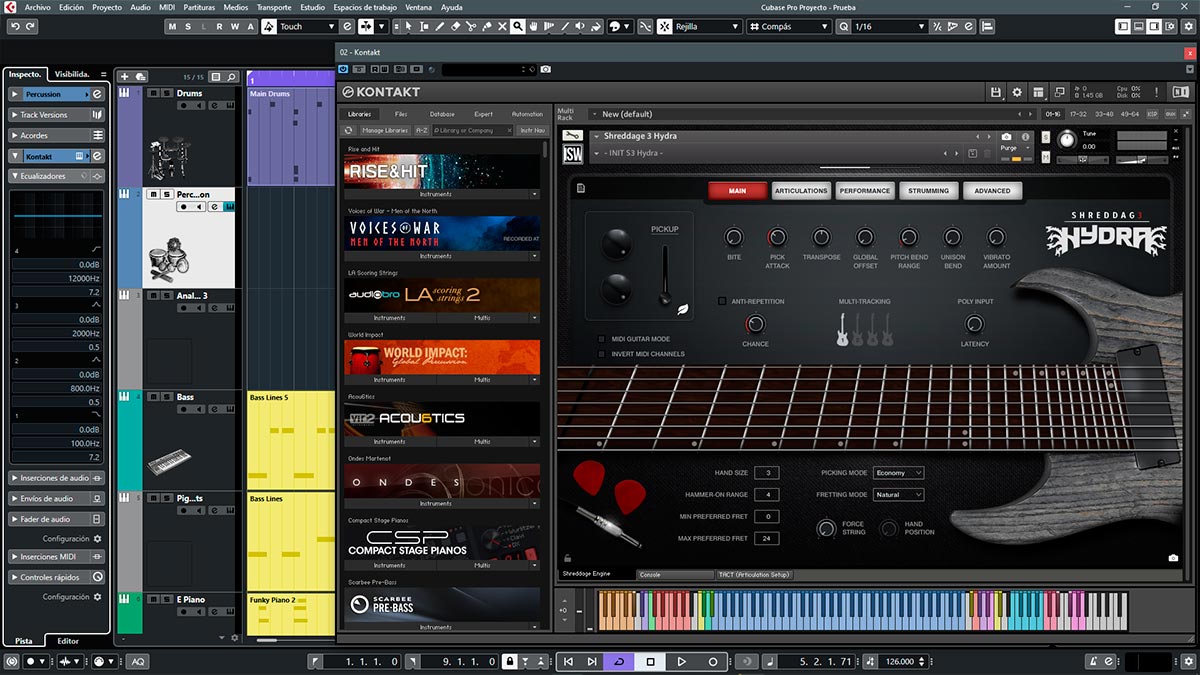 English
The ultimate badass 8-string guitar for rock and metal music! Write crystal-clear clean tones, screaming leads, or brutal chugs with incredible realism. With two distinct pickups, 30,000+ samples, and over 50 included tone snapshots, Shreddage 3 Hydra is the most complete Shreddage guitar ever.
Shreddage 3 Hydra is available now and requires only the free Kontakt Player 5.7+. The instrument, which was recorded 'clean' (DI), includes a wide variety of effects, pedals, amps, and cabinets: external amp sims are not required. Unlike the developer's previous guitars, which were largely focused on heavy rock and metal music, Shreddage 3 Hydra is intended to offer a diverse range of playing styles thanks to its multiple pickups and expanded playing style algorithms. More realistic lead and rhythm playing is now possible thanks to a rewritten fretboard engine, and a new Strumming Mode feature.
Shreddage 3 Hydra KONTAKT
All-new UI and script rewritten to take full advantage of Kontakt Player 5.7
Multiple fretting modes for differing types of playing (lead, poly rhythm, etc.).
Built-in multitracking and custom pickup blending.
«Poly Input» mode for even more realistic playback of block chords.
TACT 2.0 – Map or trigger any articulation through keyswitch, velocity, MIDI CC, etc.
Console mixer: 30 modular effects, pedals, and amps across 4 channels x 8 inserts.
Over 30 custom cabinet IRs included in Console, recorded exclusively for S3.
Save and load FX chains for individual channels or the entire Console.
Shreddage 3 Hydra KONTAKT
Descarga Directa – Direct Download
Shreddage 3 Hydra KONTAKT (13.73 Gb)
Para descarga de esta página se necesita un cliente Torrent, hay muchos disponibles, tanto para Windows como para MacOSX, aquí les dejo algunos de los mejores clientes…una vez instalado alguno de los programas, los enlaces Torrent se abren de forma automática.