Fluffy Audio Rinascimento KONTAKT…Rinascimento es una biblioteca para Kontakt 5 que incluye 36 instrumentos de las Eras Medieval y Renaissance. Rinascimento presenta 3 instrumentos de cuerda con arco, 2 instrumentos de metal, 8 instrumentos de láminas, 5 flautas de diferentes tamaños, 2 otro tipo de flautas, 7 tipos de instrumentos de laúd (con un motor de rasgueo automático), 5 percusiones, clavicordio, virginal, positivo órgano y un órgano completo con 10 registros.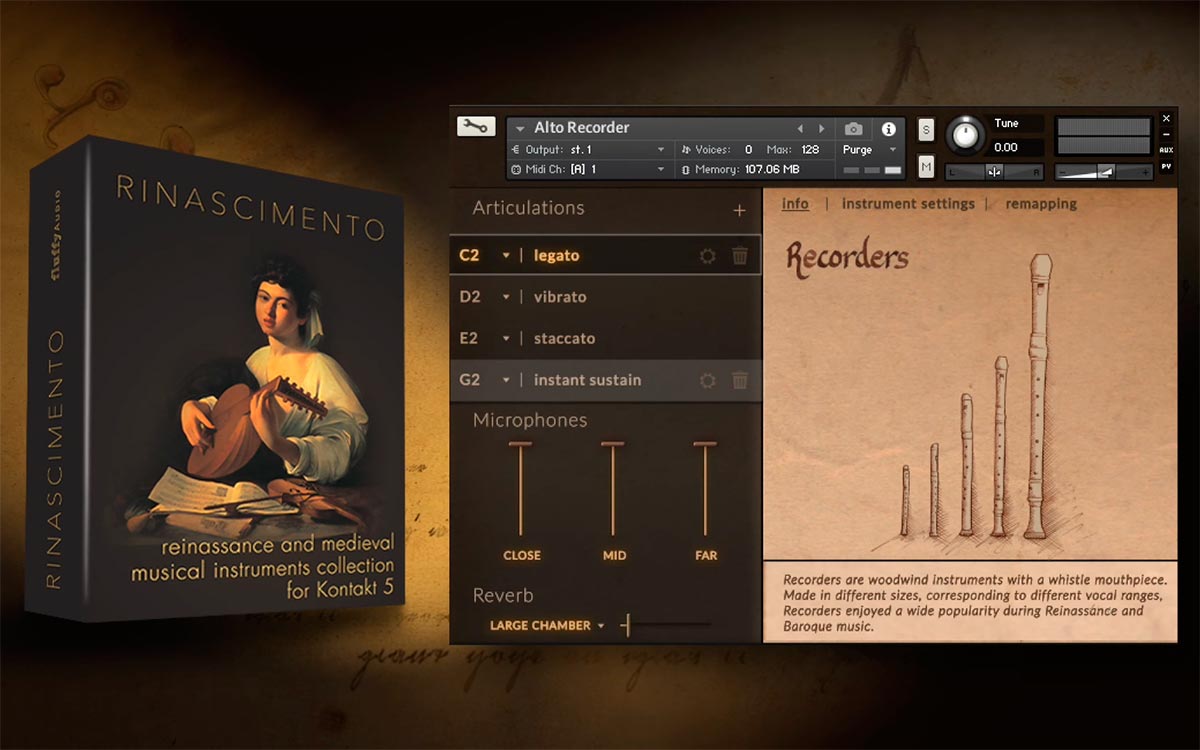 Fluffy Audio Rinascimento KONTAKT
Hace dos años. Era septiembre y queríamos contar otra historia. ¿O será mejor que digamos un cuento de hadas, una leyenda? Tomémoslo desde lejos. Hic sunt leones, literalmente «aquí están los leones», decían los romanos en referencia al misterioso y desconocido continente africano. Este viejo dicho se hizo común para todas las partes inexploradas del imperio. Eso era exactamente lo que estábamos buscando: leones. Nos entusiasmó la idea de explorar un territorio desconocido en busca de nuevas bestias salvajes para domesticar y Gallichon, Crumhorn o Theorbo eran solo algunos de los temibles depredadores que estábamos ansiosos por enfrentar.
Fluffy Audio Rinascimento KONTAKT
38 instrumentos renacentistas y medievales
29 gb instalado (comprimido en formato NCW)
3 posiciones de micrófono
Muestreado en una sala cálida
24 bit / 48 kHz estéreo
20 instrumentos legato
Auto-Strummer para instrumentos de laúd
4 RR para Staccato e instrumentos desplumados
Noches sin dormir de edición y scripting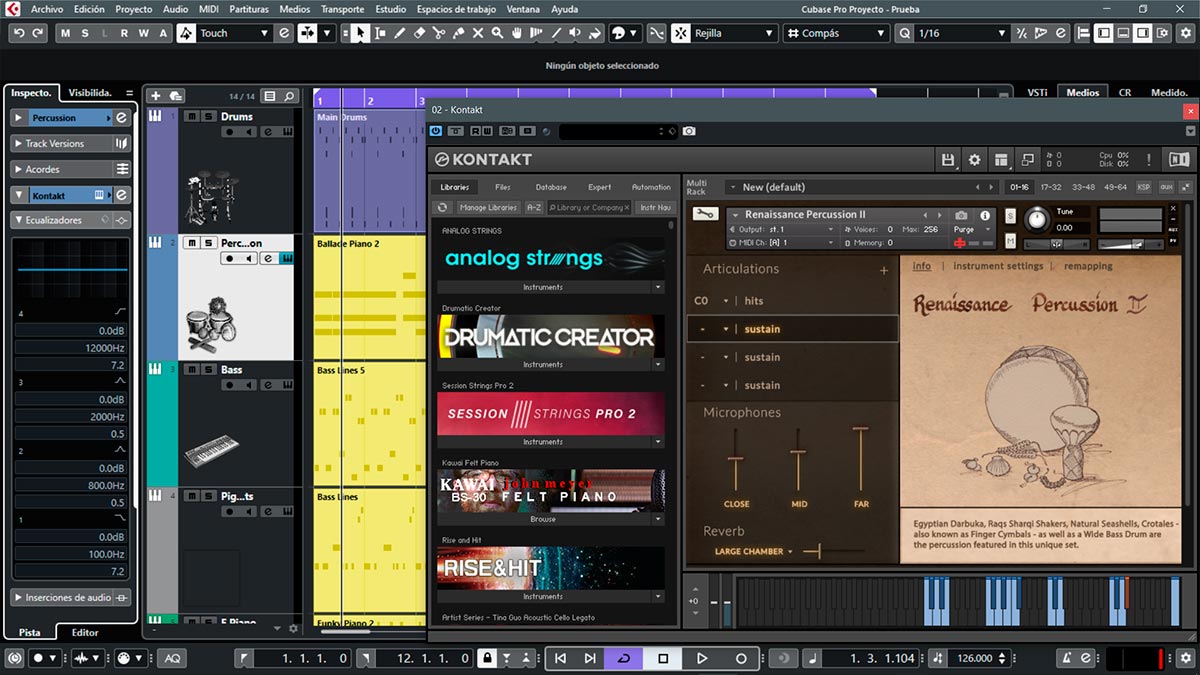 English
Rinascimento is a library for Kontakt 5 which includes 36 instruments from the Medieval and the Renaissance Eras. Rinascimento features 3 bowed string instruments, 2 brass instruments, 8 reed instruments, 5 recorders of different sizes, 2 other kind of flutes, 7 kind of lute instruments (with a auto-strumming engine), 5 percussion, harpsichord, virginal, a positive organ and a complete organ with 10 registers.
Two years ago. It was September and we wanted to tell another story. Or we'd better say a fairy tale, a legend? Let's take it from afar. Hic sunt leones – literally «here are the lions» – the Romans were saying in reference to the mysterious and unknown African continent. This old saying became common for all the unexplored parts of the empire. That was exactly what we were looking for: leones. We felt excited by the idea of exploring an uncharted territory in search of new wild beasts to tame and Gallichon, Crumhorn or Theorbo were just some of the fearsome predators we were eager to face.
Fluffy Audio Rinascimento KONTAKT
38 Renaissance and Medieval instruments
29 gb installed (compressed in NCW format)
3 Mic Positions
Sampled in a warm hall
24 bit / 48 kHz stereo
20 legato instruments
Auto-Strummer for Lute instruments
4 RRs for Staccato and Plucked Instruments
Sleepless nights of editing and scripting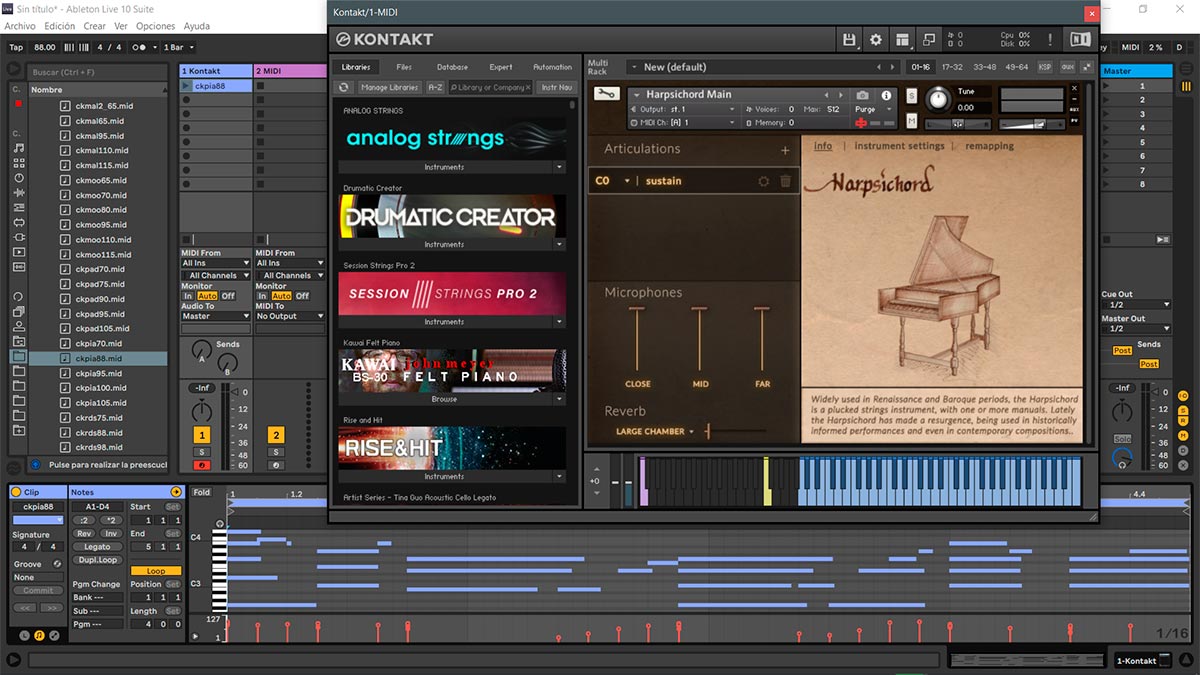 Fluffy Audio Rinascimento KONTAKT
Descarga Directa – Direct Download
Rinascimento v1.1 KONTAKT (29.04 Gb)
Para descarga de esta página se necesita un cliente Torrent, hay muchos disponibles, tanto para Windows como para MacOSX, aquí les dejo algunos de los mejores clientes…una vez instalado alguno de los programas, los enlaces Torrent se abren de forma automática.