IA-LA1 Compressor v1-0-3 WiN-MAC…Nuestro complemento de compresor IA-LA1 está diseñado para ser súper receptivo. Viene con un algoritmo transparente que no introduce distorsiones ni artefactos. Pero si se requiere coloración, tenemos el control THD, que introduce una distorsión dinámica suave que agrega calidez y profundidad adicionales.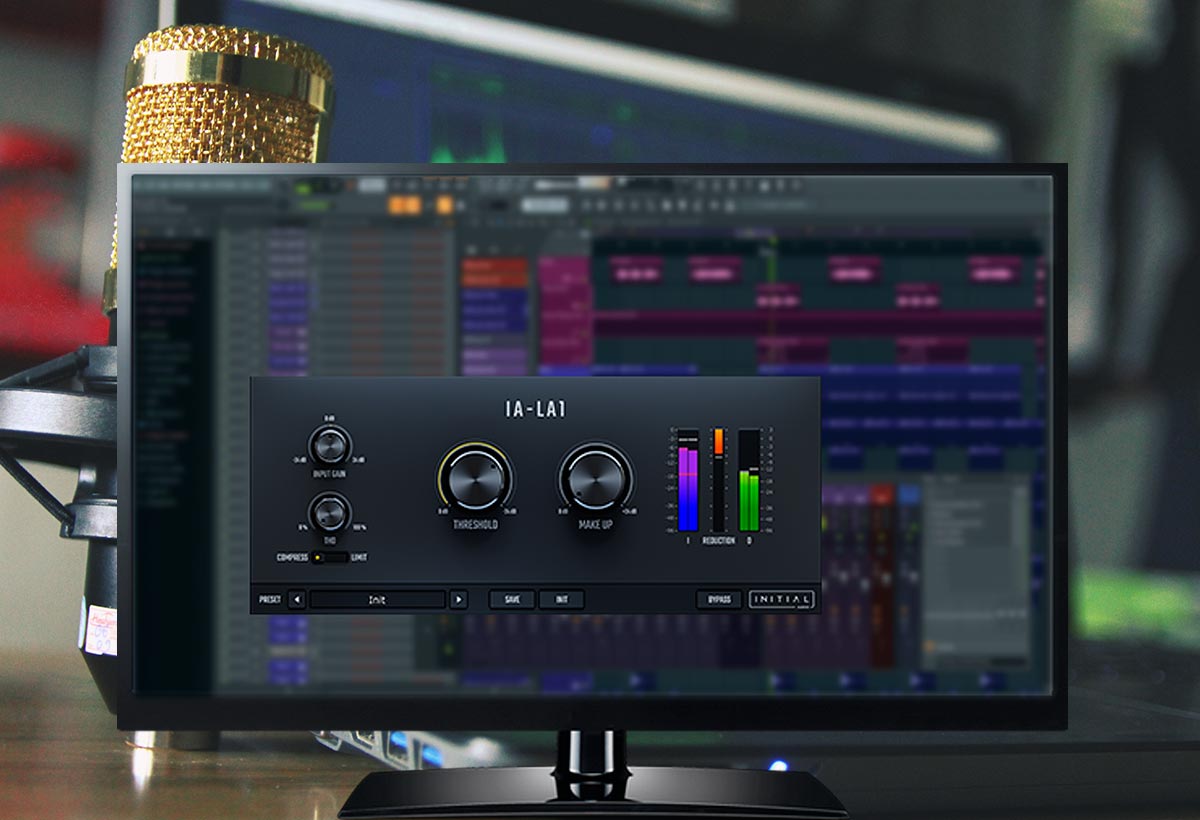 IA-LA1 Compressor v1-0-3 WiN-MAC
IA-LA1 viene con medidores de nivel precisos y un medidor de reducción de ganancia que proporciona una visión clara de la compresión que se aplica. Obtenga una compresión perfecta en menos tiempo con nuestro complemento de compresor IA-LA1. IA-LA1 es un complemento Compressor fácil de usar. Umbral y ganancia de maquillaje son los dos controles principales.
El umbral representa el nivel en el que la compresión comenzará a afectar el audio. Cualquier cosa por encima del umbral se comprime, lo que reduce el rango dinámico del audio. El umbral se muestra como una línea naranja en el medidor de entrada, la compresión comenzará a suceder cuando el nivel de audio supere esta línea. Ahora use la ganancia de maquillaje para compensar cualquier pérdida de volumen. ¡Eso es! Obtenga una compresión perfecta cada vez con solo estos dos controles. No es necesario configurar un ataque o liberar como en muchos otros compresores.
IA-LA1 Compressor v1-0-3 WiN-MAC
Complemento de compresor IA-LA1
Windows: 64 bits VST
Mac: Unidad de audio y VST (MacOS Catalina)
Compresión automática
THD – Distorsión armónica total
Gestor de ajustes preestablecidos
Ganancia de entrada
Ganancia de maquillaje
GUI redimensionable de alta definición.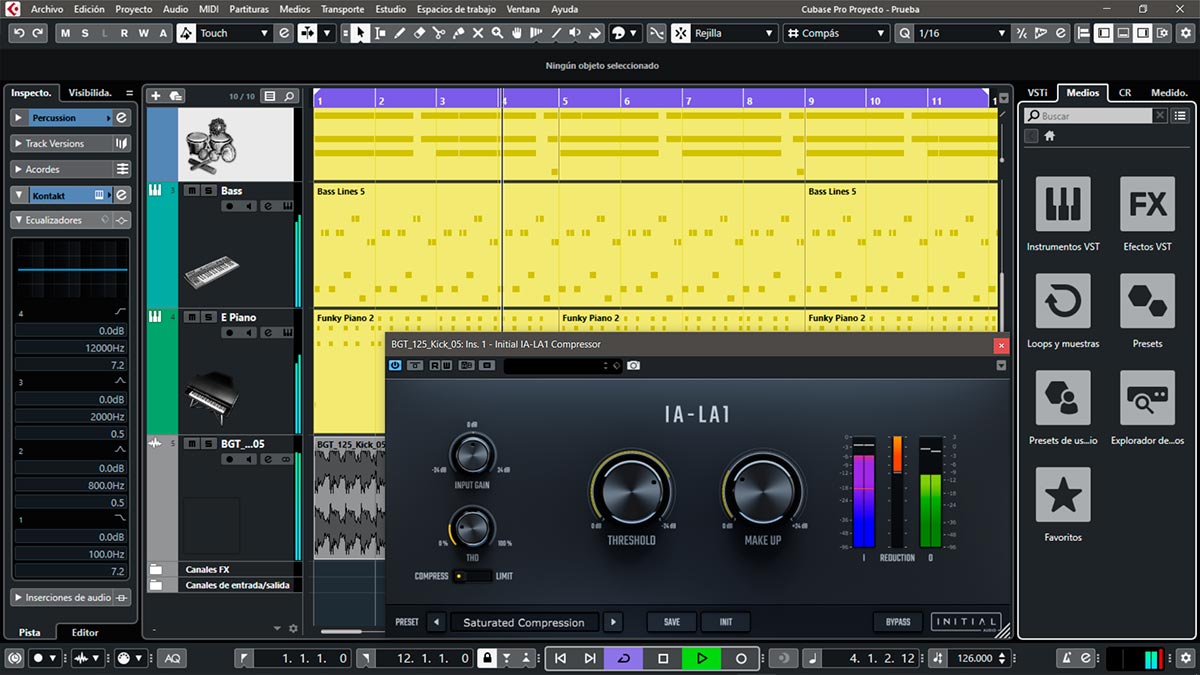 English
Our IA-LA1 compressor plugin is designed to be super responsive. It comes with a transparent algorithm that introduces no distortion or artefacts. But if colouration is required we have the THD control, which introduces a gentle dynamic distortion adding extra warmth and depth. IA-LA1 comes with accurate level meters and a gain reduction meter giving a clear visual of the compression being applied.
Get perfect compression in less time with our IA-LA1 compressor plugin. IA-LA1 is a simple to use Compressor plugin. Threshold and Make up gain are the two main controls. The threshold represents the level at which compression will start to affect the audio. Anything over the threshold is compressed, which reduces the dynamic range of the audio. The threshold is shown as an orange line on the input meter, compression will start to happen when the audio level goes above this line. Now use the Make up gain to compensate for any loss in loudness. That's it! Get perfect compression every time with just these two controls. No need to set an attack or release like on many other compressors.
IA-LA1 Compressor v1-0-3 WiN-MAC
IA-LA1 Compressor Plugin
Windows: 64 Bit VST
Mac: Audio Unit & VST (MacOS Catalina)
Automatic compression
THD – Total Harmonic Distortion
Preset manager
Input gain
Make up gain
High definition resizable GUI.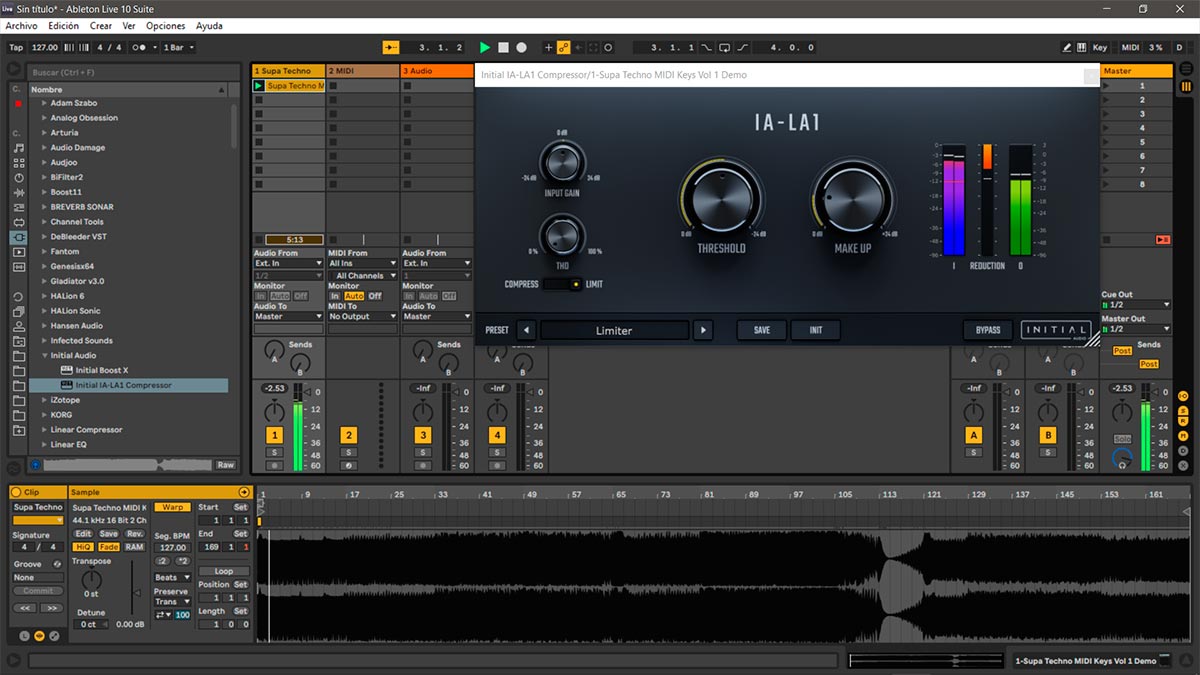 IA-LA1 Compressor v1-0-3 WiN-MAC
Descarga Directa – Direct Download
IA-LA1 Compressor v1.0.3
VST-VST3-AU

WiN-MAC

x64
Para descarga de esta página se necesita un cliente Torrent, hay muchos disponibles, tanto para Windows como para MacOSX, aquí les dejo algunos de los mejores clientes…una vez instalado alguno de los programas, los enlaces Torrent se abren de forma automática.