TBProAudio DSEQ v2-0-0 WiN…DSEQ es un procesador dinámico que trabaja en el dominio de la frecuencia. DSEQ está eliminando la dureza digital sobre la marcha gracias a las bandas de frecuencia autoajustables. DSEQ funciona completamente en el dominio de la frecuencia, proporcionando una selectividad de frecuencia muy alta gracias a ecualizadores dinámicos autoajustables.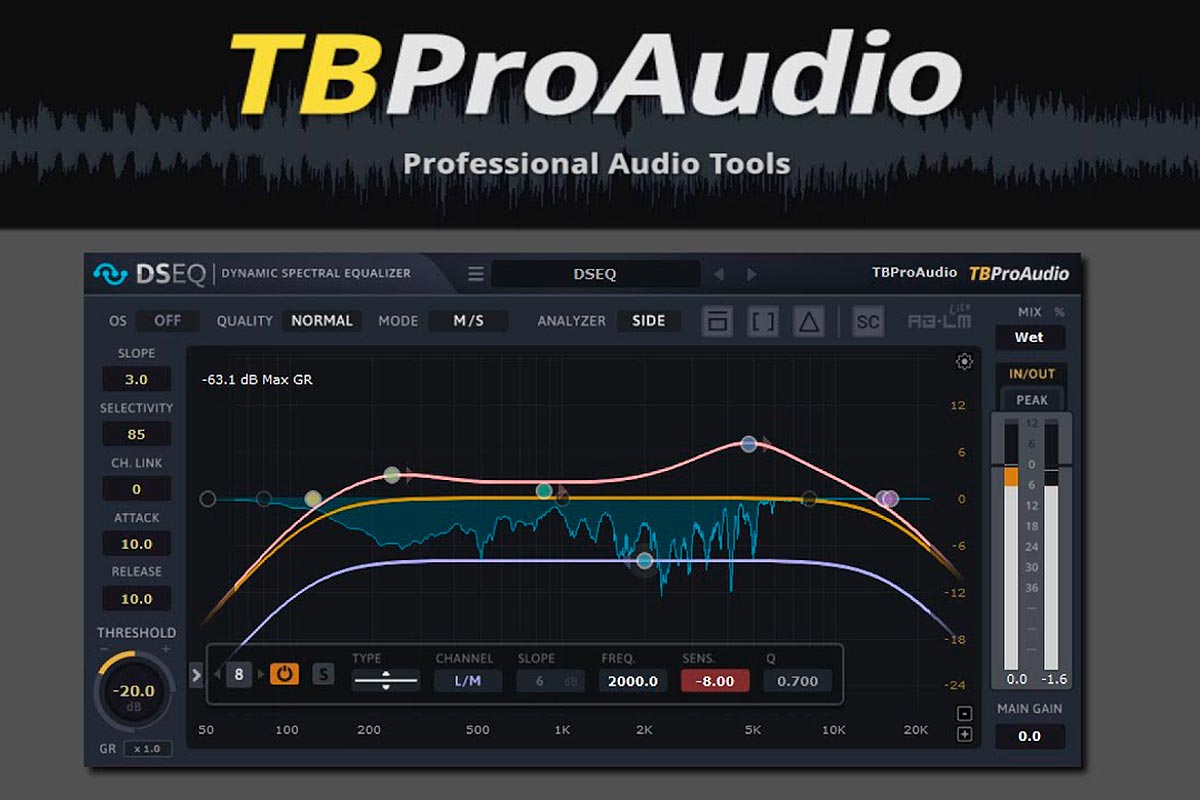 TBProAudio DSEQ v2-0-0 WiN
DSEQ hace su trabajo con la más alta transparencia incluso presionada con fuerza. Esto evita distorsiones, fases y artefactos incluso con material de sonido muy crítico. Y DSEQ ofrece varios modos de calidad que controlan incluso frecuencias singulares. Además, DSEQ proporciona una interfaz muy fácil de usar. Con solo unos pocos parámetros (umbral, selectividad y ataque / liberación) se puede cubrir una amplia gama de aplicaciones. Incluso el conjunto de parámetros inicial podría hacer que su mezcla sea más transparente.
TBProAudio DSEQ v2-0-0 WiN
Filtro dinámico de fase lineal suave
Procesamiento de rango de frecuencia completo, 10Hz – 22kHz
4 modos de calidad diferentes: eco, normal, alto y ultra
Procesamiento izquierdo / derecho y medio / lateral
Pendiente global para señal del detector
12 bandas de prefiltro independientes
Soporte de side-chain
Múltiples modos de monitoreo de señal
Múltiples modos de análisis de espectro
Coincidencia de sonoridad perceptual
Medidor de entrada / salida extendido, pico / RMS / EBU / VU
Modo de barrido de banda estrecha
Muestra de alternancia exacta A / B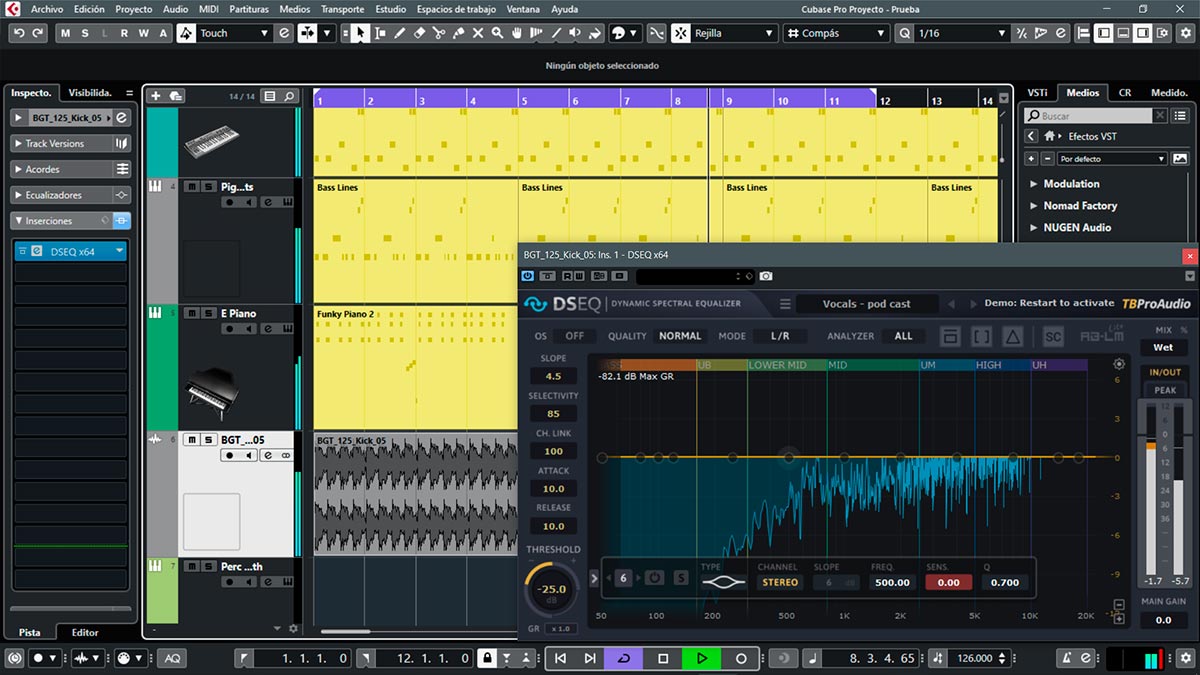 English
DSEQ is a dynamic processor working in the frequency domain.DSEQ is removing digital harshness on the fly thanks to self-adjusting frequency bands. DSEQ works fully in the frequency domain, providing very high frequency selectivity thanks to self-adjusting dynamic equalizers. DSEQ does its job with highest transparency even pushed hard. This avoids distortion, phasing and artefacts even with very critical sound material. And DSEQ offers several quality modes taming even singular frequencies. On top DSEQ provides a very easy to use interface. With just a few parameters (threshold, selectivity and attack/release) a broad range of applications can be covered.
TBProAudio DSEQ v2-0-0 WiN
Smooth linear phase dynamic filter
Full frequency range processing, 10Hz – 22kHz
4 different quality modes: eco, normal, high and ultra
Left/right and mid/side processing
Global slope for detector signal
12 independent pre-filter bands
Side-chain support
Multiple signal monitoring modes
Multiple spectrum analyzing modes
Perceptual loudness matching
Extended input/output meter, Peak/RMS/EBU/VU
Narrow-band sweeping mode
Sample exact A/B toggle for processing modes
sample rates min. up to 192 kHz
«real» over sampling, up to 4x
EQ cheat sheets
precise parameter input
easy to use GUI
GUI resize up to 2x
preset management
New: parameter A/B
full DAW automation support
64-bit internal processing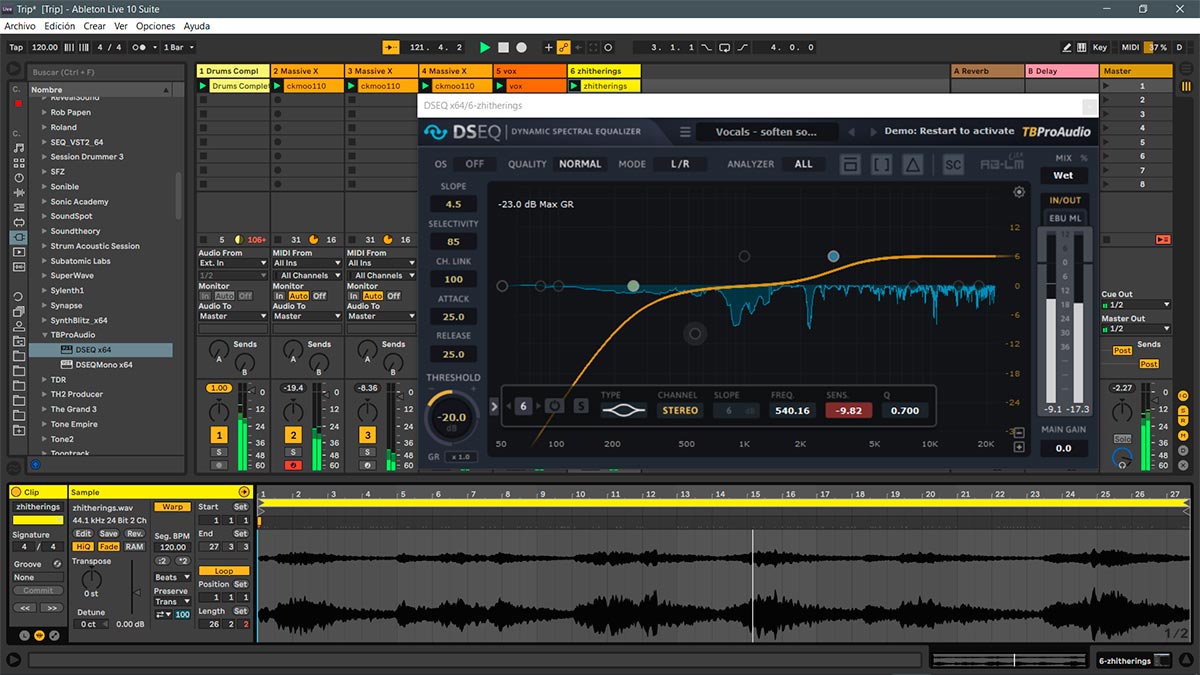 TBProAudio DSEQ v2-0-0 WiN
Descarga Directa – Direct Download
TBProAudio DSEQ v2.0.0
VST-VST3-RTAS-AAX

WiN

x86 x64
Para descarga de esta página se necesita un cliente Torrent, hay muchos disponibles, tanto para Windows como para MacOSX, aquí les dejo algunos de los mejores clientes…una vez instalado alguno de los programas, los enlaces Torrent se abren de forma automática.