GEM Voice v1-0-1 WiN-MAC…Gem VOICE está diseñado para acelerar su flujo de trabajo de producción vocal, sin comprometer la calidad del sonido, gracias a la tecnología de emulación analógica ganadora de premios Overloud. ¡Puede crear una cadena de sonido vocal completa con unos pocos clics o seleccionar la configuración de su productor preferido para replicar su tono!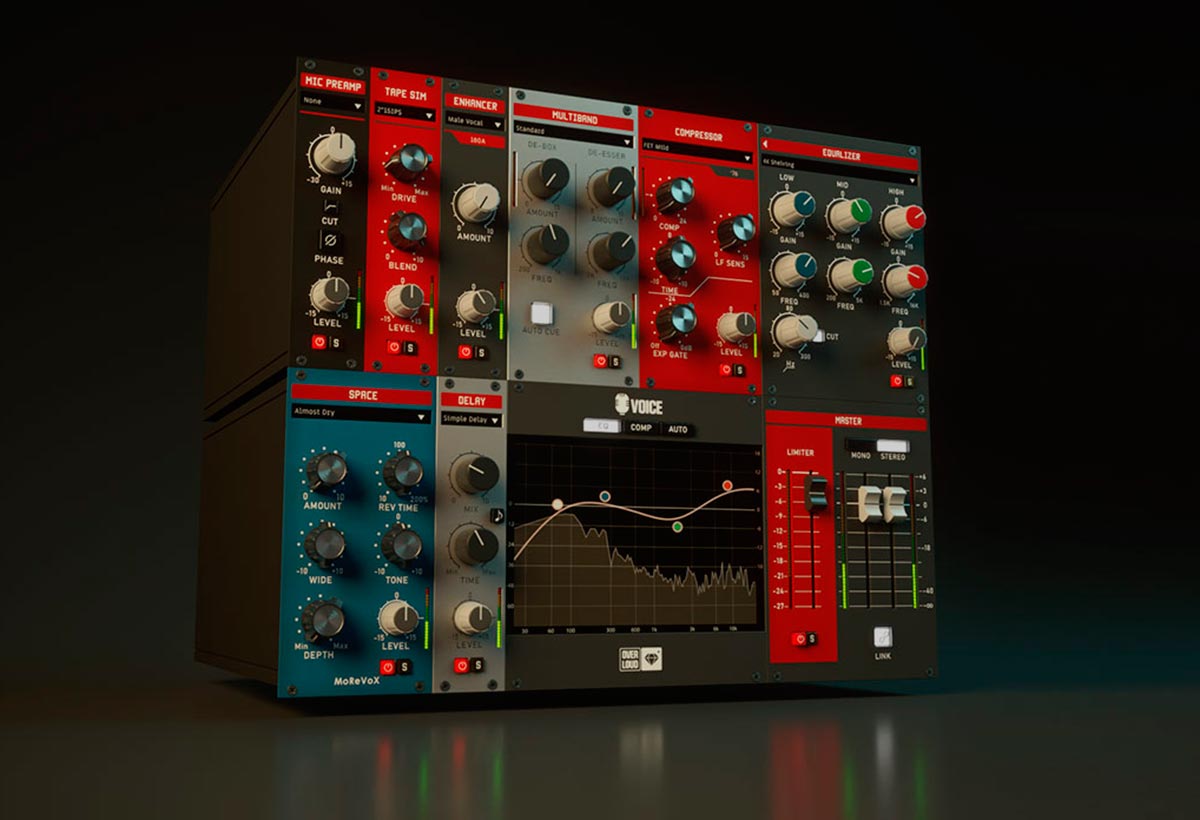 GEM Voice v1-0-1 WiN-MAC
Gem VOICE incluye más de 70 presets creados por ingenieros galardonados como Joe Barresi, John Paterno y Michele Canova, con sus mejores cadenas de procesamiento vocal. Los ajustes preestablecidos están diseñados para voces masculinas y femeninas, principales y de fondo, así como para voz hablada. El MIC PREAMP modela un preamplificador de micrófono real de 4 diferentes que enriquece el sonido de entrada con los reconocidos armónicos del modelo seleccionado. El TAPE SIMULATOR reproduce la típica distorsión armónica de grabación de cinta de tres tipos diferentes de cinta: 1/4 «, 1/2» y 2 «. También se puede usar en tres modos especiales: Flutter, Vocal Dist y Fuzz.
GEM Voice v1-0-1 WiN-MAC
Preamplificador de micrófono (4 modelos)
Simulador de cinta (3 cintas + 3 modos especiales)
Potenciador vocal
De-Boxer y De-Esser
Procesador dinámico con compresores (5 modelos)
Puerta de expansión
Ecualizador (5 modelos)
Unidad de procesador espacial / reverberación
Retardo analógico
Sección maestra con limitador opcional
Pantalla dinámica interactiva
Pantalla EQ interactiva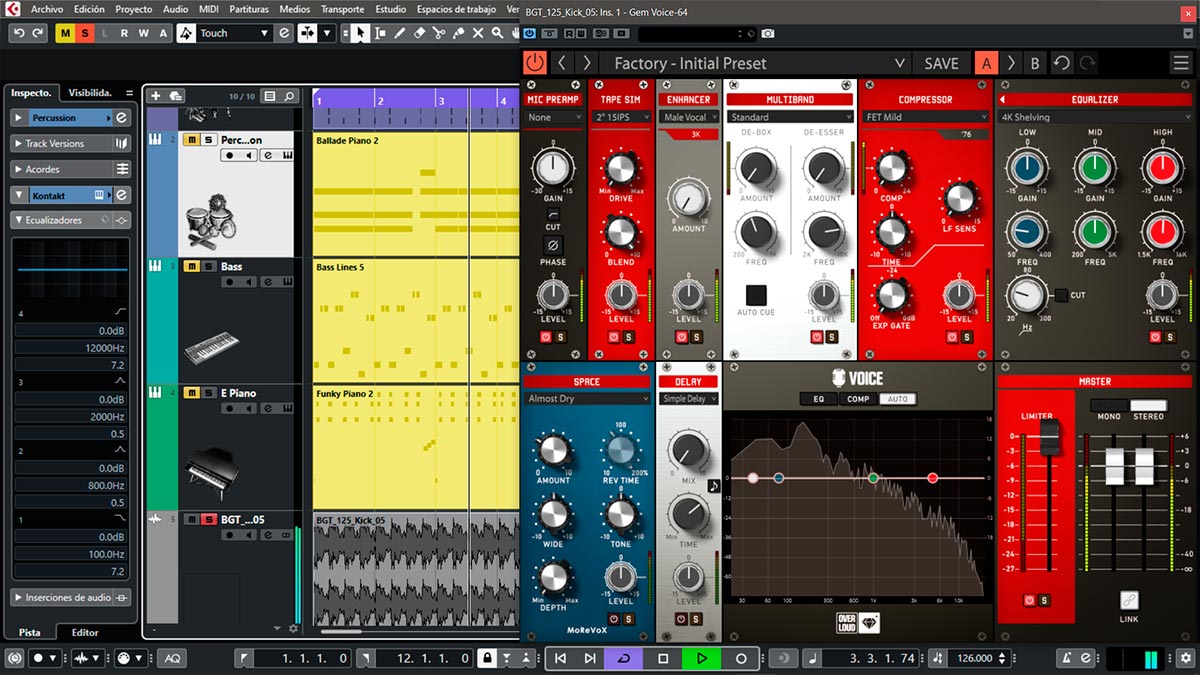 English
The Gem VOICE is designed to speed up your vocal production workflow, with no compromise on sound quality, thanks to the Overloud award-winning analog emulation technology. You can create a full vocal sound chain with a few clicks or select the setup of your preferred producer to replicate his tone!
The Gem VOICE includes more than 70 presets created by Award-winning engineers like Joe Barresi, John Paterno and Michele Canova, with their best vocal processing chains. The presets are designed for male and female, lead and background vocals as well as spoken voice. The MIC PREAMP models a 4 different real mic preamplifier enriching the input sound with the renowned harmonics of the selected model. The TAPE SIMULATOR reproduces the typical tape recording harmonic distortion of three different kind of tape: 1/4″, 1/2″ and 2″. It can be also used in three special modes: Flutter, Vocal Dist and Fuzz.
GEM Voice v1-0-1 WiN-MAC
Mic Preamplifier (4 models)
Tape Simulator (3 tapes + 3 special modes)
Vocal Enhancer
De-Boxer and a De-Esser
Dynamic Processor with compressors (5 models)
Expander-gate
Equalizer (5 models)
Space Processor / Reverb Unit
Analog Delay
Master Section with an optional Limiter
Inteactive Dynamic Display
Interactive EQ Display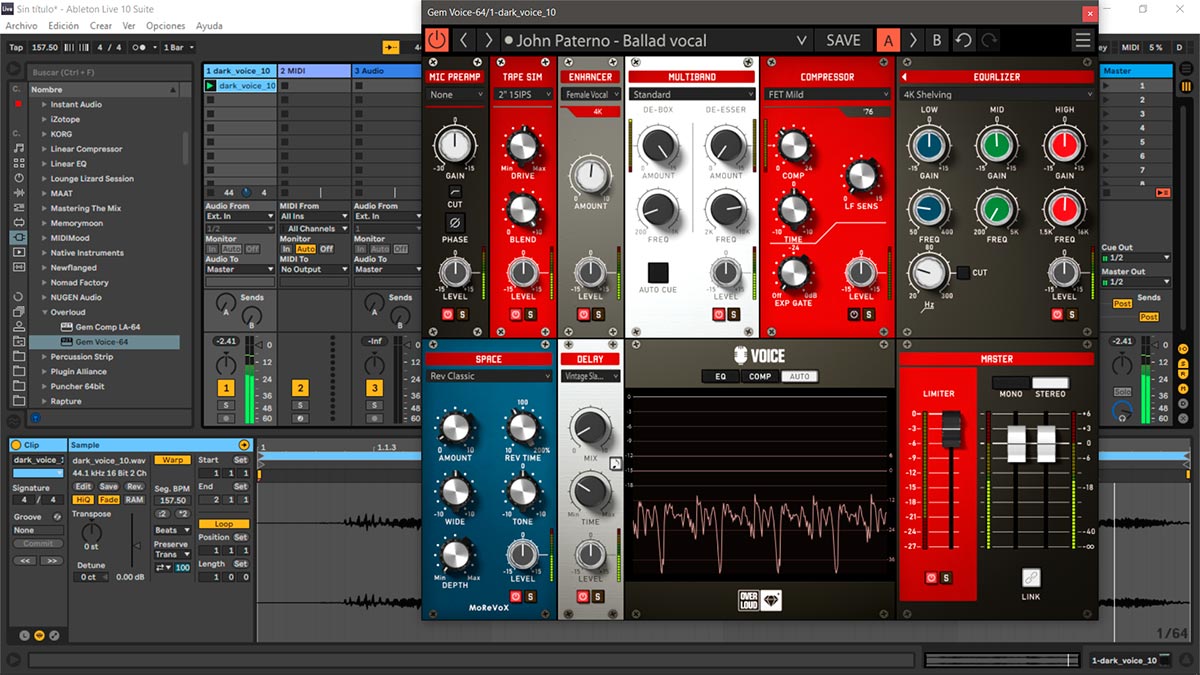 GEM Voice v1-0-1 WiN-MAC
Descarga Directa – Direct Download
GEM Voice v1.0.1

WiN-MAC
EXE-VST-VST3-AAX-AU x86 x64
Para descarga de esta página se necesita un cliente Torrent, hay muchos disponibles, tanto para Windows como para MacOSX, aquí les dejo algunos de los mejores clientes…una vez instalado alguno de los programas, los enlaces Torrent se abren de forma automática.