Symphony Essentials Percussion v1-3-0 KONTAKT…Un conjunto exhaustivo de 18 instrumentos de percusión orquestal, grabados en Studio 22, Budapest. PERCUSSION ofrece un excelente equilibrio entre precisión y ambiente, y el rango y la capacidad de interpretación para satisfacer las necesidades de cualquier tarea de producción orquestal. También proporciona un excelente conjunto de percusión para géneros pop y electrónicos.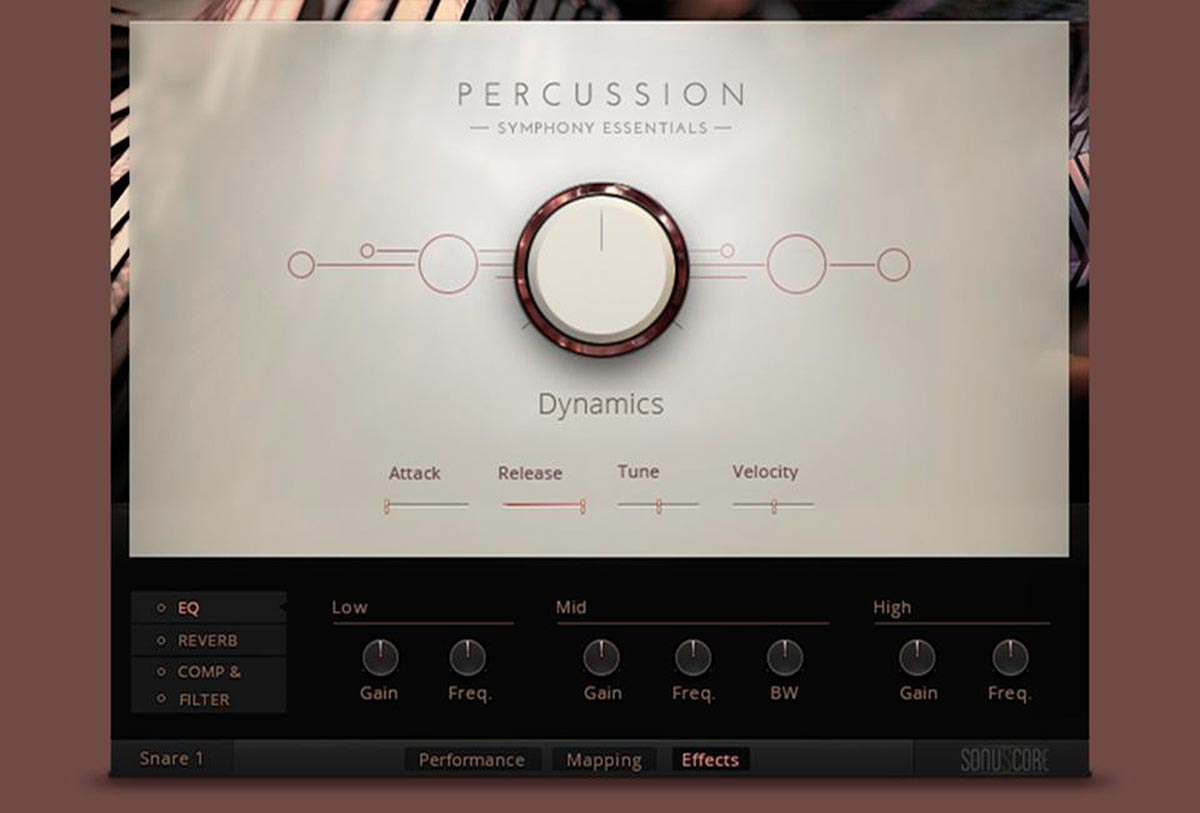 Symphony Essentials Percussion v1-3-0 KONTAKT
Con una amplia gama de instrumentos de percusión clásicos y exóticos, diversas articulaciones y una potente simulación de resonancia de parche de batería, PERCUSSION es el conjunto definitivo de herramientas de ritmo orquestal. Un micrófono puntual ultra detallado para detalles transitorios se suma a cuatro mezclas de sala distintas, proporcionando la profundidad y versatilidad para trabajar con cualquier composición y género. PERCUSSION está disponible en la versión completa SYMPHONY SERIES o en la versión optimizada SYMPHONY ESSENTIALS.
PERCUSSION utiliza un sistema de reproducción y muestreo único para un realismo sin precedentes. Drum Head Resonance Simulation (DHRS) cambia de forma inteligente entre grabaciones de golpes en parches de batería inmóviles y grabaciones con parches de batería resonantes. Esto permite conjuntos de todos contra todos que recrean el sonido del mundo real de la batería tocada, ajustándose al estilo y al rendimiento.
Symphony Essentials Percussion v1-3-0 KONTAKT
Simulación de resonancia
4 GB (comprimido)
18 instrumentos grabados
21 NKI, incluido 1 kit
Tremolo, Crescendo Roll, Flam
Variaciones «Edge» y articulaciones FX
Simulación de resonancia de parche de tambor
1 mezcla de micrófono estéreo, sin página Mixer
Página de efectos con ecualizador, reverberación, etc.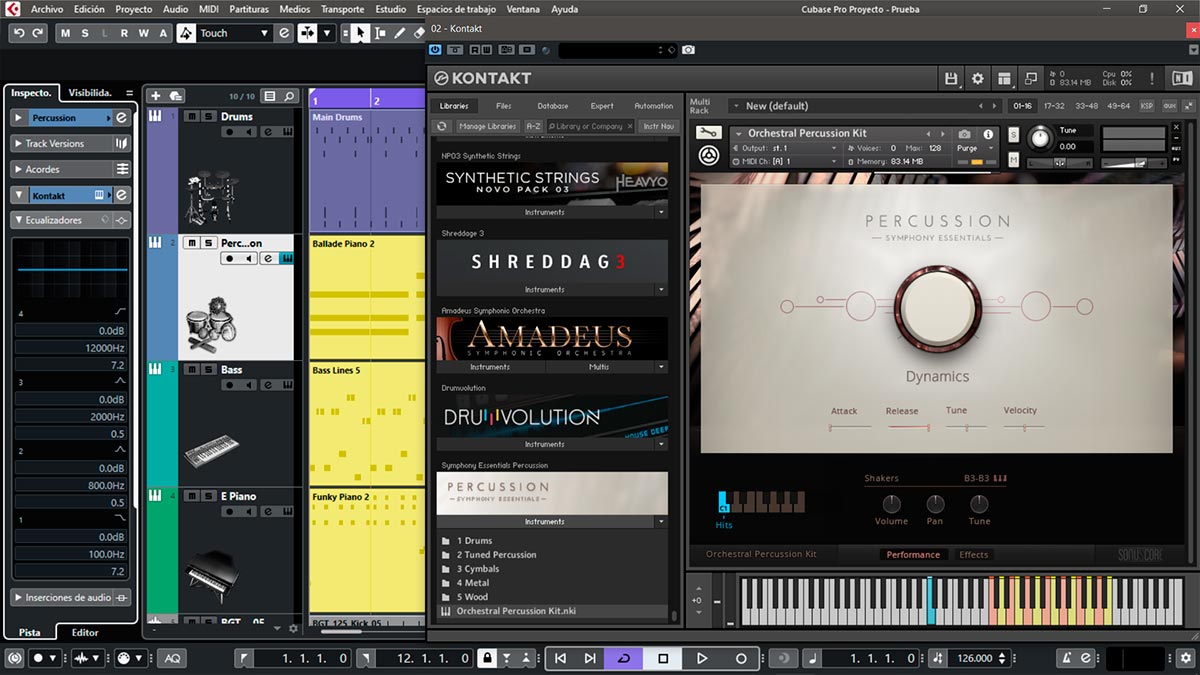 English
An exhaustive set of 18 orchestral percussion instruments, recorded at Studio 22, Budapest. PERCUSSION offers superb balance between precision and ambience, and the range and playability to meet the needs of any orchestral production task. It also provides an outstanding percussion set for pop and electronic genres. With a wide range of both classic and exotic percussive instruments, diverse articulations and powerful drum head resonance simulation, PERCUSSION is the definitive set of orchestral rhythm tools.
An ultra-detailed spot microphone for transient detail adds to four distinct room mixes, providing the depth and versatility to work with any composition and genre. PERCUSSION is available in full SYMPHONY SERIES version or streamlined SYMPHONY ESSENTIALS version. PERCUSSION uses a unique sampling and playback system for unprecedented realism. Drum Head Resonance Simulation (DHRS) intelligently switches between recordings of strikes on still drum heads and recordings with resonating drum heads. This allows round-robin sets that recreate the real-world sound of played drums, adjusting for style and performance.
Symphony Essentials Percussion v1-3-0 KONTAKT
Resonance Simulation
4 GB (compressed)
18 recorded instruments
21 NKIs, including 1 Kit
Tremolo, Crescendo Roll, Flam
Edge variations and FX articulations
Drum Head Resonance Simulation
1 stereo microphone mix, no Mixer page
Effects page with EQ, Reverb, Compression, and Filter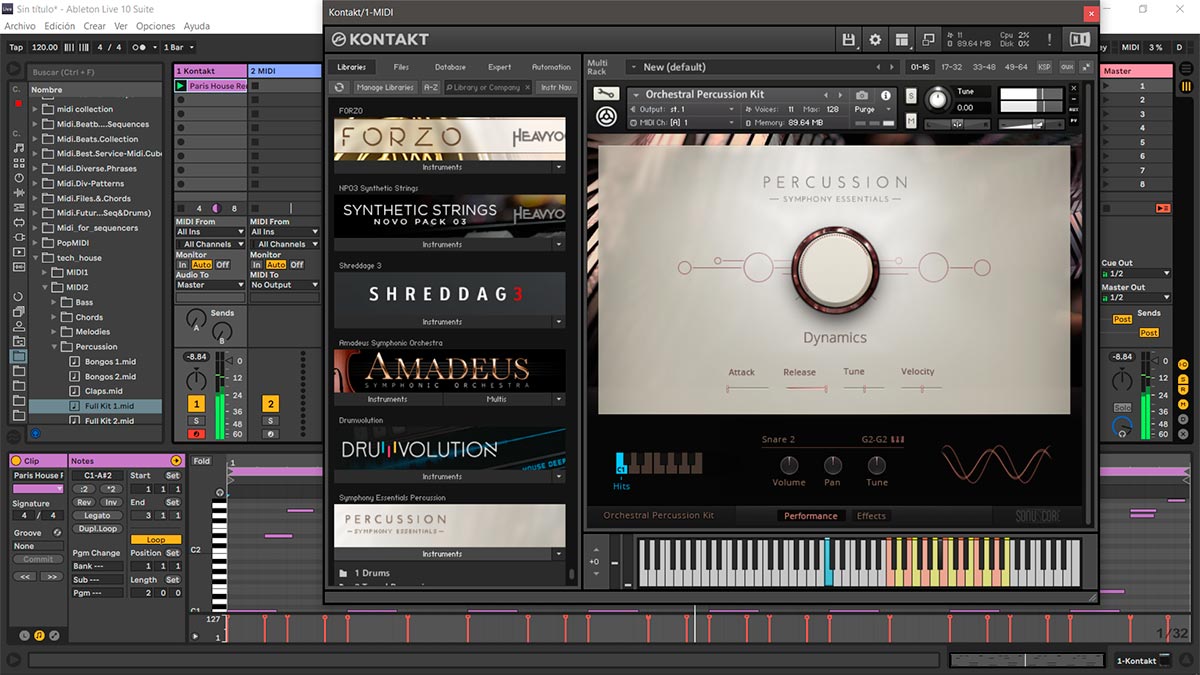 Symphony Essentials Percussion v1-3-0 KONTAKT
Descarga Directa – Direct Download
Synphony Essential Percussion KONTAKT (3.86 Gb)
Para descarga de esta página se necesita un cliente Torrent, hay muchos disponibles, tanto para Windows como para MacOSX, aquí les dejo algunos de los mejores clientes…una vez instalado alguno de los programas, los enlaces Torrent se abren de forma automática.