Prominy V-Metal 1-20c2 KONTAKT…Guitarra eléctrica virtual con sonido ultra real / potencia oscura. El verdadero sonido METAL de ESP® Alexi Blacky con pastilla EMG®humbucker incluye más de 19GB *, aprox. 26.000 muestras. ¡V-METAL te permite componer y crear pistas de guitarra de metal muy realistas que imitan el toque real de la guitarra! Increíble capacidad de reproducción en tiempo real: V-METAL SPM (Super Performance Multi). V-METAL SPM le permite acceder a varias técnicas de interpretación instantáneamente sin detener su interpretación y crear pistas de guitarra convincentes de manera muy fácil y rápida.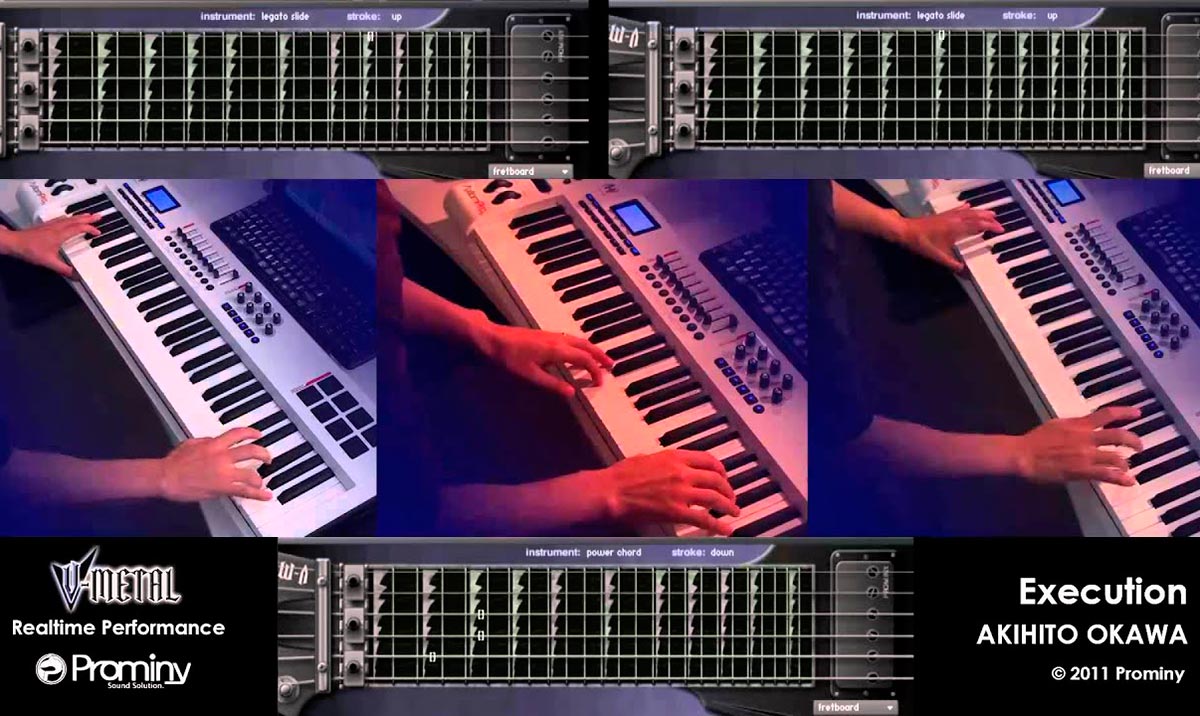 Prominy V-Metal 1-20c2 KONTAKT
Nota única, Acordes reales muestreados de 2 cuerdas (tercera menor, tercera mayor, cuarta, quinta plana, quinta, quinta, sexta, octava) Acordes reales muestreados (add9, sus4, acorde de potencia), otros acordes muestreados especiales ('Acordes Rush ') Curva al unísono, Doble curva, Activación y extracción de martillo en tiempo real, Deslizamiento de legato en tiempo real, Vibrato, Trino, Trémolo de punción, Silencio y ruido de punción, Cricket, Gliss hacia abajo, Armónicos de pellizco, Armónicos naturales, Ruido de traste, Ruido de parada , Ruido de silencio del puente, ruido de liberación de dedos, ruido de cambio de posición, barra de Whammy, efectos especiales, ruidos, retroalimentación, etc.
Prominy V-Metal 1-20c2 KONTAKT
Increíble jugabilidad en tiempo real
Más de 26.000 muestras
Monitor de diapasón
Detección automática de trazos
Retroalimentación
Slide Legato en tiempo real
Martillo-on / Pull-off / Trill / Tremolo
Acordes muestreados reales
Interruptor de llave asignable
Incluidas muestras de notas más bajas (C bajo – D # bajo)
Señal directa de la guitarra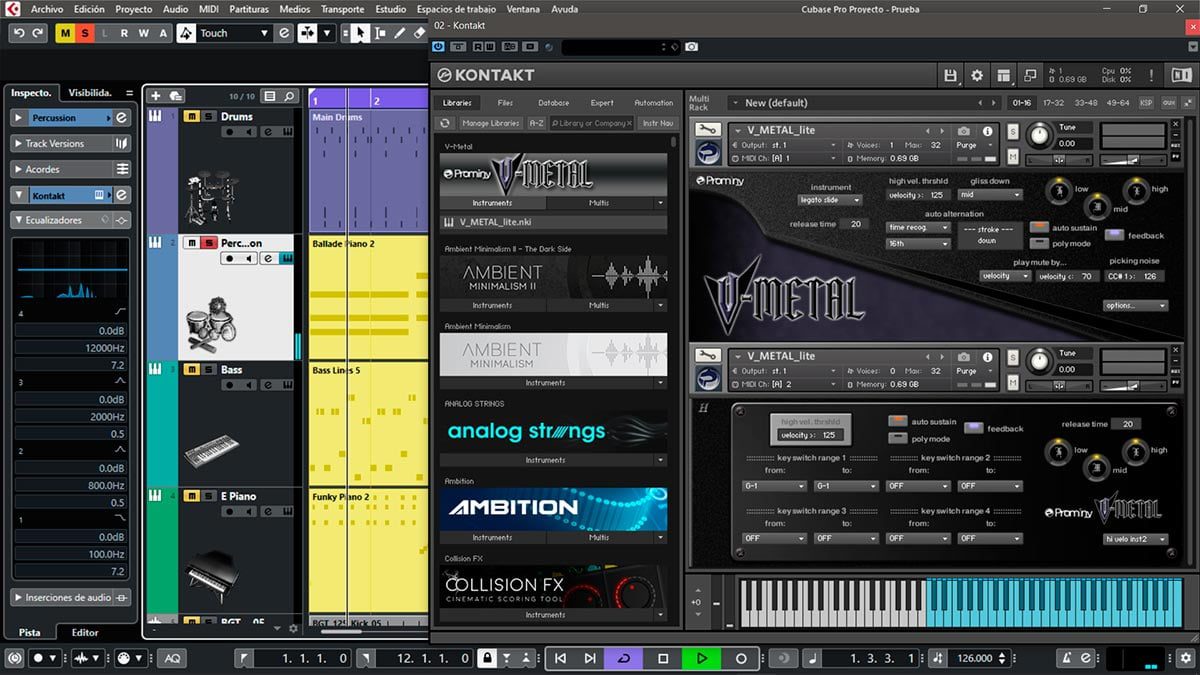 English
Ultra Real-sounding / Dark-Powered Virtual Electric Guitar. The true METAL sound of ESP® Alexi Blacky with EMG®humbucker pickup includes over 19GB*, approx. 26,000 samples. V-METAL enables you to compose and create very realistic Metal guitar tracks that imitate real guitar playing! Incredible real-time playability – V-METAL SPM (Super Performance Multi). V-METAL SPM enables you to access various playing techniques instantly without stopping your performance and create convincing guitar tracks very easily and quickly.
Single note, Sampled real 2-strings chords (minor 3rd, major 3rd, 4th, flat 5th, 5th, #5th, 6th, octave) Sampled real chords (add9, sus4, power chord), Other special sampled chords ('Rush chords') Unison bend, Double bend, Realtime Hammer-on & Pull-off, Realtime Legato Slide, Vibrato, Trill, Picking Tremolo, Mute & picking noise, Cricket, Gliss down, Pinch Harmonics, Natural Harmonics, Fret noise, Pick stop noise, Bridge mute noise, Finger Release noise, Position change noise, Whammy bar, Special FX, noises, Feedback, etc.
Prominy V-Metal 1-20c2 KONTAKT
Incredible real-time playability
26.000 samples+
Fretboard Monitor
Auto Stroke Detection
Feedback
Realtime Legato Slide
Hammer-on / Pull-off / Trill / Tremolo
Real sampled chords
Assignable Key Switch
The lower note samples (low C – low D#) are included
Direct signal from the guitar
Prominy V-Metal 1-20c2 KONTAKT
Descarga Directa – Direct Download
Prominy V-Metal v1.20c2

UPDATE
Prominy V-Metal

FULL

v1.20b (10.43 Gb)
Para descarga de esta página se necesita un cliente Torrent, hay muchos disponibles, tanto para Windows como para MacOSX, aquí les dejo algunos de los mejores clientes…una vez instalado alguno de los programas, los enlaces Torrent se abren de forma automática.