GSi VariSpeed 70s TapeDelay WiN-MAC…El legendario fabricante de complementos GSi está de regreso con una nueva versión: VariSpeed, una simulación de complemento gratuito de la unidad de retardo de cinta WEM Copicat IC400 "Belt Drive" de finales de los setenta. WEM Copicat IC-400 Belt Drive VariSpeed ​​fue la primera máquina de eco de cinta fabricada por WEM con un motor de cabrestante de CC capaz de cambiar la velocidad, variando así el tiempo de retardo.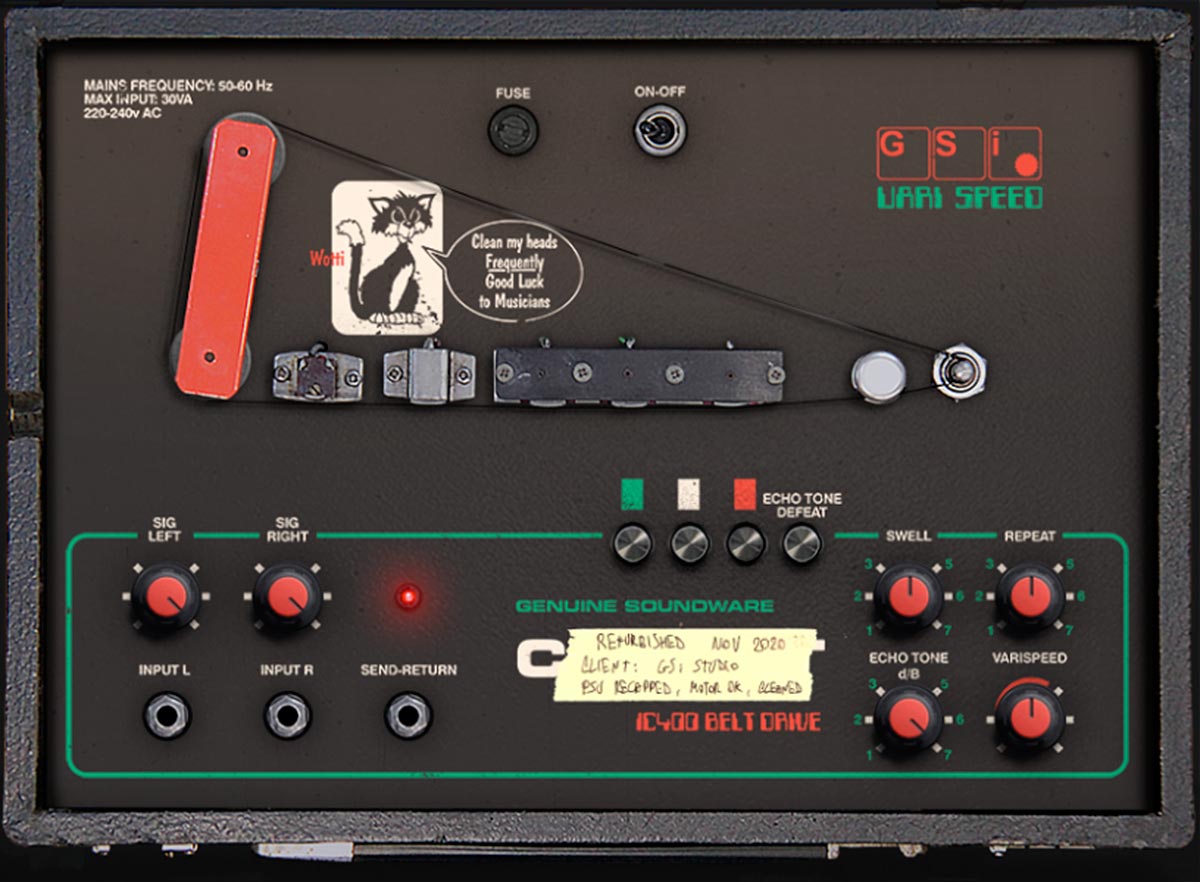 GSi VariSpeed 70s TapeDelay WiN-MAC
GSi VariSpeed ​​replica el instrumento de hardware "tal cual" con todos sus pros y contras, sin ninguna característica adicional excepto el hecho de que es digital y controlable por MIDI. Esto puede considerarse como el segundo capítulo de un tributo al genio del Sr. Charlie Watkins que GSi comenzó en 2008 con el lanzamiento del software gratuito "WatKat", que era una simulación del "Custom Copicat". La unidad de eco de cinta más famosa de Gran Bretaña, y posiblemente del mundo, la Copicat también es la primera máquina de repetición de eco fabricada como una unidad compacta. Fue diseñado por Charlie Watkins en 1958, aparentemente después de escuchar un efecto de sonido similar generado por dos grabadoras de cinta con calidad de estudio conectadas para el cantante italiano Marino Marini.
GSi VariSpeed 70s TapeDelay WiN-MAC
Swell: ajusta el volumen de las repeticiones
Sustain: ajusta el número de repeticiones
Ganancia 1: volumen de la entrada 1 (canal izquierdo)
Ganancia 2: volumen de la entrada 2 (canal derecho)
Cabeza 1, Cabeza 2, Cabeza 3
Características adicionales:
– Muy facil de usar
– Muy ligero en CPU y memoria
– Función Easy MIDI Learn
EXE-VST-VST3 WiN x64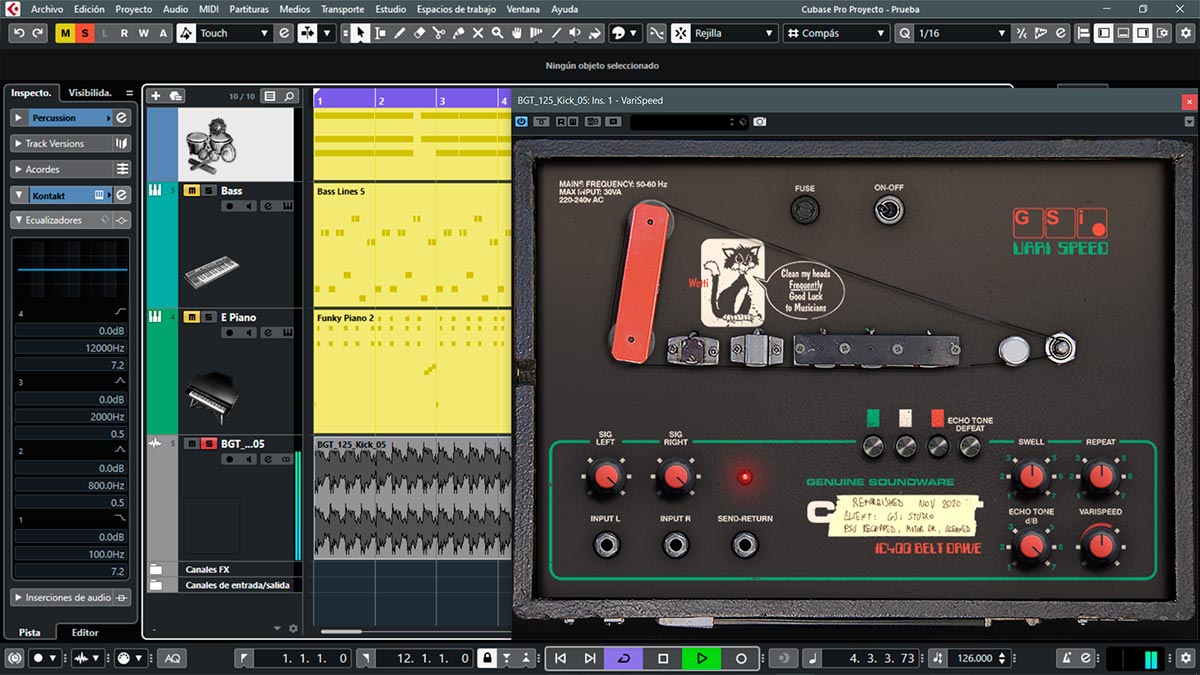 English
The legendary plugin maker GSi is back with a new release: VariSpeed, a free plugin simulation of the WEM Copicat IC400 "Belt Drive" tape delay unit from the late seventies. WEM Copicat IC-400 Belt Drive VariSpeed was the first tape echo machine made by WEM with a DC capstan motor capable of changing speed, thus varying the delay time.
GSi VariSpeed replicates the hardware instrument "as is" with all its pros and cons, without any additional feature except the fact that it is digital and MIDI-controllable. This can be considered as the second chapter of a tribute to the genius of Mr. Charlie Watkins that GSi began back in 2008 with the release of the freeware "WatKat", which was a simulation of the "Custom Copicat". The most famous Tape-Echo Unit in Britain, and possibly in the World, the Copicat also happens to be the first repeat-echo machine manufactured as one compact unit. It was designed by Charlie Watkins in 1958, apparently after he heard a similar sound effect generated by two linked studio quality tape recorders for the Italian singer Marino Marini.
GSi VariSpeed 70s TapeDelay WiN-MAC
Swell: adjusts the volume of the repeats
Sustain: adjusts the number of repeats
Gain 1: volume of input 1 (left channel)
Gain 2: volume of input 2 (right channel)
Head 1, Head 2, Head 3
Additional Features:
– Very easy to use
– Very light on CPU and memory
– Easy MIDI Learn feature
EXE-VST-VST3-AU WiN-MAC x64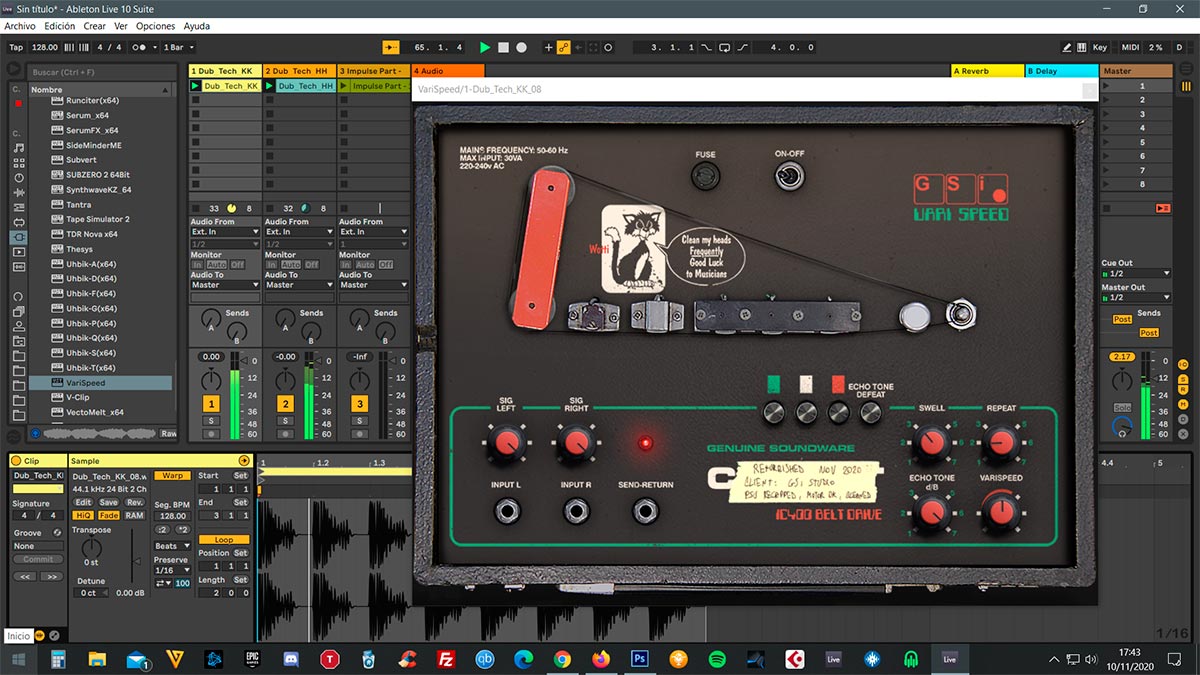 GSi VariSpeed 70s TapeDelay WiN-MAC
Descarga Directa – Direct Download
GSI VariSpeed v1.0.0
EXE-VSTi-VST3-AU

WiN-MAC

x64
Para descarga de esta página se necesita un cliente Torrent, hay muchos disponibles, tanto para Windows como para MacOSX, aquí les dejo algunos de los mejores clientes…una vez instalado alguno de los programas, los enlaces Torrent se abren de forma automática.