Soundiron Frendo v2-0 KONTAKT…Frendo es un instrumento Soundiron hecho a medida. Creamos este monstruo ensartando alambre de rescate alrededor y a través de placas y pernos de acero, sobre tuberías de acero galvanizado y sobre tablas de madera. Estaba destinado a sufrir. Puedes ayudarlo maltratándolo de formas horribles con destornilladores, arcos, baquetas, mazos y dedos. El instrumento contiene una gran cantidad de sonidos de otro mundo, lo que es ideal para compositores que buscan nuevas texturas inquietantes y terroríficas para sus partituras.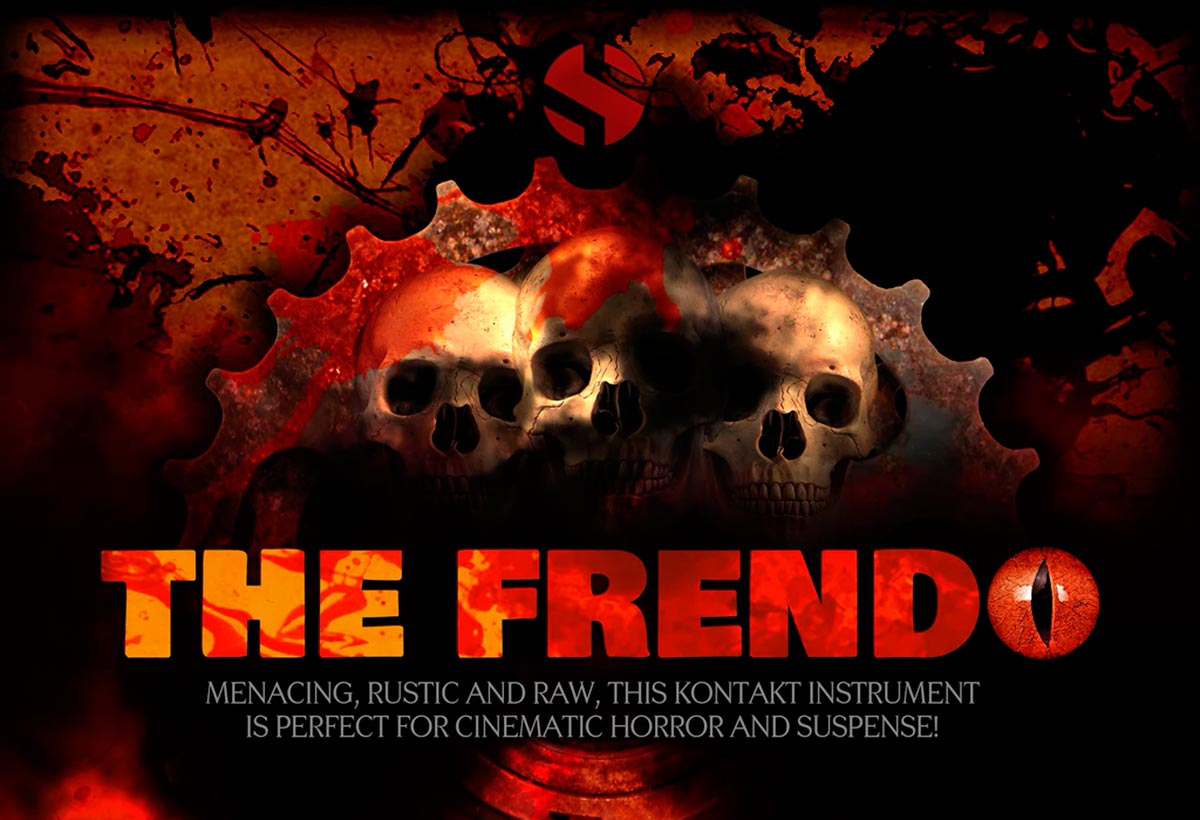 Soundiron Frendo v2-0 KONTAKT
Frendo es parcialmente un instrumento de mazo, grabado con mazos de madera y goma, pero también es un instrumento de cuerda más tradicional, ya que grabamos punteos de dedos y arcos. Es el sonido del violonchelo de Satanás, llorando suavemente por tu alma ardiente. Hecho de pino nudoso, alambre de acero oxidado, pernos de ojo, ganchos, tornillos de cubierta, soportes para huracanes y un viejo bombo de 24 «, este hijo de puta de 5 cuerdas medía 8 pies de largo y 3 pies de ancho. El cuerpo tenía 2 «6 espina dorsal y dos segmentos de cuerpo separados para permitir torques y flexiones mientras se toca el instrumento. Estaba ensartado con alambre de hierro negro, enrollado sobre soportes y placas angulares de acero galvanizado y a través de pernos de ojo de gran calibre que usamos como afinadores, por medio de una llave de tubo.
Soundiron Frendo v2-0 KONTAKT
Dos posiciones de micrófono estéreo
Mazos de madera: 3-4 capas de velocidad, 10 veces por turnos
Mazos de goma: 5 capas de velocidad, 10 veces por turno
Desplumados con los dedos: 1-3 capas de velocidad, 6x round-robin
FX arqueado: 1-3 capas de velocidad, 6x – 9x round-robin
Notas altas arqueadas: 1-3 capas de velocidad, 4x round-robin
Notas bajas inclinadas: 6x round-robin y parches «legato» en bucle
Trémolo arqueado: efectos y sustain
Guías de destornillador: largas y cortas
3 grandes parches de efectos de sonido
Todo grabado con acústica natural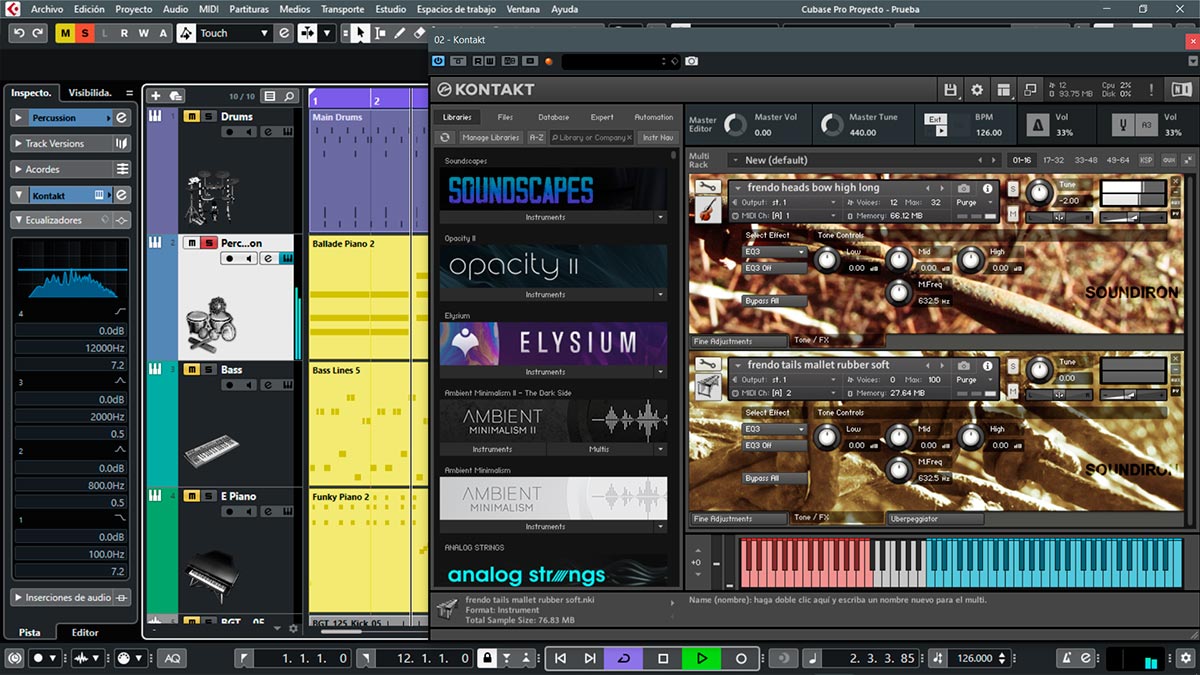 English
Frendo is a custom-built Soundiron instrument. We created this monster by stringing bailing wire around and through steel plates and bolts, over galvanized steel piping and across wood planks. It was meant to suffer. You can help by mistreating it in horrible ways with screwdrivers, bows, drum sticks, mallets and fingers. The instrument holds a vast amount of otherworldly sounds, which is ideal for composers looking for new disturbing, horror-like textures for their scores.
Frendo is partially a mallet instrument, recorded with wooden and rubber mallets, but is also a more traditional string instrument, since we recorded finger plucks and bows. It's the sound of Satan's cello, weeping softly for your burning soul. Made of knotty pine, rusted steel bailing wire, eye bolts, hooks, deck screws, hurricane brackets and an old 24″ bass drum, this 5-stringed son of a bitch was 8 feet long and 3 feet wide. The body had a 2″6 spine and two separate body segments to allow torquing and bending while the instrument was played. It was strung with black iron bailing wire, wound over galvanized steel angle brackets and plates and through heavy gauge eye bolts that we used as tuners, by way of a pipe wrench.
Soundiron Frendo v2-0 KONTAKT
Two stereo microphone positions
Wooden mallets: 3-4 velocity layers, 10x round-robin
Rubber mallets: 5 velocity layers, 10x round-robin
Finger plucks: 1-3 velocity layers, 6x round-robin
Bowed FX: 1-3 velocity layers, 6x – 9x round-robin
Bowed high notes: 1-3 velocity layers, 4x round-robin
Bowed low notes: 6x round-robin and looping «legato» patches
Bowed tremolo: effects and sustains
Screwdriver slides: long and short
3 large sound effects patches
All recorded with natural acoustics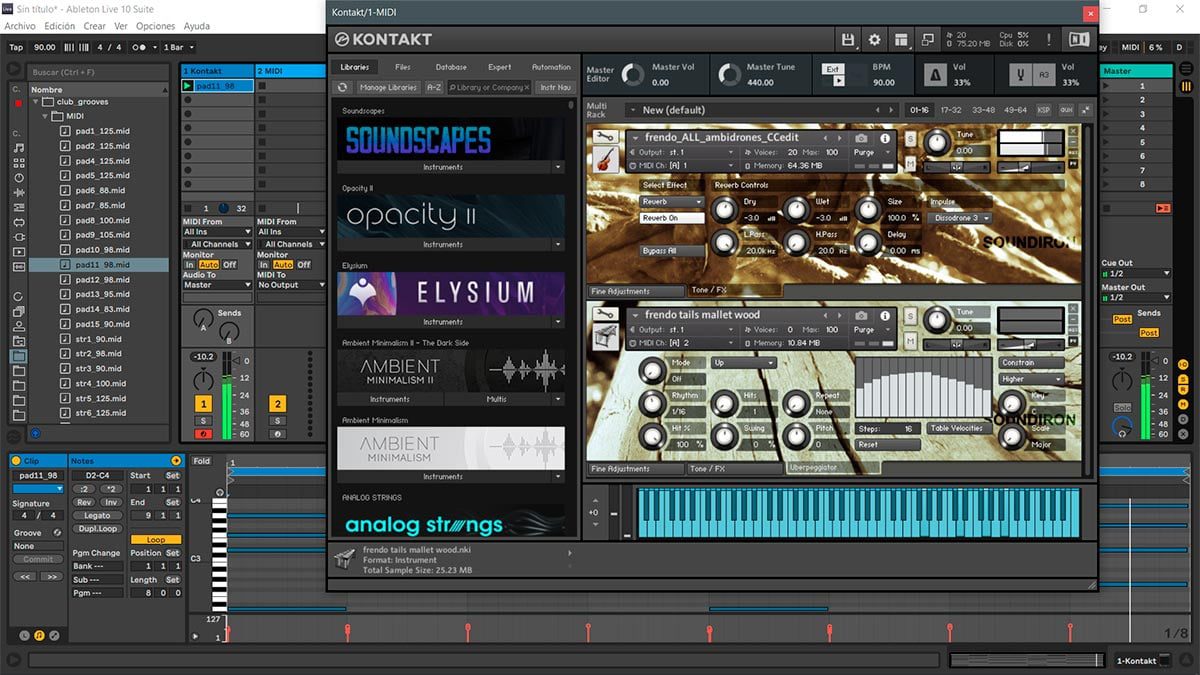 Soundiron Frendo v2-0 KONTAKT
Descarga Directa – Direct Download
Frendo KONTAKT (1.18 Gb)
Para descarga de esta página se necesita un cliente Torrent, hay muchos disponibles, tanto para Windows como para MacOSX, aquí les dejo algunos de los mejores clientes…una vez instalado alguno de los programas, los enlaces Torrent se abren de forma automática.