Aly James Lab VSDS-X v2-0 WiN…Aly James Lab ha lanzado la versión 2.0 del complemento VSDSX (Virtual Simmons Drums System Extended) que agrega soporte nativo de 64 bits y formato nativo Mac AudioUnits. Esta es una versión completamente nueva del sintetizador de batería. ¡Obtendrás ese legendario y poderoso golpe analógico! Además, como guinda del pastel, una voz puede cargar sus propios datos de imagen EPROM externos como en un pad SDS1 (basado en EPROM) real… Esto abre a una gama completamente nueva de sonido, aún siendo procesada por los circuitos.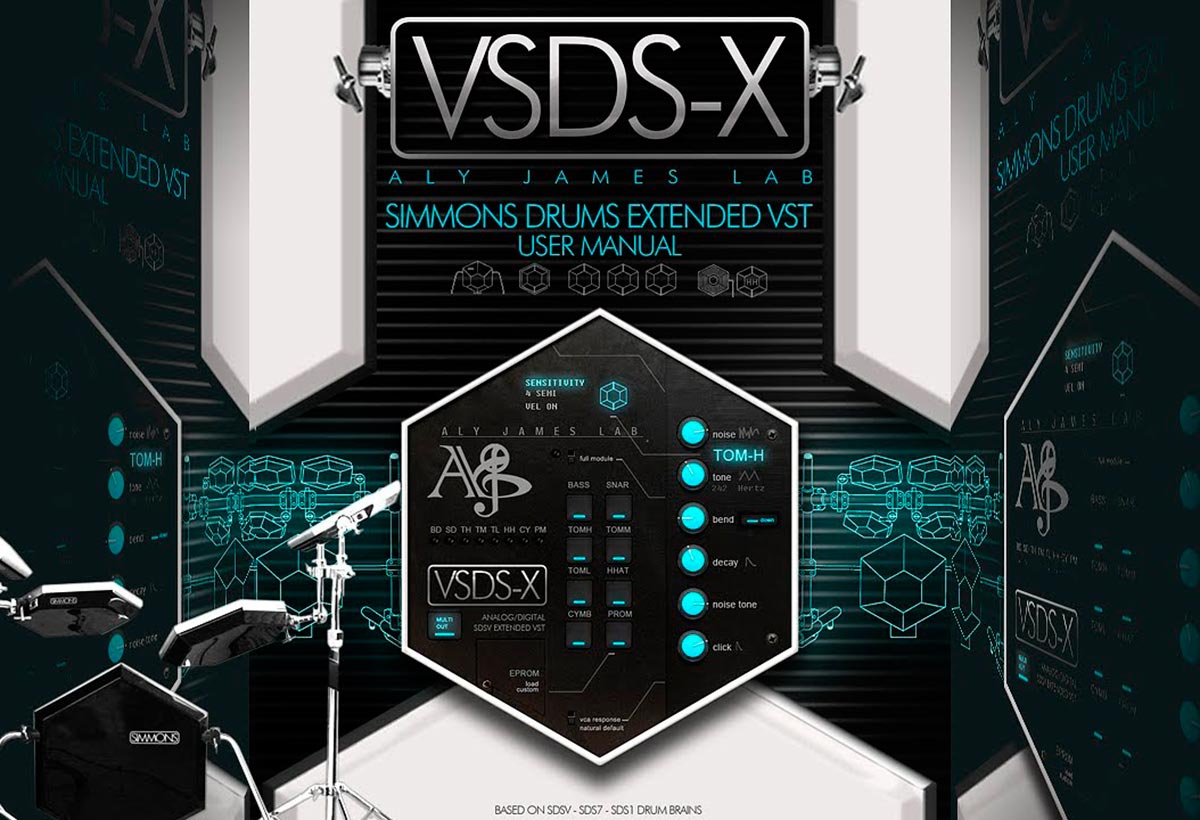 Aly James Lab VSDS-X v2-0 WiN
El VSDSX VST, que significa Virtual Simmons Drum System Extended, proporciona la experiencia más cercana a la realidad, para cada voz o como se llamó (módulo) modela con precisión el carácter analógico de la generación de sonido, sintonización de circuitos internos, sensibilidad de disparo. y todos los detalles que puede encontrar dentro del manual dedicado. para sus voces híbridas (HIHAT, CYMBAL, PROM y CLAP son analógicos pero también basados ​​en EPROM), los relojes y contadores que leen la memoria EPROM dentro de un sistema de frecuencia de muestreo variable se emula perfectamente. DAC decodifica y envía datos EPROMS en tiempo real, etc.
Aly James Lab VSDS-X v2-0 WiN
Capacidad multiplataforma
Compilación de 64 bits con el último sistema operativo e IDE
GUI (interfaz gráfica) actualizada.
Módulos refinados de HIHAT y CYMBAL
PROM Voice ahora admite cualquier tamaño de imagen EPROM
VSDSX ahora tiene capacidad de mapeo MIDI
Nueva voz CLAP adicional
Fuente de modulación adicional VEL 2 MOD
Opción global para activar «OSC personalizado»
Motor de sonido refinado en muchos niveles
Gran cantidad de correcciones de errores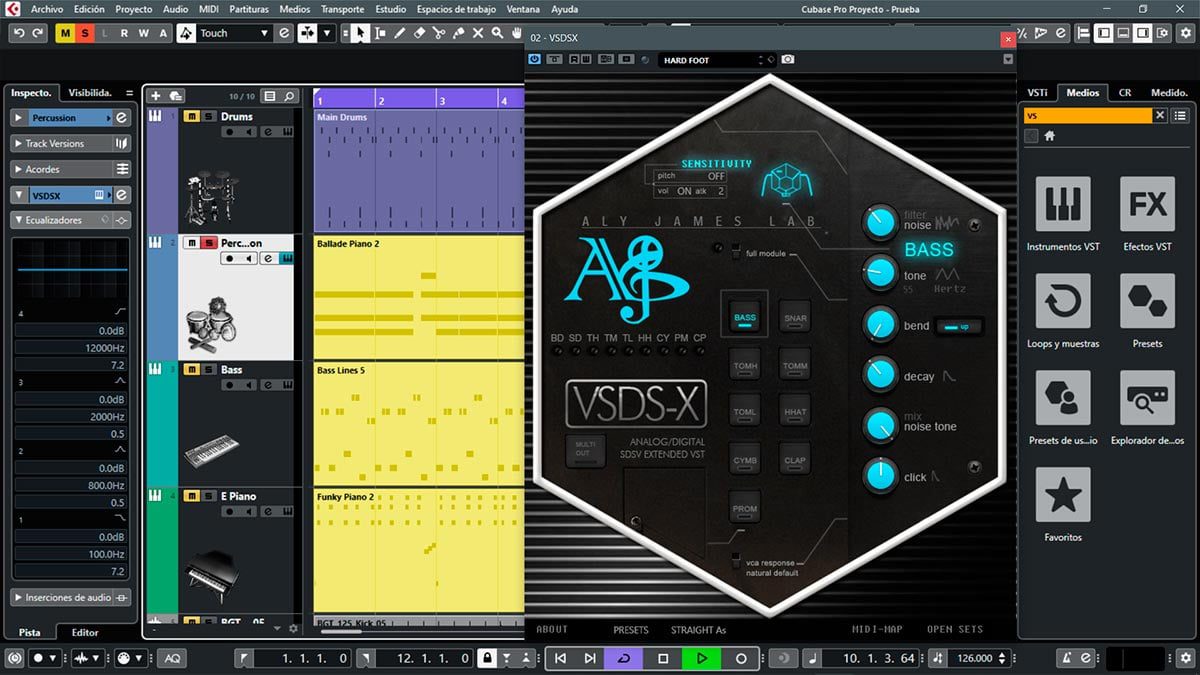 English
Aly James Lab has released version 2.0 of the VSDSX (Virtual Simmons Drums System Extended) plugin adding native 64-bit support and native Mac AudioUnits format. This is a completely new version of the drum synth. You will obtain that legendary powerful analog punch! On top of the cake, one voice can load your own external EPROM image data like on a real SDS1 (EPROM based) pad…This opens up onto a whole new range of sound, still being processed by the circuitry.
The VSDSX VST, which stands for Virtual Simmons Drum System Extended, provides the closest experience to the real thing, for each voice or as it was called (module) it models accurately the analog character of the sound generation, internal circuitry tuning, trigger sensitivity and all the details you can find inside the dedicated manual. for its hybrid voices (HIHAT, CYMBAL, PROM & CLAP are analog but also EPROM based) clocks and counters that read EPROM memory inside a variable sample rate system is perfectly emulated. DAC decodes and output EPROMS data in real-time etc.
Aly James Lab VSDS-X v2-0 WiN
Cross Platform capability
64-bit build using latest OS and IDE
Updated GUI(graphic Interface).
Refined HIHAT and CYMBAL modules
PROM voice now supports any EPROM image size
VSDSX now have MIDI Mapping capability
New additional CLAP voice
Additional modulation source VEL 2 MOD
Global option to turn on «OSC Custom»
Refined sound engine on many levels
Tons of bug fixes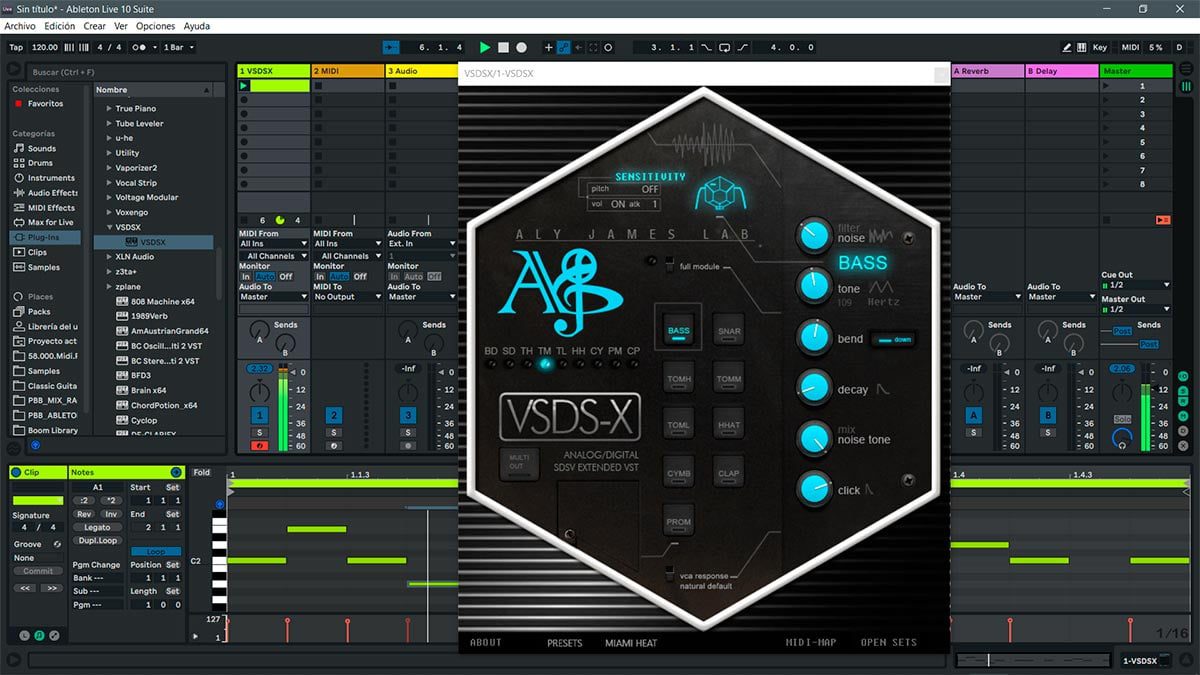 Aly James Lab VSDS-X v2-0 WiN
Descarga Torrent – Download Torrent
Aly James Lab VSDS-X v2-0 WiN
VST-VST3

WiN

x86 x64
Para descarga de esta página se necesita un cliente Torrent, hay muchos disponibles, tanto para Windows como para MacOSX, aquí les dejo algunos de los mejores clientes…una vez instalado alguno de los programas, los enlaces Torrent se abren de forma automática.