Inear Display Lancinantes v1-1-0 WIN-MAC…Lancinantes es un complemento de sintetizador de drones: al no tener control de amplitud en sus osciladores, se ejecutan libremente, generando un sonido constante. Tres osciladores aditivos especiales se superponen en capas, lo que permite la creación de acordes que se pueden adaptar a una escala melódica.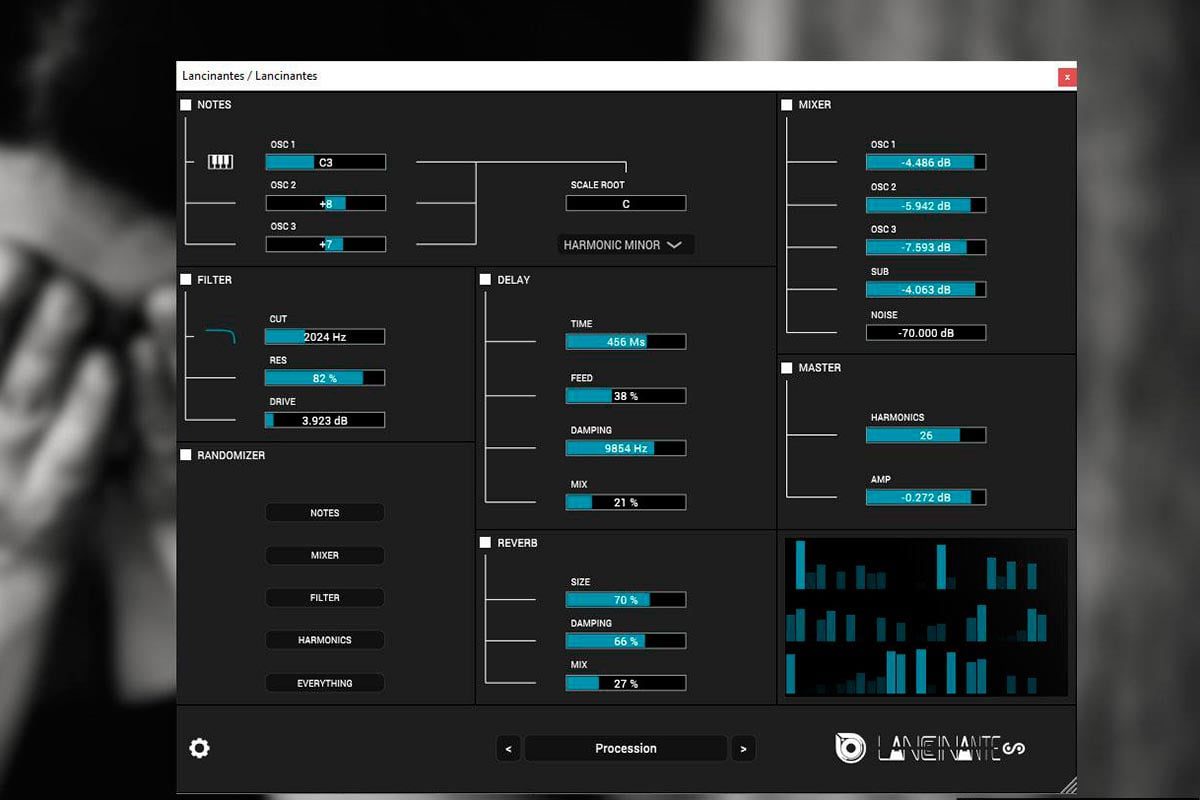 Inear Display Lancinantes v1-1-0 WIN-MAC
Una sección del mezclador le permite ajustar los niveles de los osciladores individuales, así como las amplitudes de un oscilador secundario y un generador de ruido blanco. La salida del mezclador luego pasa a través de un filtro de resonancia, una saturación, un retardo y una reverberación para dar forma al sonido. La mayoría de las configuraciones se pueden establecer en valores aleatorios gracias a una sección de aleatorización versátil. Por supuesto, la verdadera diversión comienza cuando automatizas los controles y ejecutas Lancinantes a través de tus efectos favoritos…
Inear Display Lancinantes v1-1-0 WIN-MAC
Salida de sonido continuo
Osciladores aditivos basados ​​en modulaciones aleatorias de los armónicos
3 Capas de Oscilador para crear Acordes, Sub Oscilador
Hasta 32 armónicos por capa, Gráfica de los osciladores armónicos
Generador de ruido blanco, Mezclador para combinar los generadores de sonido
Filtro de paso bajo / paso alto resonante
Overdrive, Reverb, Delay con la amortiguación de realimentación
Seguimiento de teclas MIDI opcional, Cuantizar las notas a escalas melódicas
Ajuste de nota de raíz de escala, 13 escalas melódicas
Amplias opciones de aleatorización: notas, mezclador, filtro, armónicos, todo
11 presets de fábrica, presets de plataforma cruzada
VSTi-AU de 32bit y 64bit para WiNDOWS y MAC OSX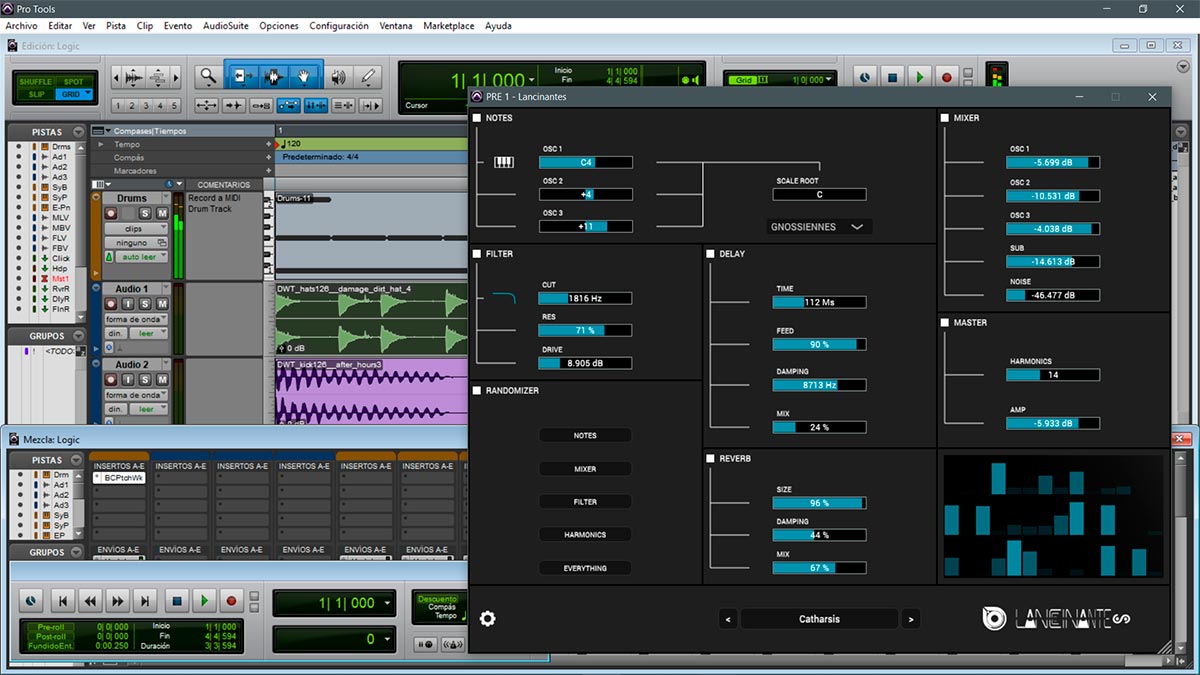 English
Lancinantes is a drone synthesizer plugin : having no amplitude control envelope its oscillators are freely running, generating a constant sound. Three special additive oscillators are layered, allowing the creation of chords that can be conformed to a melodic scale. The oscillators are built around harmonic combinations where each partial has a random amplitude modulation applied to create perpetual subtle variations. New sets of harmonics can manually be regenerated at will.
A mixer section allows you to adjust individual oscillators levels as well as the amplitudes of a sub oscillator and a white noise generator. The mixer output then goes through a resonant filter, an overdrive, a delay, and a reverb to further shape the sound. Most of the settings can be set to random values thanks to a versatile randomizer section. Of course, the real fun starts when you automate the controls and run Lancinantes through your favorite effects…
Inear Display Lancinantes v1-1-0 WIN-MAC
Continuous Sound Output
Additive Oscillators based on Random Modulations of the Harmonics
3 Oscillator Layers to create Chords, Sub Oscillator
Up to 32 Harmonics per Layer, Graphical Plot of the Oscillators Harmonics
White Noise Generator, Mixer to Combine the Sound Generators
Resonant Lowpass/Highpass Filter
Overdrive, Reverb, Delay with Feedback Damping
Optional MIDI Key Tracking
Quantize the Notes to Melodic Scales
Scale Root Note Setting, 13 Melodic Scales
Extensive Randomization Options : Notes, Mixer, Filter, Harmonics, All
11 Factory Presets, Cross-Platform presets
VSTi-AU 32bit & 64bit for WiNDOWS & MAC OSX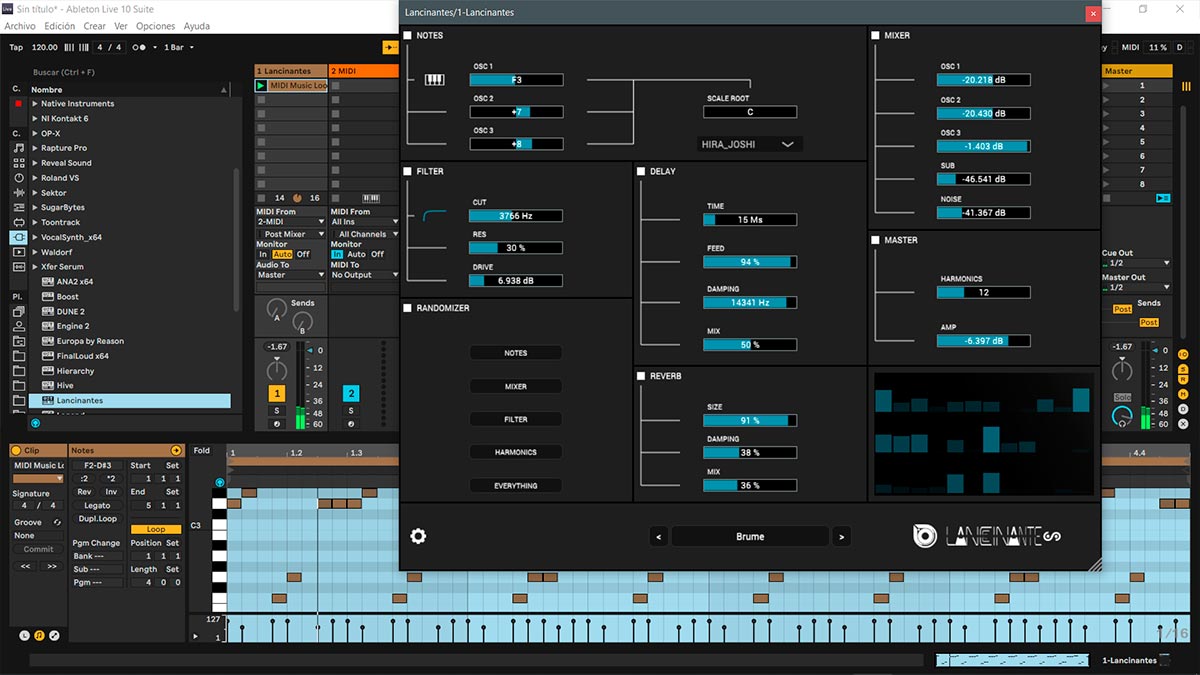 Inear Display Lancinantes v1-1-0 WIN-MAC
INSTALACIÓN:
Instalamos los plugins (puede que tengamos que desactivar

SmartScreen

de Windows)
Listos, los plugins ya viene activados
Descarga Directa – Direct Download
Lancinantes v1.1.0 VSTi-AU

WiN-MAC

x86 x64
Para descarga de esta página se necesita un cliente Torrent, hay muchos disponibles, tanto para Windows como para MacOSX, aquí les dejo algunos de los mejores clientes…una vez instalado alguno de los programas, los enlaces Torrent se abren de forma automática.