Soundop Audio Editor v1-7-8-20 WiN…Soundop es un editor de audio completo para Windows que funciona a la perfección con la edición de audio y la mezcla multipista en una sola aplicación. Tanto la edición de audio como la mezcla multipista tienen un espacio de trabajo independiente claramente organizado para cada tarea. Puede procesar la fuente de audio de un proyecto multipista con plena potencia sin salir de la aplicación.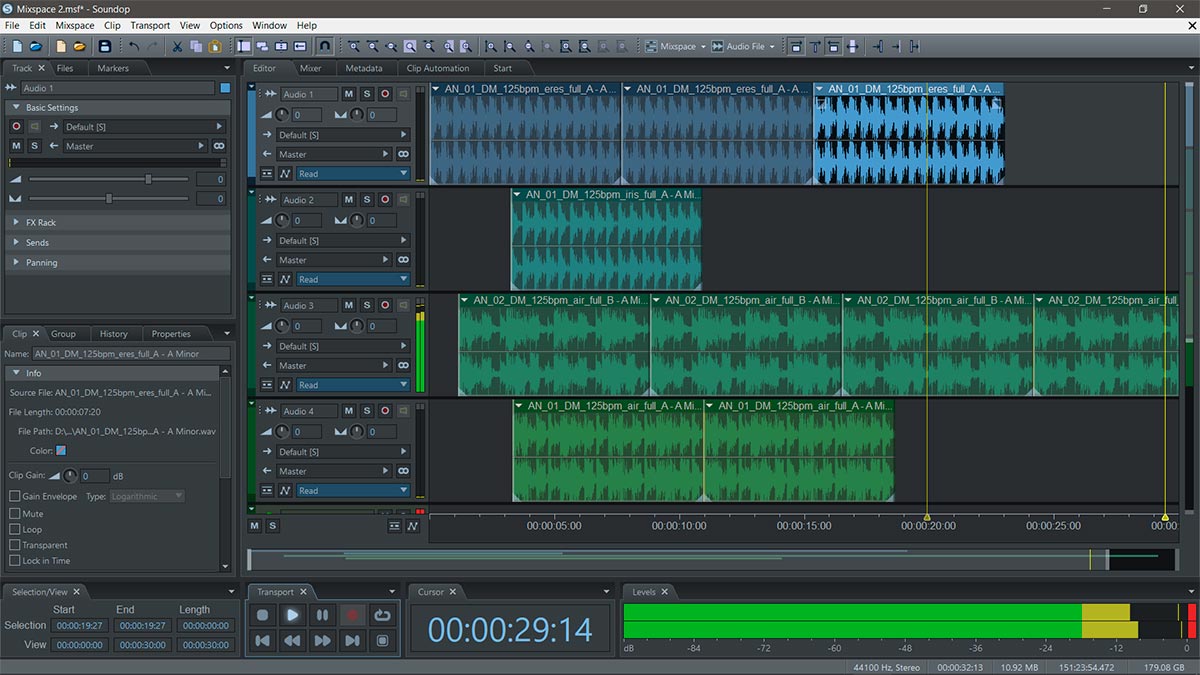 Soundop Audio Editor v1-7-8-20 WiN
El proceso general de producción de audio se puede realizar en Soundop Audio Editor de manera intuitiva y eficiente. Soundop proporciona un potente conjunto de funciones con un tamaño de paquete pequeño. Es rápido de descargar, instalar y ejecutar la aplicación. El diseño y la implementación de Soundop están completamente optimizados, por lo que se consume menos CPU y memoria para tareas que requieren muchos recursos, y puede tener todo el potencial de su sistema. Con su amplio conjunto de funciones, espacio de trabajo intuitivo y rendimiento confiable, Soundop será la herramienta ideal para su creación de sonido creativa.
Soundop Audio Editor v1-7-8-20 WiN
Soporta dispositivos ASIO
Grabe audio con una precisión de hasta 24 bits y 192 kHz.
Cargue datos de audio de la mayoría de formatos de audio y video
Cargar datos de audio desde una pista de CD
Guarde audio en MP2, MP3, WAV, AIFF, AU, OGG, FLAC, etc.
Edite la etiqueta ID3, el comentario de vorbis, RIFF, AIFF, etc.
Editar información de bucle ACID para bucles de música
Graba desde múltiples dispositivos de entrada
Motor de mezcla profesional con precisión de 32 bits
Admite complementos de efectos VST y VST3
Agregue efectos de audio con FX rack
Grabar y editar la curva de automatización
Time Stretch y cambio de tono en tiempo real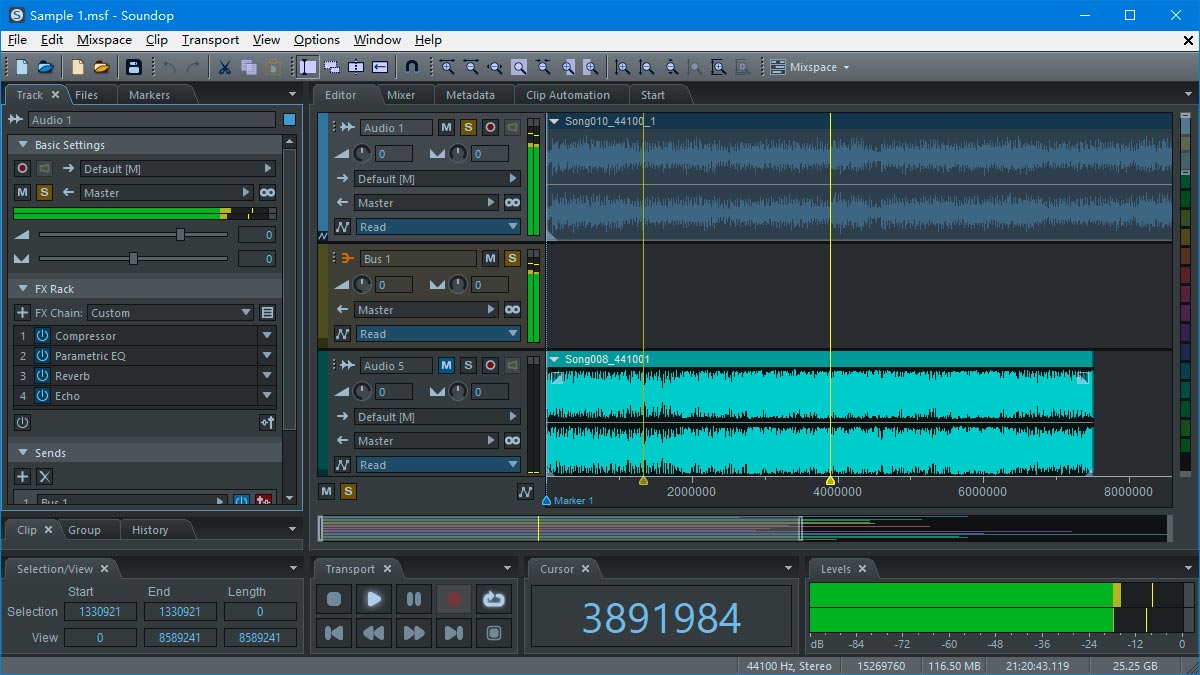 English
Soundop is a comprehensive audio editor for Windows that working seamlessly with audio editing and multitrack mixing in one application. Both audio editing and multitrack mixing have standalone workspace clearly organized for each task. You can process the audio source of multitrack project with full power without leaving the application.
The overall process of audio production can be done in Soundop Audio Editor intuitively and efficiently. Soundop provide a powerful feature set with a small package size. It is fast to download, install and run the application. The design and implementation of Soundop are fully optimized, thus less CPU and memory are consumed for resource-intensive tasks, and you may have full potential of your system. With its extensive feature set, intuitive workspace and reliable performance, Soundop will be the ideal tool for your creative sound authoring.
Soundop Audio Editor v1-7-8-20 WiN
Support ASIO devices
Record audio up to 24 bit precision and 192 kHz.
Load audio data from most audio and video formats
Load audio data from CD track
Save audio to MP2, MP3, WAV, AIFF, AU, OGG, FLAC, etc.
Edit ID3 tag, vorbis comment, RIFF, AIFF, etc.
Edit ACID loop information for music loops
Record from multiple input devices
Professional mix engine with 32 bit precision
Support VST and VST3 effect plug-ins
Add audio effects with FX rack
Record and edit automation curve
Time stretch and pitch shift audio clips in real-time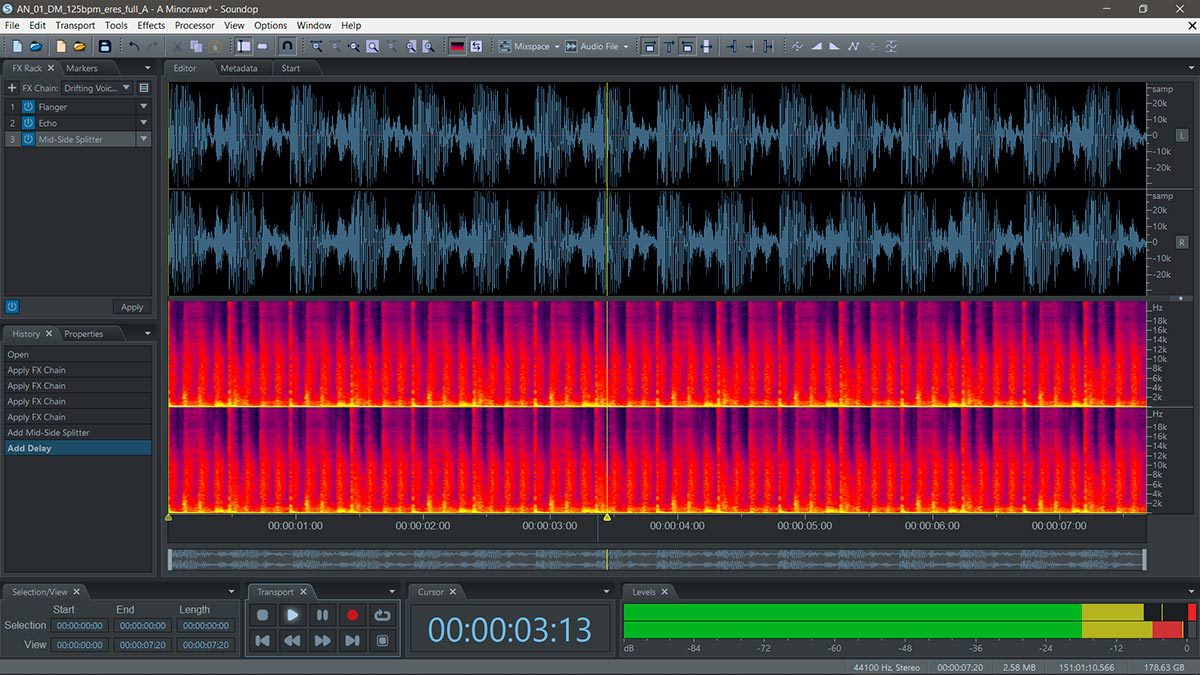 Soundop Audio Editor v1-7-8-20 WiN
INSTALACIÓN: Instalamos la versión que necesitemos (x86 o x64) y sustituimos el archivo parcheado por el de la instalación en «C:\Program Files\Ivosight\Soundop» para 64 bit o «C:\Program Files (x86)\Ivosight\Soundop» para 32bit.

Descarga Directa – Direct Download
Soundop Audio Editor

v1.7.8.20
WiNDOWS

x86 x64
Para descarga de esta página se necesita un cliente Torrent, hay muchos disponibles, tanto para Windows como para MacOSX, aquí les dejo algunos de los mejores clientes…una vez instalado alguno de los programas, los enlaces Torrent se abren de forma automática.