UVI Falcon TGX-99 Yamaha SY99/TG77…Lo más parecido que obtendrás al sonido del SY99. Tomamos muestras de todas las formas de onda, incluidos los kits de batería, y también probamos todos los ajustes preestablecidos de fábrica. Podrá crear muchos de sus ajustes preestablecidos basados ​​en AWM y tendrá una alegría absoluta reviviendo también todos los ajustes preestablecidos de fábrica.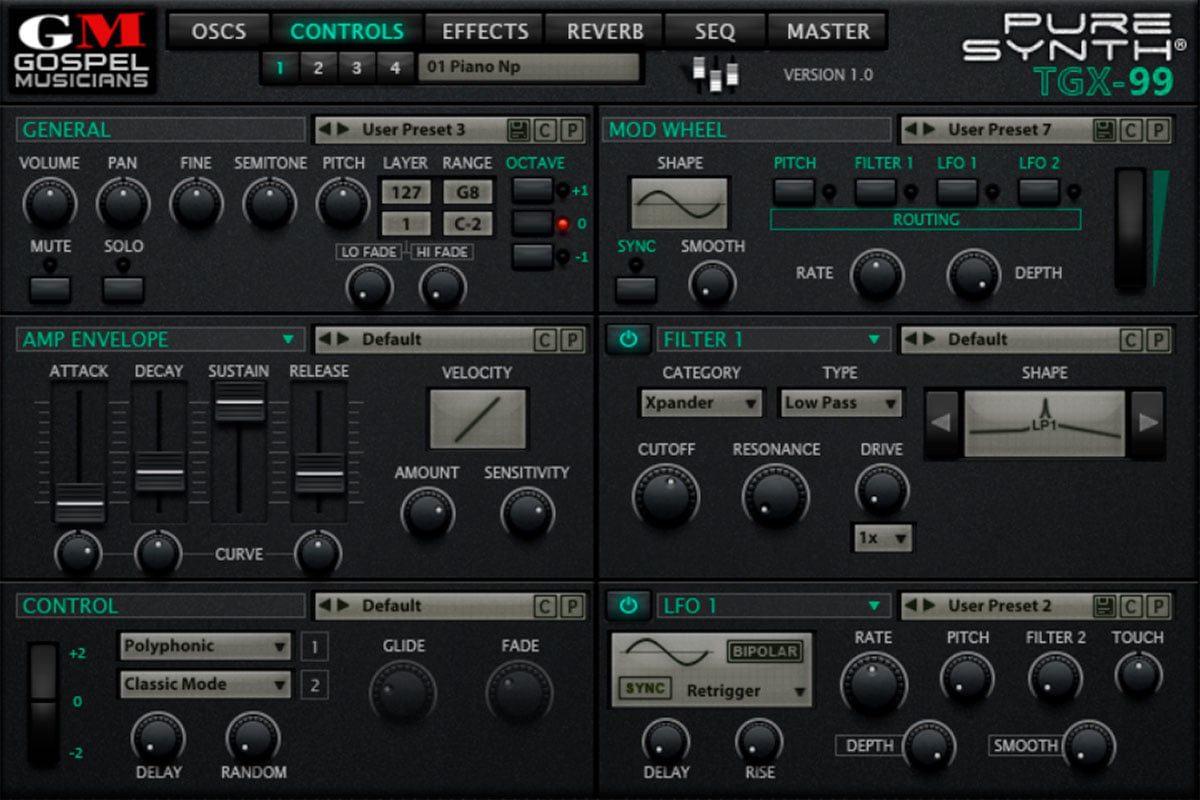 UVI Falcon TGX-99 Yamaha SY99/TG77
El TGX-99 es una biblioteca de muestras de instrumentos virtuales Yamaha SY-99 / TG-77 basada en la plataforma Pure Synth Platinum. De acuerdo con la asombrosa estructura de PSP, hemos incluido TODAS las formas de onda de muestra sin procesar del hardware real. Obtiene 4 osciladores en los que combinar sus formas de onda, así como dos filtros y dos LFO por oscilador. El arp y la puerta pueden ser globales o por oscilador, así como efectos globales y por oscilador, según la plantilla que elija. En muchos sentidos, el TGX-99 compite con el del hardware real, debido a las fuentes de modulación agregadas, el número y la calidad de los efectos, así como una mayor polifonía. El objetivo del TGX-99 es poner virtualmente en sus manos la sensación del hardware real.
UVI Falcon TGX-99 Yamaha SY99/TG77
Incluye 128 preajustes de voz de fábrica
Incluye 64 preajustes Wave ROM
Incluye todas las formas de onda de fábrica
Incluye todos los kits de batería de fábrica
Impulsos de reverberaciones SY99
WEB:

UVI Falcon TGX-99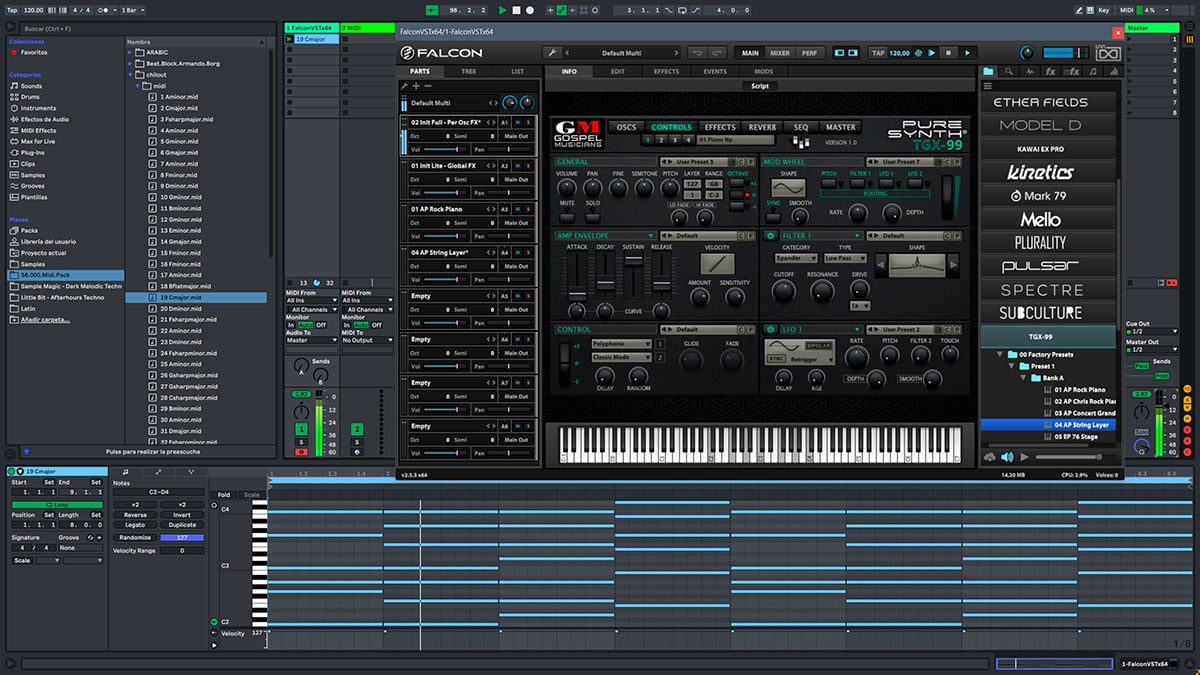 English
The TGX-99 is a Yamaha SY-99/TG-77 virtual instrument sample library based off of the Pure Synth Platinum platform. In keeping with the amazing structure of as PSP, we have included ALL of the raw sample waveforms from the actual hardware. You get 4-oscillators in which to combine your waveforms as well as two filters, and two LFOs per oscillator.
The arp and gate can be global or per oscillator as well as globalnd per oscillator effects, depending on the template you choose. In many ways the TGX-99 rivals that of the actual hardware, because of the added modulation sources, the number and quality of effects as well as greater polyphony. The goal of the TGX-99 is to virtually put the feeling of the actual hardware right into your hands.
UVI Falcon TGX-99 Yamaha SY99/TG77
Includes 128 Factory Voice Presets
Includes 64 Wave ROM Presets
Includes All Factory Waveforms
Includes all Factory Drum Kits
Impulses of SY99 Reverbs
WEB:

UVI Falcon TGX-99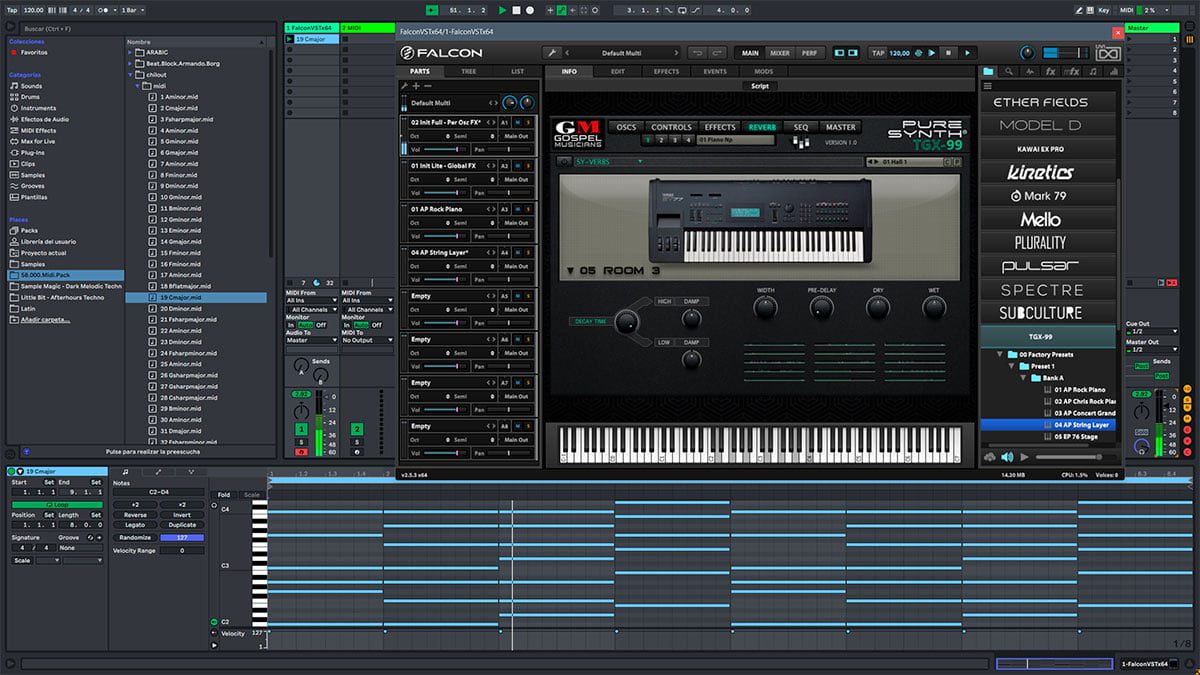 UVI Falcon TGX-99 Yamaha SY99/TG77
AYÚDANOS A MANTENER ESTE PROYECTO EN MARCHA CON UN PEQUEÑO DONATIVO

HELP US TO KEEP THIS PROJECT RUNNING WITH A SMALL DONATION
Descarga Directa – Direct Download
Yamaha SY99/TG77 (2.04 Gb)
Para descarga de esta página se necesita un cliente Torrent, hay muchos disponibles, tanto para Windows como para MacOSX, aquí les dejo algunos de los mejores clientes…una vez instalado alguno de los programas, los enlaces Torrent se abren de forma automática.