UVI Falcon B-5 Organ V3 Soundbank…Basado en muestras de rueda fónica reales y completamente modelado: desde las pastillas de rueda fónica y el amplificador AO-28 hasta los cables resistivos, las barras de tracción y los contactos clave…Todo se ha medido cuidadosamente en diferentes modelos y se ha ajustado para que coincida con los órganos reales.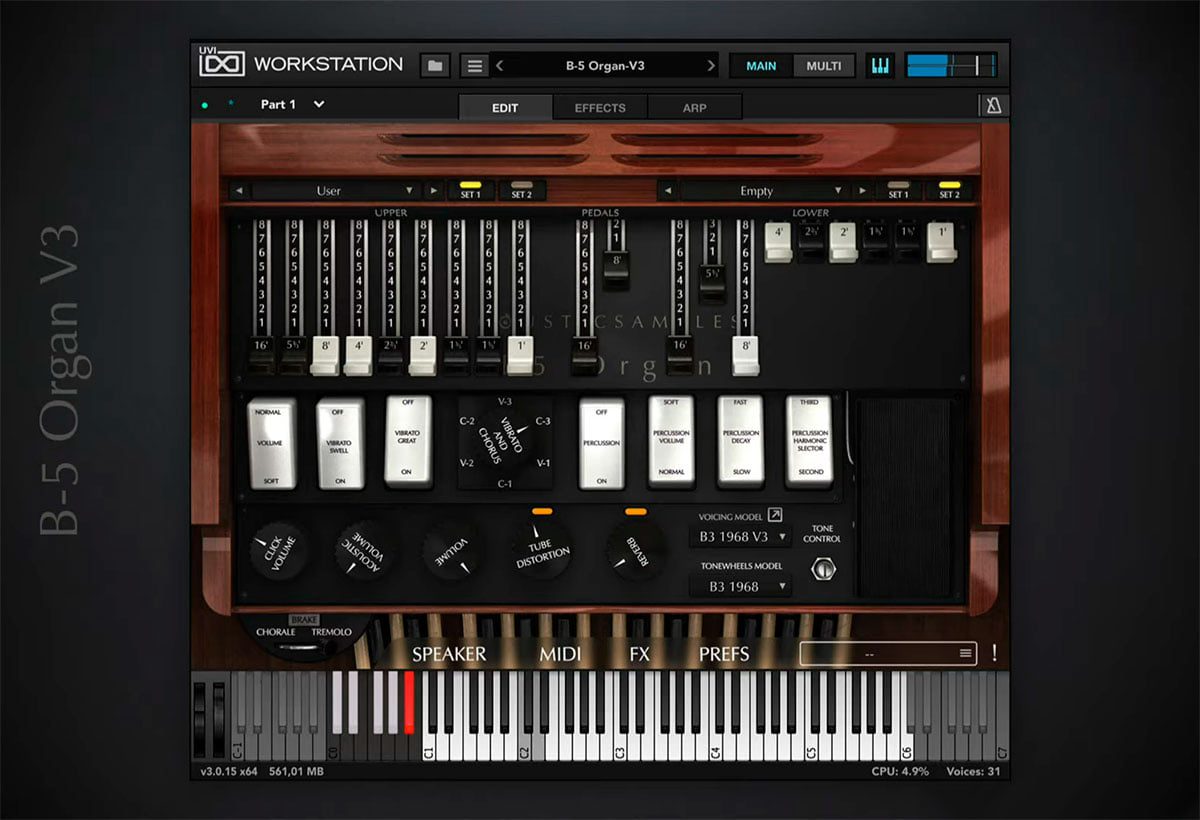 UVI Falcon B-5 Organ V3 Soundbank
Los órganos de Hammond son bestias complejas, llenas de cables y piezas mecánicas. Hasta ahora, las mejores interpretaciones (menos un órgano real) se hacían usando síntesis pura, principalmente porque el órgano funciona usando un conjunto de 91 frecuencias que están conectadas a través de contactores debajo de cada tecla y cuyo volumen es controlado por los tiradores. Las bibliotecas basadas en muestras consisten en apilar muestras de barra de tiro al mismo tiempo.
UVI Falcon B-5 Organ V3 Soundbank
Configuración de barra de tiro, percusión y efectos
Configuración de Leslie
Ajustes de voz y elección de modelo
Configuración y mapeo MIDI
Síntesis basada en muestras
Simulación de altavoz giratorio
Cientos de modelos
Saturación de tubo
Sistema de percusión avanzado
WEB:

Acousticsamples B-5 Organ V3
English
Hammond organs are complex beasts, full of wires and mechanical parts. Until now, the best renditions (short of a real organ) were made using pure synthesis, mainly because the organ works using a set of 91 frequencies that are connected via contactors under each key and whose volume is controlled by the drawbars. Sample based libraries consist of stacking drawbar samples at the same time.
UVI Falcon B-5 Organ V3 Soundbank
Drawbar, percussion and FX settings
Leslie settings
Voicing adjustments and model choice
MIDI settings and Mapping
Sample based synthesis
Rotary Speaker Simulation
Hundreds of models
Tube saturation
Advanced Percussion System
WEB:

Acousticsamples B-5 Organ V3
UVI Falcon B-5 Organ V3 Soundbank
AYÚDANOS A MANTENER ESTE PROYECTO EN MARCHA CON UN PEQUEÑO DONATIVO

HELP US TO KEEP THIS PROJECT RUNNING WITH A SMALL DONATION
Descarga Directa – Direct Download
B-5 Organ V3 Soundbank (1 Gb)
Para descarga de esta página se necesita un cliente Torrent, hay muchos disponibles, tanto para Windows como para MacOSX, aquí les dejo algunos de los mejores clientes…una vez instalado alguno de los programas, los enlaces Torrent se abren de forma automática.