WIDI WAV to MIDI 4-5-0-b677 WiN…Sistema de reconocimiento WIDI: un potente conversor de audio a MIDI (MP3 a MIDI, WAVE a MIDI) con muchas opciones extendidas. WIDI cuenta con TrueTone Editor, la herramienta en la Edición Profesional que permite a los usuarios corregir los resultados del reconocimiento automático con una comparación visual de los picos del espectrograma con las notas.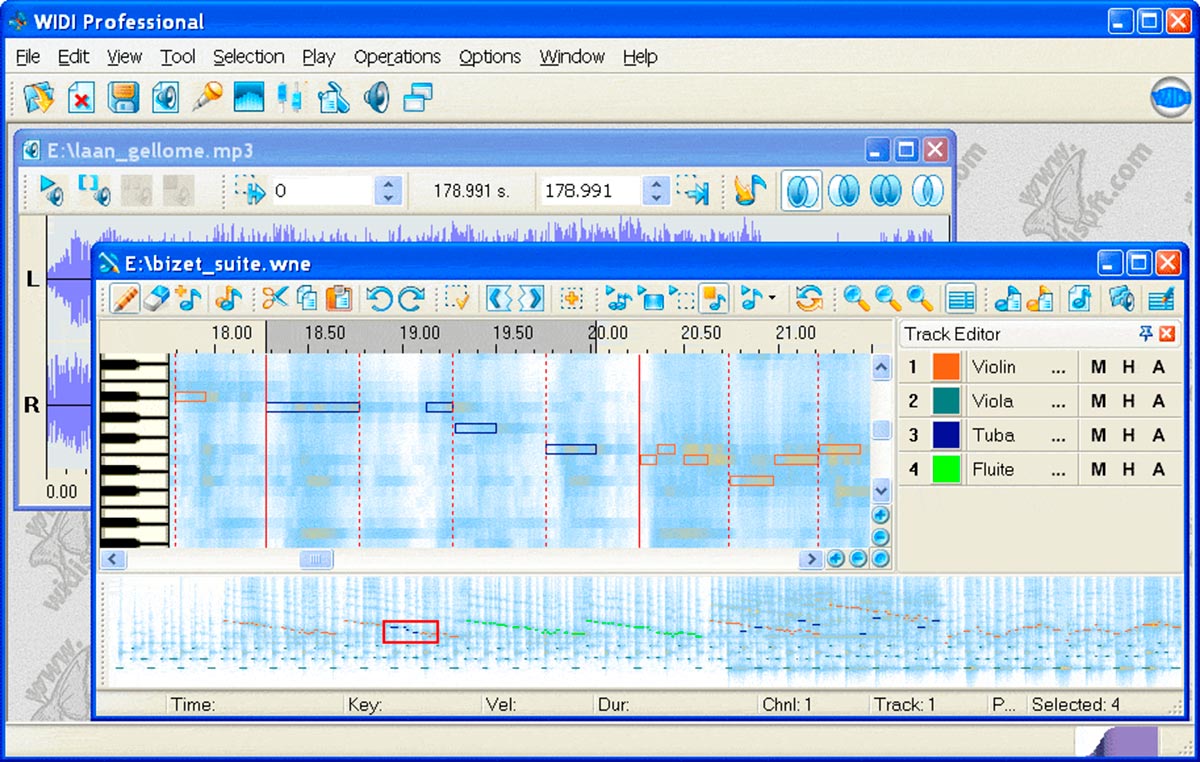 WIDI WAV to MIDI 4-5-0-b677 WiN
Imagine el potencial creativo de una mente musical como la de Mozart, y cuánto más prolífico podría haber sido su genio si no hubiera tenido que dedicar todo ese tiempo a escribirlo. Con una pluma sumergida en tinta, nada menos. Sin lugar a dudas, el flujo creativo de los músicos se ha mejorado con las herramientas digitales, y los amantes de la música en todas partes se benefician del mayor acceso a la música nueva y producida de forma independiente. El sistema de reconocimiento WIDI tiene funciones mejoradas para el reconocimiento y transcripción de música automatizados, y convierte MP3 a formato MIDI con una interfaz inteligente y un asistente de reconocimiento.
WIDI WAV to MIDI 4-5-0-b677 WiN
Conversor de audio a MIDI (MP3 a MIDI, WAVE a MIDI)
Reconocimiento y transcripción de música automatizados
Reproducción de audio a una velocidad del 50% sin cambio de tono
Añadido soporte para leer archivos Wave de 24 y 32 bits.
La transcripción automatizada ahora es mucho más rápida
Se corrigió el error sin señal en el módulo en tiempo real
Se implementan muchas mejoras menores de usabilidad
Se aumenta la resolución de tono en el fondo espectral
Se mejoran la lógica de movimiento de notas y barras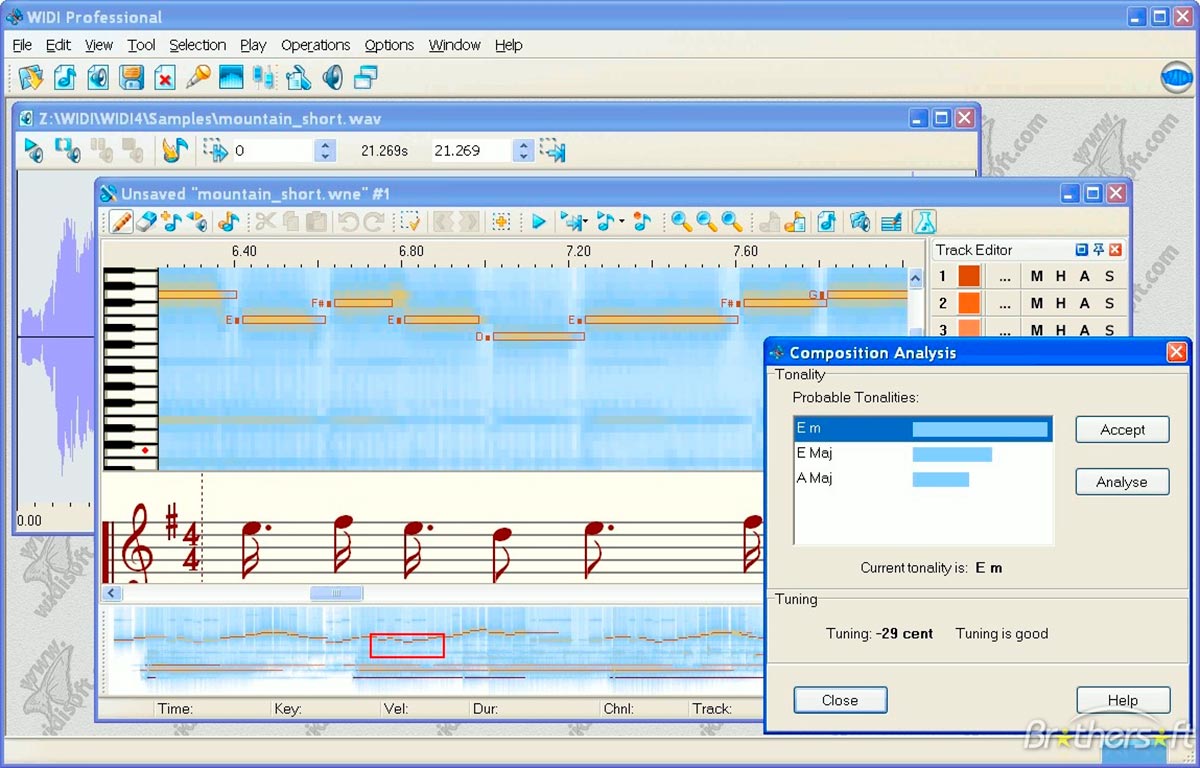 English
WIDI Recognition System – a powerful Audio To MIDI Converter (MP3 to MIDI, WAVE to MIDI) with many extended options. TrueTone Editor is the tool in the Professional Edition that allows users to correct the results of automatic recognition with a visual comparison of spectrogram peaks to the notes.
Imagine the creative potential of a musical mind like Mozart's, and how much more prolific his genius may have been if he had not had to spend all that time writing it down. With a quill pen dipped in ink, no less. Undoubtedly, the creative flow of musicians has been enhanced by digital tools, and music lovers everywhere benefit from the increased access to new and independently-produced music. WIDI Recognition System has enhanced features for automated music recognition and transcription, converting MP3 to MIDI format with an intelligent interface and Recognition Wizard.
WIDI WAV to MIDI 4-5-0-b677 WiN
Audio To MIDI Converter (MP3 to MIDI, WAVE to MIDI)
Automated music recognition and transcription
Audio playback at 50% speed without pitch change is now available
Added support for reading 24 and 32 bit Wave files
Automated transcription is now much faster for Euclid algorithm
Fixed Bug with no signal in Realtime Module
Many minor usability enhancements are implemented
Pitch resolution in Spectral Background is increased
Note and barline moving logic and visual feedback is improved
WIDI WAV to MIDI 4-5-0-b677 WiN
INSTALACIÓN:
Instalamos la aplicación
Sustituimos el ejecutable por el de la carpeta «Crack»
Descarga Directa – Direct Download
WIDI 4.5.0 b677 WiNDOWS x86 x64
Para descarga de esta página se necesita un cliente Torrent, hay muchos disponibles, tanto para Windows como para MacOSX, aquí les dejo algunos de los mejores clientes…una vez instalado alguno de los programas, los enlaces Torrent se abren de forma automática.