Lurssen Mastering 1-1-0 VST-AU WiN-MAC…Lurssen Mastering Console es una nueva herramienta de masterización innovadora para iPad o Mac/PC que pone el valor de la experiencia en masterización profesional de toda una vida en la punta de tus dedos. Creada en colaboración con los ingenieros de masterización Gavin Lurssen y Reuben Cohen del estudio ganador de múltiples Premios Grammy Lurssen Mastering, Inc. en Los Ángeles, te pone al control del estudio con todas las herramientas, configuraciones y técnicas secretas que han hecho que el sonido Lurssen sea tan apetecido por artistas de la grabación y productores de primer nivel.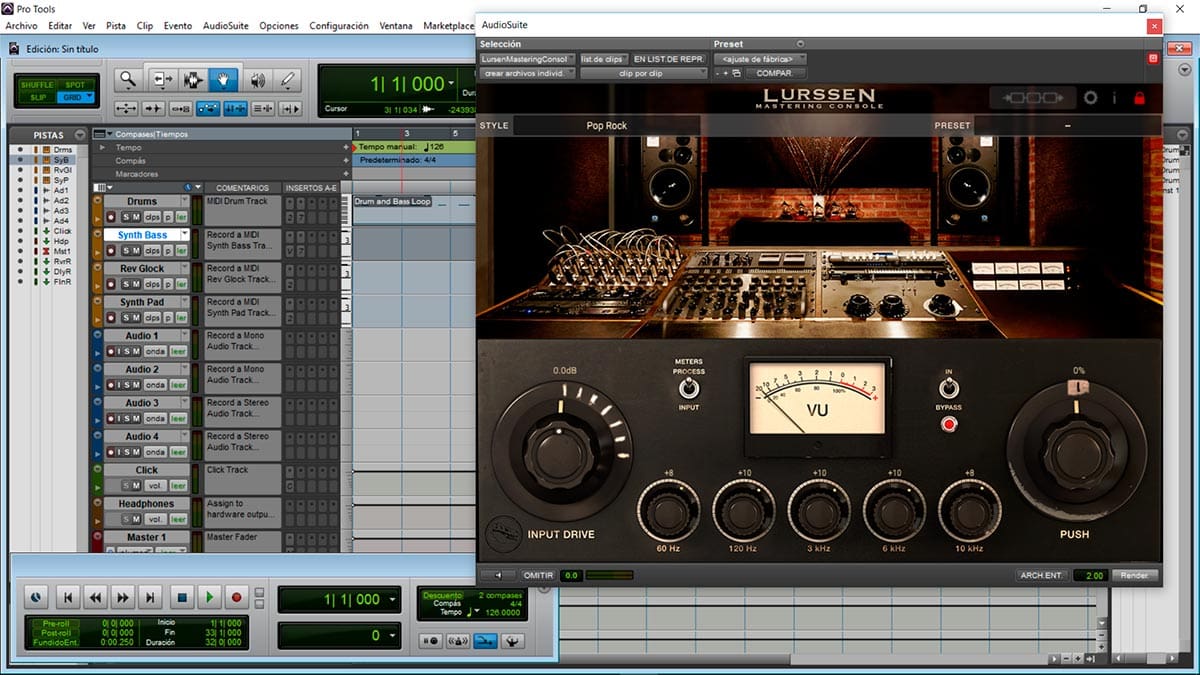 Lurssen Mastering 1-1-0 VST-AU WiN-MAC
Lurssen Mastering Console tiene un enfoque totalmente nuevo para masterización de audio digital. Proporciona una completa emulación de toda la cadena de procesamiento de masterización utilizada por los ingenieros de masterización de renombre mundial Gavin Lurssen y Reuben Cohen, y su equipo. Esta cadena incluye ecualizadores a tubos, ecualizadores de estado sólido, limitadores, de-essers y compresores de estado sólido. La simulación de esta cadena refleja su "filosofía de toda la cadena".
Lurssen Mastering Console modela y recrea las interacciones entre los procesadores individuales en su cadena hasta los propios esquemas de conexión actuales. Este enfoque efectivamente te da acceso a décadas de conocimiento en forma de secretos de flujo de trabajo, técnicas especiales, cadenas de señal y conocimiento técnico.
Lurssen Mastering 1-1-0 VST-AU WiN-MAC
Creada en colaboración con los ingenieros de masterización Gavin Lurssen y Rueben Cohen
Disponible en versiones para iPhone/iPad y Mac/PC
La versión para Mac/PC funciona como aplicación independiente o como plugin para tu DAW
40 "Styles" (estilos) prefabricados y creados por Gavin Lurssen
3 pantallas fáciles de navegar
Perilla de entrada (Input Drive)
Ecualizador de 5 bandas con frecuencia fija
Perilla «PUSH» para mejorar sutilmente pasajes seleccionados de la canción
Automatización completa para los ajustes del contenido de audio
Control Input Drive enlazable para ajustes de balance estéreo
Medidor VU con asignación de Entrada/Proceso
Capacidad de monitoreo Estéreo/Mono
Procesamiento DSP de 88.2/96kHz
Interfaz gráfica de usuario de tamaño variable (versión para Mac/PC)
Función Masterización de Distribución Digital (DDM)
Compatibilidad de archivos de proyecto entre Mac/PC y iPhone/iPad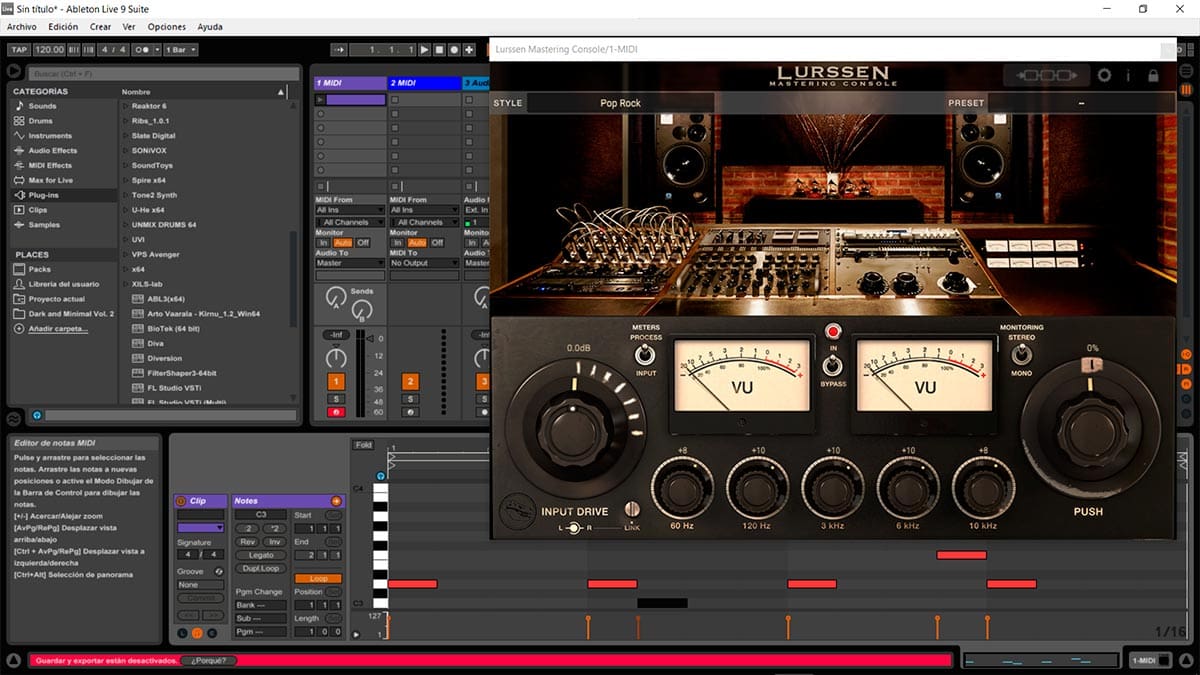 English
Lurssen Mastering Console is a groundbreaking mastering tool for either iPhone, iPad or Mac/PC that puts a lifetime's worth of professional mastering experience at your fingertips. Created in collaboration with Mastering Engineers Gavin Lurssen and Reuben Cohen of Multi Grammy Award winning facility Lurssen Mastering, Inc. in Los Angeles, it puts you at the controls in the studio with all of the secret tools, settings and techniques that have made the Lurssen sound so sought after by the world's top-tier recording artists and producers.
It faithfully recreates Lurssen's "whole is greater than the sum of its parts" philosophy of mastering. With it, you get a top of the line mastering processor chain that has been created and tweaked by Gavin and his team to reflect the settings they use in the studio while mastering hip-hop, rock, pop and more. With Lurssen Mastering Console, you finally have a way to make professional sounding masters no matter whether you're in the studio or on the go.
Lurssen Mastering 1-1-0 VST-AU WiN-MAC
Created in collaboration with the multi-Grammy award-winning Lurssen Mastering, Inc.
Separate versions available for iPhone/iPad and Mac/PC
Mac/PC version works as a standalone application or as a plug-in for your DAW
25 pre-made «Styles» that reproduce the settings and gear used to master pop, hip-hop, rock and more
3 easy-to-navigate displays
Input Drive knob
5 band EQ with fixed frequency
«PUSH» Knob to subtly enhance selected song passages via uniform EQ adjustment
Full automation of audio content adjustment
Linkable Input Drive control for stereo balance tweaks
Input/Process assignable VU metering
Stereo/Mono monitoring capability
88.2/96kHz DSP processing
Resizable GUI (Mac/PC version)
Project file compatibility between Mac/PC and iPhone/iPad
Lurssen Mastering 1-1-0 VST-AU WiN-MAC
Descarga Directa – Direct Download
Lurssen 1.1.0 VST-AAX-AU

WIN-MAC

x86 x64 (INSTALL)
Lurssen 1.1.0 VST-AAX-AU

WIN-MAC

x86 x64 (NO INSTALL)
Para descarga de esta página se necesita un cliente Torrent, hay muchos disponibles, tanto para Windows como para MacOSX, aquí les dejo algunos de los mejores clientes…una vez instalado alguno de los programas, los enlaces Torrent se abren de forma automática.