PRIPYAT Radioactive Pianos KONTAKT…33 años de condiciones climáticas adversas y radiación, 33 años de silencio, 33 años de expectativa desesperada de contacto humano. PRIPYAT Pianos es un museo de sonido, creado 33 años después de un desastre masivo provocado por el hombre que ha afectado a cientos de miles de vidas. Esta es la marca del tiempo transcurrido.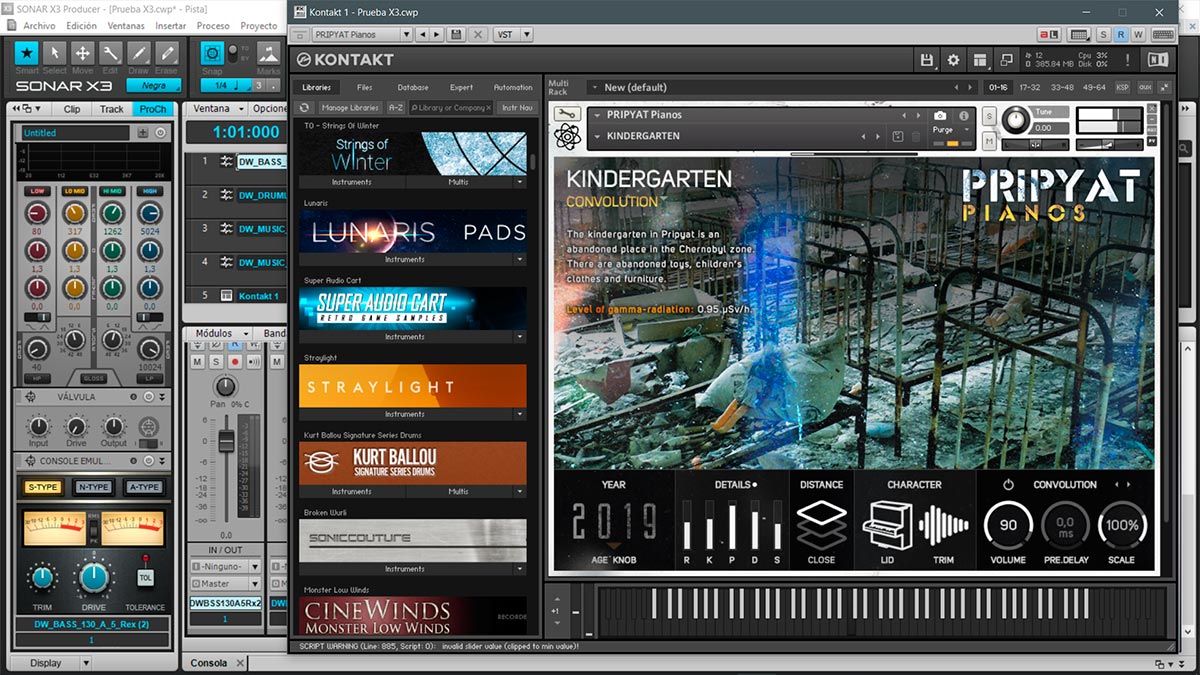 PRIPYAT Radioactive Pianos KONTAKT
PIANOS RADIACTIVOS DE LA ZONA DE EXCLUSIÓN DE CHERNOBYL: Durante siete años, nuestro equipo ha realizado más de 25 viajes a la ciudad de Pripyat para la recolección detallada de materiales de audio. Hemos encontrado y grabado 20 instrumentos en varias partes de Pripyat que tienen diferentes niveles de preservación y funcionalidad. Esta cantidad de instrumentos fue necesaria para crear una herramienta adecuada no solo para el diseño de sonido, sino también para escribir composiciones.
PRIPYAT Radioactive Pianos KONTAKT
KONTAKT 5.8.1 FULL o superior
PRIPYAT Pianos
1 instrumento
14 instantaneas
2900+ samples únicos
4 to 16 round robins
9 capas de velocidad
48 kHz 24 bits
Mapeado para Komplete Kontrol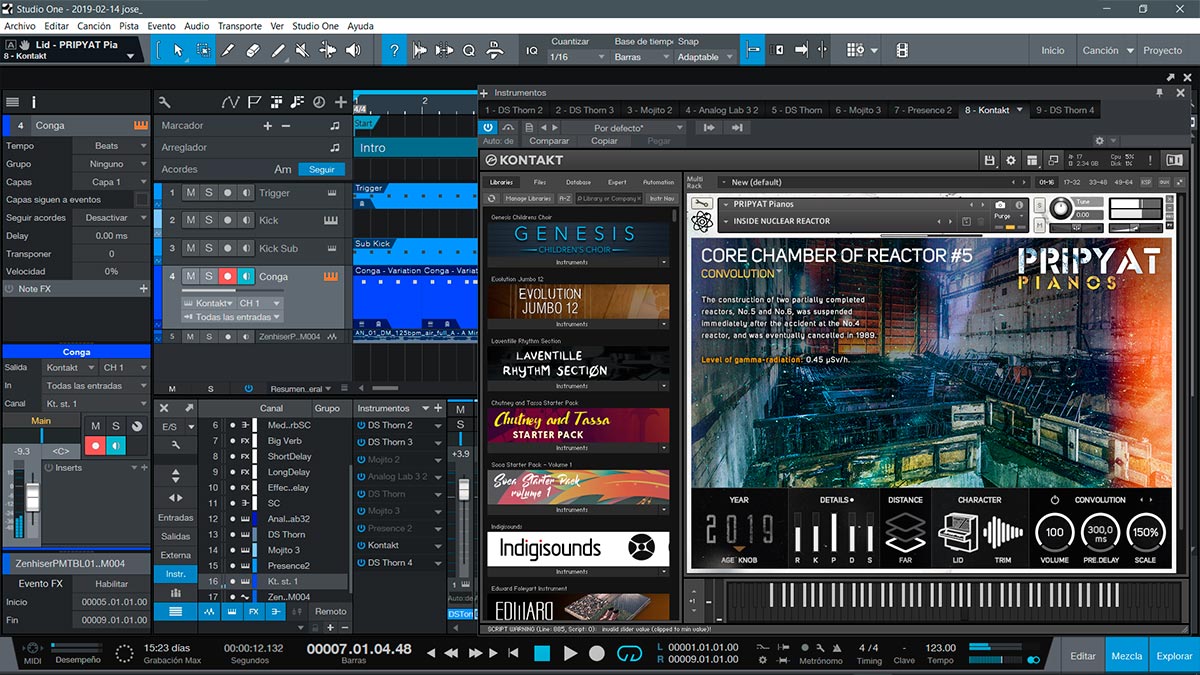 English
For seven years our team has made more than 25 trips to the city of Pripyat for detailed collection of audio materials. We've found and recorded 20 instruments in various parts of Pripyat that are of different levels of preservation and functionality. This amount of instruments was necessary to create a tool suitable not only for sound design, but also for writing compositions. Our goal was to create a virtual instrument which will show the nature of the degradation of instruments under the effects of harsh weather conditions and radiation, yet which also would have the most pure sound. All the pianos we could find participated in the creation of the final sound.
PRIPYAT Radioactive Pianos KONTAKT
KONTAKT 5.8.1 FULL and higher
PRIPYAT Pianos
1 instrument
14 snapshots
2900+ unique samples
4 to 16 round robins
9 velocity layers
48 kHz 24 bits
Komplete Kontrol Mapped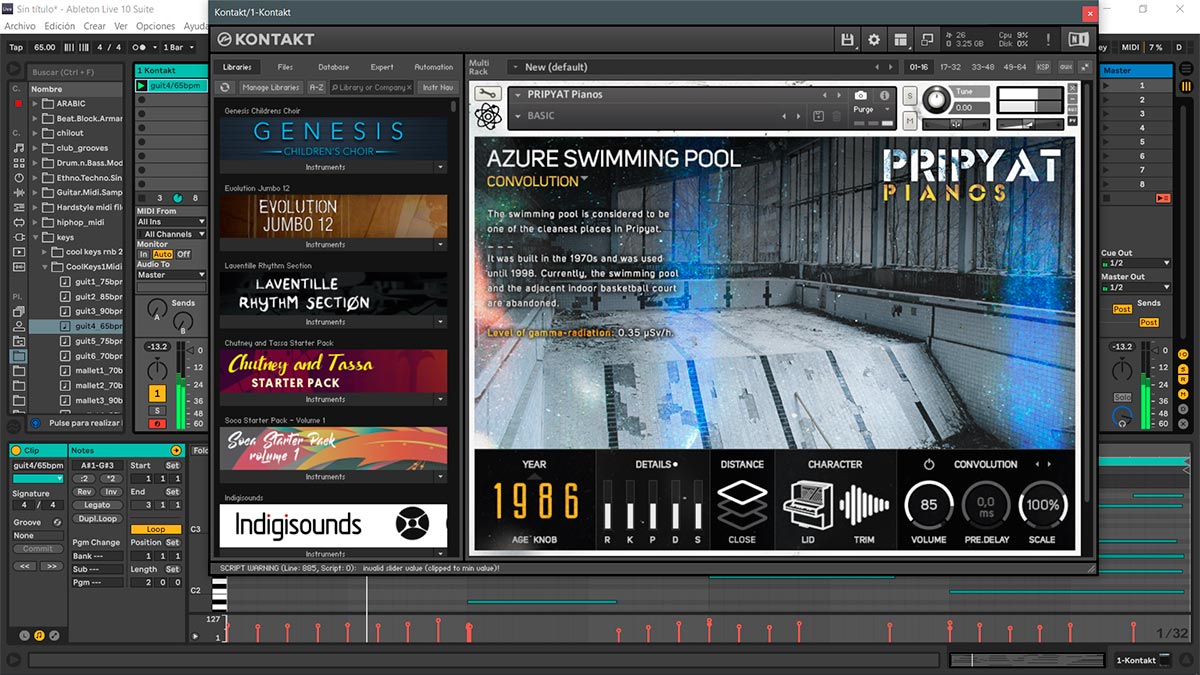 PRIPYAT Radioactive Pianos KONTAKT
Descarga Torrent – Download Torrent
Radioactive Pianos KONTAKT (3.64 Gb)
Para descarga de esta página se necesita un cliente Torrent, hay muchos disponibles, tanto para Windows como para MacOSX, aquí les dejo algunos de los mejores clientes…una vez instalado alguno de los programas, los enlaces Torrent se abren de forma automática.