Analog Obsession DYNASAUR 1-0 WiN-MAC…Procesador inteligente! «DYNASAUR» es el mejor ayudante para domar tus molestas frecuencias. Conduzca dinámicamente su ecualizador o dé forma a su sonido con un ecualizador estático puro. ¡Úselo como de-esser, compresor multibanda o Peak Rider!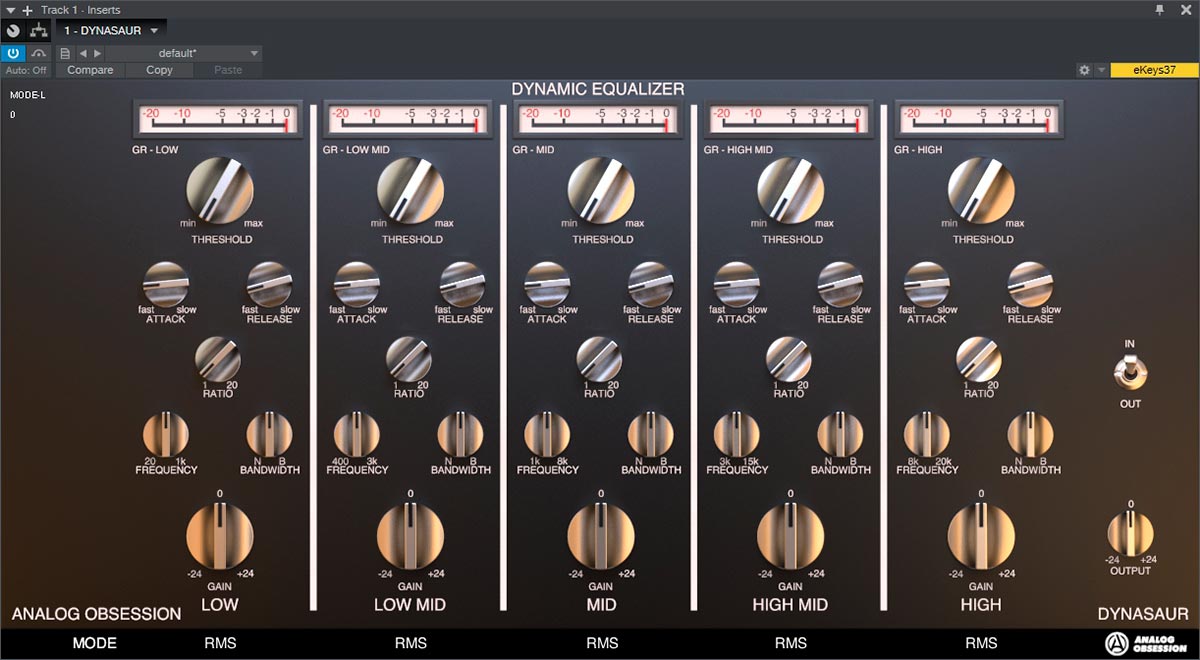 Analog Obsession DYNASAUR 1-0 WiN-MAC
Característica única ¡No te pierdas la característica única! ¡Todas las bandas tienen modo RMS o PEAK para obtener el mejor resultado! Por ejemplo, los de gama baja tienen más energía y menos picos / dinámicas, pero los de gama alta o medios tienen menos energía y más picos / dinámicas. Mientras controla sus mínimos, use el modo RMS para un mejor control. ¡Y puede usar el modo PICO con medios o agudos para atrapar picos! Depende totalmente de su material. Suenas, tu elección!
Analog Obsession DYNASAUR 1-0 WiN-MAC
Ecualizador dinámico de 5 bandas con 2 repisas y 3 picos
Ataque ajustable (1 ms a 50 ms) y tiempos de liberación (30 ms a 3 segundos)
Relación ajustable (1: 2 a 1:20)
Rango de umbral de 60 dB
Aumento estático / recuperación de ganancia +/- 24dB
Estante bajo: 20Hz a 1kHz
Bajo medio: 400Hz a 3kHz
Medio: 1 kHz a 8 kHz
High Mid: 3kHz a 15kHz
Estante alto: 8 kHz a 20 kHz
Ancho de banda (medios): de 5 octavas a 0,4 octavas
Ancho de banda (bajo y alto): 5 octavas a 0,4 octavas
Ganancia: +/- 24dB (como ecualización estática o recuperación de ganancia)
Modo: RMS y PICO
Lectura para un mejor seguimiento de parámetros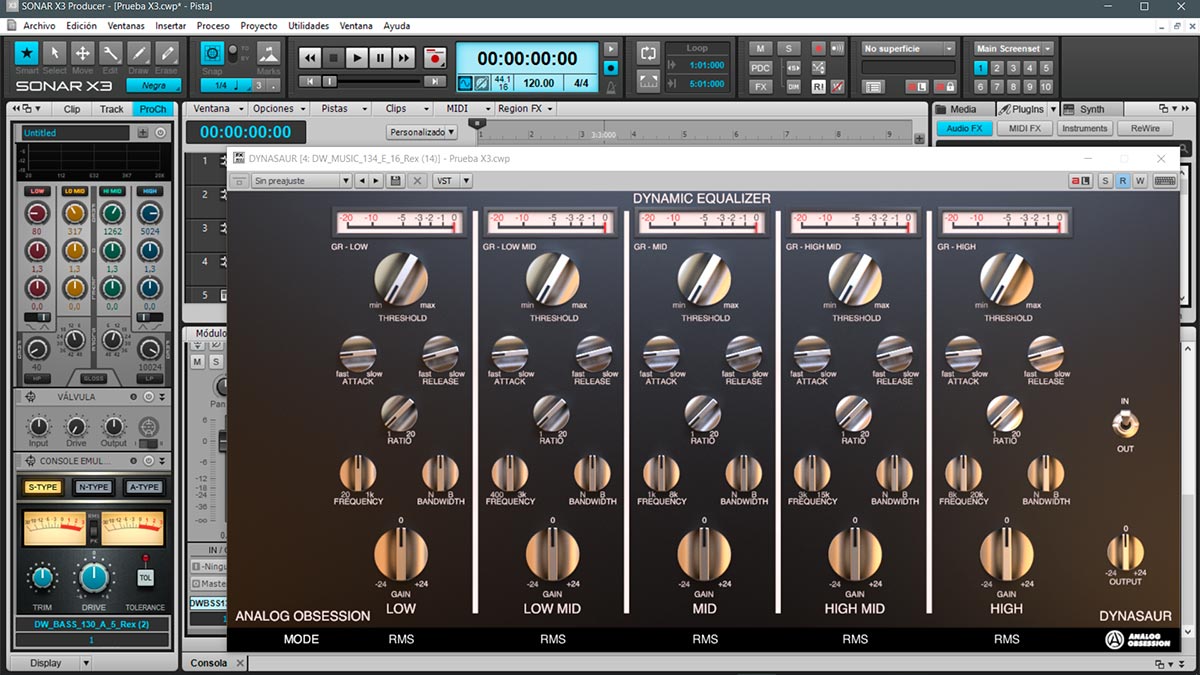 English
«DYNASAUR» is the best helper to tame your annoying frequencies. Dynamically ride your EQ or shape your sound with pure static EQ. Use it as de-esser, multi-band compressor or peak rider! Unique Feature. Don't miss unique feature! All bands have RMS or PEAK mode to get best result! For example, low-end has more energy and less peaks/dynamics but high-end or mids have less energy and more peaks/dynamics. While taming your lows, use RMS mode for better control. And you can use PEAK mode with mids or highs to catch peaks! It's totally up to your material. You sound, your choice!
Analog Obsession DYNASAUR 1-0 WiN-MAC
5 band dynamic equalizer with 2 shelves and 3 peaks
Adjustable Attack (1ms to 50ms) & Release times (30ms to 3sec)
Adjustable Ratio (1:2 to 1:20)
60 dB Threshold range
Static boost/gain recover +/- 24dB
Low Shelf : 20Hz to 1kHz
Low Mid : 400Hz to 3kHz
Mid : 1kHz to 8kHz
High Mid : 3kHz to 15kHz
High Shelf : 8kHz to 20kHz
Bandwidth (Mids) : 5 Oct to 0.4 Oct
Bandwidth (Low & High) : 5 Oct to 0.4 Oct
Gain : +/- 24dB (As static eq or gain recover)
Mode : RMS & PEAK
Readout for better parameter tracking
Analog Obsession DYNASAUR 1-0 WiN-MAC
Descarga Directa – Direct Download
DYNASAUR 1.0 VST-VST3-AU

WiN-MAC

x86 x64
Para descarga de esta página se necesita un cliente Torrent, hay muchos disponibles, tanto para Windows como para MacOSX, aquí les dejo algunos de los mejores clientes…una vez instalado alguno de los programas, los enlaces Torrent se abren de forma automática.