TC Electronic Native Bundle WiN…TC1210 es una unidad de expansión y modulación estéreo excepcional que brinda el rendimiento de la famosa magia TC 1210 a su estudio. Con su innovadora fusión de software y hardware opcional, captura el increíble sonido y la versatilidad de la icónica unidad de rack, y le brinda un complemento táctil único que impulsará su creatividad y condimentará su flujo de trabajo.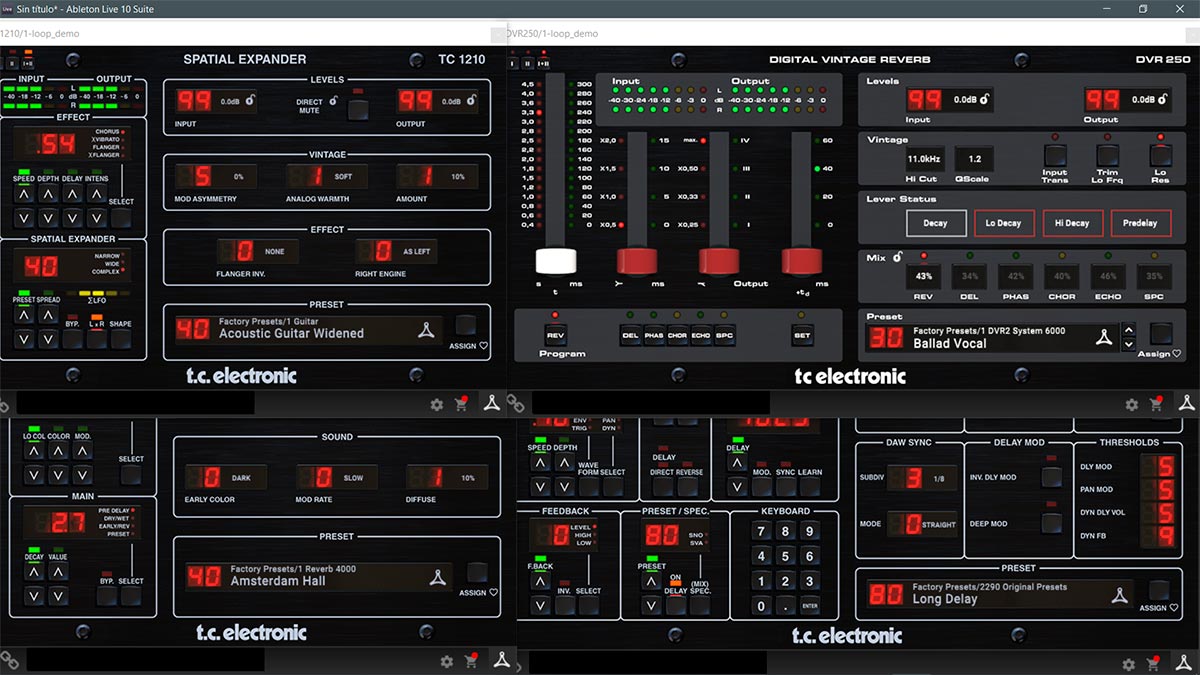 TC Electronic Native Bundle WiN
Con su aire claro y natural, TC8210 es la encarnación de la filosofía de reverberación de TC Electronic. Ideal para la producción de música Mac * y PC DAW, la fusión pionera de software TC8210-DT y el control de hardware opcional le brindan una potente reverberación, con un rendimiento transparente incomparable.
DVR250 es un innovador plugin de reverberación, que trae el icónico reverberador electrónico EMT 250 a su DAW. Con su fusión original de software de precisión y controles de hardware opcionales, captura el increíble sonido y los controles táctiles únicos de la primera caja de reverberación comercial del mundo. Súper fácil y creativo para mezclar, DVR250 agregará un aire vintage suave y funky a cualquier proyecto.
TC2290 es un innovador plugin de retardo versátil con integración DAW completa y potentes presets de firma que impulsarán su inspiración y agregarán carácter instantáneo a sus pistas. Capaz de evocar prácticamente cualquier tipo de retardo concebible, TC2290 facilita la vitalización de sus pistas con todo, desde repeticiones nítidas hasta ritmos complejos de retardo y paisajes sonoros modulados ultra expresivos.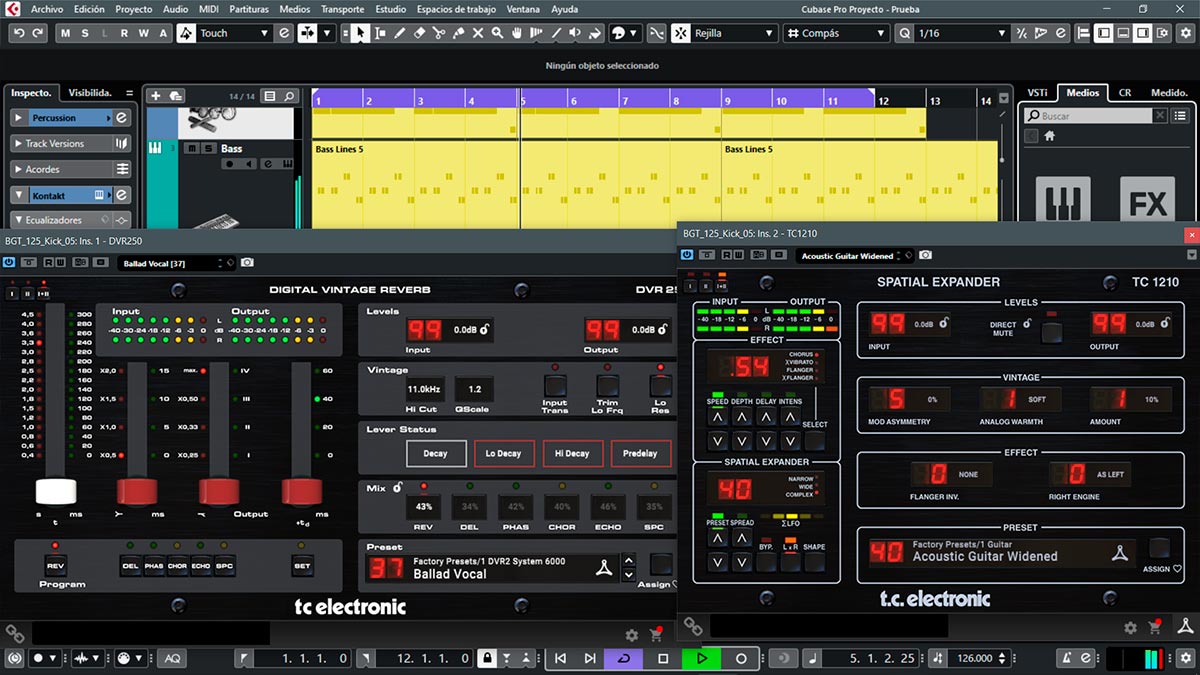 English
TC1210 is an exceptional stereo expander and modulation unit that brings the performance of the famed TC 1210 magic to your studio. With its innovative fusion of software and optional hardware, it captures the amazing sound and versatility of the iconic rack unit, and gives you a unique tactile add-on that will fuel your creativity and spice up your workflow.
With its clear and natural air, TC8210 is the embodiment of TC Electronic's reverb philosophy. Ideal for Mac* and PC DAW music production, TC8210-DT's pioneering fusion of software and optional hardware control gives you powerful reverb – with unparalleled transparent performance.
DVR250 is a groundbreaking reverb plugin, that brings the iconic EMT 250 Electronic Reverberator to your DAW. With its original fusion of precision software and optional hardware controls, it captures the amazing sound and unique tactile controls of the world's first commercial reverb box. Super easy and creative to mix with, DVR250 will add a smooth and funky vintage air to any project.
TC2290 is a groundbreaking, versatile delay plugin with full DAW integration and powerful signature presets that will fuel your inspiration and add instant character to your tracks. Capable of conjuring up virtually any conceivable delay type, TC2290 makes it easy to vitalize your tracks with everything from crisp repeats, to complex delay rhythms and ultra-expressive modulated soundscapes.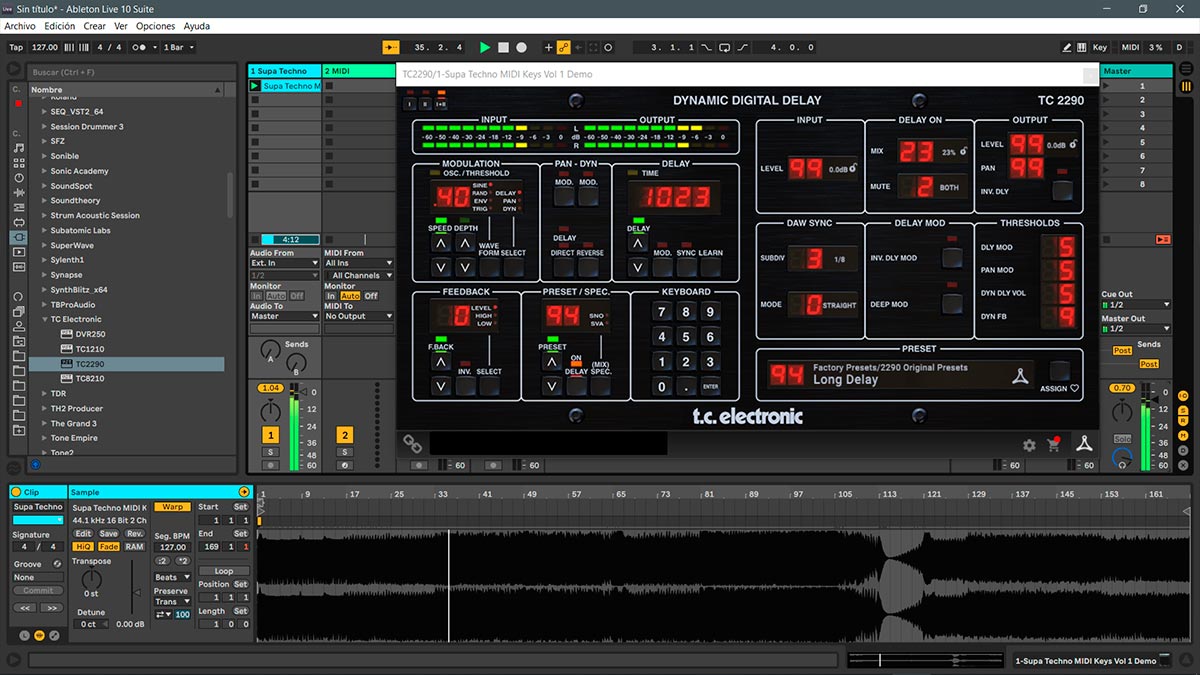 TC Electronic Native Bundle WiN
Descarga Directa – Direct Download
TC Electronic Native Bundle v2.0.02
VST-VST3-AAX

WiN

x64
Para descarga de esta página se necesita un cliente Torrent, hay muchos disponibles, tanto para Windows como para MacOSX, aquí les dejo algunos de los mejores clientes…una vez instalado alguno de los programas, los enlaces Torrent se abren de forma automática.