ircamLAB TS v2-1-1 WiN…IrcamLAB TS2 establece un nuevo estándar en la edición de audio digital. Es una poderosa aplicación de caja de herramientas de audio para que los profesionales editen o transformen mágicamente, alarguen el tiempo y manipulen archivos de audio.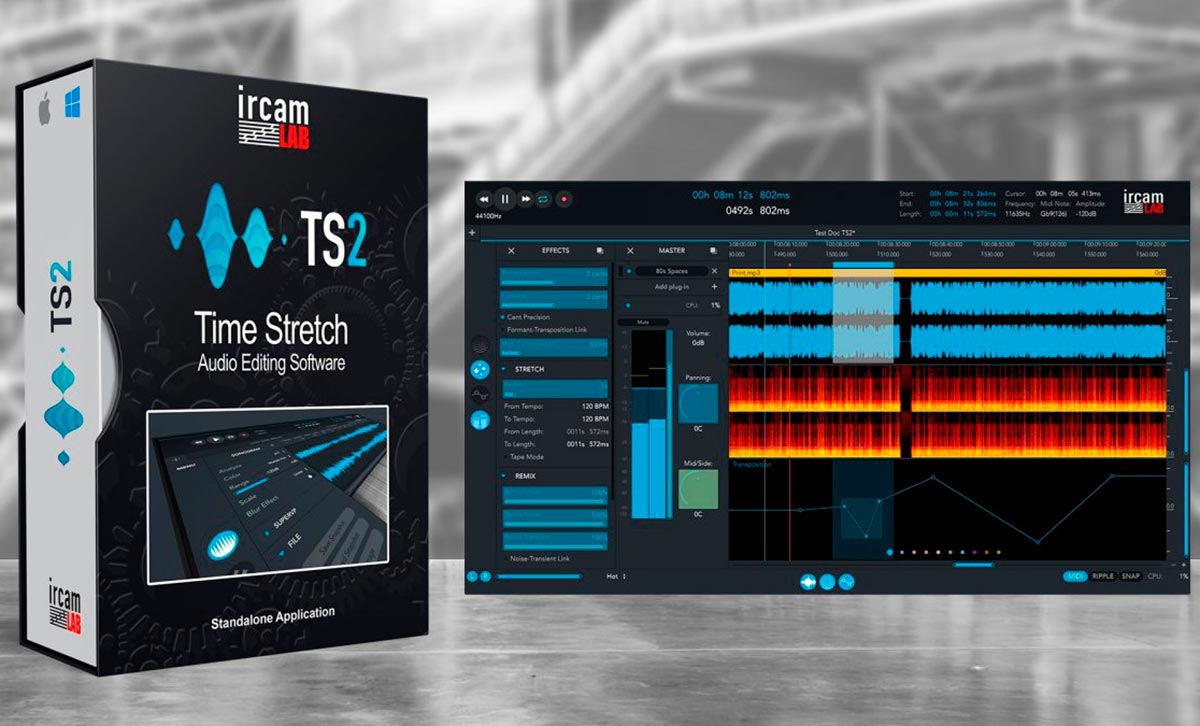 ircamLAB TS v2-1-1 WiN
TS2 ha sido rediseñado desde cero gracias a los increíbles comentarios y solicitudes recopilados por los usuarios a lo largo de los años. Procesa una visualización precisa de la ecografía en tiempo real y maneja la automatización completa sobre el «Módulo maestro» con inserción de complementos multiformato. Como editor de audio mono / estéreo completo.
La aplicación TS2 es un conjunto completo de herramientas enfocadas en el aclamado SuperVP Engine para procesar tareas complejas de edición de audio que incluyen la automatización completa de parámetros tales como; Tono, transposición, estiramiento de tiempo, ruido de remezcla, sinusal y transitorio. TS2 también admite el alojamiento de efectos VST / AU externos de terceros de fabricantes de complementos.
ircamLAB TS v2-1-1 WiN
Capacidades completas de edición de audio
Funciones de copiar, cortar, pegar, bucle en regiones de audio
Automatización total sobre el motor SuperVP ™
Control de volumen individual con fundido de entrada y salida
Edición de múltiples regiones con fundidos cruzados
Gestión de varios archivos de audio
Control de múltiples reglas (tiempo, segundo)
Calculadora de bucle y tempo
Visualización de múltiples ventanas y pantallas
Vista de ecografía en tiempo real
Exportación de audio y líneas de comando
Inserción de plug-in multiformato VST2, VST3 y AU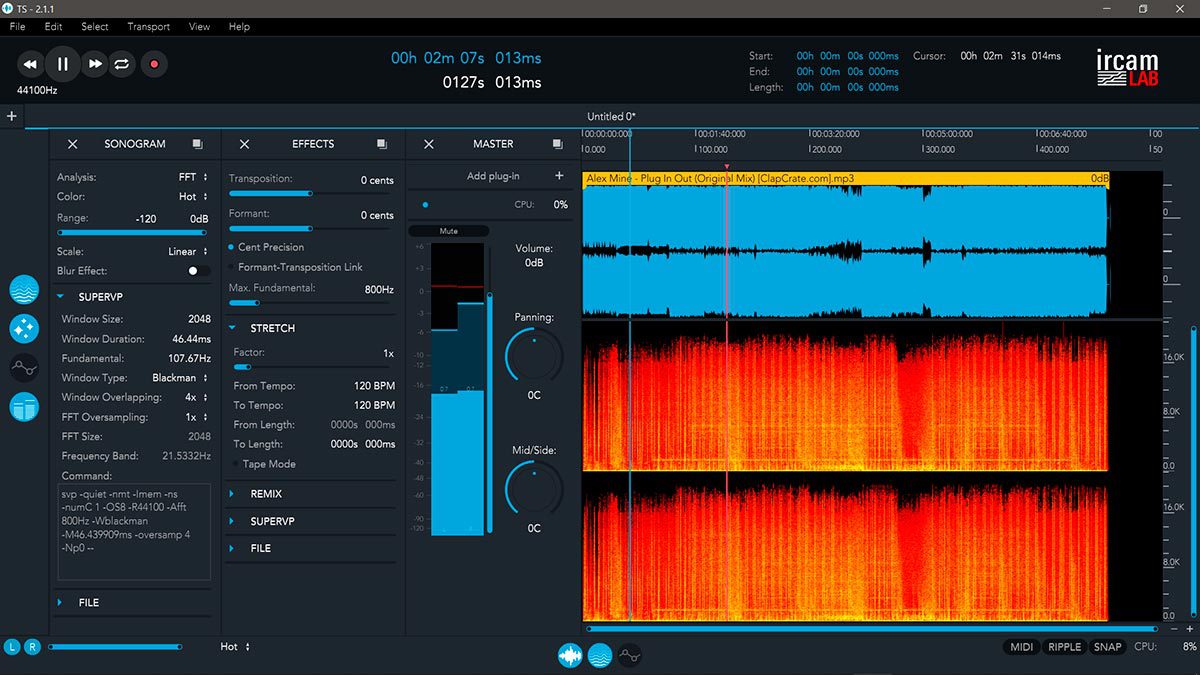 English
IrcamLAB TS2 sets a new standard in digital audio editing. It is a powerful audio toolbox application for professionals to edit or magically transform, time-stretch and manipulate audio files. TS2 has been re-designed from scratch thanks to the amazing feedback and requests collected by users over the years. It processes an accurate real-time sonogram display and handles full automation over the «Master Module» with multi-format plug-in insertion.
As a full mono/stereo audio editor. TS2 can edit any audio regions (Copy, Cut, Paste), transpose, «Transient Design», and offer remix, extensive mastering capabilities and much more with unprecedented accuracy. The TS2 application is a comprehensive suite of tools focused on the acclaimed SuperVP Engine to process complex audio editing tasks that includes full automation of parameters such as; Pitch, Transposition, Time Stretching, Remix Noise, Sinus & Transient. TS2 also supports the hosting of 3rd party external VST/AU effects from plug-in manufacturers.
ircamLAB TS v2-1-1 WiN
Full Audio Editing Capabilities
Copy, Cut, Paste, Loop functions on Audio Regions
Full Automation over the SuperVP™ engine
Individual Volume Control with Fade In & Out
Multi Regions Editing with Cross-fades
Multiple Audio Files Management
Multi Ruler Control (time, second)
Loop and Tempo Calculator
Multi Windows and Multi-Screen Visualization
Real-Time Sonogram View
Export of Audio and Command Lines
Multi-format VST2, VST3 and AU plug-in insertion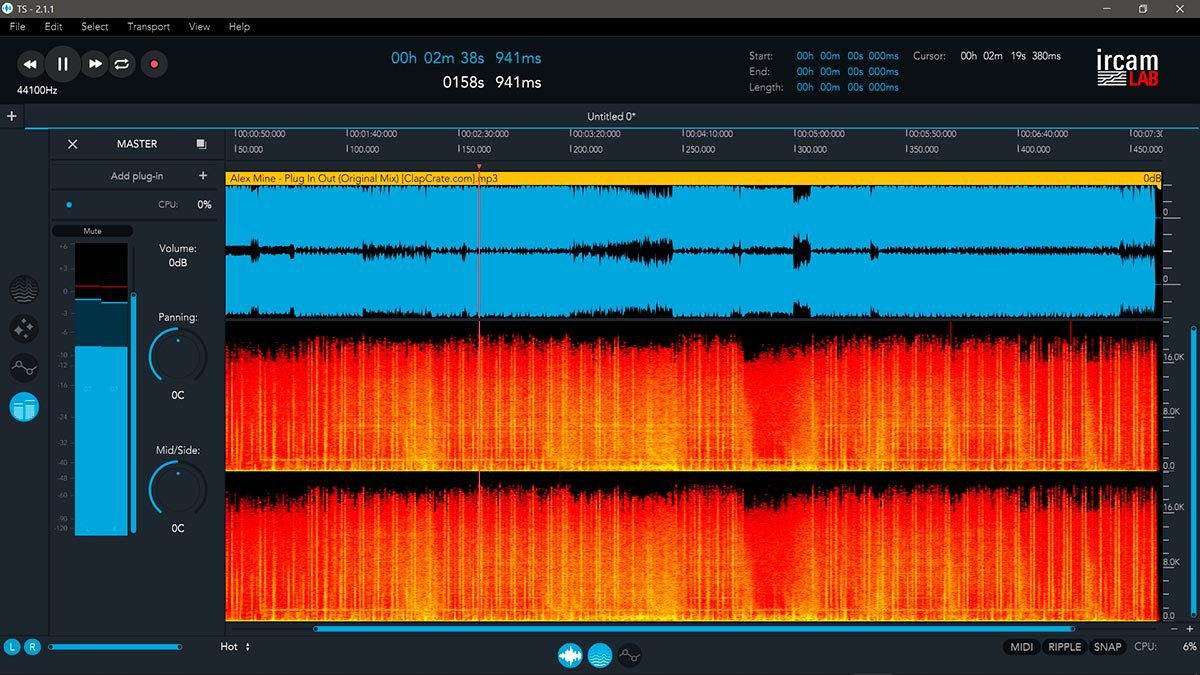 ircamLAB TS v2-1-1 WiN
Descarga Directa – Direct Download
ircamLab TS v2.1.1

WiNDOWS

64bit
Para descarga de esta página se necesita un cliente Torrent, hay muchos disponibles, tanto para Windows como para MacOSX, aquí les dejo algunos de los mejores clientes…una vez instalado alguno de los programas, los enlaces Torrent se abren de forma automática.