Stradivari Violin KONTAKT…CREMONA QUARTET reúne a cuatro de los instrumentos de cuerda más valiosos del mundo. Con samples en estéreo alineados en fase y vibrato grabado de la interpretación, más un completo sampleo cromático de 20 articulaciones: todas las peculiaridades y matices de estos objetos históricos ahora están disponibles para cualquier productor y ofrecen un enorme repertorio de controles punteros para ajustar los parámetros.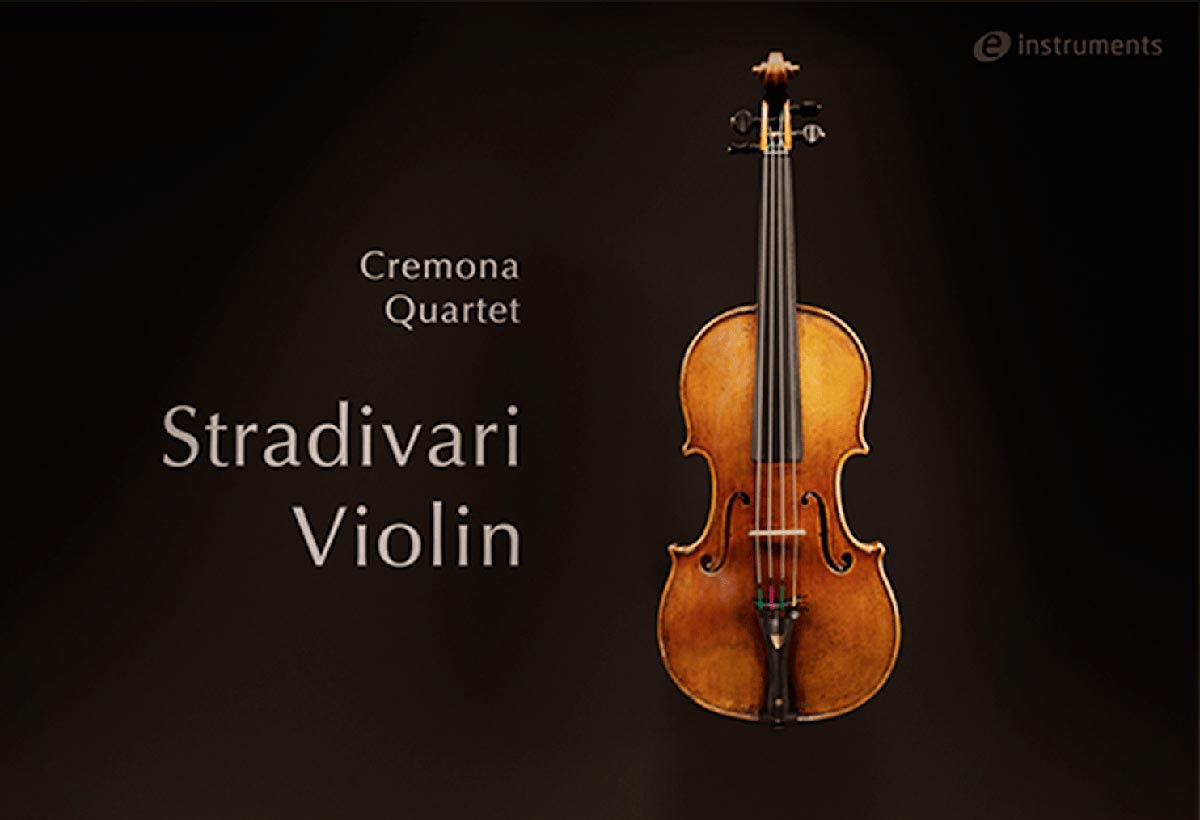 Stradivari Violin KONTAKT
La ciudad italiana de Cremona, conocida por ser el lugar de nacimiento de los instrumentos de cuerda, posee una historia larga y especial. Cada instrumento, fabricado hace cientos de años con madera de los bosques circundantes, tiene su propia personalidad única, y el sonido de todos ellos en conjunto transmite el corazón, el espíritu y la magia de la región. CREMONA QUARTET es una colección de cuatro preciados instrumentos de cuerda que datan del siglo XVII: captura y preserva todos los detalles de sus características inusuales.
Aunque es más conocido por sus violines, Stradivari también fabricó otros instrumentos de cuerda. Su violonchelo "Stauffer", fabricado en 1700, está declarado tesoro nacional italiano. Completa el cuarteto con tonos suntuosos y profundos, y añade peso al sonido general del conjunto.
Stradivari Violin KONTAKT
Violín para solos, violonchelo para solos, viola para solos
Violonchelo "Stauffer", fabricado en 1700
Número de NKI: 2 por instrumento, 8 en total
Grabado con un sistema de microfonía diseñado a medida
Cuatro instrumentos solistas; Violín 1, Violín 2, Viola, Violonchelo
Posicionamiento inteligente del diapasón
Capas dinámicas alineadas en fase estéreo, multicanal
Mezcla entre posiciones de micrófono cercanas, medias y lejanas
Control de ruido adicional en la habitación
20 articulaciones interpretadas profesionalmente
Incluyendo hasta 3 transiciones legato por articulación
Compatible con Native Instruments NKS
KONTAKT versión 6.2.2 o posterior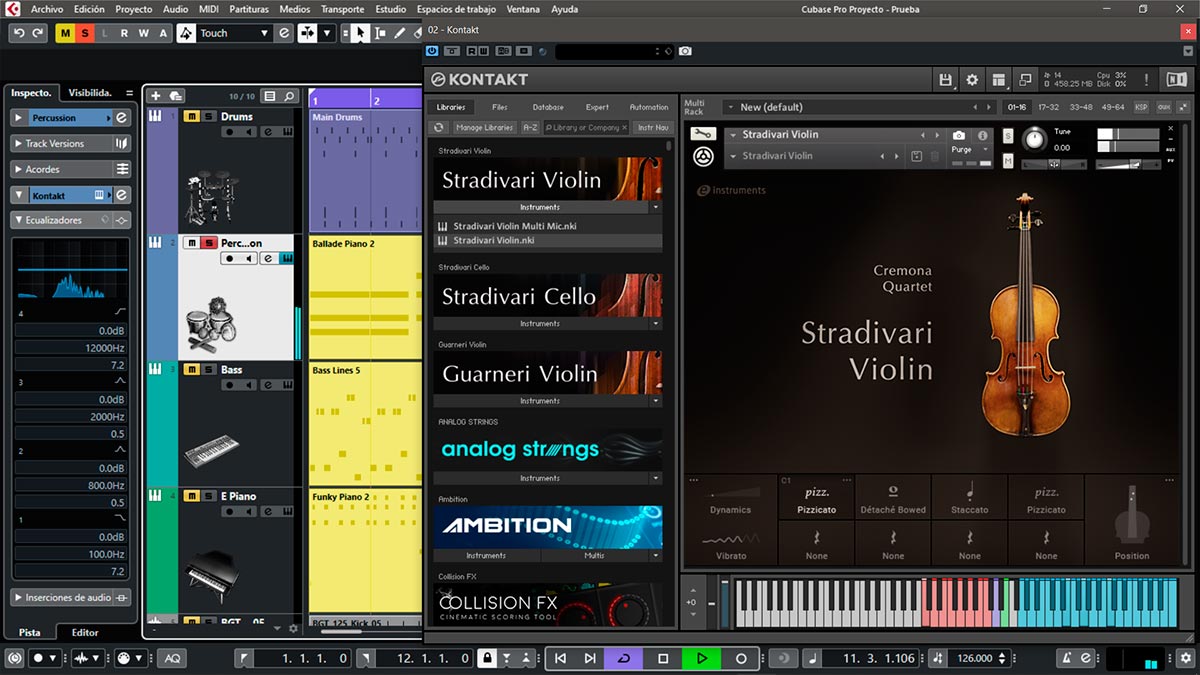 English
CREMONA QUARTET brings together four of the world's most valuable string instruments. Featuring phase-aligned stereo samples and performance-captured vibrato, plus extensive chromatic sampling of 20 articulations, every quirk and nuance of these historic artefacts is now available to producers via a wealth of cutting-edge parameter controls.
Known as the birthplace of strings, the Italian city of Cremona has a long and special history. Built hundreds of years ago with wood from surrounding forests, each instrument has its own unique personality, and together their sound represents the heart, soul and magic of the region. A collection of four treasured string instruments dating back to the 1600s, CREMONA QUARTET captures and preserves every detail of their rare characteristics.
Stradivari Violin KONTAKT
Four Solo Instruments; Violin 1, Violin 2, Viola, Cello
Smart fingerboard positioning
Multi-channel, stereo phase-aligned dynamic layers
Mix between close, mid and far mic positions
Additional room noise control
Performance-captured vibrato
20 Professionally played articulations
Including up to 3 legato transitions per articulation
Virtuoso articulation
Native Instruments NKS compatible
KONTAKT version 6.2.2 or above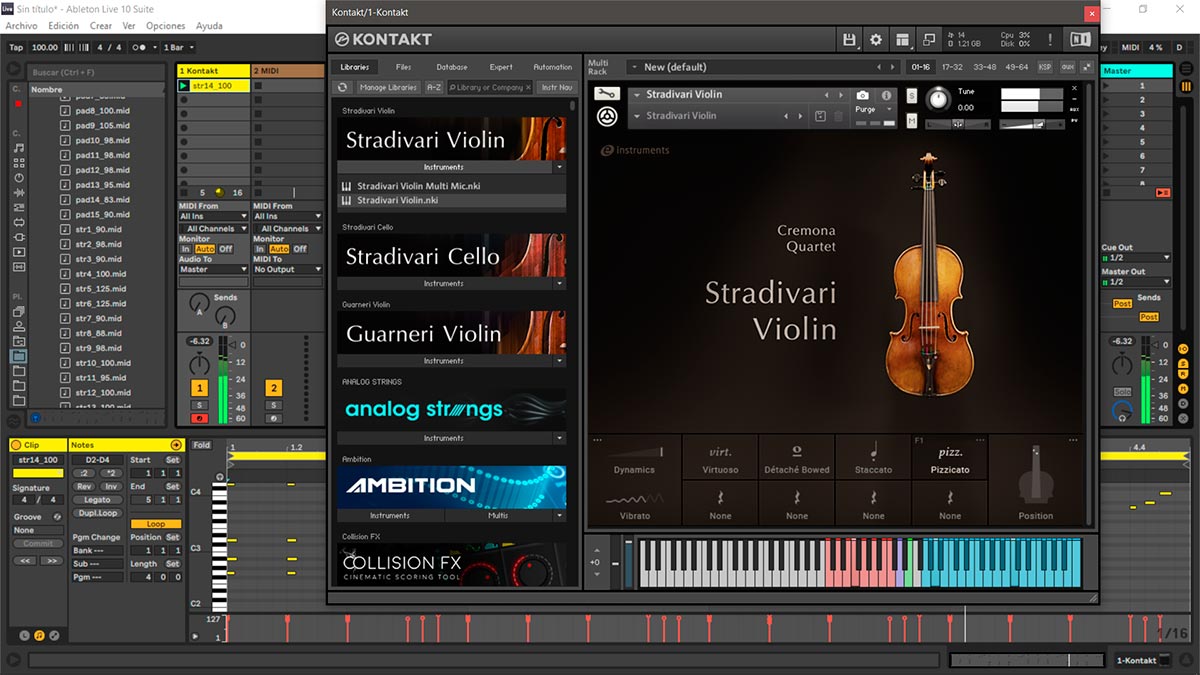 Stradivari Violin KONTAKT
Descarga Directa – Direct Download
Stradivari Violin v1.0.0 KONTAKT (21.84 Gb)
Para descarga de esta página se necesita un cliente Torrent, hay muchos disponibles, tanto para Windows como para MacOSX, aquí les dejo algunos de los mejores clientes…una vez instalado alguno de los programas, los enlaces Torrent se abren de forma automática.