RP Blade-2 v1-0-0a VST-AAX WiN…El sintetizador BLADE original lanzado en 2012 tenía un concepto único para controlar los armónicos de la forma de onda (Harmolator) mediante el uso de un pad XY. Además de eso, el movimiento del pad XY también se podía grabar, editar y reproducir en función del tempo. Este concepto de BLADE significaba que podía generar algunos sonidos muy diferentes, en comparación con los sintetizadores sustractivos e incluso aditivos normales. Con BLADE-2 hemos ampliado las funciones de BLADE aún más, convirtiéndolo en un sintetizador de ensueño para los amantes de los sintetizadores que les gusta pensar fuera de la caja y les encanta experimentar.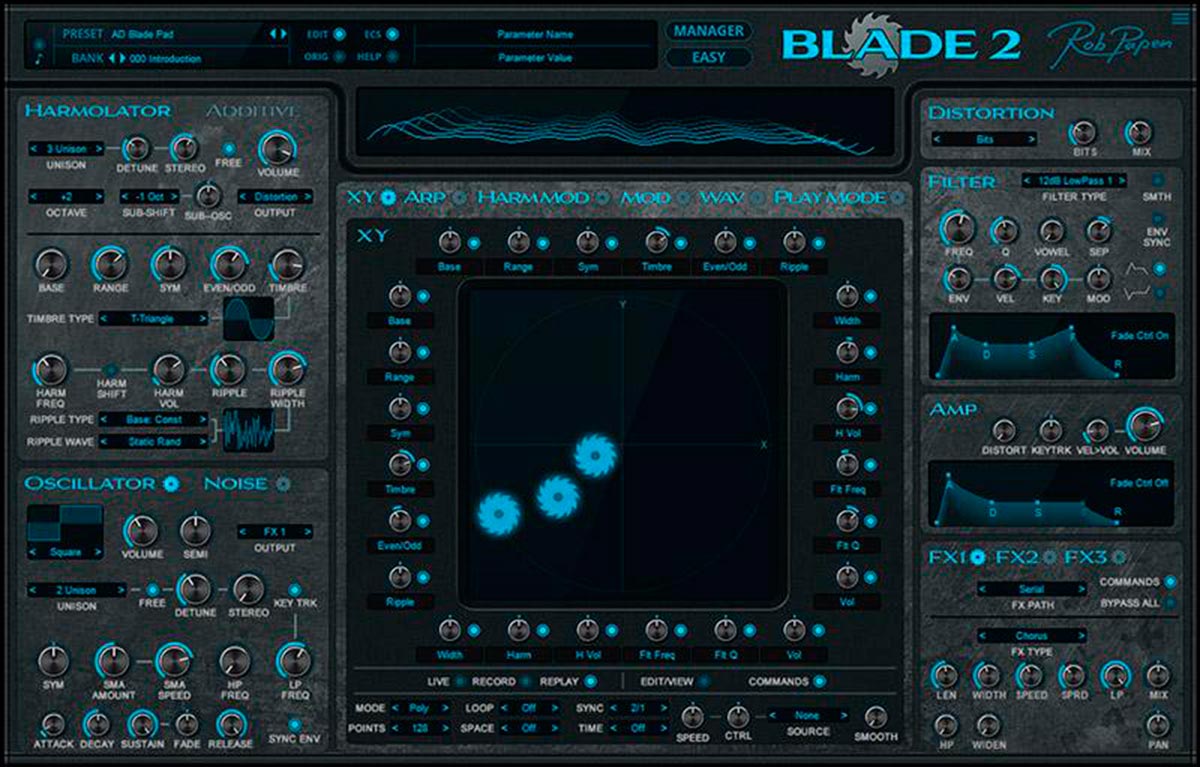 RP Blade-2 v1-0-0a VST-AAX WiN
Junto al modo Harmolator, ahora hemos incluido un modo Aditivo que le permite transformar o mezclar entre 4 formas de onda aditivas usando el pad XY. Por supuesto, además de usar estas ondas aditivas, ¡también puedes crear y editar las tuyas! Otra nueva incorporación es una sección dedicada al análisis de ondas que permite analizar los datos de la muestra en una forma de onda, que luego se puede usar nuevamente en la sección de Harmolator o Additive.
Para ampliar aún más las opciones de sonido, BLADE-2 también incluye un oscilador de tipo analógico adicional más un oscilador de ruido. Sin embargo, no se detiene ahí, ¡porque ahora tiene 32 tipos de filtros diferentes para ayudar a moldear aún más su sonido! La sección Arpegiador dentro de BLADE-2 también ha recibido una gran actualización con algunas características nuevas muy interesantes. Ahora hay dos filas adicionales para controlar la posición X e Y del pad XY. También es nueva la función de «trinquete» que incluye diferentes modos de trinquete.
RP Blade-2 v1-0-0a VST-AAX WiN
3 procesadores Multi-FX
Modo Harmolator (mezcla 4 formas de onda aditivas)
Sección de analisis de ondas
Oscilador de tipo analógico
32 tipos de filtros diferentes
Potente arpegiador
PAD XY
VST-AAX de 32bit y 64bit
Sistemas WiNDOWS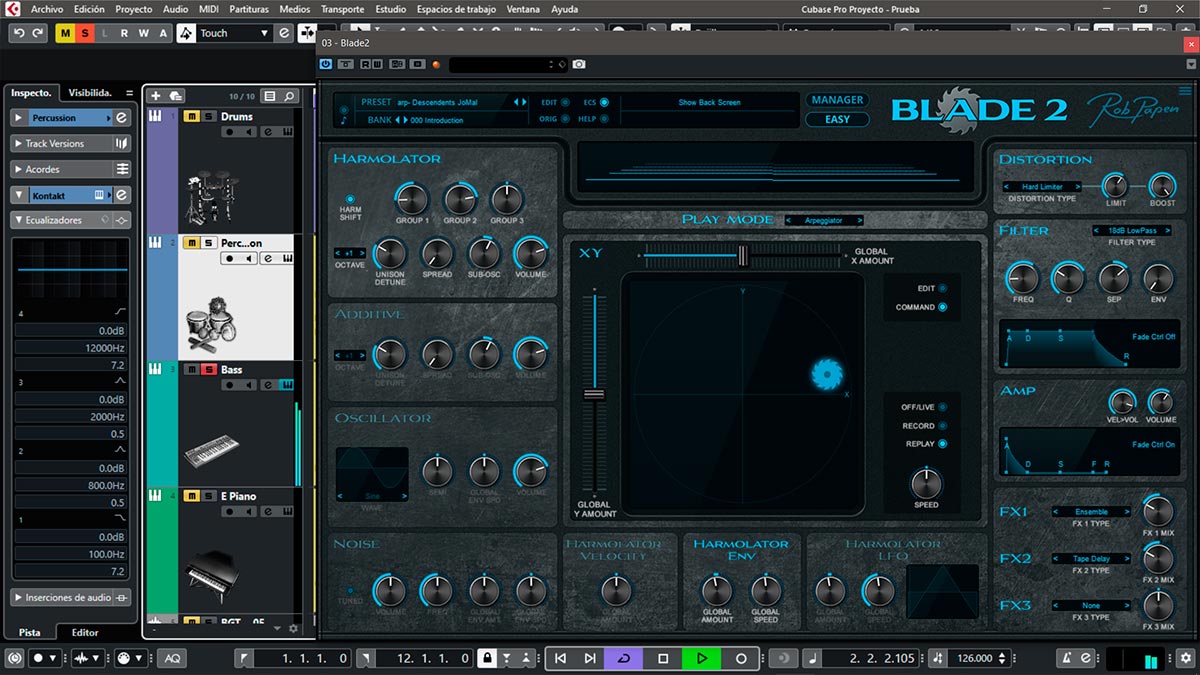 English
The original BLADE synthesizer released in 2012 had a unique concept in controlling the waveform harmonics (Harmolator) by using an XY pad. On top of that, the XY pad movement could also be recorded, edited, and played back tempo-based.This concept of BLADE meant that you could generate some very different sounds, compared to regular subtractive and even additive synthesizers. With BLADE-2 we have expanded the features of BLADE even further again making it a dream synthesizer for synth lovers who like to think out of the box and love to experiment!
Next to the Harmolator mode, we have now included an Additive mode which allows you to morph or mix between 4 additive waveforms using the XY pad. Of course, in addition to using these additive waves, you can also create and edit your own! Another new addition is a dedicated wave-analyze section that allows to analyze of sample data into a waveform, which then again can be used in the Harmolator or Additive section. To expand the sound options, even more, BLADE-2 also includes an additional analog-type oscillator plus a noise oscillator. However, it doesn't stop there, because it now has 32 different Filter types to help shape your sound further!
RP Blade-2 v1-0-0a VST-AAX WiN
3 Multi-FX processors
Harmolator mode (mixes 4 additive waveforms)
Wave analysis section
Analog type oscillator
32 different filter types
Powerful arpeggiator
PAD XY
32bit and 64bit VST-AAX
WiNDOWS systems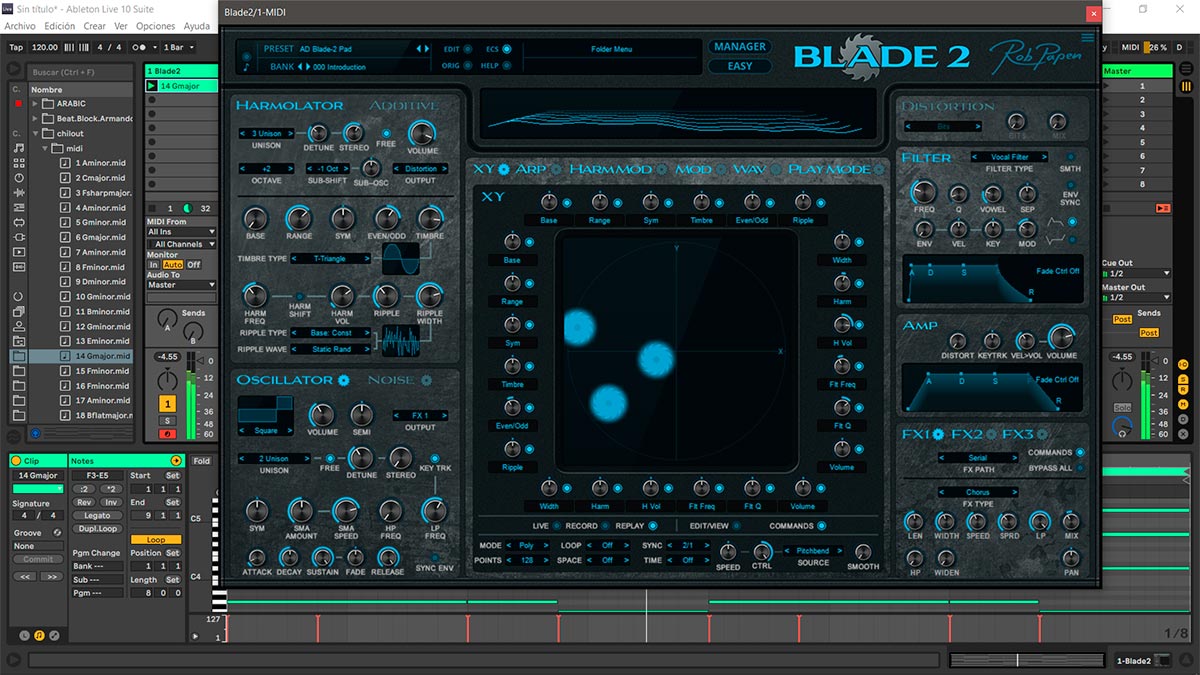 RP Blade-2 v1-0-0a VST-AAX WiN
Descarga Directa – Direct Download
RP Blade-2 v1.0.oa

VST-AAX

WiN
Para descarga de esta página se necesita un cliente Torrent, hay muchos disponibles, tanto para Windows como para MacOSX, aquí les dejo algunos de los mejores clientes…una vez instalado alguno de los programas, los enlaces Torrent se abren de forma automática.